*I received products. Opinions and story, are my own.

I say it time and time again, I WILL get my work space organized this year, I just will. Then, the WHOLE year goes by and soon, it is time to think about New Year Resolutions AGAIN. And guess what? My work space NEVER got that overhaul… Yep. That is how it goes, year after year.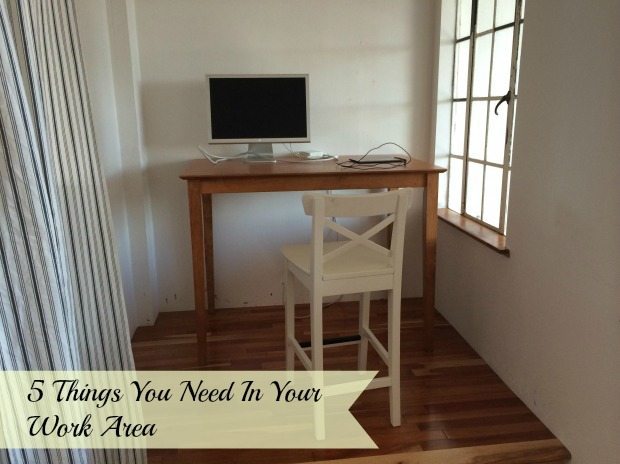 I refuse to allow that to happen again, this year, though. I just refuse! Time to get things organized and uncluttered! This year, I actually wrote things down, that I want/need to get done this year. That is the FIRST step for me. I also realized, there are a few things MISSING from my work area that I need to make me happy and actually feel like working.
Here are 5 Things You Need In Your Work Area:
1. Cork Board or Dry Erase Board: Do not store everything (like I do!) in your brain. From blog posts (if you are a blogger) to things you have to do, WRITE THEM DOWN and hang it in front of your work space so that way you are always looking at it.
2. Hang your kids artwork on the walls (if you don't have children, hang a picture/s up that make you smile!). I hang my kids artwork on my walls around my work space to remind me WHY I am working so hard each day! It actually encourages me on those rough days!
3. If you live in a dark, wet and dreary state like I do (Thanks Washington!), I highly encourage you to purchase one of those 'happy lights'! I have this on my list of things to buy for my work space. I have heard great things about those, lights! I certainly NEED one!
4. Make sure you have plenty of pens, markers, pencils and highlighters (and what ever else writing utensils you prefer) and store them in your desk. Also, keep plenty of paper so you can grab easily and write stuff down. Think conference calls and no paper, ya, that SUCKS…
5. Chewing gum. Yes, chewing gum. Why? Because when I feel like I absolutely cannot write another blog post or am nearly falling asleep on my keyboard, chewing gum keeps my jaws busy, and in turn keeps me awake. Sounds silly, but it works for me!
I enjoy shopping at OfficeMax, which is very close to us, for all of my office supplies such as printer ink, paper, pens, highlighters, dry erase boards and more! Plus, the prices are just right! Hmm, I wonder if they sell chewing gum and happy lights too??
What products do you keep in your work area, to keep you going during the day?