In this post, I will give you 6 Water Facts You Need To Know About! Do you drink water throughout the day? Do you drink enough water each day? I know I don't, but I certainly try to drink as much water as I can every day. There is so much about water that I do not know about. So, I did a bit of research and came up with some pretty interesting water facts you need to know about.
With World Water Day on March 22nd, I thought this would be the perfect time to research and learn more about water. Even if water day is almost over, I think it is still very important to find out how much water our bodies need, how hydration can change our bodies, and more! Very interesting!
*This post includes my affiliate links.
6 Water Facts You Need To Know About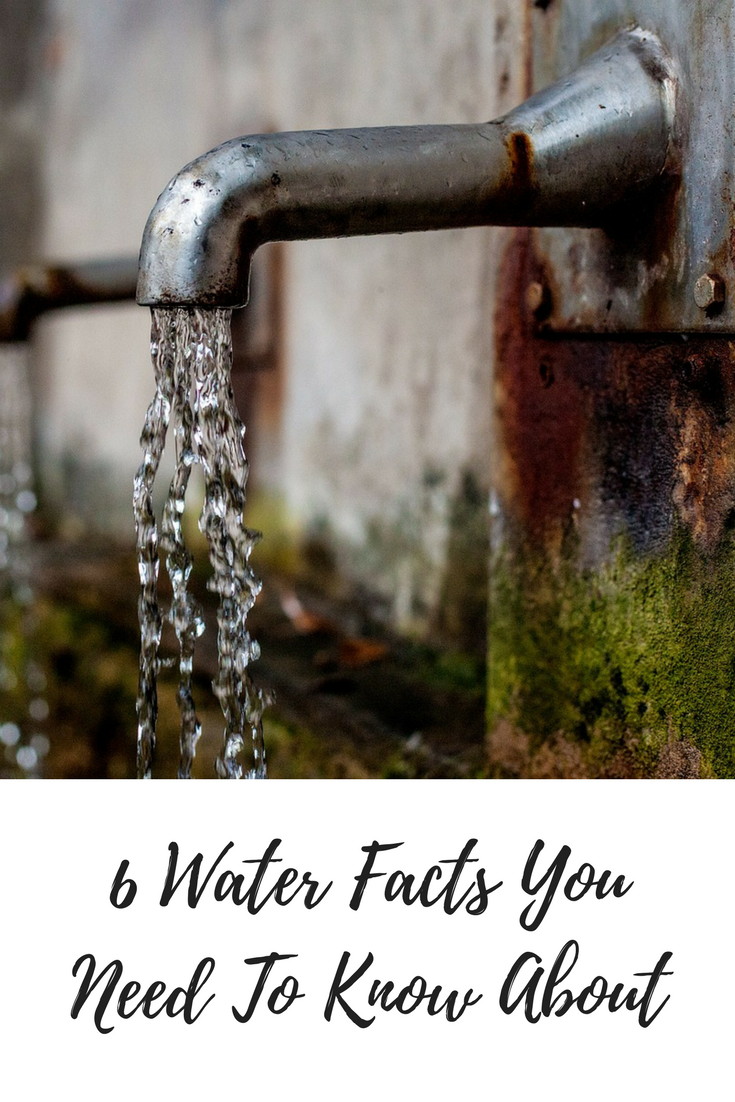 *Drinking AT LEAST 8 large glasses of water each day, can help improve your skin and help you look younger. I already knew this one, and this is the top reason why I do drink water each day. I know that if I hydrate myself from within, my body will feel better and my skin will look better.
*Less than 1% of the water supply on earth can be used as drinking water. I found this to be scary. Though there is no shortage of water on earth (most of the planet is covered in water!), only a certain percentage is available for us to drink.
*Up to 60% of the human body is made of water. I knew our body was made up of water, but not that much of it!
*The first pounds you shed from working out or dieting, are usually just water weight, not fat. Water weight is the first thing to go when you get active! However, it is a good thing to drink a big glass of water before a meal to 'fill' you up so you eat less.
*Drinking water daily and plenty of it can help against headaches. I am a big headache sufferer and on days that I drink a lot of water, I do not get a headache. On the days that I forget to drink water, my head pounds. It is so important to stay hydrated!
*A human can live up to a month without food, but without water, a human can only go about a week. Then you will be in a very serious situation. However, there are a TON of other things you can make you survive without water take a lot less than one week, like a hot day with the sun beating down on you, a child in a hot car, etc.
This is not just about me drinking water though. I have kids that need to drink their daily amount of water each day. It can be so hard to get kids to drink water, but it is so important! I get my kids to drink water easily because they drink their water from the Gululu Interactive Kids Water Bottle.
My kid's health is very important to me and I know that if water helps make ME look and feel better I know that it will help my sweet kids look and feel better too. I can tell when my kids haven't drunk enough water for the day. Usually, they complain of a headache or tiredness (when I know they had good sleep the night before). So, I start by giving them their Gululu Kids Water Bottle filled with cold water, to drink down. Usually, after that, they feel better.
In case you don't know what the Gululu Interactive Kids Water Bottle is, (I have talked about it a bunch of times on my site). So, if you are a long-time reader you already know what it is! If not, it is an interactive kids' water bottle and you can read more about it below:
The Gululu interactive kids water bottle keeps your kids hydrated and informs parents of their intake through a fun app! This fun water bottle has a screen on it that features a tamagucci like a pet, and together your child and their 'pet' embark on an underwater adventure. Your child helps his/her pet to get back to its lost Planet, Ima.
The gamification of the bottle and the new pet friend encourages your child to drink water, while parents stay updated about their kid's intake through the dedicated app! So much fun for the kids! Gululu was featured in main media publications such as Forbes declared it as top 5 best kids gadgets, Vauge, and others!