This post is ALL about a GORGEOUS Artificial Flocked Christmas Tree with Lights! We love ours so much! With the increasing popularity of artificial trees, homeowners and budget-conscious shoppers alike are realizing they don't have to spend a small fortune on an expensive quality tree. I don't know about you, but I love artificial Christmas trees. We used to get real Christmas trees each year but since moving to Idaho in 2016, we have been using a fake trees instead. Only because it is MUCH easier and it doesn't have any bugs or spiders nestled inside its branches!
It is also, obviously, less messy too! In fact, no mess at all 🙂 Our artificial flocked Christmas tree with lights is just gorgeous! We don't have to fuss with putting lights on it. All we have to do is set it up, and put our Christmas decorations on it! So easy and relaxing to do!
This will be our first year with a flocked Christmas tree! We are so excited. I have seen so many flocked Christmas trees and have always wanted to try one in our home. We always had the prelit regular trees, so it was definitely time for something new and different for us. Flocked Artificial Christmas trees are just so pretty! Flocked trees really bring out the Christmas feeling and make your home so cozy feeling!
Artificial Flocked Christmas Tree with Lights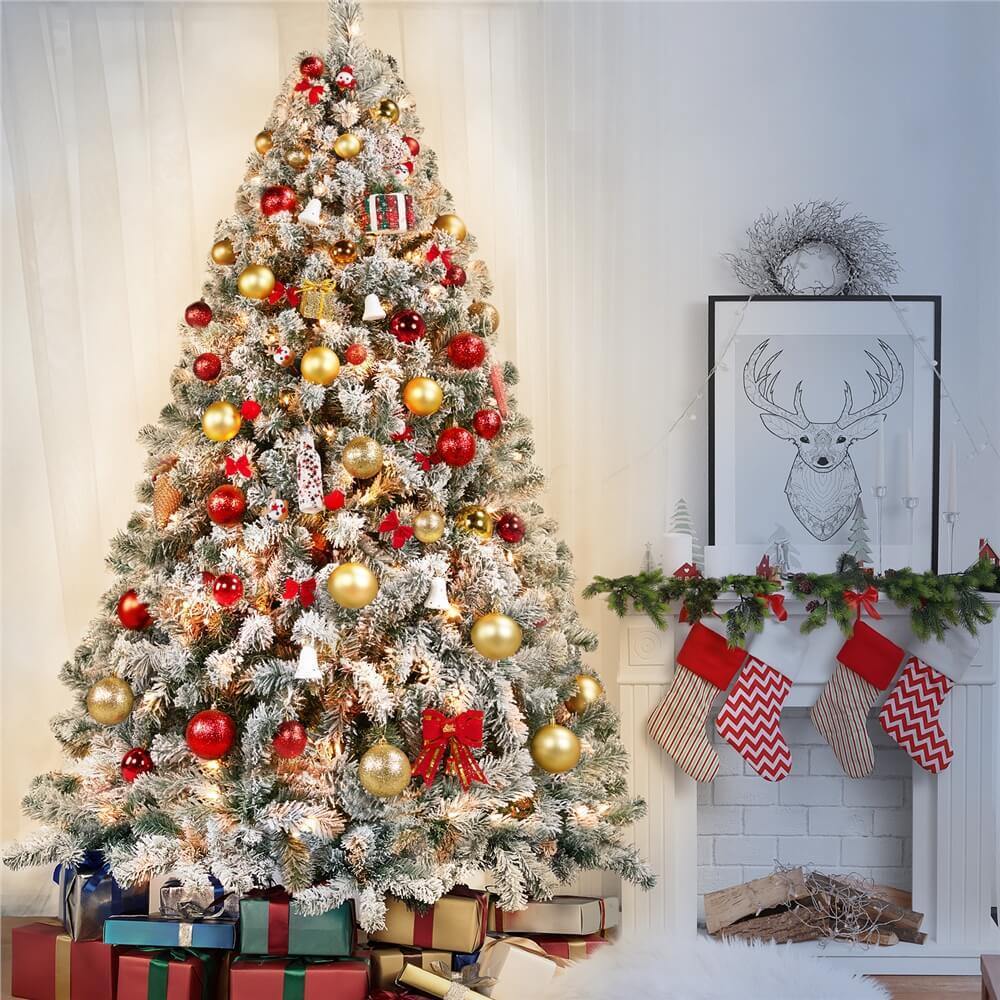 We usually pull out our Christmas decor immediately after Halloween! With the way the world is right now, I want to make our home cozy, warm, and safe feeling for my family, and the way we do that is to decorate early for the holidays. Why not!
We got our artificial flocked Christmas Tree with lights from Yaheetech. It is beautiful and stands 7.5 feet tall! It is prelit (as I stated above) and is so pretty because it has snow on it! I love the white snow on the green branches! So beautiful it is breathtaking.
This beautiful 7.5-foot Pre-lit flocked artificial tree is fire-resistant, sturdy, and has a foldable stand. It is easy to set up, fluffy, full, and just so pretty! I can't wait for it to grace our home on November 1st! This flocked and full fir will be the center of attention for all your holiday decor.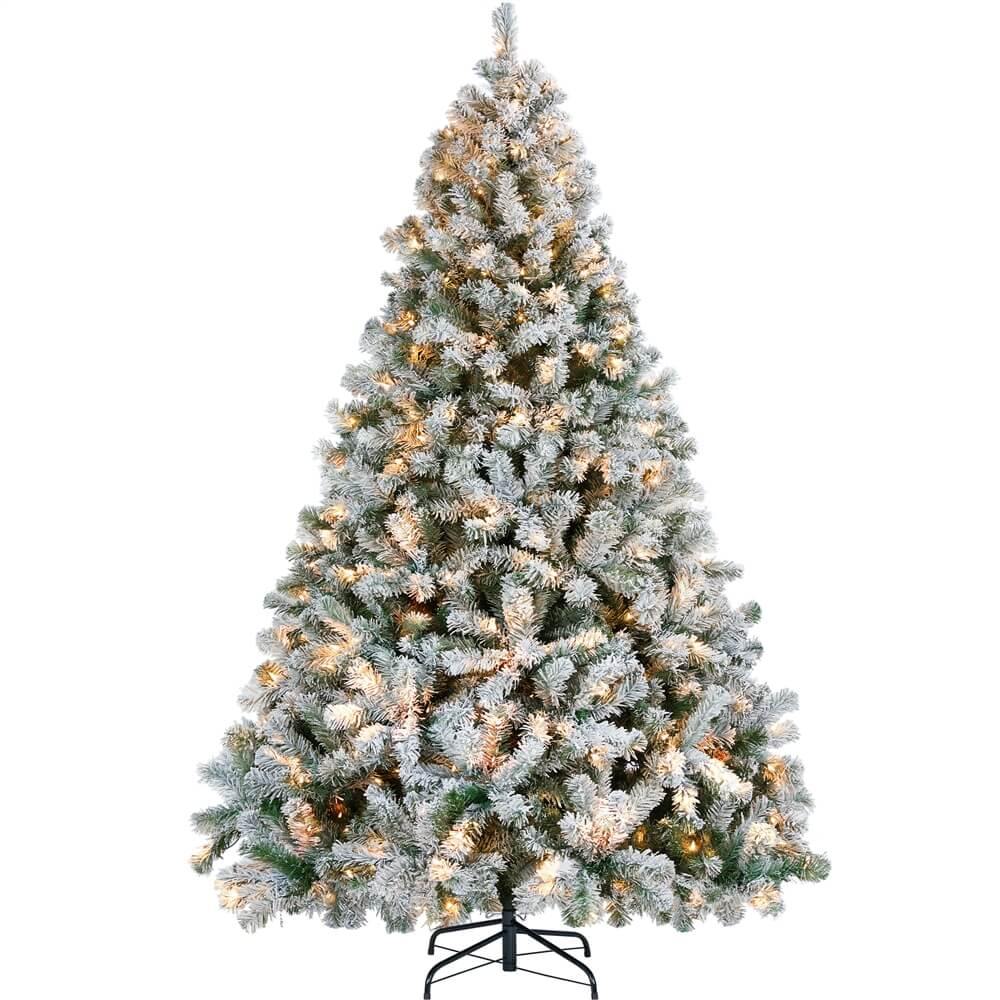 Features Worth Mentioning on the Artificial Flocked Christmas Tree with Lights:
SNOW-DUSTED FULL LOOK: This pre-lit artificial tree is all green PVC leaves covered with white flocking, these numerous branch tips dusted with thick full "snow" give a soft fluffy appearance and makes the tree lifelike. Nicely scattered lights are in a clear warm tone, transferring coziness and happiness to your room through the whole holidays.
EASY & TIME-SAVING STRUCTURE: The frosted Christmas tree is built up with a hinged system, in which the branches are pre-fixed on the tree trunk, this saves you more time to set up branch tips with a full-body look.
HIGH-QUALITY MATERIALS: All branches and tips are made of premium PVC, while the tree trunk and stand are made of sturdy metal. Bendable "leaves" are not likely to fall off, which leaves you a clean floor surface after usage.
STURDY & FOLDABLE STAND: The metal stand is wide enough to keep balance and sturdy enough to hold a full tree body, not to mention all lights and other ornaments you feel like putting on. The feet of this stand is carefully equipped with rubber to make sure it does not slide on floors.
EASY TO SET UP: Extra fuses and bulbs are provided in the package. The tree body is divided into 3 sections with labels on them. You could set up this tree by simply inserting one part into another. The lights are prefixed on the tree body with no need to put on and settle them. The stand can also be effortlessly connected to the tree body with screws.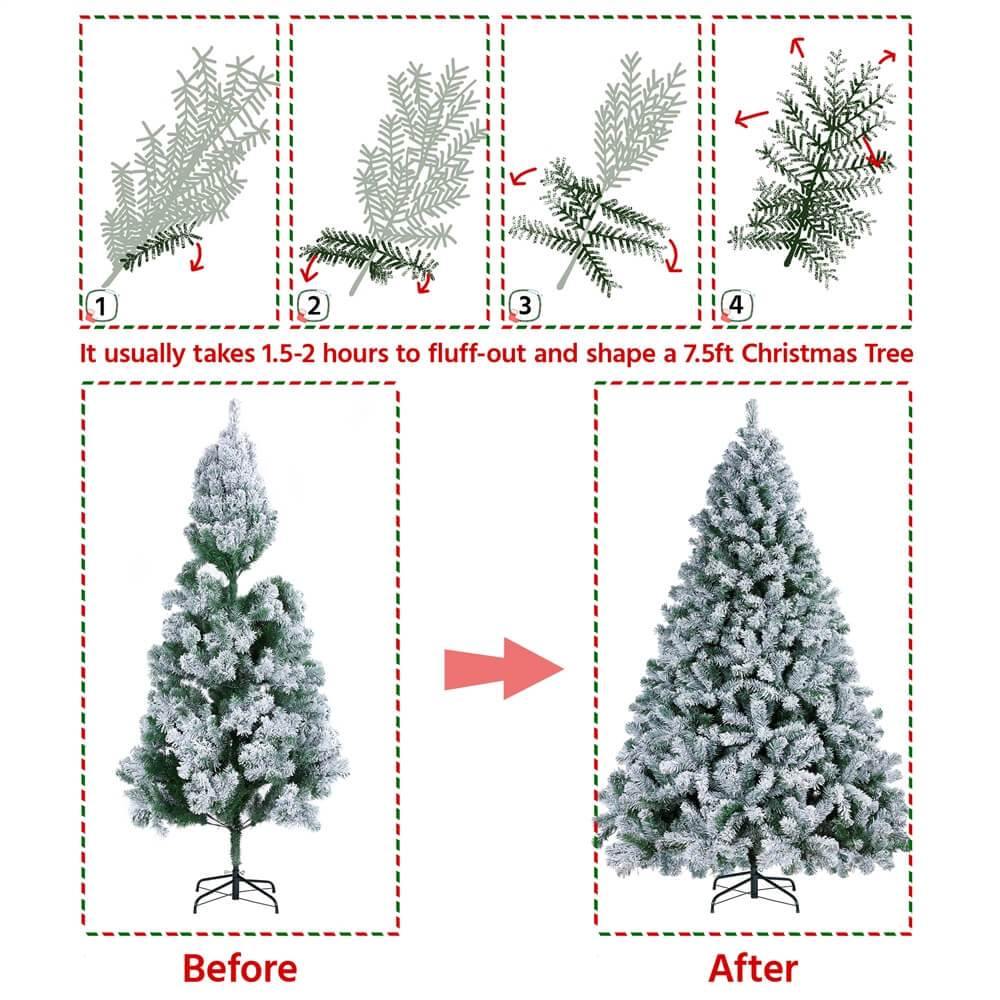 Specs of the Artificial Flocked Christmas Tree with Lights:
Materials: PVC, Iron,
Type: Pre-lit Flocked Spruce
Total Tips Count: 1284
Total Lights Count:550
Light Tone: Warm
Color: Green
Overall Dimension: 55×90''(Dia.× H)
Shipping Dimension: 46.5×18.5×18''
Stand Dimension: 22×6.7''(Dia.× H)
Tree Trunk Diameter: 1.3''
Trunk Pole Thickness: 0.03''
G.W.: 41.8lb; N.W.: 33.9lb
I love that extra fuses and bulbs are provided in the package because we all know how annoying it is when one light goes out! It is nice to have those on hand in case that does end up happening! I also like how the tree is in 3 sections with labels on them to help you when you put this artificial tree together. It is so easy to do. My 15-year-old could have this up in 5 minutes or so! And, having the lights prefixed on the tree body makes this such an easy tree to set up!
If you buy this artificial flocked Christmas tree, you will have a seamless Christmas without all the hassle! Your tree will be easy to set up and take down, so you won't have to deal with tangled lights or a bulky stand that's too heavy to carry. It will just make your holiday season so much easier so you can tackle the more important things that come with the season!
Ideas on How To Decorate Your Artificial Christmas Tree
Before you start decorating your fake tree, spend time looking online for inspiration from bloggers or on Pinterest to get some good ideas. Find out what's popular this Christmas! Once you've chosen what type of decoration style suits your taste most, head over to your favorite online store (or visit them in person), and start shopping! It is never too early to start doing this!
My kids are always the ones to decorate our Christmas tree! I love to sit with a cup of hot chocolate and watch my children go crazy decorating the tree! So much fun to watch and just really relaxing!
Some places I enjoy shopping at are second-hand stores because they always have discounts and deep discounts on Christmas and holiday decor. I have bought so many nice ornaments from these kinds of stores. I will also shop garage sales the summer before and pick up tons of holiday decor! So much fun! And, getting things for cheap is what it is all about!
Shop!
You can find out more about the Artificial Flocked Christmas Tree with Lights at https://www.yaheetech.shop. It retails for $209.99 and will last for years!
PIN IT!