Beauty Without Cruelty are wonderful beauty and skin care products that are cruelty-free, vegetarian skin, body, and hair care products made with the finest natural ingredients and organic aroma-therapeutic essential oils. They also have a full line of color cosmetics to meet the needs of every woman.

I had the chance to review two products from this line. I received the Aromatherapy Hair Care Daily Benefits Shampoo and the Fragrance Free Body Care Hand & Body Lotion to review.
The shampoo is wonderful. I use this on my kids because it is non irritating. It really gets sudsy and you only need a little bit. It is a clear shampoo and it washes out really well. I still need to use a tiny bit of conditioner in my daughter's hair, but other than that, this is great shampoo.
A Bit About This Shampoo (taken from their site):
BWC Daily Benefits Shampoo is a gentle, plant-based formula that thoroughly
cleans your hair while restoring its natural balance, body, and shine. Special
botanicals with select vitamins and natural plant proteins, help fortify and
nourish each hair strand. Pure organic aroma-therapeutic essential oils
strengthen and protect your hair and improve its look, feel, and texture. Your
hair will be naturally clean, healthy, and beautiful. Ideal for daily use.
Never tested on animals
No animal ingredients
Paraben Free
S.L.S Free
100% vegetarian
Organic Ingredients
100% Pure Organic Essential Oils



I usually like a TINY bit of fragrance to my lotions, not over powering, just a tiny bit, so I was not sure if I would fall in love with this lotion. But, even though it is fragrance-free, I found myself using this lotion every night after my baths/showers, instead of my fragrance ones. I like how much it moisturizes. It is thick and more pasty and really gives my skin some much-needed TLC and moisture.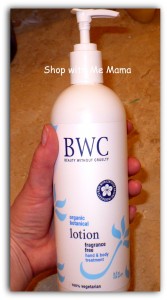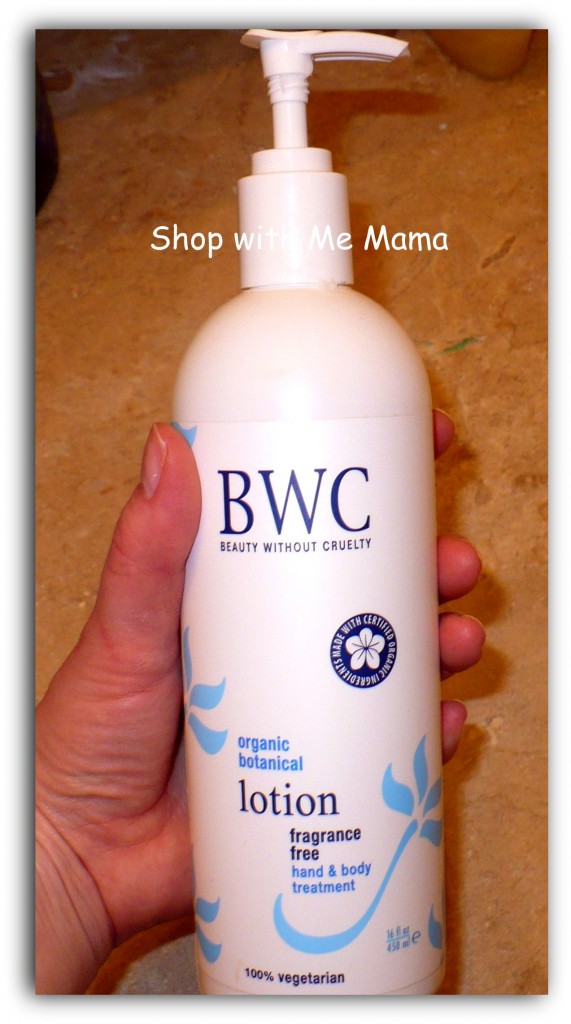 A Bit About this lotion (taken from their site:
BWC Fragrance Free Hand & Body Treatment moisturizes, softens, protects, and
replenishes your skin with organic aloe vera gel and natures rich emollients
shea butter, jojoba and kukui nut oil. Use daily for maximum benefits. This
fragrance-free formula can be used right out of the bottle or customized by
adding your favorite essential oil (such as lavender, rose, or chamomile). Add
12 drops to 2 fl. oz. and shake well.
Never tested on animals.
No animal ingredients.
Paraben Free
Organic Ingredients
Emollient Rich
100% Vegetarian
Fragrance Free
*And, of course, to see ALL the ingredients you can visit their site and it will tell you*
Buy It!
You can purchase Beauty Without Cruelty products online at http://www.beautywithoutcruelty.com/index.html
Disclosure:
I was sent products to review. These are my own honest opinions, and yours may be different. Thanks!