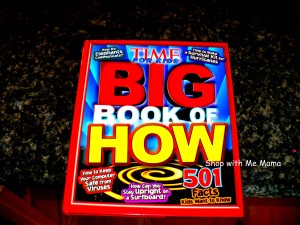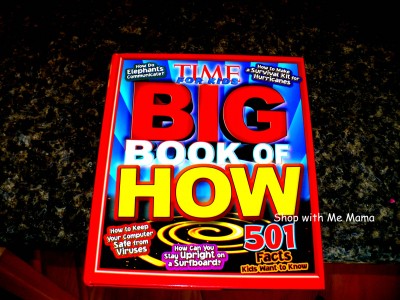 Summer is coming and with summer does not mean the learning stops with the end of the school year. Keep your kids minds active with the BIG Book of How: 501 Facts Kids Want to Know!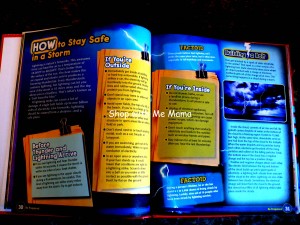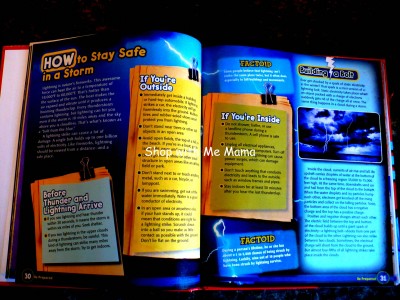 I wanted to review this book, because anything that keeps my kids brains sharp and helps them learn, I will review it. This book is awesome. It is a big, hardcover book full of great facts and fun ideas for kids to learn and do during the Summer or anytime of the year.
I am very impressed with it. My son loves to ask me questions about EVERYTHING (my little daughter does too). So I knew this book would be a huge hit. What I love best about this book is that it not only has answers to some great questions, but it has projects in it too, to do with your child! Like, how to make a compass, how to make your own paper (which we will be doing this week!) and tons more!!!
This is a 192 page book filled with fun facts and projects for your kids. It also has vivid illustrations in the book that my kids love to look at. This helps kids ages 8 and up (though my kids ages 3 and 5 understand and love this book), discover the answers to questions such as: How does a chameleon change colors?  How was Mount Rushmore built? How to stay safe during an earthquake? How do you build a spaghetti bridge? How do diamonds form? How does an iceberg form? How do astronauts train for a space mission? How does a lock work? How does popcorn pop? Detailed explanations, more than 200 colorful photos and diagrams, and over 20 "How to" activities help to educate and engage young readers.
This book is divided by subject areas such as animals, the human body, technology, sports, food and green issues, the book is written in a straightforward and fun style that parents and kids will enjoy together.  Included at the end of each chapter are "How to" activities related to what the kids have just read.  For example, in the Going Green chapter, kids will learn about recycling and then learn how to make their own recycled paper through easy to follow, illustrated step-by-step instructions.
So, if you are looking for a great summer read to share with your little kids, this is a book I highly recommend to you! It won't let you down, promise! I had fun reading it and even learned a few things from it that I did not already know!
Buy It!
This goes on sale on June 7, 2011 and will be available at www.timeforkids.com/bigbookofhow and retailers nationwide.
disclosure:
I was sent product to review. These are my own honest opinions, thanks!