Let's talk about Booster Seat Safety And Education! We take car seat and booster seat safety and education, very important around here. I have my daughter still in a booster seat and will be for a while, even though she is now 7. She is super tiny for her age!
I also have a two-year-old (who is SUPER tiny for his age), still in the rear-facing car seat, and will be for a while! I am always trying to keep up with the safety and education that goes with boosters and car seats.
My two-year-old is using a Chicco car seat. I absolutely trust it and know that I am keeping my little one safe, while he is riding in the car.
*This post includes my affiliate links
Booster Seat Safety And Education
This car seat grows with my child, so I am in love with it. I am going to have to purchase the Chicco KidFit Booster Seat for my daughter, just because I really like the Chicco Brand.
The Chicco KidFit Booster Seat grows with your child too, while protecting them in the car. Booster seats are a crucial part of transitioning a child out of a car seat.
Our transition from a car seat to a booster seat was pretty easy. My daughter was obviously ready for one and wanted to be like her big brother, who had already been in a booster seat for a while now. She was SO excited!
Due to drastic rule and regulation guideline changes, it can be hard to stay up to date with the correct usage of booster seats!
I am constantly checking up on guidelines and I ask my friends too, if I am still doing it correctly. I always want to make sure my kids are the safest possible, when in my car.
Why Choose The Chicco KidFit Booster Seat?
It is always important to do your homework when shopping for a car seat OR booster seat. I always look for all the pros (and cons) and I shop around.
I also ask my friends and family members about babies. Chicco is the maker of the #1-rated KeyFit Infant Car Seat and NextFit Convertible Car Seat, so when I found out they were launching a new booster, I was intrigued. We already used Chicco, so we know the brand and love them already.
One thing I have noticed with Chicco is that they make the whole car seat/booster seat experience an easy one. They are user-friendly and easy to figure out.
The KidFit Booster features a LATCH attachment with SuperCinch one-pull tightener to help keep the seat in place for easier in/out for kids. I love that feature!
Also, if you have super messy kids (who doesn't???), then Chicco makes it easy to clean up those gross messes with the removable, machine-washable seat pad and armrest covers. Genius!
Kids LOVE cup holders. The Chicco KidFit Booster Seat has space-saving cup holders that fold away when not in use and are removable for easy cleaning! Another awesome, 'save-mom-some-major-time' feature that I adored!
With the addition of the KidFit Booster Seat, Chicco now offers a full range of car seats to accommodate every age and stage! I really liked hearing this good news!
Most Parents Don't Know They Are Using The Wrong Car Seat!
I found the below infographic EXTREMELY helpful in figuring out whether your child is using the right car seat/booster seat. Know the ages AND stages!!!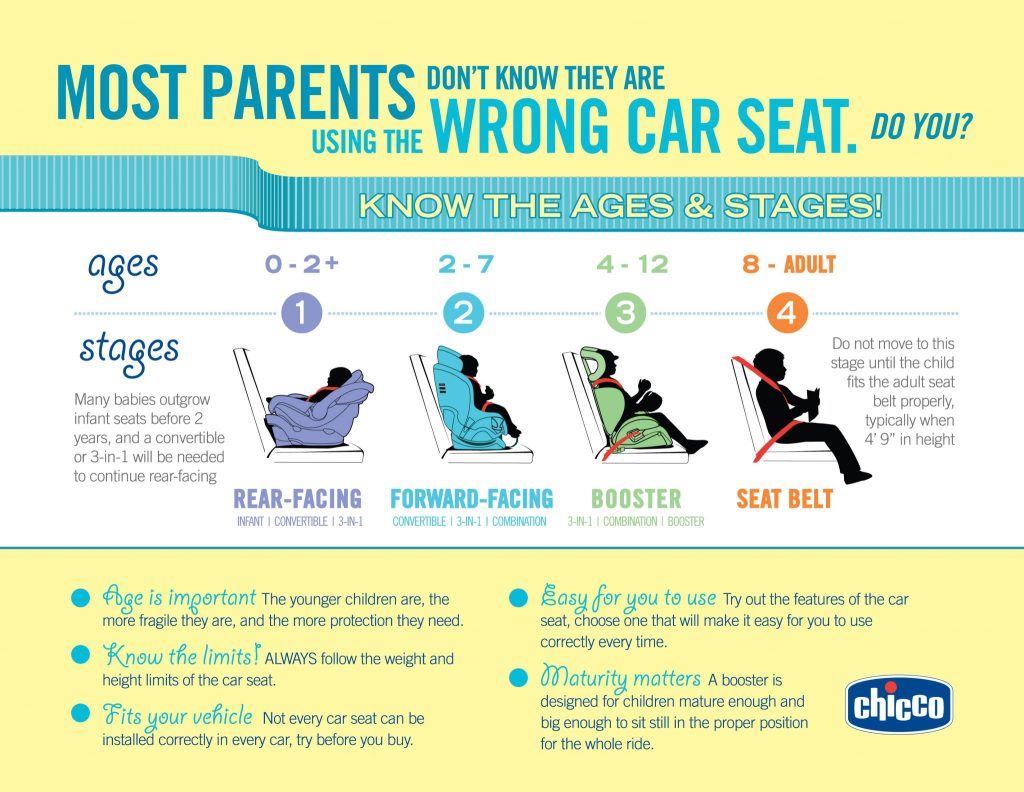 Helpful Booster Seat Safety Tips
'Big Kids' Need Car Seats Too!!
Once your big kids grow out of their convertible car seat, they still need a booster seat. Start out with a booster seat that has a back on it with a headrest.
The headrest is very important because it will help protect your child in a crash. When it is time for a backless booster seat, make sure your child is in a position where a headrest is built-in to ensure continued head and neck protection. That usually means a middle seat is not a good option.
My Child Does Not Need A Booster Anymore
Are you sure about that? Keep in mind that seat belts were built with adults in mind, not children! This is the parent's BIGGEST mistake when it comes to booster seats.
They think their child just does not need one anymore when they DO! A booster seat is the ONLY way to make sure that the seat belt fits your child properly.
How Does The Seat Belt Fit?
In order to have a proper fit in a booster seat, the seat belt needs to fit properly. This is probably a no-brainer for many people, but you would be surprised how often this is overlooked!
In order to fit correctly the lap belt will lie flat across your child's upper thighs, not across the soft abdomen, and the shoulder belt will cross over the middle of his or her shoulder.
Also, make sure your child keeps the seat belt where it needs to be. I don't know how many times I turned around to look at my daughter and her seat belt was pulled loose because she thought it was uncomfortable! That would have defeated the WHOLE purpose of her even wearing a seat belt!
My Child Is Too Old For the Convertible Car Seat!
Most children, younger than 5 years old, are not old or mature enough to sit without a full harness. Since you are the parent and know your child the best, don't make the switch harness to a booster seat until YOU are confident your child will sit still and safely, without the full harness.
It Doesn't Matter, I Am Only Driving Down The Street
Oh YES, it DOES matter! Your child's safety should ALWAY ALWAYS ALWAYS matter!! Do not ever Not buckle them in or have them properly buckled up in their car seat or booster seat because you feel you are only 'driving down the street'!!
ANYTHING could happen at any time. BE PREPARED and do it right!!!! 61 percent of crashes involving children occurred 10 minutes or less from home!!
Educate Your Child Too!
Your child probably asks lots of questions, I know mine do! Sometimes we get frustrated because those questions just keep going and going, LOL.
But, it is very important to educate them too, about seat belt safety. If they complain of a seat belt, booster seat or convertible car seat, or seat belt being uncomfortable, of course, go look and make sure it is correctly installed/on.
But if it is and they still complain, they need to be told why it is so important to wear a seat belt/sit in a booster seat/sit in a convertible car seat… Set the expectation that just like a helmet is needed for riding a bike, a booster seat (etc..), is needed for riding in the car.
If You Are Ever Unsure
If you are ever unsure of a car seat, convertible car seat, booster seat, or installation of any of the mentioned, certainly seek the advice of someone who would know, like a local child passenger safety technician.
Share These Safety Tips!
I hope these safety tips helped you out or if you are not in need of these safety tips I hope that you will share them with family and friends who could use them!
You can not only help ensure a child's safety, but you could also help save a life (or two!). So feel free to share this helpful article! Thank you!