*Botley The Coding Robot Toys For Kids was received. This post includes my affiliate links.
Are your kids, grandkids, etc. interested in robot toys? If they are, I have something for you! This holiday season, be the cool parent/grandparent/aunt/uncle on the block and get your kid Botley the coding robot!
Botley is a smart robot toy that has a remote control. You can program Botley to what you want him to do! He is not only cute but super smart too! Coding a toy robot has never been so fun!
Robot toys are always a fun gift to receive and Botley is great for stem learning. Made by Learning Resources, Botley the Coding Robot comes with 77 pieces and is eager to learn from you!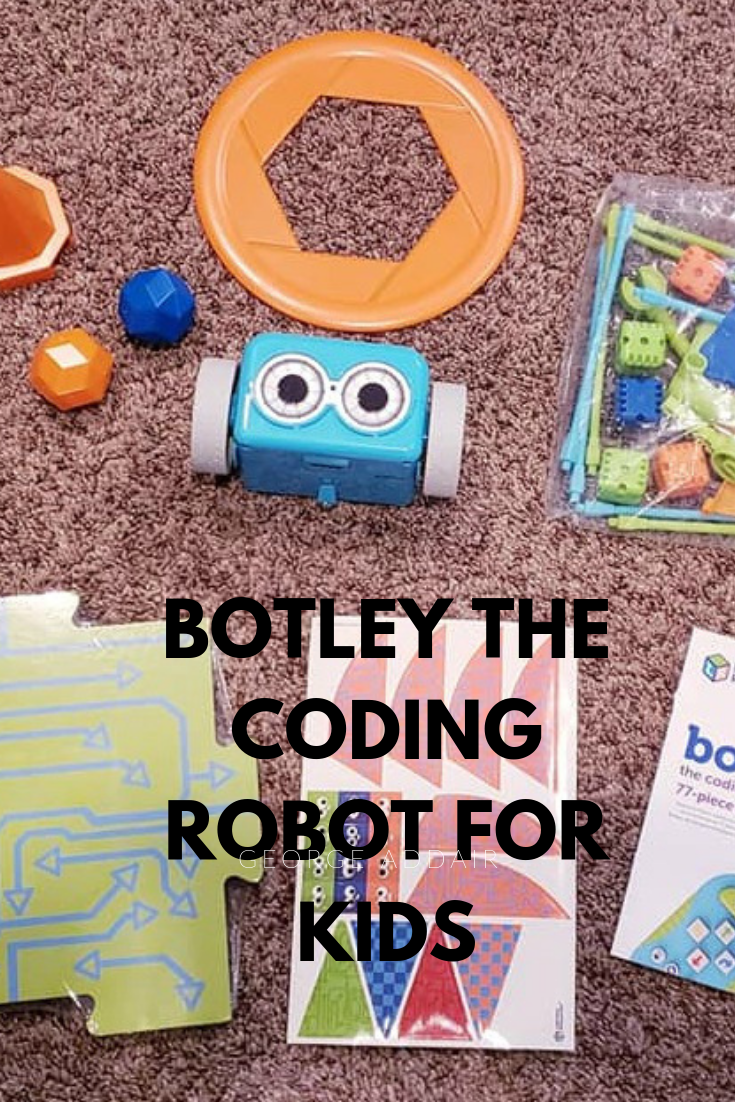 Robot Toys
Botley is here to introduce coding in an easy, friendly way. Children as young as 5 can learn to code with Botley, and with his advanced features, he will grow with them for many years to come. My 5-year-old loves this educational coding robot! He literally has spent a couple of hours just sitting on the floor in our living room, playing with Botley!
What Is Coding?

Coding (programming or developing) tells a computer, app, phone or website what you want it to do.
I love that this coding robot is ready to use right out of the box! No assembly required. However, one thing to note is that this robot does need 5 AAA batteries. He doesn't come with batteries so make sure you have them when you purchase him! He also comes with 22 cool cozmo stickers to put on him and make him your own!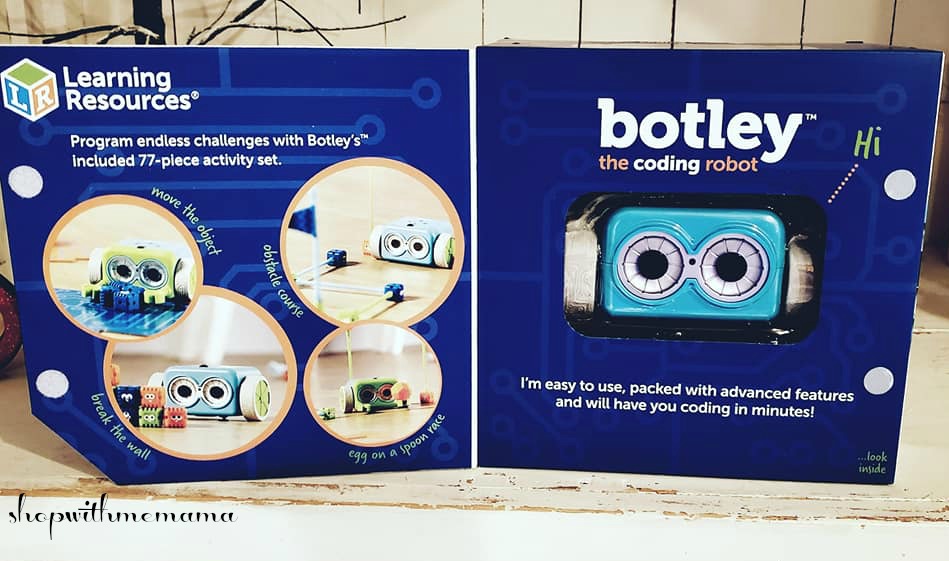 He will have your kids coding in minutes (with a parent to read the instruction if your child is too young to read still). And that's not all, Botley is 100% screen free and includes a 77-piece activity set which comes with a remote programmer, detachable robot arms, 40 coding cards, 6 double-sided tiles, 27 obstacle building pieces and a starter guide with coding challenges.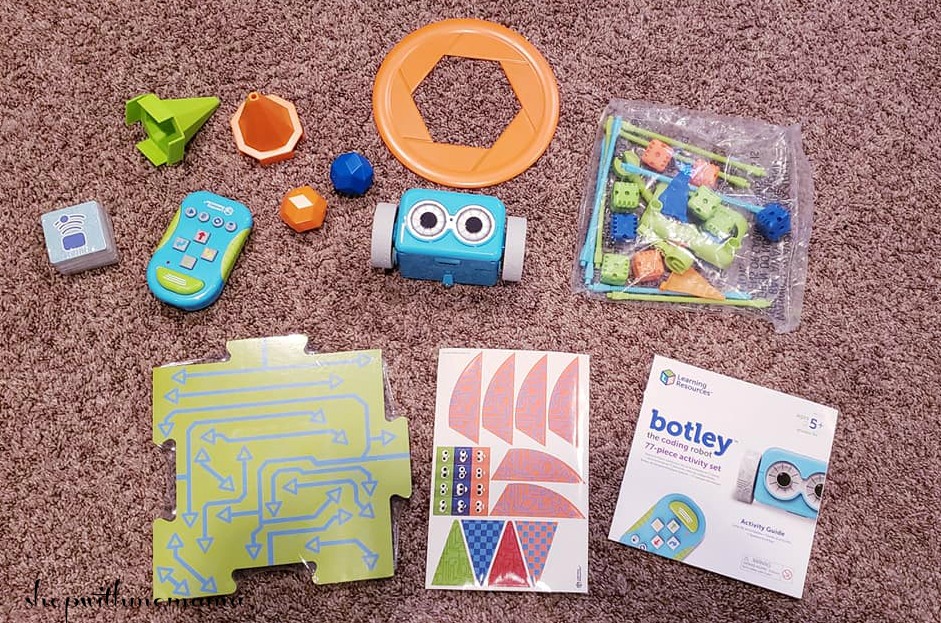 Building coding skills have never been so dang fun! We are having a blast with our new coding toy robot!! He has huge eyes and silly noises he makes. We love this light weight product!!
We also love the color blue and Botley is blue and just so shiny, bright and pretty! He is strong, durable and I can tell he will be around for years to come because he is so well made!
Here are just some of the interactive, fun features Botley offers:
*Detect objects and move around them! Follow looping commands Navigate obstacle courses Follow black lines
*This coding robot has additional hidden features to unlock! – Your child will get to learn early STEM skills while playing and having fun.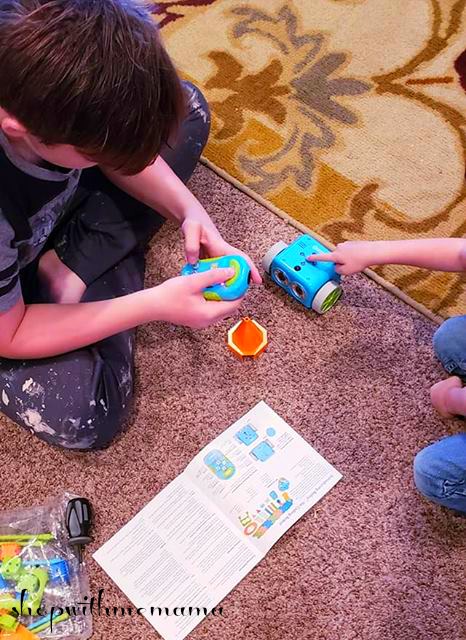 *Botley the Robot Toys teaches the basics of coding through active play, completely screen free. Perfect for promoting critical thinking and problem-solving skills.
*No phone or tablet required. Botley has an easy-to-use remote programmer, which transmits your commands and off he will go!
*Botley can detect objects and be programmed to go around objects.
*Botley is great for children as young as 5, but with his advanced features too.
Advanced Features
Explore Botley's advanced features and code him for up to 120 steps. Botley can follow looping commands or use smart logic to detect and move around objects in his path.
As you can see in the video below, this fun remote control robot toy follows directions pretty well! He follows the lines under him to a 'T'. Flip the switch to black-line follow mode and set up a path for Botley to travel. Use the included tiles, or draw your own line. Watch him go!
My oldest son also programmed this smart robot toy to go to his ball and put it into a circle! He did it perfectly! I love these fun, smart remote control robot toys!
I love that there are so many things to Botley, so many fun levels of coding fun for everyone! He can sense objects and perform actions so well! He is a good 'listener'! I love the versatility that Botley has to offer.  I love that Botley grows with your child and there are many tasks he can be programmed to do. I love that this remote control robot toy encourages my kids to use their thinking skills and helps encourage their creativity.
When you are done programming Botley and he does that task, you will need to press the 'trash button' every time he finishes a task, to get him to do a new one. That is one thing we had to learn!
A fun thing about this remote control robot is that as the coding becomes more difficult, your kids will have to work together to figure out how to maneuver through obstacles and get Botley to his destination! All three of my kids LOVE doing this together and I LOVE seeing my kids get along and work together to complete something! Teamwork!!
If Botley is still 'on' and your kids are busy doing something or taking too long to program him, the robot will try and get your kids attention by whistling or saying funny things! He had me laughing a few times!
Botley even has hidden features to unlock! With his fun challenges, Botley helps children take their first step into coding!
Why Is Coding Important?
I found it so interesting that kids as young as 4 can learn to code. My youngest is 5 and he is catching on to coding. Did you know that kids can learn to code even before they learn to write?
There are so many jobs nowadays that deal with coding. Jobs like software developers, robot engineers, website developers and more (and those jobs pay well!). I am encouraging my kids to learn to code because you never know, they may make a career out of it.
By playing with Botley the STEM teaching and coding robot toy, your child can learn some very important skills. It is never too early to learn important life skills and fun, robot toys like Botley the coding robot can help your child build their coding skills for a nice paying career one day.
STEM Learning & Fun
Learning Resources offers a huge selection of Science, Technology, Engineering, and Math toys. These toys help children problem-solve, communicate effectively, prepare for future success, and have fun at the same time!
About Coding Robot Toys
This coding robot toy is so much fun. He is simple to set up and pretty easy to code! The directions are easy to read and understand. Building my kid's coding skills has never been so fun! Botley kind of reminds me of a character from Star Wars! He is so funny and cute!
The cards that are included in this robot kit help your kids to remember how you programmed them. Botley's catchphrases are so cute and funny! My youngest loves it when Botley 'talks'.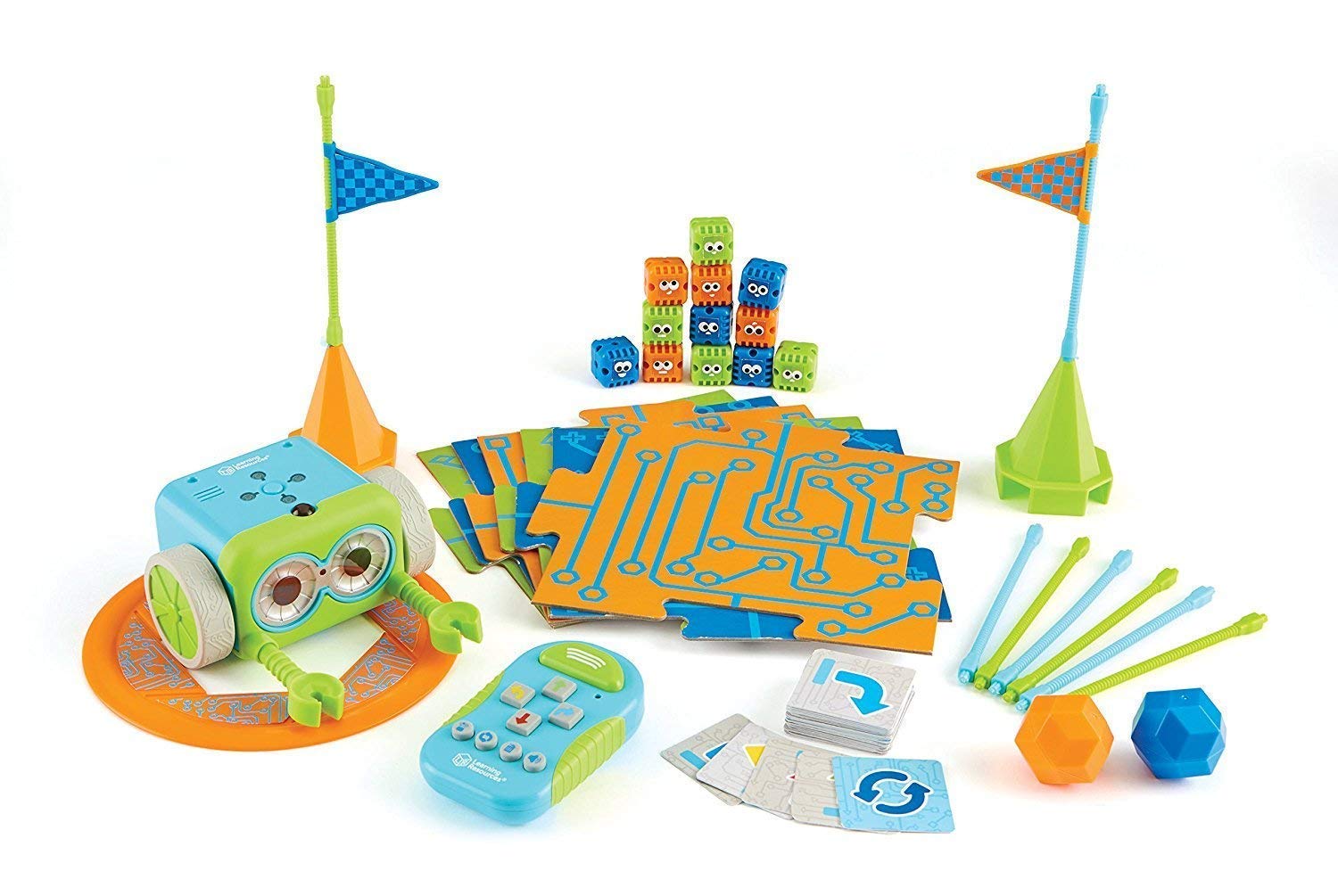 Save $10 On Botley!
For all of those early holiday shoppers out there- here's a fantastic deal on this year's reigning STEM education toy for kids. Beginning Sunday, 9/23 through the following Saturday (9/29) parents and educators can take advantage of a deep discount on this year's hottest education toy, Botley the Coding Robot. Voted "Best of CES" and "Best of Toy Fair" this year, shoppers can save $10 by purchasing Botley online and in-store at Best Buy.
Buy
You can purchase Botley The Robot Toys For Kids online at Amazon.com, Walmart.com or BestBuy.com. He retails for $69 but if you purchase him at BestBuy.com between September 9/23 through the following Saturday (9/29), you will receive $10 off! Great Christmas gift, don't you think? 😉