Congrats to Karen Glatt
*Products were received. Opinions are mine. This post contains my affiliate links.

During the summer, my hair just gets dry. I hate it! All that dry weather and sun can really take a toll on the mane. I usually use the oils in my hair and shampoo every other day or so, to ensure that my hair won't get too over loaded on products or whatever.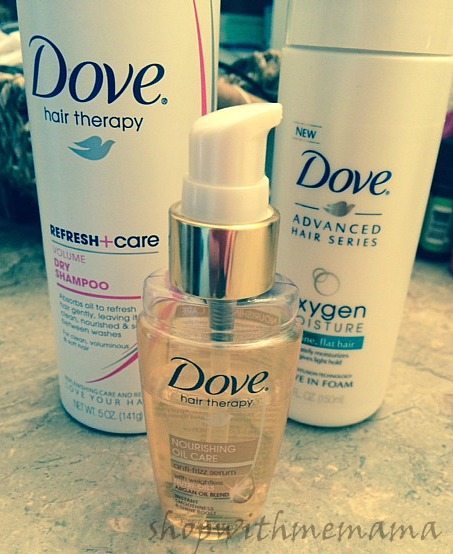 To help my hair along during the summertime, I use Dove products. Dove products not only keep my hair fit and manageable, but Dove hair care products are inexpensive.
I have been using some Dove products and always find them working so nicely for my hair. Check out the products I received! These are all must-have products that beat frizz, add moisture and nourishment, and provide volume and bounce for your hair!
Dove Oxygen Moisture Leave In Foam
 ($5.99): This is an ultra light leave in treatment that keeps your hair style in place, without weighing it down. Perfect for summer outings!
Dove Nourishing Oil Care Anti-Frizz Serum  ($5.49): 
Obviously this is for frizz control! I absolutely love this stuff. It not only controls the frizzies I have going on, but man it sure adds nice shine to my locks! Oh and it smells wonderful!!!
Dove Invigorating Dry Shampoo ($3.99): 
Can't wash your hair even though you have not for a few days? That's okay! This dry shampoo absorbs oils in your hair so it does not look unwashed or dirty. I like this dry shampoo because it does not make my hair feel weird when I use it, like other dry shampoo's do. It also smells really nice!
Dove Oxygen Moisture Root Lift Spray
 ($5.99):  This is great to use when your hair just won't do anything and yes, I have days where my super thick hair will not do anything and just lays straight. This spray gives it a little lift at the roots. You just hold your hair up, spray it at the roots then kind of mess it up with your fingers. It smells super clean and good too.
All of these are great, inexpensive products for caring for your hair during the summertime, or anytime of year! I love that they smell great too!
Buy
You can purchase the Dove Hair Care Products at http://www.dove.us/.
Win!
One person will win the following products:
Dove Oxygen Moisture Root Lift Spray
Dove Nourishing Oil Care Anti-Frizz Serum
Dove Oxygen Moisture Leave In Foam