I am sure you have heard it before, CBD can help you, naturally, in every way possible. Now, you can also use CBD skincare for all your skin ailments. From fine lines, large pores, and uneven skin tones to acne-free, spotless skin. CBD skincare is all the rage right now and it should be!
CBD is good for SO many things! I have been using CBD oil, skincare, tinctures, and more for all my ailments. From anxiety to skin issues, CBD has me covered. I am so thankful that I found CBD products, where would I be without them??? I often wonder that!
*This post includes my affiliate links. The product was received.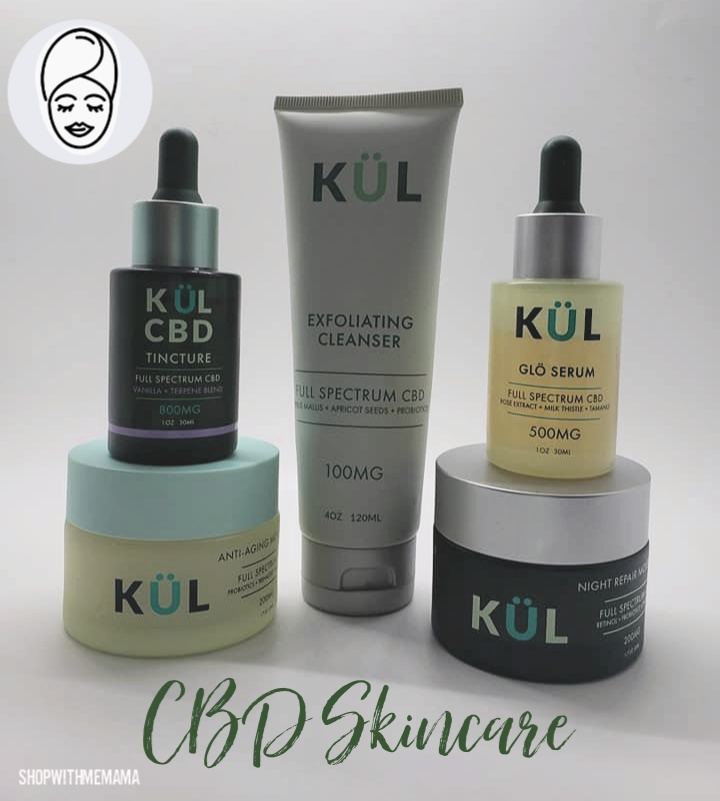 CBD Skincare You Need To Know About
One brand I recently reviewed is KULCBD and it is my new favorite CBD brand EVER. Why? Because not only is it a CBD skincare brand but also a wellness brand. They carry an assortment of skincare and wellness products like tinctures, oils, beauty, and so much more.
Let's Talk About KULCBD Products, Shall We???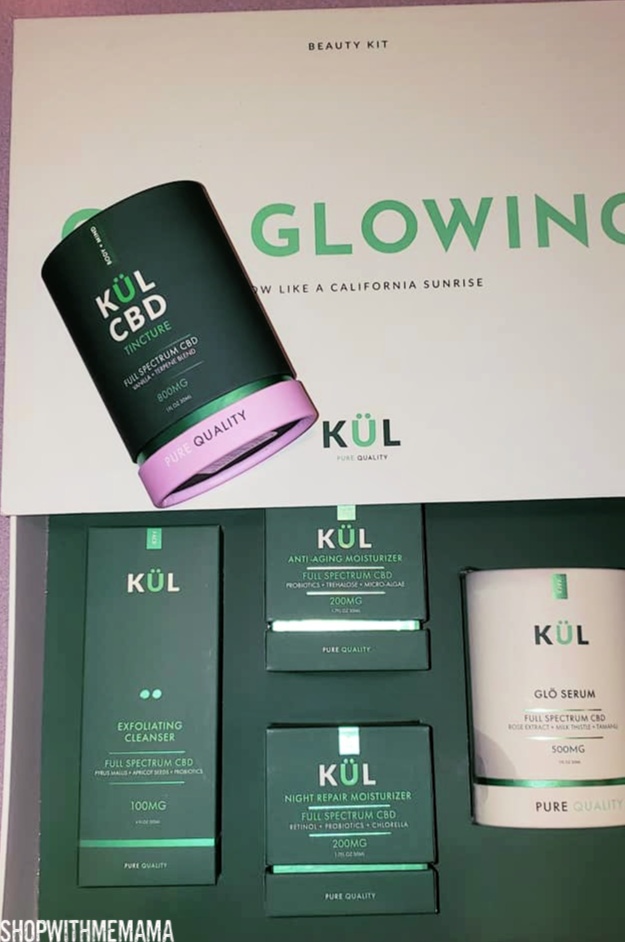 I received KULCBD's Glow Kit and Vanilla Tincture 800mg. Here we go.. in no particular order…
*Vanilla Tincture: I have tried MANY CBD tinctures before and NEVER have they been anything like this one 😉 Maybe it is because I have recently lost 15 pounds, I am not too sure, but this tincture is the strongest and most potent tincture I have EVER used. You only need a TINY amount for results. Best if taken right before bed!
The taste is vanilla and is pretty decent. I take one dropper full right before bed and then let it sit under my tongue for about a minute and let it absorb. Then I will drink some water to wash it all down. It is very potent, so a little goes a super long way! 😉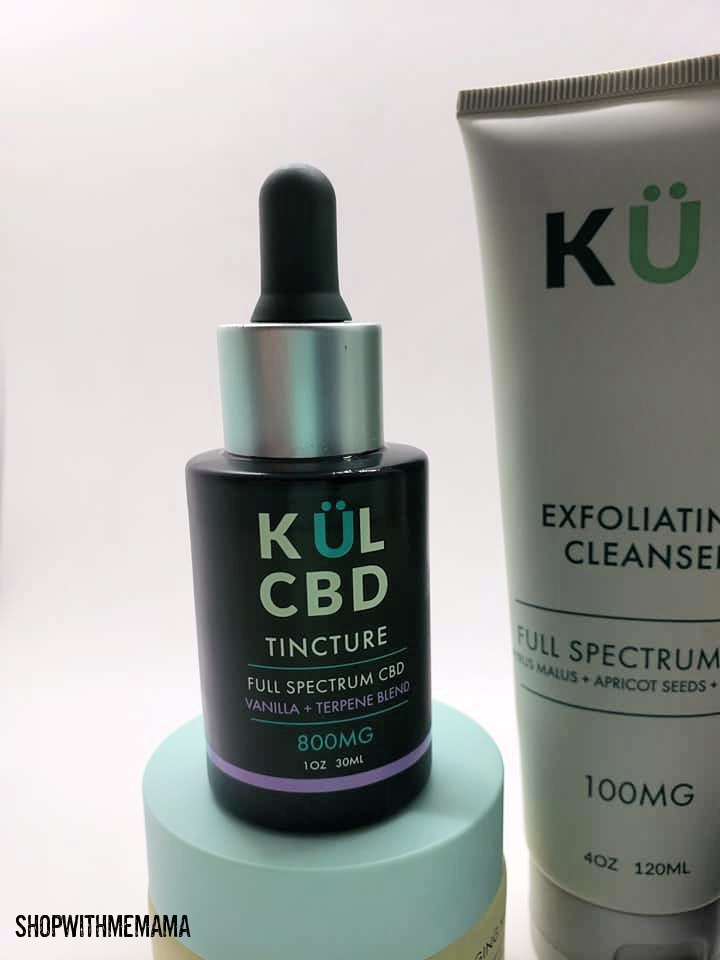 More about the Vanilla CBD Tincture:
800mg of high-quality Full Spectrum CBD synergistically combined with our proprietary Terpene Blend gives you all the benefits the plant has to offer to enhance your everyday routine.
This small-batch Full Spectrum CBD oil is made with the connoisseur in mind. It's enhanced with superior natural flavor while maintaining terpenes & minor cannabinoids, which allows the entourage effect for those looking for the very best in CBD quality, flavor & ultimate results. All of our Tinctures are vegan.
*KULCBD Glow Kit: This kit comes with everything you will need to transform your skin! I LOVE this kit and everything in it. It comes with 5 products. Check them out, individually, below!
Exfoliating Cleanser: This is such a great cleanser. It has little 'scrubbies' in it to get your skin exfoliated and SOFT. It is in a gel and foams up really well when rubbed onto your skin. It leaves my skin super soft and radiant looking! Great stuff! Retails for $45 (on sale right now from $60).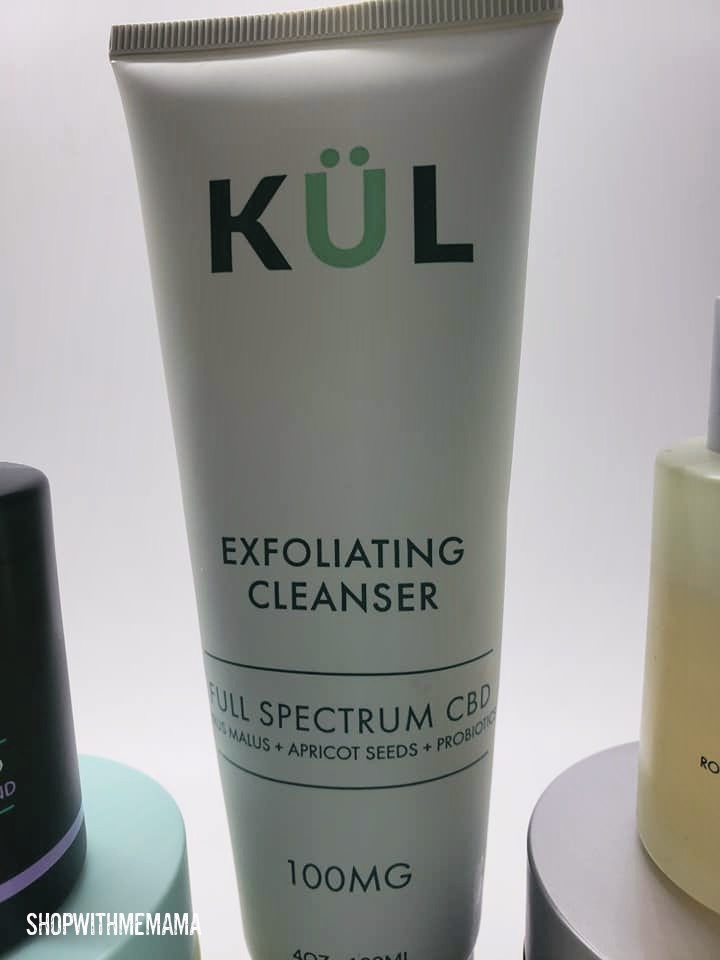 More About The Exfoliating Cleanser:
PYRUS MALUS + GREEN TEA + PROBIOTICS
This sulfate-free, polishing, luxury cleanser combines the purest quality Full Spectrum CBD with Apricot Seed to gently exfoliate & remove makeup, oil & dead skin cells to reveal healthy, radiant-looking skin.
See effective results immediately as this sulfate-free, polishing, luxury cleanser travels deep into pores to remove the impurities & helps condition the skin. Balancing probiotics & antioxidants encourage smoother, brighter, more even skin tone.
Anti-Aging Moisturizer: This anti-aging moisturizer is simply amazing for my skin. I am in my 40's and I am constantly battling with dry skin and Idaho weather has not helped! This CBD skincare moisturizer has really helped keep my skin in check and supple/soft feeling. Retails for $90 (on sale from $125).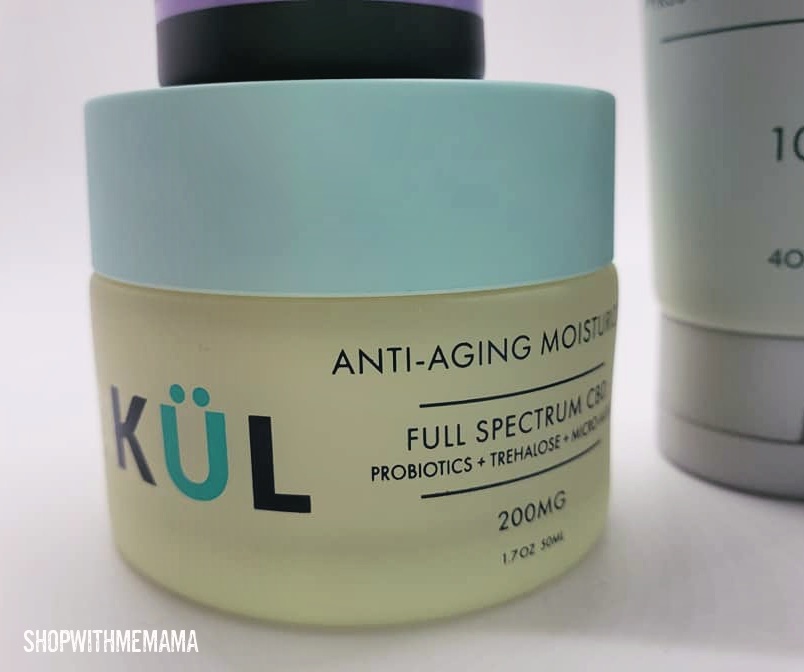 More About The Anti-Aging Moisturizer:
PROBIOTICS + TREHALOSE + MICRO-ALGAE
Rich in antioxidants, this lightweight, luxury moisturizer combines 200mg of Full Spectrum CBD with a power-blend of Micro-Algae & probiotics to provide hydration & anti-aging benefits to enhance your skin's natural radiant glow.
Our patent-pending formula of Probiotics, CBD, and Micro-Algae along with a myriad of synergistically combined botanicals provides a one of a kind experience. Expect an appearance of softer, smoother, radiating skin.
Glö Serum: I LOVE serums for my skin only because they absorb right into my skin leaving it SO dewy and nice feeling. This serum is like that too, except it does SO much more than just leaving my skin dewy like! This is a light oil that absorbs quickly into my skin leaving it so so soft. It is truly amazing stuff! Retails for $110 (on sale from $145).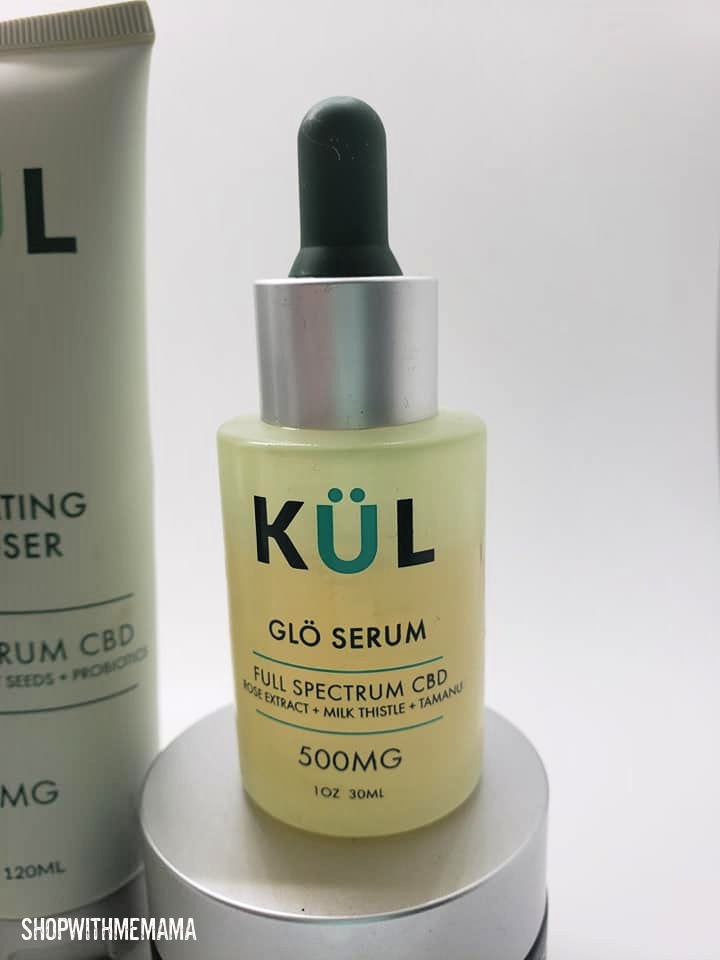 More About The Glo Serum:
ROSE EXTRACT + MILK THISTLE + TAMANU
Described as "The Holy Grail of Facial Serums" by Bella Magazine, this light, repairing, luxury facial oil synergistically blends Full Spectrum CBD, balancing probiotics, hydrating omega-3 fatty acids & antioxidants in its technologically advanced patent-pending formula of over 15 botanicals to provide you with a radiance that continues to amaze.
With 500 mg of Full Spectrum CBD, this luxurious serum provides superior value with uncompromising quality.
Night Repair Moisturizer: I use this awesome sauce at night time right before bed. I slather it on my face and neck area and go right to bed. In the morning, my skin is SOOOOOO soft! My skin has been transformed, overnight, literally. Retails for $95 (on sale from $135).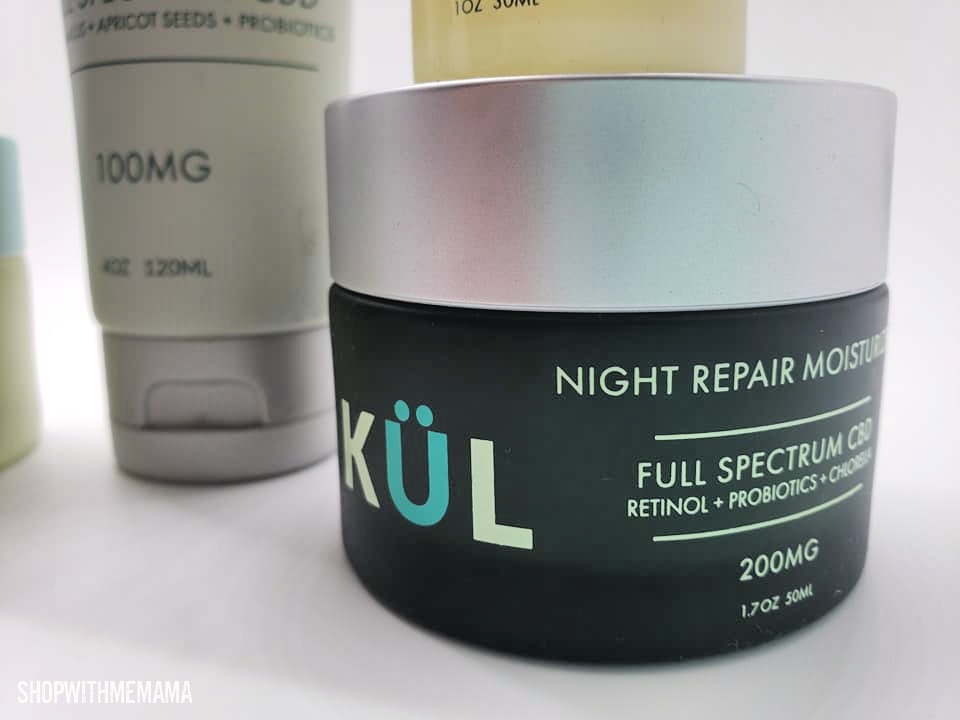 More About The Night Repair Moisturizer:
RETINOL + PROBIOTICS + CHLORELLA
Deeply nourishing & restorative, this luxury moisturizer is infused with 200 mg of Full Spectrum CBD, retinol, double the probiotics & micro-algae plus a myriad of specially selected botanicals to promote the skin's natural renewal process & make the skin look & feel fresh, healthy & youthful.
Our patent-pending formula of Probiotics, CBD, and Micro-Algae is truly one of a kind. Applying this magical formulation prior to bedtime will allow your skin to feel and look replenished, fresh, and glowing the following morning.
Muscle & Joint Body Cream: Now, I did not get this in my Glo Kit, but I did receive the Vanilla Tincture instead. However, this stuff is supposed to be really good for any aches and pains you have. Retails for $75 (on sale from $95).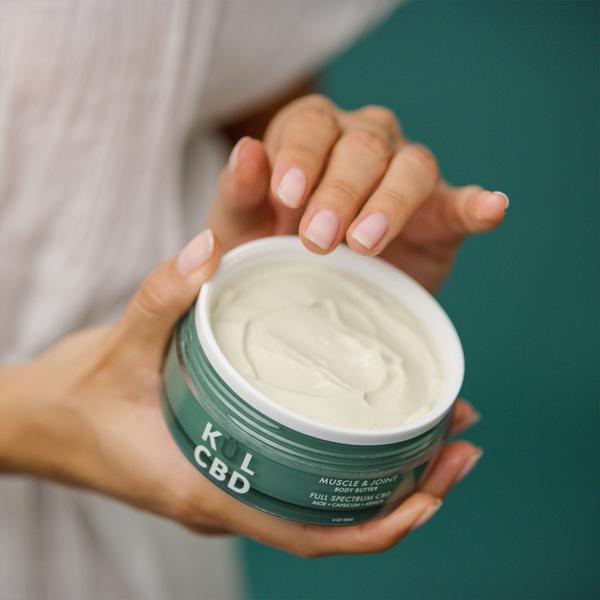 More About The Muscle & Joint Body Cream:
ARNICA + CAPSICUM + MENTHOL
An indulgent, non-greasy, lightweight, luxury cream, scientifically formulated with Full Spectrum CBD, menthol, & capsicum, to provide a KULing & warming effect to massage tired, stressed, & fatigued muscles & joints.
The added bonus of Arnica Montana and Eugenia Caryophyllus (Clove Flower) Oil completes the luxurious and healing nature of this superior product.
Twice the volume (4 oz) and twice the CBD (400 mg Full Spectrum) at the same price as our competitors providing double the value of any other brand.
I absolutely love the KULCBD Glo Kit and all the products I received. They are high-quality products with high-quality ingredients that I know are good for me and my skin. And, they work!
Shop CBD Skincare And Wellness Products!
You can purchase KUL CBD skincare and wellness products online at KULCBD.com. Free Shipping on all orders with the US KULCBD Products (No Minimum).
Win!
One person is going to win a KULCBD Glow Kit CBD Skincare valued at $399! Yay!
Rules
The contest is open to US residents ages 18+. This giveaway will end on July 12, 2020, at 11:59 pm MT. The winner will have only 48 hours to claim their win or a new winner will be selected. I am NOT responsible for lost or stolen mail (DUH!).
PIN IT