Finding Christmas presents for toddlers is simple! They like just about anything that is messy, makes sounds, lights up and/or moves! And below, I have quite a few gift suggestions for that little toddler on your holiday list!
*My holiday gift guide includes products I have received from the brand and/or my Amazon affiliate links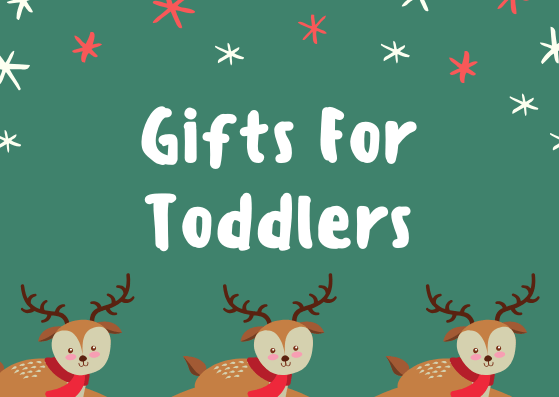 Christmas Presents For Toddlers!
LeapFrog Learning Friends 100 Words Book™: Join animal friends Turtle, Tiger, and Monkey as they explore new vocabulary in the Learning Friends 100 Words Book™. Explore the colorful pages and touch each picture to hear the animals say toddler-appropriate words along with exciting facts and sound effects.Buy Now
Mega Bloks 80-Piece Big Building BagBuy Now
68 Piece Workbench W Realistic Tools & ELECTRIC DRILL for Construction Workshop Tool BenchBuy Now
Deluxe Toy Workshop Playset for Kids with Interactive Sounds & LightsBuy Now
Radio Flyer 4-in-1 TrikeBuy Now
VTech Busy Learners Activity CubeBuy Now
Kullerbu Construction Site SetBuy Now
The PBS KIDS Playtime Tablet DVD Player comes preloaded with over 23 educational games and 120 video clips, songs, and music videos that all teach reading, math, and more. Expand your viewing power by playing your kid's favorite DVDs on the Playtime Tablet DVD Player. Parental controls let you manage and customize your child's experience. With Google Play, you can access over 1 million applications and games along with access to thousands of movies, books, songs, TV shows, and magazines. 100% of the net proceeds PBS KIDS receives from all purchases of the PBS KIDS Playtime Tablet DVD Player helps encourage all children to discover who they are and what they can do.Buy Now
All Aboard! Take a ride through PBS KIDS country! All PBS KIDS EverEarth wooden toys are produced from 100% FSC certified wood and manufactured to the highest standards using sustainable resources, water-based paints, and recycled packaging. 100% of the net proceeds PBS receives from your purchase supports our mission to help all children, especially those at risk. Retails for $19.99.Buy Now
Narwhal plush animal is 8″ long. The stuffed animal makes playtime fun. Get alone or collect a variety of PBS KIDS plush animals. Retails for $9.99.Buy Now
MLB® POP A PITCH: Kids pitching machine! Features baseball trainer that helps with hand & eye coordination skills. Easy step, pop, and swing motion with Durable ABS plastic construction. It comes with 3 AERO-STRIKE plastic baseballs and a 25″ collapsible telescopic plastic bat. Has auto ball feeder for multiple swing action practice!Buy Now
Lil' Stinkers KidSafe Aroma Plush + Signature Blends Set: PJ's Blend is a cheerful burst of fruity essential oils, including fresh Steam Distilled Lemon and bright Grapefruit Pink. As one of the KidSafe® Lil' Stinkers™ collectible plush animals, PJ has a removable Safety Scent Cartridge™ that allows parents to put a few drops of PJ's Blend or other KidSafe® essential oil on a scent pad and then secure it inside the toy. Kids can enjoy PJ's snuggles, comfort, and uplifting, fruity aroma whenever needed.Buy Now
Prance & Rock Learning Unicorn: Go on a magical ride with the Prance & Rock Learning Unicorn™! This grow-with-me unicorn transforms from a rocker to a ride-on in seconds. As toddlers rock and ride, the built-in motion sensors respond with playful music and magical unicorn sounds to encourage gross-motor development and imaginationBuy Now
LeapFrog Scrub 'n Play Smart Sink: Soak up fun and learning with the Scrub 'n Play Smart Sink™. Pretend to wash the dishes in the sink and count from one to ten by adding the pretend soap. Learn about colors and sizes when matching the plates to their slots in the drying rack. Load up the dishwasher and choose the cycle. One, two, three! Hear fun responses when opening and closing the door. Practice following directions by pressing the star activity button to get some clean-up suggestions. Wash the green plate! Water sounds make clean-up time feel real. Everything stores neatly when playtime is done. This toy contains electronics and is not a water toy.Buy Now
Play-Away Portable Playard is the ultimate playpen enclosure whether heading down the street or across the country. Aside from a cup of coffee, the Play-Away will quickly become your favorite item with features you'll love like a detachable UPF 50+ sun protection canopy, easy to clean the water-resistant padded floor and mesh sides so your little one can see you and you can see him. Plus, the attached pouch is perfect for a touch-screen device offering a chillout or learning zone when you need a few minutes to get stuff done.Buy Now
FOR EVERYONE!! Tickets To SeaWorld!!
SeaWorld Park: Plan your day at SeaWorld San Diego! Experience thrilling rides inspired by the force and power of the sea. Enjoy fabulous, family-friendly shows and presentations. Explore beautiful aquariums, visit sea animals and much more!Buy Now