This post is all about Why Drinking Alkaline Water Can Help With Energy! To tell you the truth, I just don't drink enough water each day. I try SO hard, I really do, but I just don't seem to drink enough. I try to flavor my water or keep it in the freezer to ensure it is really cold when I drink it. That seems to help some.
I had also never heard of Alkaline Water. I never knew the benefit of drinking it until a few weeks ago. I never knew that drinking alkaline water can help with energy and much, much more. The things I learned about alkaline water, really opened my eyes.
We all know the importance of water and the essential role it plays in our health. A company, Environmental Solutions 4-Life (Es4L), has developed the most affordable alkaline antioxidant water ionizer in the United States.
*This post includes my affiliate link.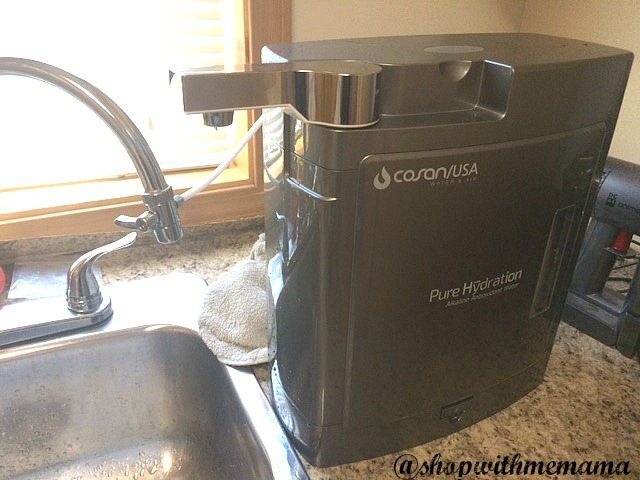 Why Drinking Alkaline Water Can Help With Energy
I received the Pure Hydration system to review. This was pretty easy to set up and install. We decided it would be best to set it up in our laundry room by our little sink as opposed to setting it up in our kitchen, only because you have to drill a hole into your faucet to connect the hardware and tubing to the machine.
In our laundry room, we just put a valve that can be shut off or turned on, connected to the faucet, so whenever we want to use the Pure Hydration System, it is simple to use. I am sure we could have done that in the kitchen too but opted for our laundry room instead.
After it was all ready to go, I was eager to try it out. You just flip out the nozzle and turn on the faucet. It takes a second before water starts flowing. Just fill up your cup, glass, or water bottle and then turn off the faucet and push the nozzle back into the side of the machine.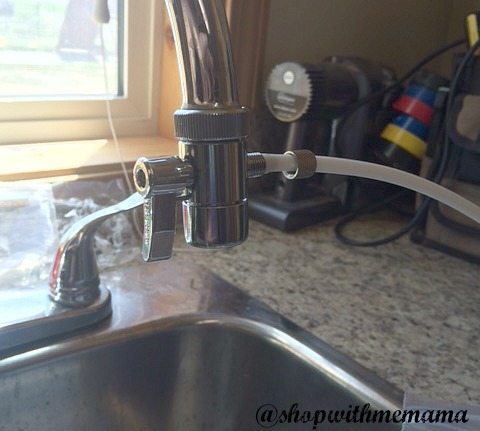 Now, for us, even if the water was turned off, the nozzle kept going, so we have it over our laundry room sink so it can completely drain out, and then we close up the nozzle (or push it in to turn it off). You don't have to wait, though, you can just push in the nozzle when you are done using it and it will shut off, it just will drip or leak when you are pushing it in. But once in, no dripping or leaking.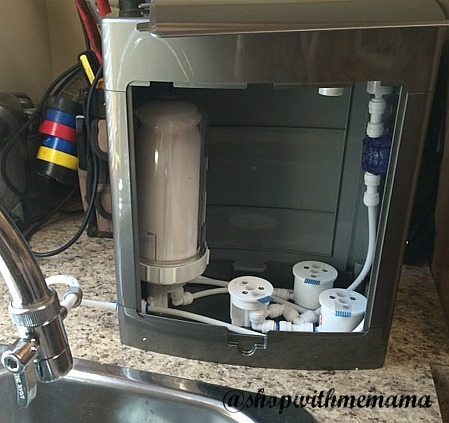 The Pure Hydration System has four stages of purification
1st Stage: Has a Casin Resin Filter. Neutralizes mercury and other heavy metals. Softens hard water for better taste and texture creating a smooth pure hydrating water. There are many different Alkaline water filters, so be sure to choose the one that is best for you and your machine.
2nd Stage: High-compressed ceramic diatomic filter with 0.2 – 0.5-micron pore diameter. Removes micro-particulate contaminants, sludge, and rust.
3rd Stage: Has an Alkaline/Hydrogen infusing filter. Activated Carbon & Magnesium for increasing molecular hydrogen level to 1,500 parts per billion. 0.1 – 0.3 microns rated filtering for removing bacteria, viruses, and microbes.
4th Stage: Carbon block 0.1 – 0.3 microns rated media filter. Removes chlorine, odor, and organic heavy metals. Contains Coral, Tourmaline, Zeolite, KDF, and Barley Stone for increasing alkalinity and neutralizing mercury & other heavy metals.
What Are The Benefits?
I can't believe ALL of the benefits you can get, from drinking water from the Pure Hydration System. Amazing!
Boosts Your Immune System
• Helps balance your bodies pH level
• Improved Look and Feel of Your Skin
• Energizes Your Body
• Detoxifies at a Cellular Level
• Flushes Fats and Promotes Weight Loss
• Heals and Balances Skin and DNA
• Improves Blood Circulation
• Reduces Recovery Time After Exercise
• Improves Muscle pH and Hydration
• Prevents Heartburn and Acid Reflux
• Reduces Inflammation of Uric Acid and More!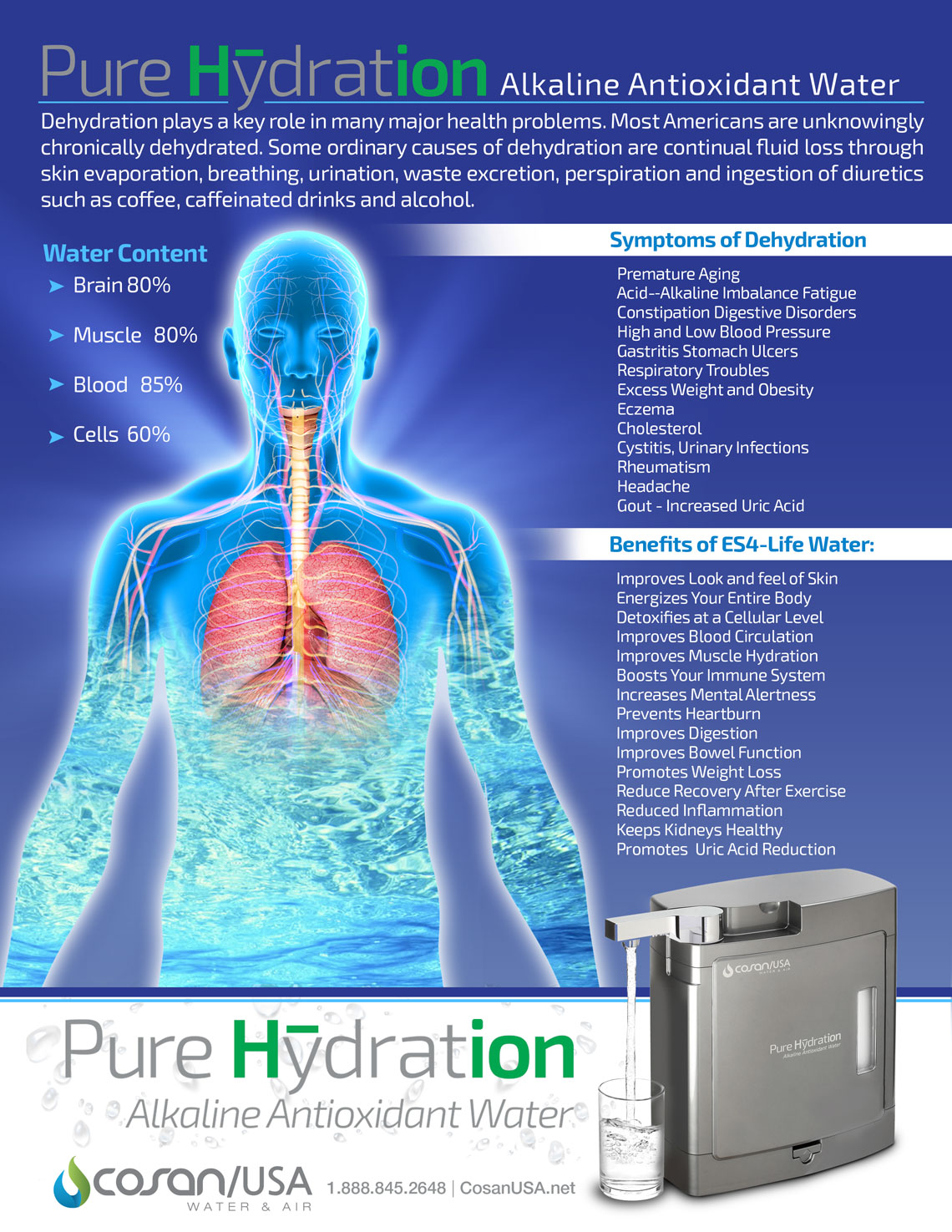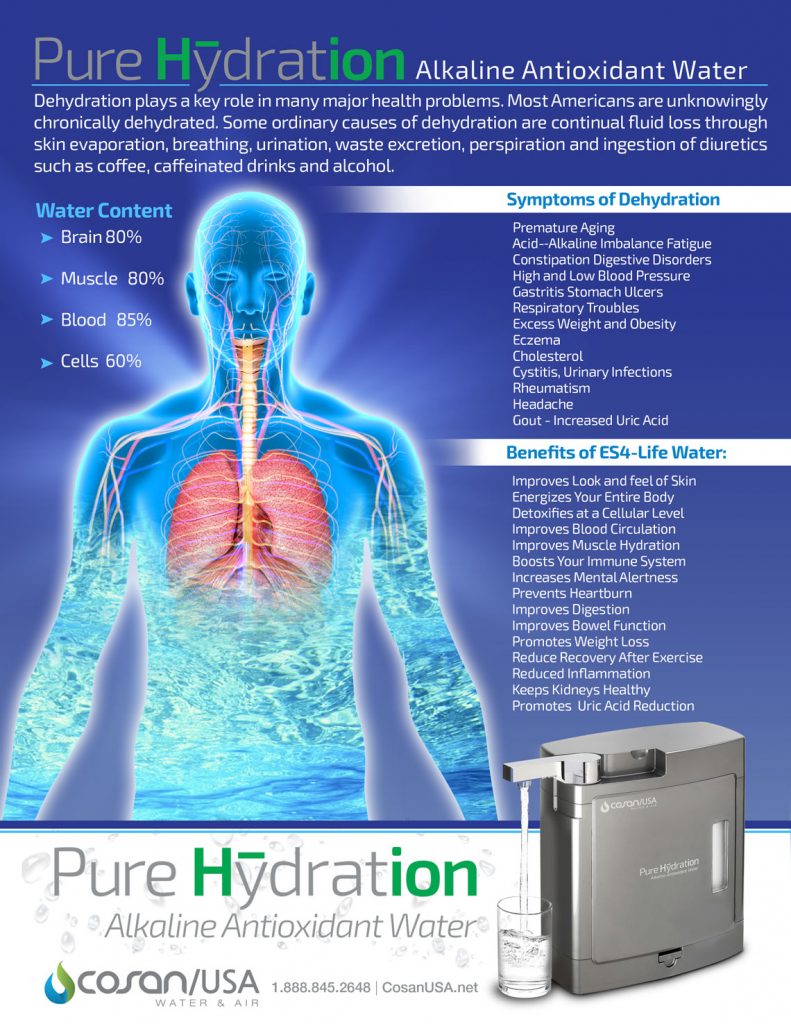 Hydro Bullet
I also received the handy Hydro Bullet. The Hydro Bullet is an Alkaline Antioxidant Water Travel Ionizer that you can take with you anywhere! So you get fresh water where ever you go! The first time you use this, you just put water in it and shake it, then dump out the water. Do that about 3 times, then it should be ready for use. Do not use any detergents on this!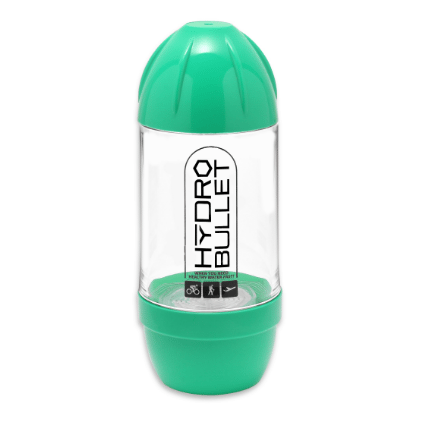 When the Hydro Bullet is ready, use regular tap water or bottled water and fill to the top and shake. It should be ready to drink in a couple of minutes. Make sure the filter at the bottom is pressed to the bottom securely, so it doesn't move around.
Benefits Of Using The Hydro Bullet
Magnesium Alloy
Provides the body with Molecular Hydrogen ions when combined with water, which is essential for the proper functioning of many of the body's vital organs such as the brain, heart, liver, and kidneys.
Ceramic Ball
Restructures the molecular structure of water into micro-clustered groups for quick cellular absorption. Has been proven to enhance blood circulation and reduce fatigue, stress-imposed pain, and anxiety.
Red Clay Ceramic Ball
Softens hard water for better taste and texture creating a smooth pure hydrating water. The minerals present in Red Clay enhance the production of enzymes in all living organisms.
Active Carbon Ceramic Ball
Activated carbon absorbs and removes impurities and odor from the water while increasing alkalinity.
Buy
You can purchase the Pure Hydration System on Amazon.com. Right now they have a coupon you can click for $100! So be sure to buy it now if you want one!