When Do Women Ovulate? That is a question I have been asking myself for YEARS. When you are trying to conceive (TTC), things can get a little tricky, believe me, I KNOW. Those of you who have been long-time readers of my blog know the complications I had in trying to conceive my third child.
Easily Understand The Ovulation Process? Charting your fertility??? Ha, Ha! It was not an easy task. Secondary infertility SUCKS. Who knew getting pregnant would be this HARD :/
So, when do women ovulate? That is a question that I am sure many of you have asked yourselves before, I know I have! I have hopefully answered this question for you, below!
I really hope this article helps someone who is trying to conceive! I send you ALL baby dust (Baby Dust means to wish someone good luck with trying to conceive)!!!
If you don't know what baby dust means and if you come across others trying to conceive abbreviations that you don't understand here is a very helpful TTC dictionary with all of those acronyms!
*This post includes my affiliate links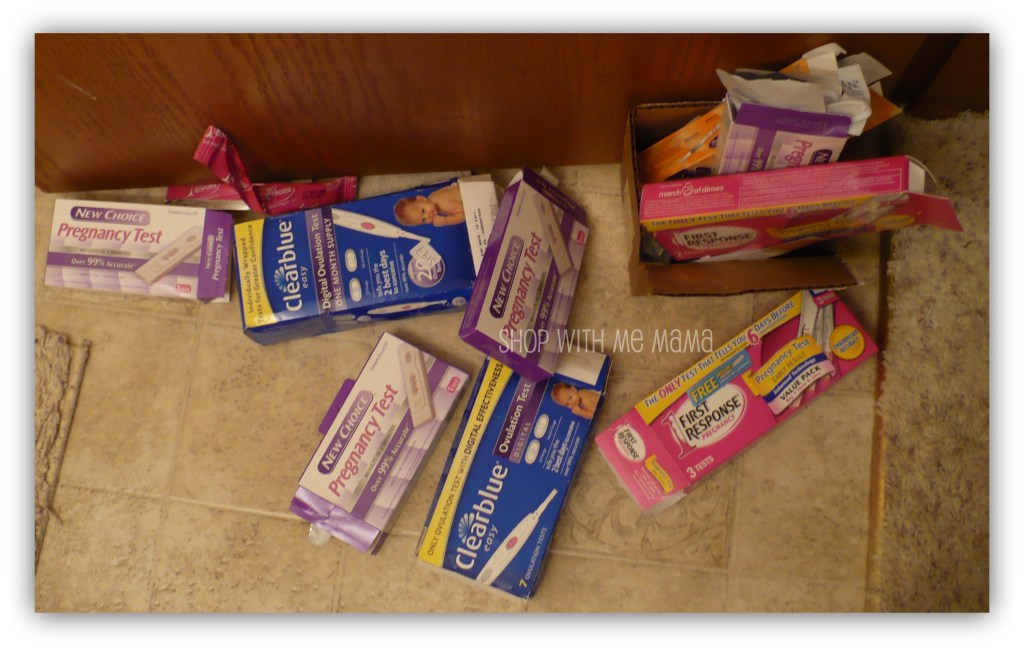 Tracking my ovulation REALLY sucked. Temping every morning at the same time, taking ovulation tests, charting my fertility/ovulation in a notebook, miscarriages, checking my cervical mucus, and the list goes on and on and on! I even had a psychic reading (which was extremely accurate, btw). Gah. Enough to drive a woman crazy!
Recently, a company developed a Graphic Ovulation Calendar for Red Rock Fertility Center. I sure wish I had this to peek at when I was in my TTC days… With this graphic ovulation calendar, you can Easily Understand The Ovulation Process.
This graphic ovulation calendar is designed so that all readers can easily understand the ovulation process, (minus the complicated medical terms!).
Ovulation Calendar Details
Below, are some details about the ovulation calendar:
It highlights your most fertile days within the ovulation cycle so that you can easily understand when your best chances of conception are and plan accordingly.
It includes hormone icons next to certain calendar days to indicate that important chemicals are being released so that you feel more involved in the process even on days when you're not most fertile.
Infographic Ovulation Calendar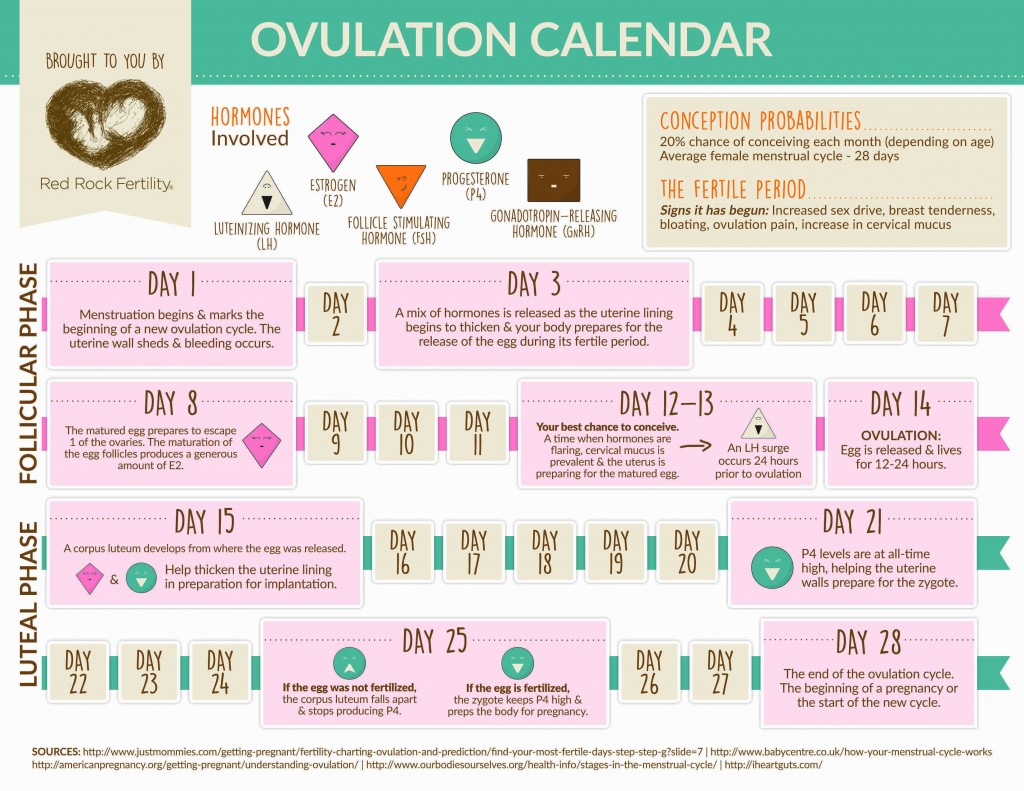 When Do Women Ovulate? Products To Help You Conceive Faster!
Since I have a lot of knowledge about trying to conceive (I have done SO much research it is insane…), I wanted to share with you all the products that have REALLY helped me out in trying to conceive FASTER. I hope this can help someone!
Products, Personal Tips, and Information to Help You Conceive 'Faster'
Basal Body Thermometer

(

for your basal body temperature

)
Tips: Your Basal body temperature (BBT or BTP) is the lowest body temperature attained during rest (usually during sleep). It is usually estimated by a temperature measurement immediately after awakening and before any physical activity has been undertaken.
Take your temp with this thermometer as soon as you wake up! Don't drink anything, don't get out of bed, and don't do anything before taking this temp. When you are done taking your temp, write it down or put it in a TTC app you are using so you can track your ovulation!
You must temp at the same time or close to the same time, each day. When you see a temperature rise for at least three days, chances are, you have ovulated.
2

.

Ovulation Predictor Kits/Ovulation Test Strips
Why You Need It (Tips And Info): An ovulation predictor kit (OPK) can help you identify the most fertile days during your monthly cycle (the day or two leading up to ovulation) when sex is most likely to lead to pregnancy.
I start using ovulation test strips starting on CD10 (that means cycle day 10) of my cycle as I usually ovulate around CD15.
Why You Should Use It (tips and info): I bought this in pill form on Amazon and the first month I used it, I got pregnant. That was AFTER almost 3 years of trying. Unfortunately, I just lost this baby a couple of weeks ago, marking my 4th miscarriage 🙁
However, I swear these pills helped me get pregnant, so I will definitely be using them this month again. I bought this brand of Maca For Fertility.
Why You Should Take It (Tips and Info): I JUST started taking this, this month as I have read amazing things about Vitex.
I bought it from Amazon and started taking it about 10 days or so ago. I bought the brand linked above, but there are many others to choose from. This is great to take if you are low on progesterone as it is said to help increase it.
Why You Should Take it (Tips and Info): Yep. The stuff 'old people' take! When I first heard of Geritol, I was very curious. People say that there is a baby in EVERY bottle… That was enough to sell me on this product!
With my last pregnancy in March, (sadly ended in my fourth miscarriage), I got pregnant in my second month of taking Geritol (after THREE years of trying!).
I take the liquid form and it is so gross, but I quickly take a shot of it and chase it with some iced tea or water. However, you can get Geritol in pill form too. So, I have to say it WORKS. Buy it.
Why You Should Use One (Tips and Info): Using a fertility app has helped me track my ovulation. And, after time using the fertility app, makes predicting your ovulation, easier because it 'remembers' your important dates like ovulation and your menstrual cycle. I use Fertility Friend (have been using it since 2006!)
7. Preseed
Why You Should Use It (Tips and Info): I have used Preseed every time I have gotten pregnant and I highly believe it is because I used Preseed. It is sperm friendly (unlike MANY other lubricants) and acts like your natural cervical mucous.
It doesn't dry up and stays nice and slick for the sperms to make their way to that egg! I highly recommend Preseed to everyone I know who is TTC.
*Note: ALWAYS consult your doctor when thinking about taking new supplements/pills/medication. I am NOT a doctor nor do I pretend to be. I am only suggesting things that have worked for ME! You do your own research.
I hope this blog post has helped you in some way. I KNOW how heartbreaking it can be, month after month, after month, and still not becoming pregnant! I understand!
That is why I created this blog post to give you ideas on things you can use to hopefully help you get pregnant quicker and help you conceive faster.
Hey, every tip and idea helps! Good luck to you on your trying-to-conceive journey and TONS of baby dust to YOU, Mama!!!
And, if you ever need someone to talk to, I am here for you! Feel free to connect on Facebook or email me directly at [email protected].
When Do Women Ovulate? Are You Trying To Conceive? Do You Track Your Ovulation? What products do you use?