In this blog post, we will discuss 6 Fun Easter Outfits Ideas for Women! Easter time is all about the coming of spring: from baby farm animals to newly-grown flowers, it's likely you're already starting to see signs of the brand-new season. It also means more sun, fun, and excuses to wear pretty colors and cute designs!
If you've been wrapped up in a cocoon of cozy sweaters and coats these last few months, you might feel like it's time for a change in style. Welcome the new season with these Easter-inspired outfit ideas for every kind of event.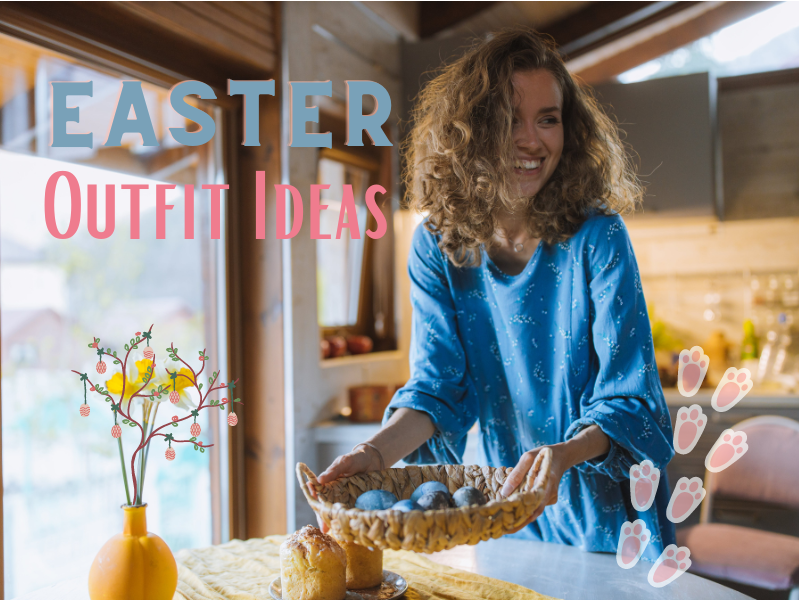 6 Fun Easter Outfits Ideas for Women
It's time to get your spring outfits ready. Whether you're going to church or just hanging out with friends, we've got all the ideas you need to look your best!
What To Wear At An Egg Hunt With the Kids
Whether you're a mom, an aunt, or a grandma, there's only one rule for spending time with the kids at Easter: get involved! For an Easter celebration involving arts, crafts, and hunting for treats, you'll need an outfit you can move about in! A jumpsuit or romper is ideal, and a floral print means the grass stains won't show up. Add your favorite pair of sneakers, and some low-key jewelry, and hop to it!
What To Wear At An Easter Dinner Party
If you're hosting or attending a springtime dinner party, chic separates look stunning without feeling too fussy. For the top half, choose a light sweater in a slightly loose fit. Merino wool is a great option for spring: add a pair of your fanciest earrings for flair, and wear with either a pair of tailored pants or a flowy midi skirt with an elasticated waistband.
What To Wear At An Easter Parade
Step out in style with an Easter Parade look that's fun, yet fashion-forward. A printed dress offers just the right amount of springtime sweetness, while the addition of a blazer (a slightly oversized fit is best) gives a little structure and will keep you warm if it gets overcast. Add a pair of chic flats and your fanciest Easter bonnet, and you're good to go.
What To Wear At A Low-Key Casual Easter Gathering
If you're planning on spending Sunday curled up in front of the Charlie Brown Easter special and eating chocolate, a cute-yet-casual outfit is ideal. Start with a pair of loose-fit trousers in a pretty print and add a plain cotton tee shirt in a neutral shade for balance. To accessorize, an adorable headband or layered necklace keeps the look relaxed, yet stylish.
What To Wear On A Springtime Date
Whether it's a picnic in the park with your beau or a solo trip to the art gallery, the best date outfits have one thing in common: effortless style. The "jeans and a nice top" look is always in, and it's versatile enough to easily take you from day to night. Pair your favorite denim with a pretty top or blouse with some visual interest to it like an abstract print or bell sleeves.
What To Wear At A Brunch With the Girls
If you're celebrating Easter with a mimosa (or non-boozy alternative) in hand, it's best to wear something comfortable yet stylish. Opt for a smock dress, versatile enough to wear with either flats or heels and pair with a cropped cardigan or jacket. For added charm, a wicker or rattan bag fits the bill perfectly.
For even more style inspiration, why not check out the fabulous range of springtime outfits at Shop the Mint? From sweet pastel styles to gorgeous prints, they're perfect for celebrating springtime, no matter what you have planned. There are so many super cute, stylish, and 6 Fun Easter Outfits Ideas for Women!