*Product received. Opinions are my own.
I absolutely love the brand, Exuviance. I have been reviewing a lot of their products lately and I am so very impressed with each and every one of them. The most recent Exuviance product I received to review is the Exuviance Sheer Daily Protector SPF 50.
Since I am already very familiar with the brand, I knew I would more than likely love this product like I love the others I have tried. I was eager to try it out!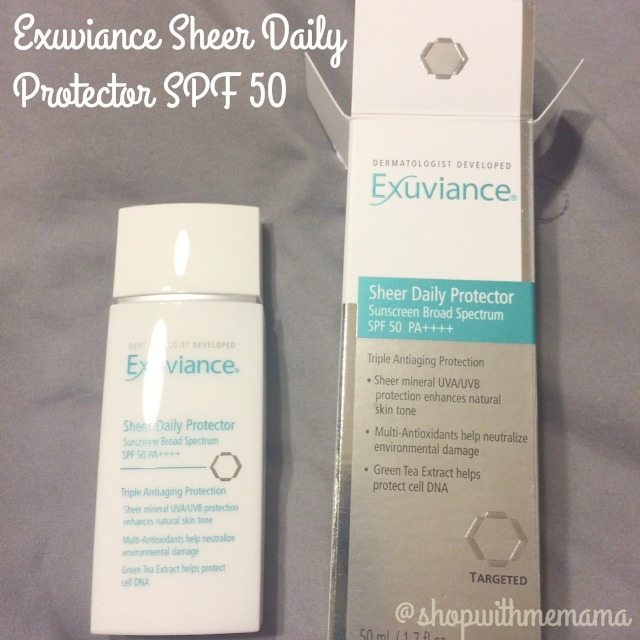 I liked the shape of the bottle, makes it easy to hold and squeeze the product out. Before you squeeze out the product, though, be sure to shake it really well to get the ingredients mixed together really well. Apply liberally to face, neck and other exposed areas, 15 minutes before sun exposure. Use a water-resistant sunscreen if swimming or sweating and reapply at least every 2 hours. It smoothes onto your skin very nicely and leaves it so soft feeling and healthy looking.
I love that it has an SPF of 50. Just because it is wintertime, does not mean you don't need some sort of SPF. You always need SPF, so having it in this beauty product is a plus! Exuviance Sheer Daily Protector SPF 50 is exactly what skin needs to help protect against photo damage, the primary cause of signs of aging.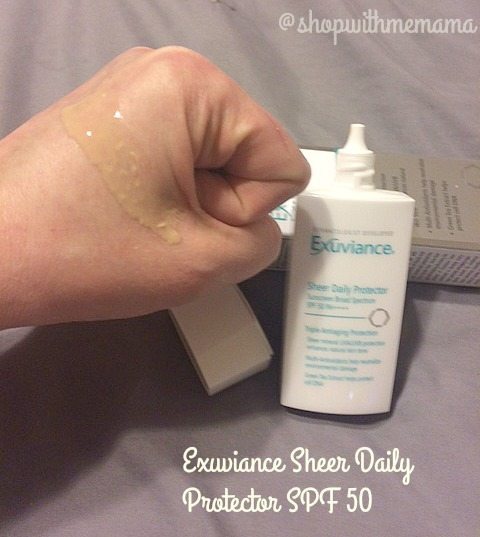 Exuviance Sheer Daily Protector SPF 50 is an ultra-fine transparent mineral sunscreen. This weightless fluid blends effortlessly on clean skin or layered under makeup in a daily skin care routine. I prefer to wear it under my regular foundation. When I do wear it under my foundation, it makes my face look flawless. It helps plump up my fine lines and my regular makeup looks smoother!
The ultra-fine transparent mineral sunscreen is virtually invisible with a universal tint. It helps smooth out imperfections and helps natural skin tone appear more even. So wearing this alone, without foundation is also nice! The multi-antioxidants vitamin E and lactobionic acid, fortify your skin's natural defense, scavenging free radicals brought on by daily environmental aggressors before they can cause premature aging.
This product is suitable for all skin types and is fragrance-free, paraben-free and oil-free as well as non-acnegenic, non-comedogenic! The recommended use of this is in the am and the pm.
Learn About the Brand
EXUVIANCE® is created by Dr. Van Scott and Yu, widely recognized as leaders in the field of cosmetic dermatology. They discovered the anti-aging benefits of Glycolic Acid and created and patented the first Glycolic Peel. Since their ground-breaking discovery, the creators of Exuviance have continued to develop many new patented anti-aging ingredients backed by evidence from numerous scientific and clinical studies. Recognized around the world, Exuviance formulas are expertly developed to visibly transform skin by combining their patented innovations with the best, state of the art technologies available in dermatology today.
Buy
You can purchase Exuviance Sheer Daily Protector SPF 50 online at  www.exuviance.com. It retails for $42.00.
Get Social!
Connect with Exuviance on Twitter, Facebook, Instagram, Pinterest and Google+!
How Do You Take Care Of Your Skin?