How can you get fresh Christmas wreaths delivered to you? By ordering them online at Christmas Forest! They have a HUGE selection of fresh Christmas wreaths to choose from and every wreath is made with such care and is just beautiful! I chose the gorgeous 25″ Woodland Christmas Wreath and it is stunning! And, I heard they last forever!
'Tis the season for decking the halls and what better way to do it than with a fresh, fragrant Christmas wreath from Christmas Forest?
For over 40 years, their family-run business has been delivering fresh wreaths worldwide, infused with the sights and scents of the Cascade Mountains.
Each wreath is handcrafted and one-of-a-kind, bringing the very essence of Christmas into your home. But they don't just stop at wreaths.
They make centerpiece wreaths with candle holders, holiday swags, and a cross Christmas wreath, a gorgeous fresh garland, and they also carry festive Christmas ornaments too! They have a great assortment of them to choose from.
Their friendly and professional customer service is always available to answer any questions you may have and their environmental commitment means they use sustainable sourcing practices, always!
Fresh Christmas Wreaths Delivered To Your Doorstep
The Woodland Christmas wreaths (what I received!) are extra full and luxurious. For instance, the 'elves' add extra noble fir and princess pine to create a lush Christmas decoration.
I think next time I want to get their Jingle Bells Wreath because it has little twinkling lights and tiny ornaments on it! Makes it extra festive and Christmasy! They also make a candy cane wreath! I can't believe how creative they are at making these gorgeous, full, and festive-looking wreaths!
Landra is a master artisan at Christmas Forest with over 25 years of experience. The Woodland Christmas wreath is her favorite and she helped design it.
*This post includes my affiliate link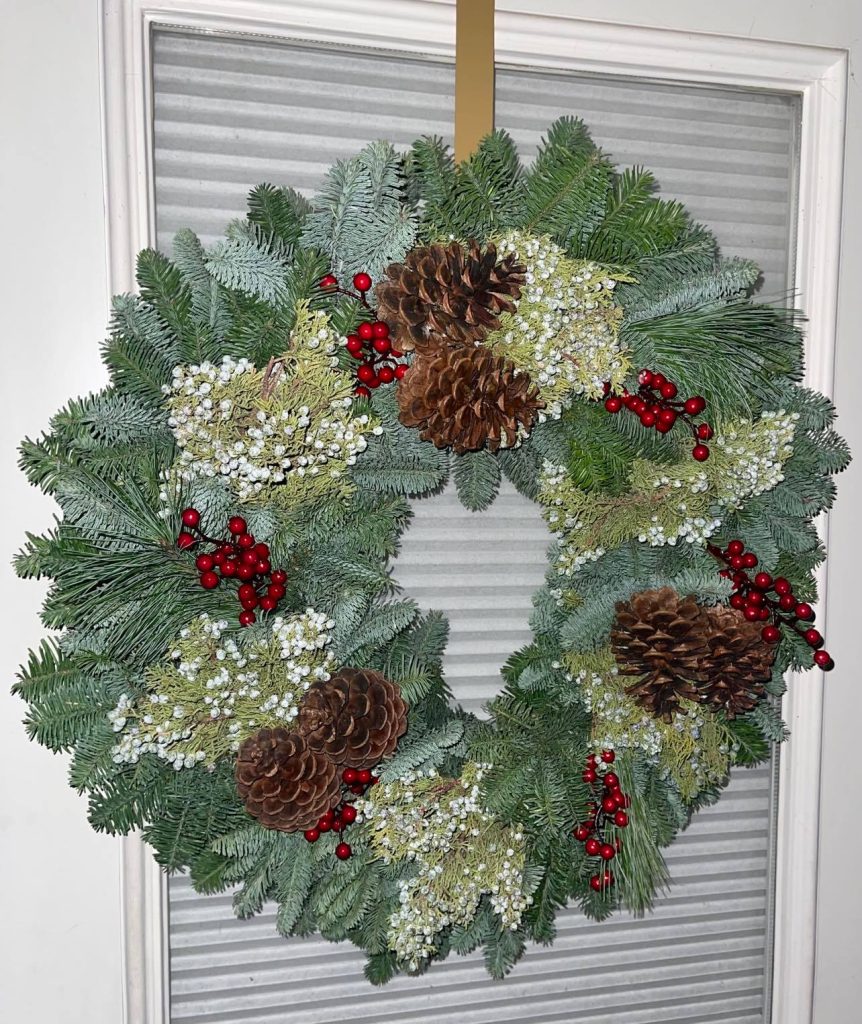 She and her fellow elves carefully craft each of these fresh wreaths to create this best seller. So, you'll be proud to hang one of these fresh wreaths on your front door. Likewise, you can give one with confidence as a gift to friends, colleagues, and family. It's exceptional!
In addition, there's no need for a bow with this gorgeous wreath. The pretty berries give it all the super pizzazz and color you could want.
With the amazing aroma from the forest (oh it smells SO good!), this wreath has it all. You will enjoy the scent of forest greenery and blue juniper berries from the high desert. For extra color, they add red artificial berries!
Woodland Christmas Wreath Specs:
*25″ in diameter
*An extra-large fresh wreath
*Berries from the Oregon high desert
*Free Shipping to Continental US via UPS Ground
How They Make Their Fresh Wreaths
At Christmas Forest, they take pride in their fresh wreaths and it shows in every detail. Their live wreaths are made from only the freshest boughs and each one is handcrafted with care.
They source their evergreens sustainably from local growers in the Pacific Northwest and their holly, berries, and pine cones come from right here on their family farm! That means every wreath is alive with the fragrances of the Cascade Mountains and bursting with holiday cheer!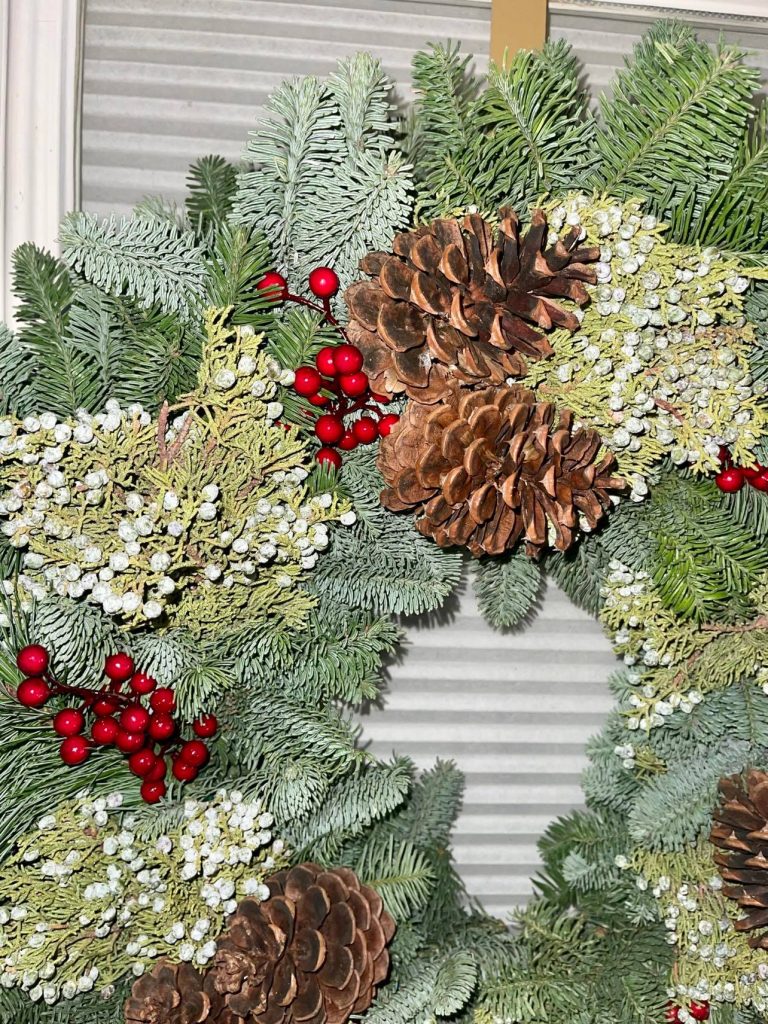 Businesses Love Their Wreaths Too!
Not only are their fresh wreaths perfect for adorning your home this holiday season, but they also make wonderful corporate gifts or add to your business decor.
Many of their corporate clients order wreaths for their office lobbies or boardrooms and they offer discounts for bulk orders. So if you're looking to add a festive touch to your business this holiday season, look no further than Christmas Forest!
This holiday season, give yourself the gift of peace of mind with Fresh Christmas Wreaths Delivered To Your Doorstep from Christmas Forest.
Handcrafted with only the freshest ingredients and delivered right to your door, these fragrant wreaths are sure to please everyone. And when you order from them, you can rest assured knowing that they always use sustainable sourcing practices so you can all enjoy beautiful real Christmas wreaths for many holiday seasons to come.
We JUST decorated our home for Christmas yesterday. I actually started decorating for Christmas on November 1st! I do this every year because WHY not?
If it brings you joy, then DO IT! I LOVE my home around the holidays because it is so cozy and homey feeling! Now that we have our two faux light-up Christmas trees up (one upstairs and one down!), it REALLY feels like Christmas!
We are so excited! This is, after all, the most wonderful time of the year! And my fresh Christmas wreath just completes the whole look and feel!
Shop Now! Order Your Fresh Christmas Wreaths Delivered To Your Doorstep Today!
If you order today (or fairly soon!) You will get your wreath delivered just in time for the holidays (and they are quickly approaching!!).
Check out the fresh Christmas wreaths here, and don't forget to add a classic Christmas wreath hanger to your order for only $5.00 more! These make lovely Christmas gifts for your loved ones near and far.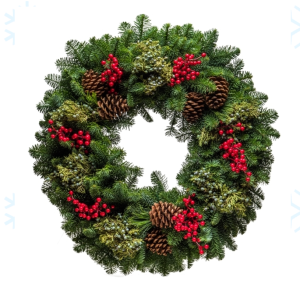 ---
PIN IT!