*I was compensated for this post and this post contains affiliate links. I will be compensated if you make a purchase after clicking my links.
Get Healthy And Fit With Noom! Spring has officially sprung and summer will be here before we know it (next month, gah!). Now is the time to get in shape, get healthier, and just be the best version of yourself. Since the quarantine started, I decided once and for all, since I was home anyway, to just start focusing on ME. I wanted to start getting in shape and just feeling better about the way I look and feel.
I started a commitment to myself on February 28th of this year, to get healthy again, lose weight, and eat healthier. Being on lockdown from this crazy pandemic, I found the time I did not have before, to start this journey.
I dedicated time each evening, to do my workouts. I then started eating more healthy meals and started snacking less. And, today, I can honestly say I have lost 10 lbs and my body feels AND looks SO much healthier and BETTER!!! I am DOING IT!!!
Never ever in a million and one year did I think I could actually work out every day (yep!) for over an hour each day (yep!!), but I have and I AM! I am so so so proud of myself!
Get Healthy And Fit With Noom
If you are sitting here reading my blog post right now, thinking that you just cannot do it, believe me, YOU CAN. You absolutely CAN. I am the laziest person ever when it comes to anything fitness-related, but I AM doing it! And you CAN too! Promise!
Weight can fluctuate daily based on how hydrated you are, how much sodium you eat, or the scale you use. So, if the scale changes a few pounds in a day, it's likely a natural fluctuation, not a true weight change. That is why it is so important to be consistent!
You CAN Get Healthy And Fit With Noom! Noom is so much better than any other program out there. Noom is a health and wellness program, that is what sets it apart from the rest. Noom creates long-term results through habit and behavior change, not restrictive dieting. Sticking to a plan can be hard, but Noom makes it easy!
All you do is visit the Noom website, decide which path you want to take (Get Fit For Good OR Lose Weight For Good), then you take the Noom's psychology-based evaluation so that Noom can help you achieve your goals! People who use Noom and adopt a healthy lifestyle can expect to lose 1-2 lbs per week.
Try Noom For Free Right Now!
That is right! In light of the global health crisis, Noom is offering the option to try Noom for free! Noom believes that money shouldn't stand in the way of finding a plan that finally works. So, choose an amount that you think is reasonable to try Noom out for two weeks.
It costs Noom $18.37 to compensate their Noom employees for the trial, but you can choose the amount you are comfortable with paying for the first two weeks (see options below).
You can choose $0, $3, $10, or $18.37
I am doing the 14 free trial (or Noom free for 2 weeks) plan. I just started it today and am excited to see how well Noom will work for me. You do have to put in your credit card information in order to get your free 14 day trial of Noom, but you will NOT be charged if you cancel within those two weeks.
Once you are signed up your custom course is activated and you can create your Noom account! When you are all signed up, you will receive a text message to your phone that will give you a link to download the Noom app. Then you just enter your Email and your password to start your program! Easy peasy!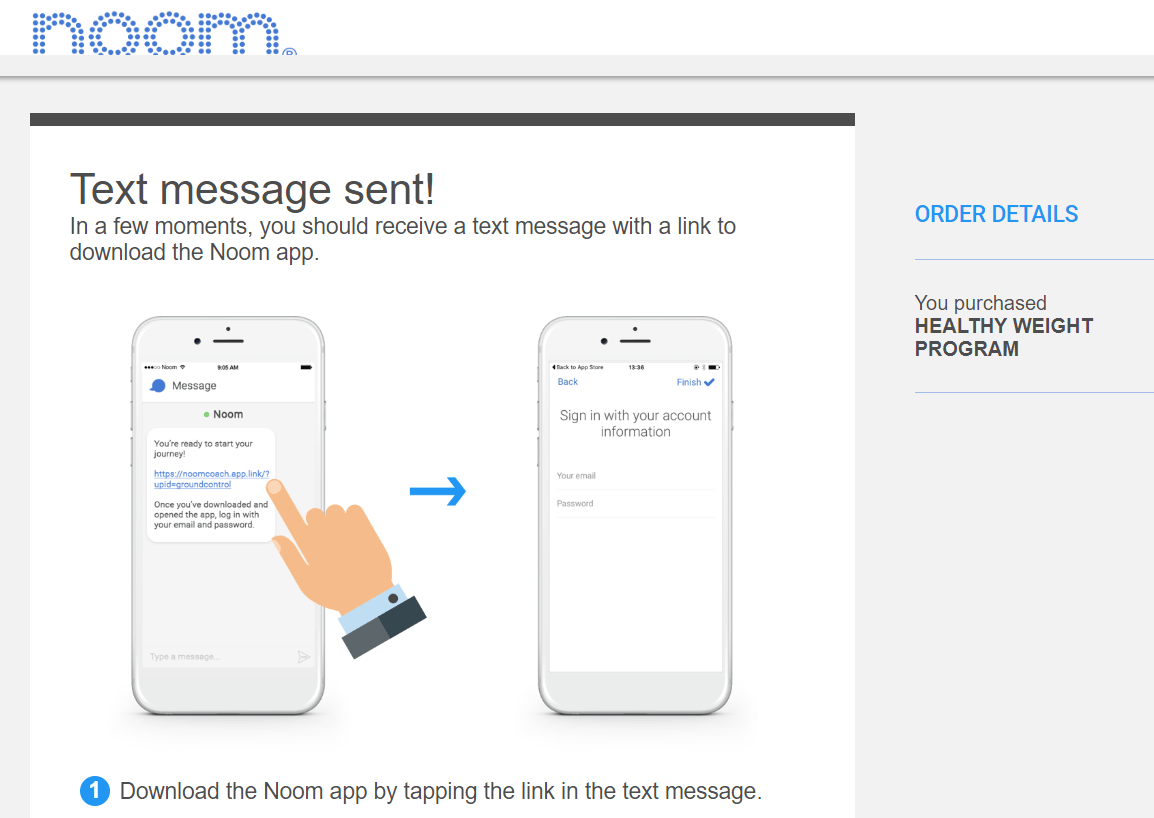 Once you download the app and sign in, you will be asked to do a few things like design your big picture. This is made up of three parts and will serve as a tremendous source of motivation throughout your journey while helping you to overcome obstacles you experience along the way. You will be defining your 'super goals', figuring out your 'super why' etc. These are kind of like worksheets or homework to help get you motivated towards your road to becoming healthy and strong.
I am so happy I am FINALLY doing things for ME. This will be the first summer since I was in my TWENTY'S that I will be wearing a swimsuit! I finally can say I can't wait until summertime!! I can mark this off my bucket list! Yay!
78% of Noom users sustained weight loss over 9 months in a 2016 study

(Nature Research – 35,921 participants)
The last weight loss program you'll ever need!
eat what you want
if you mess up that is okay
no one is perfect
you're not alone
Why restrictive diets fail (the "Yo-Yo" effect)
Restrictive diets fail most of the time because people concentrate too much on the diet and forget about the lifestyle changes that are just as important!
A goal without a plan is just a wish.
By creating healthy habits and not investing your time and energy jumping from one diet to another, is a much better approach to weight loss and getting healthier. It is a more achievable way to shed any unwanted pounds because Noom is a health and wellness program, not a weight loss program.
Did You Know?
Setting small goals allows for more frequent wins.
Reaching these goals keeps you motivated.
Staying motivated helps you crush more goals.
Articles in several medical journals describe the results that Noom users have achieved:
British Medical Journal: 64% of Noom users lost more than 5 percent of their weight.
Scientific Reports: 78% of Noom users sustained weight loss over 9 months.
University of Sydney's Medical Center ranked Noom the number 1 out of 800 weight loss programs.
How Can Noom Help Me Achieve My Goals?
Personalized accountability for health and wellness
When you join Noom you will be in contact with a personal coach to help guide you to your health goals
Log exercises, blood sugar, blood pressure on the Noom app
Noom helps you to track food with a helpful barcode scanner
Ready To Get Started With Noom? Get Healthy And Fit With Noom!
If you are ready to get started with Noom and get rid of that belly pooch for good, try them FREE for 2 weeks! That way, you can get a feel for how Noom works and know if it is right for YOU. Try Noom's 14 Day Trial!
I can't wait to hear about your Noom journey!
PIN IT!