As mothers, our days and months fly by in the blink of an eye, so it's hard to believe it, but we know – the holidays are essentially upon us! If you're going to be entertaining this year, surely you're making your "famous" go-to's that everyone loves and requests year after year. But, considering last year many of us were just entertaining our own households, this year, you may be hosting your first holiday party in a while. So, why not take a quick refresher on some fantastic drinks to serve at your holiday parties this season. They're quick and easy and crowd-pleasing all at once, so it gives you some time back better spent mingling with your guests and enjoying yourself as well; after all, you deserve it, mama! Below is your Holiday Drink Guide for 2021!
Holiday Drink Guide 2021
Start With A Bang!
Drinks that pack a little heat and spice are enjoyable for everyone as you're trying to get the party started; even if it's a subdued party, who doesn't want to feel relaxed? Have you ever heard of a Caramel Apple Firebomb? The caramel apple lends itself to the tastes of the season, and they go great with Hot Chocolate Fireball Bombs as a sweet treat alongside them. The Caramel Apple Firebomb is easy to make – 3 ounces Fireball Whiskey, 1/2 ounce of caramel syrup, and 3 ounces organic apple juice. Add to a shaker with ice, and voila! If you're feeling festive and fancy, add some cinnamon and sugar to the rim of the cup!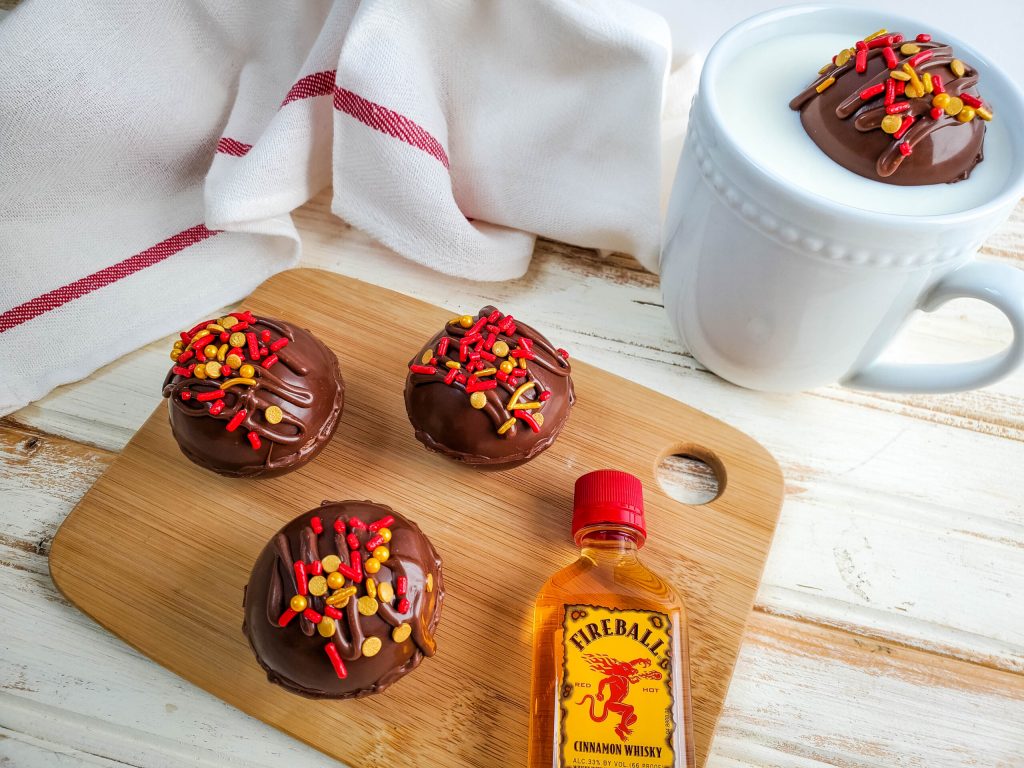 Perfect Plant-Based Egg Nog
Not only does this drink stay mindful of your sober friends, but it's also great for any party-goers who live a vegan lifestyle. This recipe takes mere minutes to make, and not only is it egg and dairy-free, but it also contains no refined sugars either. Simply combine 3 cups unsweetened almond or cashew milk, 1/2 cup whole fat coconut milk, 1/4 cup raw cashews, 1/4 cup pitted soft dates, 1/2 teaspoon of cinnamon, 1/2 teaspoon of nutmeg, one teaspoon pure vanilla extract, and 1/8 teaspoon of sea salt (which is optional).
Serve it straight from the blender, and it's a crowd-pleaser whether folks are vegan or not. You can also sprinkle a little nutmeg on top of the serving in the cup if you're making many cups at once as a garnish.
Caffeine Queen
You want to make sure you've got some form of caffeine on deck just in case the party goes into the night later than you had anticipated or if you're serving dinner at the event. It's always fun to enjoy an excellent espresso after a meal before you get things really going. So, have some options as far as caffeine goes for your guests. It's also always a good idea to have some half-caff or decaf on hand for those who don't want to have too much caffeine but enjoy the taste with dessert.
Sparkling Cider
If your children are going to be in attendance at the party, hopefully, you invited other kids along to play with them and create holiday memories together. Do you remember when you were a child and sparkling cider was served with Thanksgiving or Christmas, and you just felt so grown up? Don't forget the children this year and give them the gift of feeling like such "big kids" with their flutes of sparkling cider toasting Christmas or the New Year alongside the adults. It's a fun experience for them and makes for cute photo opportunities as well!
Wine About It
These days, there are entire memes, t-shirts, bumper stickers, and many other markets dedicated to us mothers and our wines. But it's not just for the overextended moms to enjoy! Wine is always an easy go-to when you're party planning and a quick thing to knock off your to-do list when it comes to planning your event. Buy several variations of wine as some guests might be highly particular about what they enjoy drinking, but hey, they just might bring a few bottles to the party for that reason or as a gift for you, the hostess.
The most important thing to remember when it comes to your holiday hosting is that all people will remember your graciousness and the fun they had spending time with you and everyone else. So don't sweat it too much, but definitely incorporate some of these drinks into your parties to come. Cheers!