There's something special about mixing up a colorful cocktail, from knowing how many ounces of ingredients or how many ounces in a shot needed, the act of combining all to create an eye-catching drink with an interplay of flavors can make even the simplest cocktail feel very luxe.
Some of the most attractive and luxurious feeling cocktails are brightly colored ones. One ingredient that helps to create such cocktails is blue curacao liqueur, a bitter orange-flavored liqueur from the Caribbean island of Curaçao. Its distinct blue hue can help you create lovely sapphire cocktails like these…
Beautiful Blue Drinks You Have To Try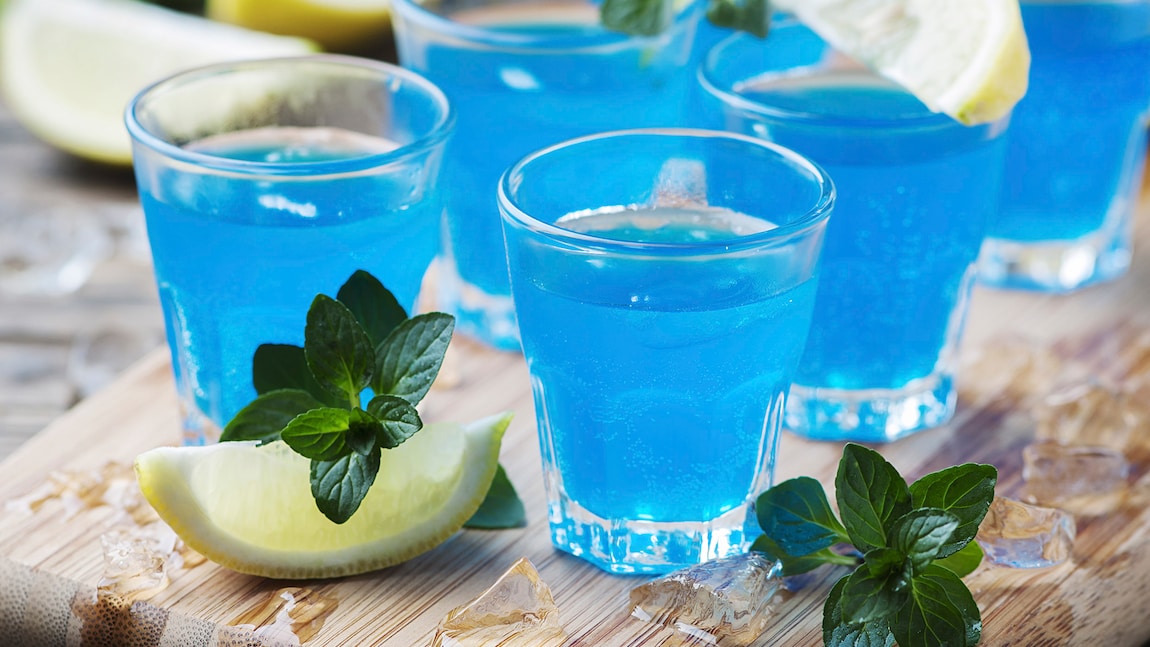 Absolut Bijou
A Bijou is typically made using gin, vermouth, and chartreuse, and get its name from its jewel-toned appearance. An Absolut Bijou replaces the classic ingredients with:
1 oz pear flavored vodka
1 oz blue curaçao
5 oz apple juice
Add all the ingredients to a shaker with ice and shake until chilled. Strain into a rock glass filled with ice and garnish with blackberries.
An Absolut Bijou will have a dreamy, delicate blue color. For an even more interesting look, consider using unfiltered apple juice.
Summer Seen
Blue curaçao's color and citrusy flavor make it a popular ingredient in summery tropical cocktails. A Summer Seen features all of the best tropical fruit flavors and has a unique stacked appearance thanks to the effects of specific gravity. Its ingredients are:
2 oz light rum
1 1/2 oz mango juice
1 1/1 oz pineapple juice
1 oz lime cordial
1/2 oz blue curaçao
1/2 lemon juice
Fill a highball glass with ice, then add the ingredients in this order: blue curaçao, lime cordial, pineapple juice, mango juice, lemon juice, and rum. Let each ingredient settle before adding the next to help the layers stabilize. Do not stir before serving. Garnish with a mango wedge.
Blue Souvenir
A dainty drink perfect for brunches and bridal showers, a Blue Souvenir is served in a champagne flute. To make one you'll need:
1/3 oz vodka
1/3 oz blue curaçao
1/3 oz cinnamon schnapps
champagne
Pour the vodka, blue curaçao, and cinnamon schnapps into a champagne flute then top with champagne.
Absolut True Blue
For a cocktail with sweet floral notes, try an Absolut True Blue. These include:
1 oz vodka
1/2 oz blue curaçao
1/3 oz elderflower liqueur
1/3 oz lemon juice
tonic water
Add vodka, blue curaçao, elderflower liqueur, and lemon juice to an ice-filled highball glass. Stir lightly and top off with tonic water, then garnish with a lemon wheel.
Blue Lady
For a blue twist on the classic gin martini, try a Blue Lady. You'll need:
1/2 oz blue curaçao
1 oz lemon juice
1 oz gin
Add the ingredients to a cocktail shaker filled with ice and shake until chilled and combined. Strain into a chilled martini glass and garnish with a maraschino cherry. Vodka can be substituted for gin for those who prefer a vodka martini.
Vacation Martini
A Vacation Martini replaces the usual gin with a coconut rum for an instant tropical escape. To start your getaway gather:
1 oz coconut rum
1 oz blue curaçao
1 oz lime juice
1 egg white
Lemon-lime soda
Add the coconut rum, blue curaçao, lime juice, and egg white to a cocktail shaker with ice and shake until chilled. Strain into a martini glass and top with lemon-lime soda.
Gg
The Gg plays with unique flavors like melon and ginger and, thanks to the specific gravity of blue curaçao, has a fun ombre finish. The ingredients for a Gg are:
1/3 oz blue curaçao
1/3 oz melon liqueur
3/4 oz gin
ginger ale
Pour blue curaçao, melon liqueur, and gin into a cocktail shaker with ice and shake until combined. Strain into a highball glass filled with ice and top with ginger ale, then garnish with a kiwi wheel and a lime wheel.
For those who like a little spice or kick with their drinks, try switching out the ginger ale for ginger beer!
There are so many different combinations of ingredients out there to create a great tasting cocktail in just the right shade of blue for you! Serve these yummy blue cocktails up with these delicious smoked bacon-wrapped jalapeno poppers and you have yourself a wonderful treat!