In this blog post, we will discuss my favorite portable solar generator, How Does Solar Generator Work, and why you need to have solar-powered generators to power through an emergency, weather conditions, and power outages. In this day and age, it is so important to have a generator for your home.
You never know when a disaster will hit so it is best to be prepared for the worst. Ever since Covid hit in 2020, I have been filling our pantry and buying essential items to add to our ever-growing stash of food, first aid products, etc.
I am trying to have at least enough food and other necessities that would last us at least 6 to 1 year. I want to be prepared if/when a disaster hits and I want to be able to protect my family and keep them safe and fed!
*This post includes my affiliate links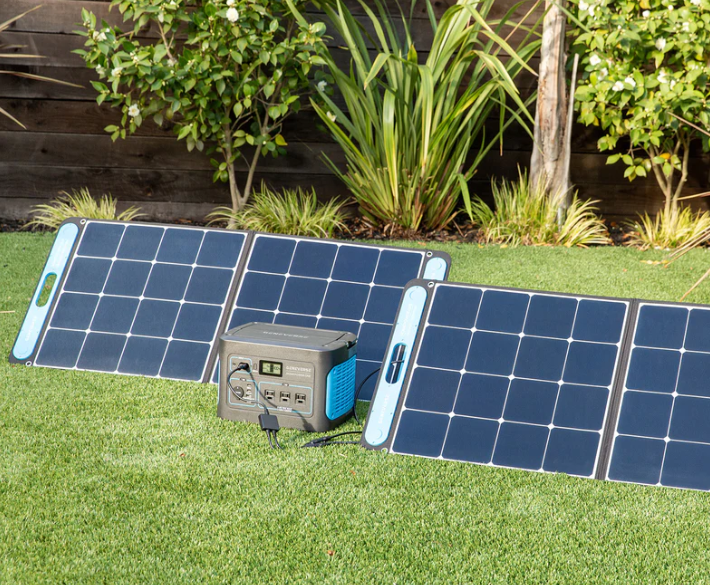 We have The HomePower ONE Solar Generator and we couldn't be happier with it. I have comfort in knowing that if there was ever a power outage, my family would be warm, and we would still be able to use appliances and charge any devices we have.
And, because it runs on solar energy (unlike those gas generators, diesel generator, or standard generators), I have peace of mind knowing we can easily charge the solar panels in the sun. Such a huge relief!! Not only does this help save on electricity usage but saves you money too. It is so easy to save with solar!
The HomePower ONE portable power station needs to be in every home because you never know what might happen tomorrow!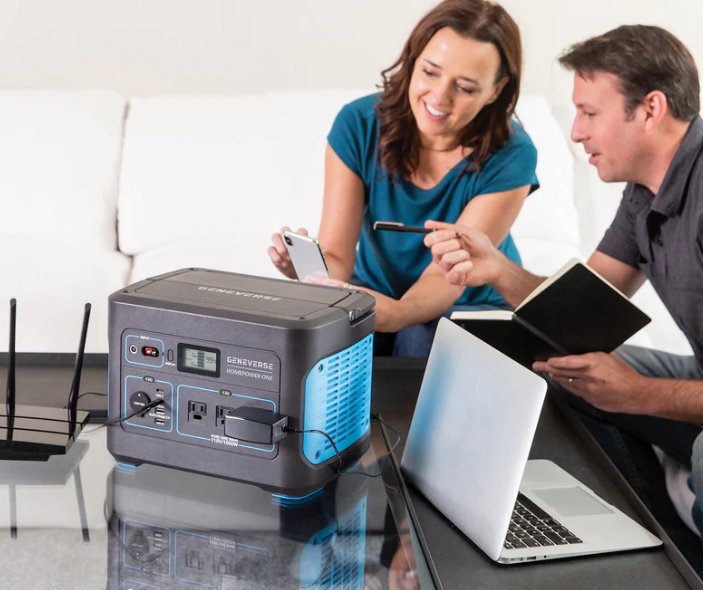 The HomePower ONE Solar Generator includes the HomePower ONE 1002Wh lithium-ion batteries (backup battery power station) and SolarPower ONE 100W portable solar panels.
The solar panels weigh 9 lbs each, are foldable, and feature built-in carrying handles and adjustable kickstands for quick and easy setup.
The HomePower ONE comes in a compact, portable frame that has a lay-flat handle and only weighs 23 lbs! So it can be moved around with ease.
Together, this solar generator bundle is a convenient and reliable, on-the-go power source for any event or power outage. The HomePower ONE charges by solar in about 6 hours with (2) 100W panels and can store power for up to a year!
I thought that was amazing! Up to one YEAR! And don't worry if things are getting low – these amazing power solutions also let you use them while they're recharging. The amount of power is incredible!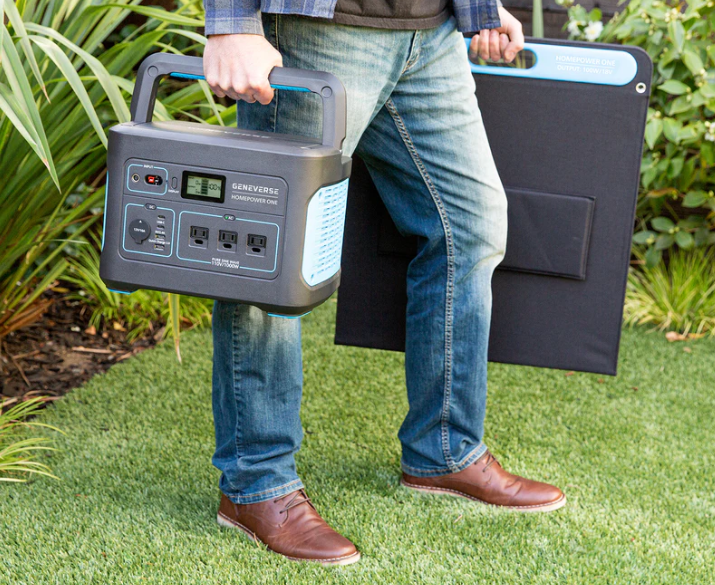 The HomePower PRO Series offers an impressive eight outlets, allowing you to power a variety of electrical devices. You can get three AC voltage outputs at 110V/60Hz and up to 2000W surge capacity; two USB-C with Power Delivery 18-watt outputs for modern technology such as laptops or tablets; one Qualcomm Quick Charge 3.0 port in addition to the standard 5 volts 2.4 amp port, plus a 12v 10A carport outlet for easy access when traveling!
Each SolarPower ONE panel emits 100W of maximum power output. You can combine two solar panels for up to 200W of charging power. The SolarPower ONE can also operate as its own solar generator when under the sun.
With (1) USB-C and (1) USB-A ports built directly into the frame, it is the only Geneverse panel able to independently charge small electronic devices without a Geneverse power station. How awesome is that?!? These solar backup generators are the best!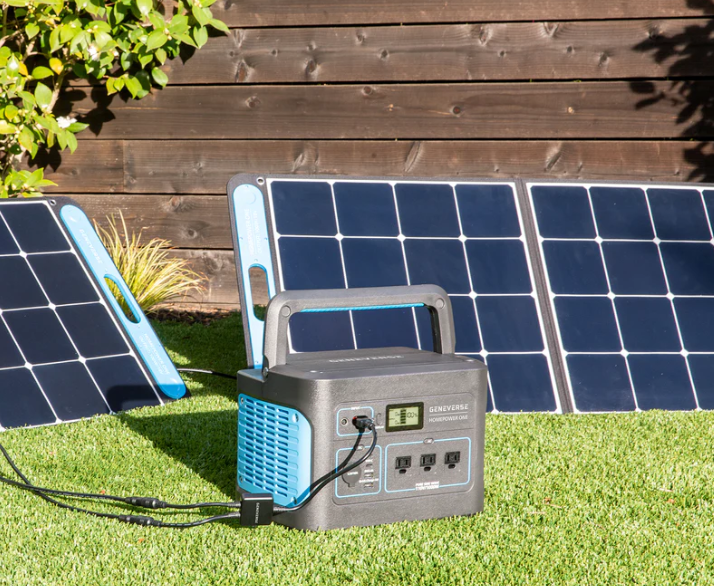 To top it all off, The HomePower ONE includes its own regulated Pure Sine Wave inverter so your everyday home appliances & electronics experience little interference from the electricity being supplied – ensuring efficiency & reliability every time!
You can easily recharge them! Choose from an AC wall outlet, a car battery (via included charging adapter), or with the SolarPower ONE solar panel power generator.
Geneverse's SolarPower Series solar panels offer 50% higher solar power conversion efficiency, allowing you to harness and convert the sun's rays in less time.
Paired with their HomePower Series backup battery power station, you have the ability to power a wide range of home appliances like an air conditioner, cell phones, power tools, and other household appliances and devices, easily.
The Setup Is Simple!
The whole solar generator takes 30 seconds or less to set up, providing an eco-friendly power supply in any situation. I love how easy this is to travel with and set up. We will be bringing this with us on camping trips this spring and summer so we can camp in style and be comfy!
How Does Solar Generator Work?
Let's now discuss How Does Solar Generator Work!
*Charge, Harness the Sun's Energy (store energy): Charge the backup battery power station from a solar panel, AC outlet, or carport.
*Store Electricity for Up to One Year: When fully charged, the HomePower power station can store and hold the power for at least a year. (that is a long time!)
*Power Your Home Appliances: The best way to power your devices from the stored energy is by connecting them to your power station.
Solar panels are a great way to generate clean, renewable energy. Solar panel systems utilize the energy of sunlight, known as solar radiation, in order to create electricity. To understand how a solar panel works, let's start with the basics.
Solar panels contain photovoltaic (PV) cells that convert solar energy into direct current (DC) electricity. When sunshine hits the solar PV cells, it excites electrons within the cell and creates an electric field.
This electric field causes an electrical current to flow through the PV cells, which are connected in series to form a panel or array. The DC electricity produced by the solar panel can be used directly for powering lights, pumps, and other low-power appliances.
Solar panels come in all different sizes and configurations that can be customized to meet your specific needs – whether you're looking for a single-panel system or an entire home system.
So if you're looking to get off the grid or just supplement your existing electricity needs with some clean renewable energy, consider investing in a solar panel generator. We love ours!
What devices and appliances can a solar generator power? (How Does Solar Generator Work)
Depending on usage and the device, a single charge allows you to power your essential devices for up to one week. The HomePower Series power station brings emergency power to your cell phone, home appliances, medical devices, cameras, security systems, repair tools, and so much more!
I have some useful charts of Solar Panel Generator time usage for you to download and print off so you know how much power will be used up by charging or using each device. These are so helpful and a good idea to have on hand! You can print them off by clicking the links to them, below!
Solar Generator Time Usage Charts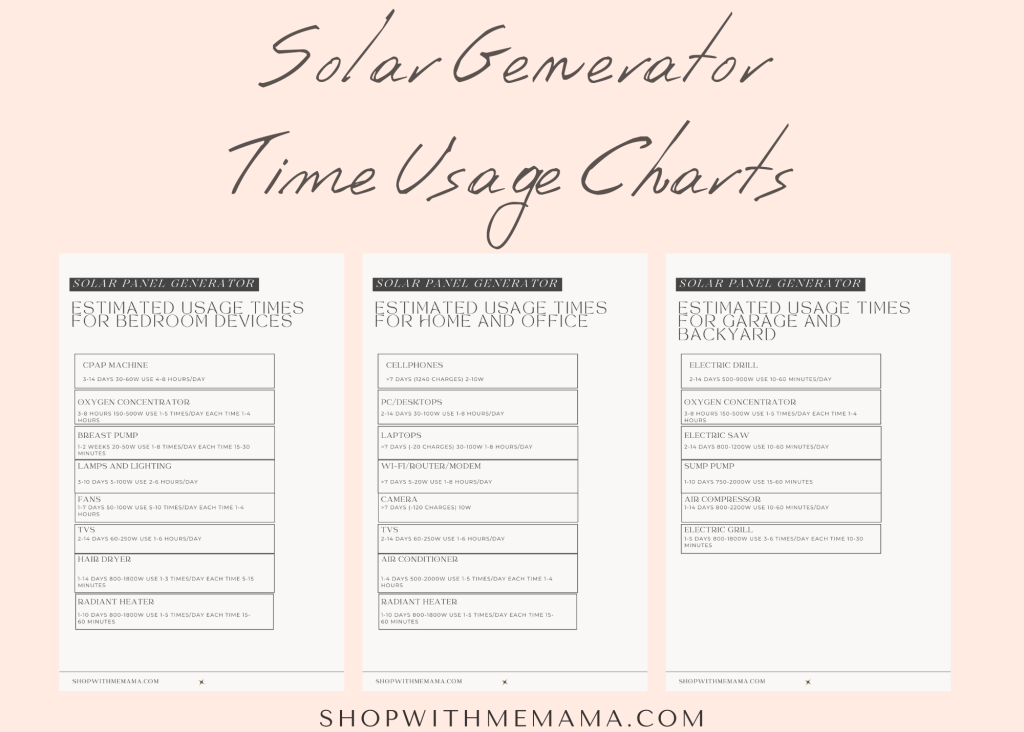 *Solar Panel Generated Usage Times for Kitchen printable
*Solar Panel Generator time usage for home and office printable
*solar power generator for bedroom appliances
*solar panel generator time usage for garage and backyard printable
NOTE: The charts above visualize how you can best use your HomePower TWO PRO when facing a power outage. Each line explains the average wattage range of a supported home device, and how long the HomePower TWO PRO would be able to power that one device on a single charge, abiding by their assumed average usage times.
Note, if you choose to power more than one device on a single charge of your HomePower TWO PRO, your battery supply will drain sooner than the noted total usage time frame. Additional recharges as well as use with solar panels will extend usage time. Actual uses may vary.
Why Do You Need A Solar Power Generator?
A solar portable generator is a great option for homes or businesses looking to reduce their environmental impact while also saving money on their monthly electricity costs.
Solar generators are a great way to harness the power of the sun and use it to provide clean, renewable energy that can be used in place of traditional electricity sources.
Solar generators are reliable, efficient, and cost-effective and provide an environmentally friendly (lessens your carbon footprint) source of energy with no negative impacts on the environment.
With emergency situations and disasters on the rise, ensuring your family's safety is of utmost concern. That's why you should consider investing in a solar generator – that requires no installation or maintenance – to help prepare yourself for any blackout scenario.
In fact, 4,000 power outages occur each year across America alone! With these versatile solar panels and generators at hand, not only will you have reliable electricity during an outage but also portable energy wherever life takes you – also saving money along the way.
Why should you choose Geneverse?
With the Geneverse solar generator, you can rest assured knowing your energy needs are in good hands. It's got ultra-high-efficiency LiFePO4 batteries packed with over 3000 charge cycles and 6 built-in protection modules for maximum safeguards against power outages.
The U.S. Department of Energy, California Energy Commission, Federal Communications Commission, and UN 38.3 Transport Safety Standard have all tested their performance to deliver excellent results every time – plus each unit goes through up to 52 reliability tests before arriving at your doorstep! Geneverse is a reliable backup option or primary source of electricity that powers homes across America safely & efficiently.
5 Year Warranty
The Geneverse power stations are certified for energy efficiency and safety. Every unit undergoes 52 reliability and safety tests. Plus, no gas and no fumes, which means indoor-safe, battery power for your family.
The HomePower ONE is designed with electric-vehicle-grade lithium-ion battery cells, and they stand by their product with a 5-year limited warranty. So you can have peace of mind if something goes wrong with it in that time frame.
Get $50 Off + Free Shipping!
You can get $50 off + free shipping by signing up for their newsletter/emails! A great way to save money and receive helpful emails about this life-saving best solar generator!