Mattel's Newest Line Of High Throttle Toy Story Vehicles And Figures
Mattel has a new line of high throttle Toy Story vehicles and figures and boy are my kids having FUN with them! Since I am a part of the Mattel Disney Insider, I get to try out some pretty cool toys and share them with you all 🙂

The Toy Story Toymation stop-motion video, The Great RC Race, was created by Mattel and it is currently airing on DisneyLiving.com!  This Toymation features Mattel's newest line of high throttle Toy Story vehicles and figures that include the RC the buggy, Buzz, and Woody – as they attempt to save the day while avoiding capture by the evil Zurg! Too cute! My kids loved the video!
Me and my kids got to form the ultimate racing team by playing with these fun toys! My kids let their imaginations go wild with this. It was a lot of fun and these toys are so neat! We received the  RC's World Play Set (1), an RC Vehicle (1) and RC Racer Figures (Buzz and Woody!). My daughter played Buzz and my son played Woody. They raced their cars and sometimes Woody would win and sometimes Buzz would win, but they both always got a big hug from me, when they were through with their races!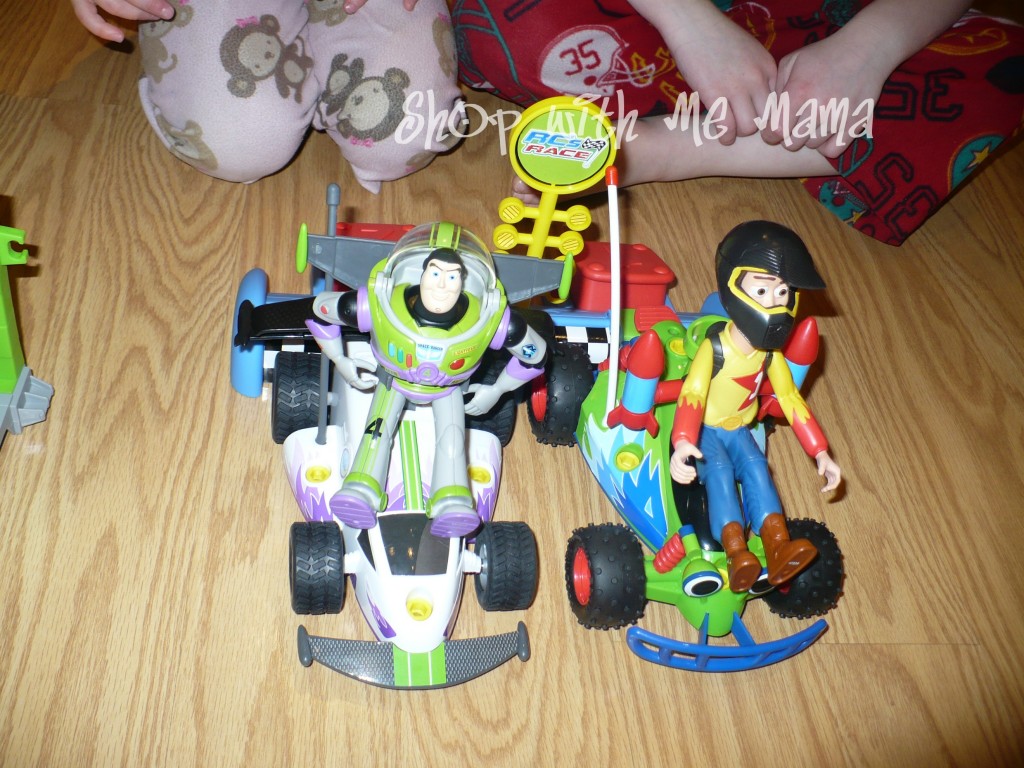 I had to put together the RC's World Play Set, which was totally easy to do and the vehicles I only had to add a few stickers and the tail on the back of the car and some wings on Buzz's!
All you do is pull the vehicles back and hook them onto the RC Play Set and when you are ready to race, simply press down on the red buttons and see them take off for the finish line!!
These are really fun toys. The figures are durable and strong and portray the characters to a T. The vehicles are durable too and lots of fun to play with.
Toy Story – "The Great RC Race" Toymation – Fun Factoids
– 13 trips were made to the local Salvation Army and St. Vincent de Paul Society to collect all the miscellaneous props
-There were 15 John Grisham novels, 3 sets of Encyclopedia Britannica, and more than 400 books total used to create the set
-Every shot required at least 5 hours of set up with props and lights
-Every shot needed 12 frames per second
-The shoot used a crew of 10 people and lasted a little over 3 ½ weeks
-We had to shoot fast when using any candy props due to a determined army of ants which would attack our set late at night (especially our lollipop stop signs)
-Towards the end of the piece, the electronics featured are striped parts from old printers, computers, and servers taken from the studio
Buy
You can purchase these fun new Mattel Toys online at http://www.matteltoystore.com/