Here is a Delicious Peanut Butter Chicken Stir Fry With Ginger Recipe for you! Have you ever been cooking in the kitchen, making something from scratch, and coming across the BEST recipe EVER? I have been really good at doing this lately! Most recently was my peanut butter chicken stir fry with a ginger recipe that I came up with! It was soooo good! We eat a LOT of chicken around here. Chicken breast is my all-time favorite to cook up for dinner and there are so many ways you can make it into a yummy meal. It cooks quickly and there is so much you can add to the chicken. Plus, my family always eats everything when I cook chicken meals, so it is really my go-to meat.
*This post includes my affiliate links.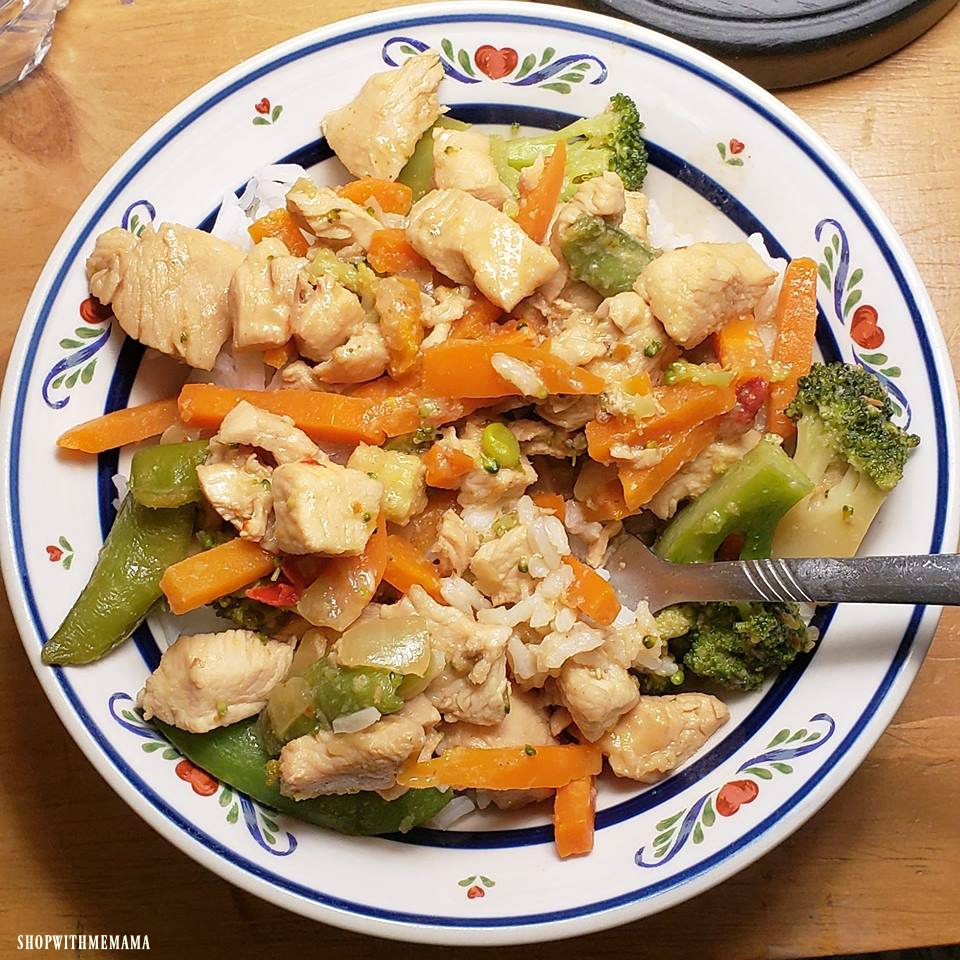 I cook a ton of stir fry dishes in my home for dinnertime. From chicken stir fry to my new peanut butter chicken stir fry with ginger recipe, my stir fry dishes never get wasted! I will usually have two servings because it is so tasty and good.
NOTE: Please keep in mind that I NEVER measure ANYTHING I put into my stir fry dishes! I create recipes as I go and adjust them as I see fit. I taste all my food as I cook it and it always turns out so delicious. Use the measurements below as a guideline and taste taste TASTE it as you cook so you can make the stir fry the way you like it! Below are the measurements I curated for you. Feel free to do less if you want!
Peanut Butter Chicken Stir Fry With Ginger
If you are looking for a chicken stir fry that your whole family will LOVE, then this peanut butter chicken stir fry with ginger recipe is for you! Recipe below!
Ingredients
4 large chicken breasts, chopped into tiny pieces
Soy Sauce 1/2 cup
1/3 cup of Fresh Ginger, grated (you can do way less if you want, I just LOVE ginger!)
2 tbsp of red pepper flakes
4 tbsp of white sugar
2 heaping spoonfuls of peanut butter
1/3 cup of cooking wine/sherry
3 tbsp of garlic powder (or you can use fresh garlic)
Several dashes of black pepper
Thicken sauce with 2 tbs of corn starch
1 small bag of frozen stir fry veggies (or you can use fresh)
Directions:
Cook chicken breast until browned through
While the Chicken is cooking, make your white rice according to the rice-making instructions
Add garlic powder, grated ginger, cooking wine/sherry, black pepper, white sugar, red pepper flakes, soy sauce, and peanut butter to the cooked chicken, mix and coat the chicken in the sauce, and cook for about 10 minutes
Add corn starch to thicken the sauce, and continue mixing to coat the chicken completely
Add Frozen (or fresh) stir-fry veggies and cook an additional 10-15 minutes on low/medium and cover with a lid (stirring occasionally)
Serve this Stir Fry over the white rice and enjoy! It is SO good!!! Don't forget to check out my yummy recipe for Bahmi! So good!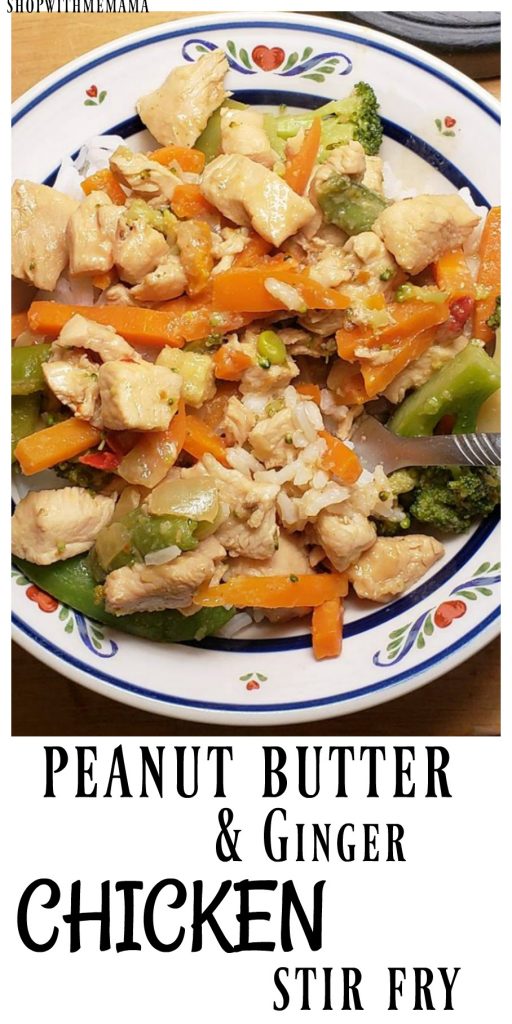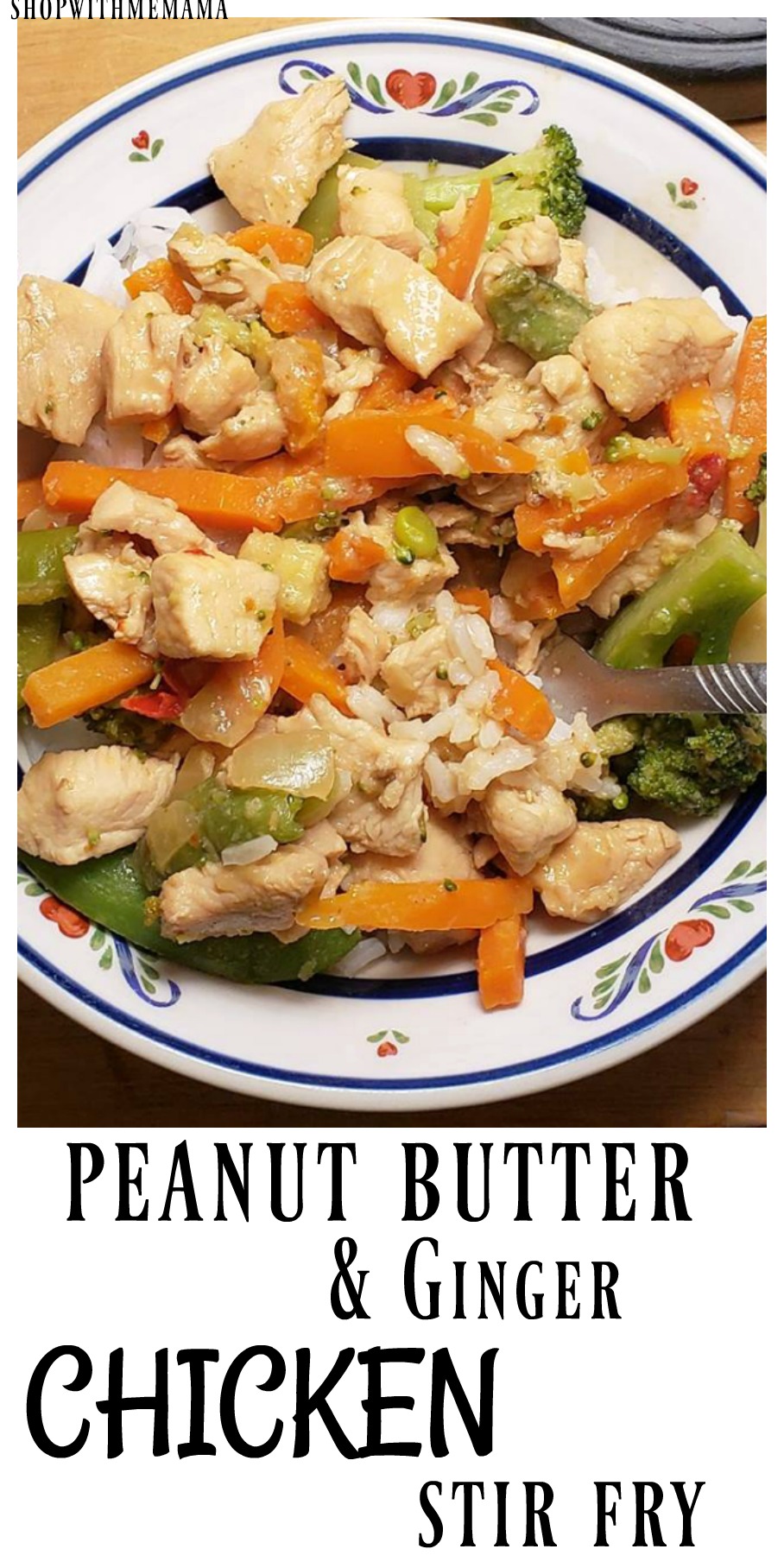 If you do decide to make this, please let me know! Leave a message below or tag me on Twitter (@shopwithmemama), Pinterest (@shopwithmemama), Facebook (@shopwithmemama), OR Instagram (@shopwithmemama).
What kinds of stir fry dishes do you enjoy cooking?