*Product received. Opinions are my own. This post includes my affiliate links.
If you have pets, you know they can be quite devious at times. But what do your pets do when you are not at home? Are they good and behave or are they little devils in a fur coat? I think mine are both! Gah!
The new movie, 'The Secret Life Of Pets' came out at the end of last month (November). I can't tell you how many times I have seen and heard this movie, but it is a lot. However, my kids love this movie and so that is all that matters, right? It is pretty cute 🙂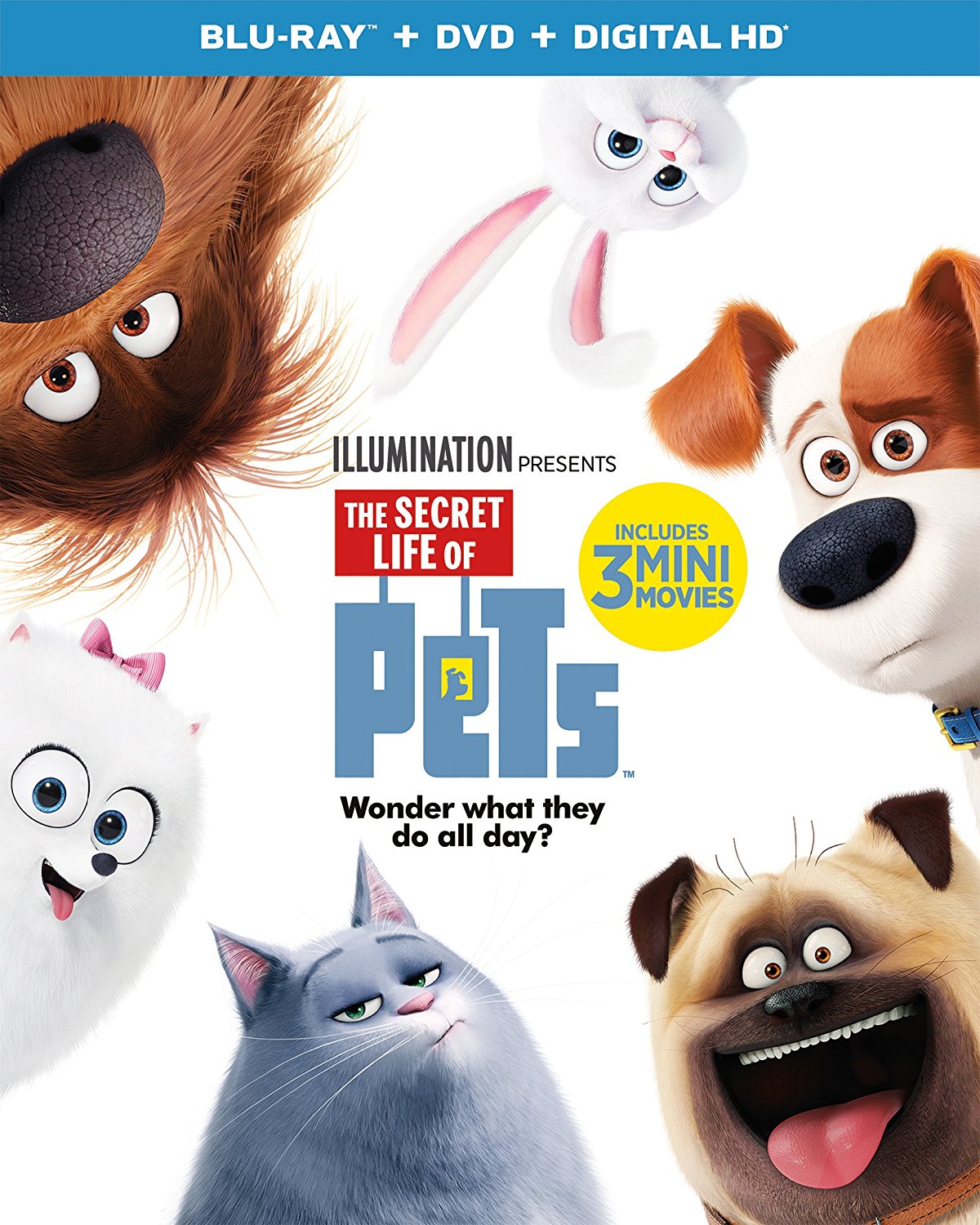 This movie is about what your pets do when you are not home. It is hilarious and adventurous with a bit of anxiety-ridden times mixed into it. Now you can find out what your pets do when you're not at home in this animated comedy featuring the voice talents of Louis C.K., Eric Stonestreet, and Kevin Hart!
About The Secret Life Of Pets:
The Secret Life of Pets, a comedy about the lives our pets lead when we leave for work or school. Max, voiced by Louis C.K., is a loyal terrier living a perfectly happy existence until his owner, Katie (Ellie Kemper) brings home Duke (Eric Stonestreet) a big, boisterous mutt she finds at the shelter. When Max and his unruly new "roommate" slip away from their dog-walker, they find themselves lost in the urban jungle of New York City. In an attempt to stay ahead of animal control and a rebel band of abandoned pets led by an unhinged bunny named Snowball (Kevin Hart), they put aside their differences to survive the epic journey back home.
If you have pets, they do things. One time when we were gone, our two dogs got out of the utility room and had a LOT of fun playing around with our FULL garbage can. When we got home, the puppies were nestled in the dog beds, sleeping soundly while our kitchen and living room were in total shambles!!!! Oh my gosh, I was angry! I can just see those puppies living it up when we were gone! Ugh. Thank God the puppies are bigger now and have a fenced area outside they are in now!
4K ULTRA HD™

4K Ultra HD™ is the ultimate movie watching experience. 4K Ultra HDTMfeatures the combination of 4K resolution for four times sharper picture than HD, the color brilliance of High Dynamic Range (HDR) with immersive audio delivering a multidimensional sound experience.
Blu-ray™ unleashes the power of your HDTV and is the best way to watch movies at home, featuring 6X the picture resolution of DVD, exclusive extras, and theater-quality surround sound.
DIGITAL HD with UltraViolet™ lets fans watch movies anywhere on their favorite devices. Users can instantly stream or download.
BLU-RAY™ EXCLUSIVES (Available on Blu-ray™ editions)
How to Make an Animated Film – A behind-the-scenes look at how to make an animated film from the various departments that make up Illumination.
Anatomy of a Scene – Filmmakers and animators take us through the multi-step process it takes to create a specific scene in the Secret Life of Pets
BLU-RAY™ AND DVD BONUS FEATURES
Mini-Movies:

Norman Television
Weenie
Mower Minions

All About The Pets – Kevin Hart and Eric Stonestreet, with the help of animal trainer Molly Mignon O'Neill, take you on an educational journey to learn more about your average and not-so-average, household pets.
Animals Can Talk: Meet The Actors – The comedy superstars who give voice to the film's menagerie of characters talk about their roles and the process of bringing them to life.
Hairstylist To The Dogs – Inspired by "Hairspray Live!," Eric Stonestreet, with the help of a professional dog groomer Jess Rona, will take you through the basic steps to help your pups look as awesome as possible when they're hanging out with their pet pals.
The Best Of Snowball – A rapid-fire, fun and oddly musical mash-up of all the best Snowball one-liners
Hot Dog Sing-Along – Join Max and Duke as they perform for their dinner in the sausage factory. This straightforward sing-along is fun for the whole family to enjoy.
Song Trailer
"Lovely Day" Lyric Video
The Humans that Brought You Pets – Producers Chris Meledandri and Janet Healy, directors Chris Renaud and Yarrow Cheney, and writer Brian Lynch discuss what went into creating The Secret Life of Pet's compelling characters and non-stop action.
GoPro®: The Secret Life of Pets
The Making of the Mini-Movies – A fun and interesting take on the Making of the Mini-Movies – we'll explore the themes of each of the mini-movies through the eyes of the artists who made them.
Buy
You can purchase The Secret Life Of Pets online at Amazon.com.
Win!
The contest is open to US 18+. Giveaway will end on December 21, 2016, at 11:59 PM MT. The winner will have 48 hours to confirm their win, after I email them, or a new winner will be chosen. I am not responsible for lost or stolen mail.