*Color Your Hair Safely. This post includes my affiliate links.
We all know that when you are pregnant, you should not color your hair, or so they say. I remember being pregnant with my first and my hair was so wacky and I wanted it colored (well, highlighted) and I knew I shouldn't. I did get a few highlights but was sure it was not too many or too close to my scalp.
Color Your Hair Safely
What is a pregnant or new mama to do? Gray Away is something you CAN use while pregnant/breastfeeding because Gray Away is safe and made of mineral-derived pigments, similar to wearing eyeshadow or blush! So no feeling guilty for looking good 🙂
Why Gray Away?
Ø  Gray roots start to show only 2 weeks after hair coloring, Gray Away is an easy and convenient way to spray away gray roots instantly (or to cover up regrowth of darker hair).
Ø  It extends the life of hair color saving both time and money.
Ø  Gray Away does not contain dyes, it contains mineral derived pigments and it is safe for everyone to use, even pregnant women!
Gray Away is a great value ($12.99 for 1.5 oz.) and is available in drugstores nationwide and online.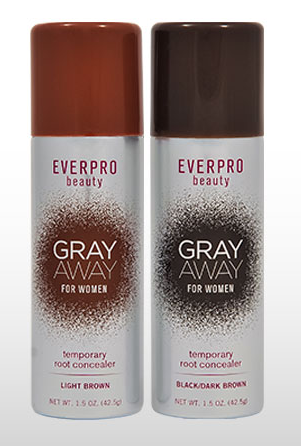 So see? There is a ton of reasons why using Gray Away is a good thing 🙂 Gray Away truly is an amazing root touch-up solution!
About Gray Away
It's hard enough to make it to the salon every six weeks, let alone every two weeks when your gray roots start to show up again. Whether you have limited time or a limited budget we want to introduce you to the perfect root touch-up solution – Gray Away by EVERPRO Beauty. We all have our little beauty secrets, and Gray Away should be in every woman's beauty arsenal.

Did you know…
70 – 80% of women over 40 color their gray hair, but that 75% of women are not using a temporary root touch-up between colorings because they are not satisfied with what is on the market? We see that as an opportunity to share our favorite solution to a problem that affects more than 60 million women and men.