*Gift Card will be received. All opinions are mine.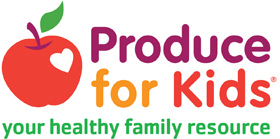 I always try to have fresh fruits and veggies around for my kids, when they are hungry. Better to fill them up on the good stuff instead of other things, right?
It is so important to offer these healthy foods to my kids to help them not only eat better as children, but to build a life long love for all things healthy and good for them, so they will love these foods as adults too!
I grew up absolutely LOVING fresh from the garden veggies. My dad ALWAYS has a garden and every year I would help pull the weeds and pick the wonderful veggies from it. I remember going outside to play all day and when I got hungry (and it was summertime..) I would simply go into the garden and pick some green beans or tomatoes for a snack! Oh the simple things!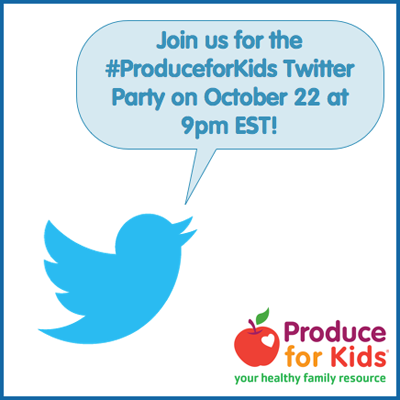 So, I was totally excited to be a part of the Produce For Kids Virtual Launch Party and to be able to tell you all about it! Produce for Kids (PFK) is an organization that provides tools and resources for busy parents (that is us!!!), looking to embrace a healthy lifestyle and incorporate more fresh fruits and vegetables into their families' daily diets.
Produce for Kids just completely redesigned their website to help make it an even greater resource for parents and their kids. With more recipes, more nutritional information and more ways to communicate with other parents, the site is better than ever!
What Are The Great New Resources I Talk About?
New Ideal Meals
Parents On Produce Blog
Produce Tips
The Latest News
Produce For Kids Forum
Wanna know what else? The team at Produce for Kids will be randomly selecting forum participants to receive $25 gift card giveaways during the virtual launch!! So get active in that forum and win!


So get active in that forum AND join us for the #ProduceforKids Twitter Party on October 22 at 9pm EST to learn more about how Produce for Kids and its new website can help you with the daily struggles & triumphs of healthy eating as a family. They will also be giving away four gift baskets from Sprout® TV, filled with Chica-inspired items! Make sure you use the hashtag:  #ProduceforKids
Tweet It Out!!!

Join the #ProduceforKids Twitter Party on 10/22 at 9pm ET for a chance to win a Chica prize pack from @SproutChannel
One More Thing!
Don't forget to follow the Parents on Produce experts: @mealplanmom,@weeklybite, @busyworkingmama, @thespatuladad, @drstephsmithand @marshallobrien.
Connect with Produce For Kids on Twitter, Facebook, Instagram and Pinterest!