I always thought that Pure CBD Oil was illegal and bad for you. After all, only people who do drugs use this stuff, right? Boy was I wrong and I am so glad I researched Pure CBD Oil!
*This post includes my affiliate links.
No THC!
Pure CBD Oil is soooo misunderstood! It is NOT illegal. The kind of CBD Oil that I am talking about does NOT contain THC.
All of Every Day Optimal's CBD oil tinctures are made from legal industrial hemp and contain absolutely zero THC making them accessible in every state without a prescription. Their hemp CBD products are free and clear of heavy metals, pesticides, and contaminants of any kind.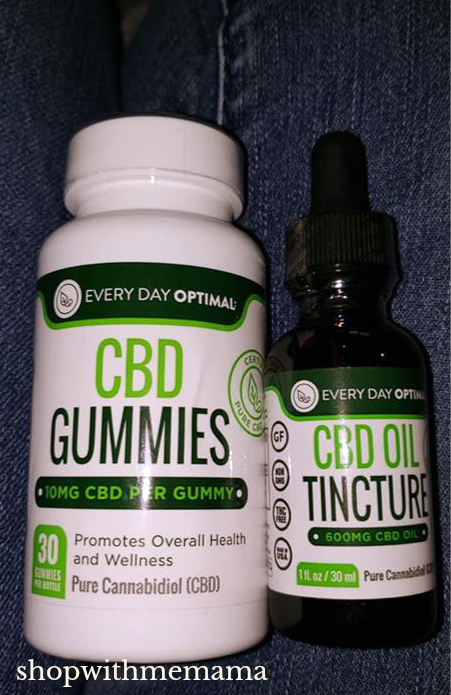 Products I Received:
I received two amazing products from Every Day Optimal to review. I received the CBD Gummies and the Pure CBD Oil Tincture.
I get anxiety like you would not believe and I need something to help keep my anxiety levels down. I also get horrible migraines and hate always having to take Ibuprofen and other OTC drugs. These products have been helping with my anxiety issues and my headaches.
The Pure CBD Oil Tincture I received is peppermint flavored which I love. I got the 600mg CBD Oil, but it goes up higher too (300mg-4,000mg Options) if you have more pain or whatever.
How Do I Take The Pure CBD Oil Tincture?
They recommend taking between one and two drops per dosage, depending on your age, weight, and the severity of your symptoms.
The most effective way to administer this CBD oil product is sublingually, or by dropping it under the tongue. This allows for fast absorption into the bloodstream resulting in fast and effective relief. I use it under my tongue and let it absorb. You can also add it to your food or drinks.
CBD Oil Product Information:
1 fluid ounce bottle size
600 mg of pure CBD oil
Tested by independent labs
Non-THC
Light peppermint flavor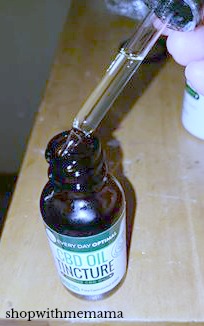 How Does This CBD Oil Tincture Help Me?
The pure CBD Oil Tincture helps me quite a bit. I take two drops under my tongue when needed throughout the day. After I take it (maybe 20 minutes later), I notice I am more capable of fighting my anxiety.
It helps to relax me. For my headaches, I try to take it right when I feel a headache coming on. It doesn't take my headache completely away but helps it not to hurt as badly as it normally would.
INGREDIENTS
Organic Hemp Oil
Grape Seed Oil
Pure Cannabidiol (CBD)
Fractionated MCT Oil
Peppermint Flavor
SUPPLEMENT FACTS
Serving Size: 1/2 Dropper
Servings Per Container, 60
Organic Hemp Oil: 1g
Pure Cannabidiol (CBD): 10mg
The Pure CBD Oil Tincture that I received retails for $69.99.
How Do The CBD Gummies Taste?
I first thought that they would be bitter or tasteless, however, I was wrong! They are SO good! They remind me of my kid's gummy vitamins. The CBD Gummies are sweet and sour (kind of like the sour gummy bear candy) and come in a few different colors.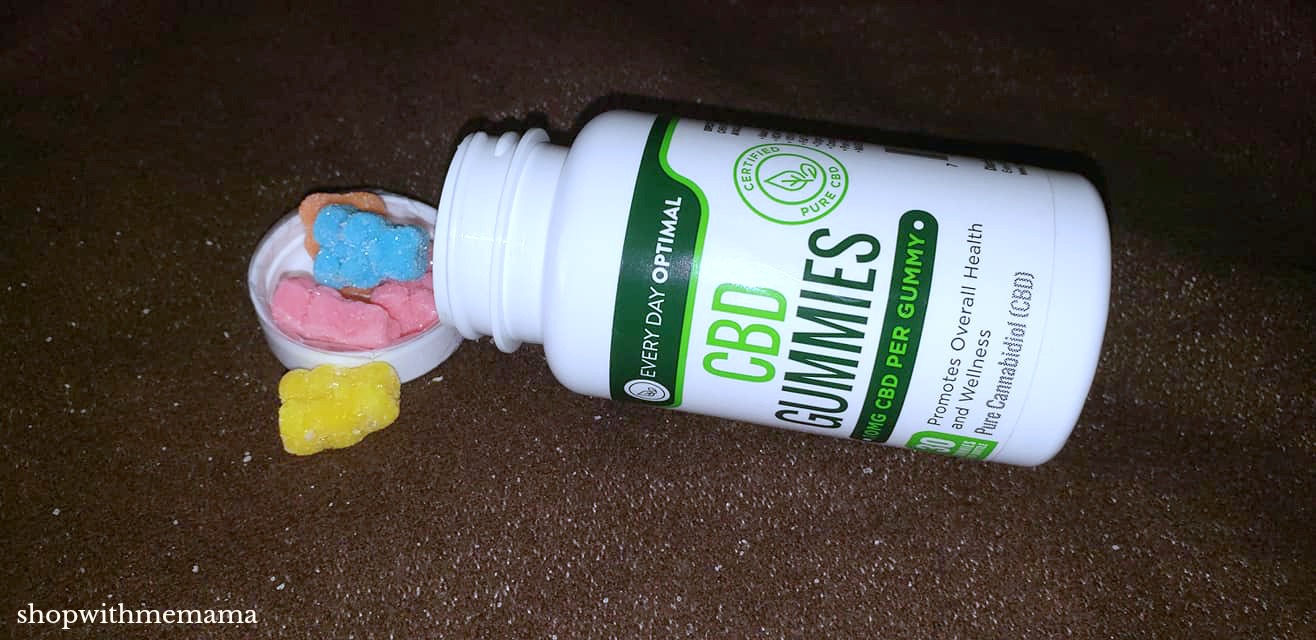 What Are CBD Gummies?
CBD oil gummies provide a convenient and popular way to adopt CBD oil into your healthy lifestyle. Just like a regular vitamin, CBD oil gummies can be included as part of a daily routine, or simply taken as needed.
They're one of the most discrete CBD options available, making them an excellent choice for anyone who needs to take CBD oil at work or in another public place. In gummy bear form, this CBD product looks just like regular candy (and tastes like it, too!).
And, just like all of their other CBD products, their CBD gummies contain zero THC and won't cause any sort of high. They're legal and accessible in all U.S. states without a prescription.
I received the 10MG CBD Gummies to review. That means they contain 10MG of CBD per gummy. They taste so good and don't leave any sort of bad taste in my mouth.
What Do The CBD Oil Gummies Do?
I usually take two of these at night before bedtime. They help me relax and actually help me fall asleep quicker. I normally have to take an OTC sleeping pill each night to fall asleep but since I started taking two of these each night, I find I don't need to take the sleeping pill anymore.
You can also effortlessly relieve mild anxiety, lower back pain, and headaches. These gummies can also help you feel more relaxed and may even improve your sleep (as I stated above).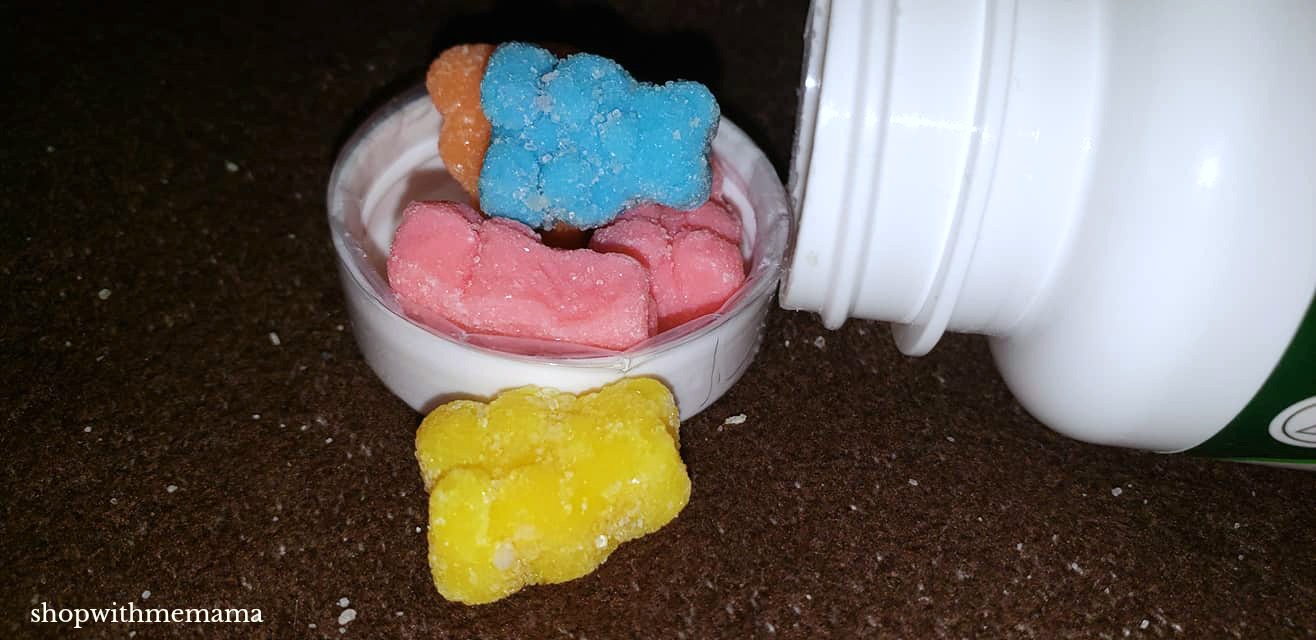 How Many Gummies Should I Take?
Even if you think you may need a higher dose, they recommend that you start with a low amount like 10mg, so you can effectively determine how much CBD you need.
I would start with one gummy and then after I know how you feel, add another one, and so on. I take two at night before bedtime.
The CBD Gummies have only 9 calories and 2 grams of sugar per bear, these CBD gummies are easy to incorporate into a healthy lifestyle.
CBD Gummies, 10mg CBD Per Gummy
Pure (Cannabidiol) CBD Oil
10mg CBD per Gummy
30 CBD Gummies per Bottle
Fun Sour Flavor!
INGREDIENTS
Pure Cannabidiol Oil (CBD)
Sugar
Corn Syrup
Gelatin, Citric Acid, Calcium Lactate, Silicon Dioxide
Natural and Artificial Flavors
SUPPLEMENT FACTS
Serving Size: 1 Gummy
Servings Per Container, 30
Full Spectrum CBD Oil: 10mg
Calories: 9
Total Fat: 0 grams | 0% Daily Value
Sodium: 3mg | 1% Daily Value
Total Carbohydrate: 2 grams | 1% Daily Value
Sugars: 2 grams
Protein: 0 grams
The 10MG CBD Gummies I received retail for $59.99.
FDA Disclaimer
These statements have not been evaluated by the Food and Drug Administration. This product is not intended to diagnose, treat, cure, or prevent any disease.
Buy
You can purchase these products online here.
Have you ever used Pure CBD Oil or CBD Gummies before?