My skin, especially on my face, always has to be exfoliated. If I go a week without exfoliating it, it shows. So, I am always on the lookout for great products that help with that.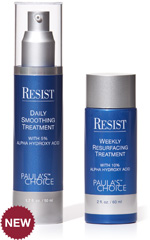 RESIST Skin Resurfacing & Smoothing System by Paula's Choice, is a great system to make your face look glowing in no time. The system includes the RESIST Daily Smoothing Treatment with 5% Alpha Hydroxy Acid And RESIST Weekly Resurfacing Treatment with 10% Alpha Hydroxy Acid.
I like to use the RESIST Weekly Resurfacing Treatment when I am in the bathtub. I just smooth some on my face and let it sit for about 3-5 minutes. It does sting quite a bit. When the 3-5 minutes is up, I simply wash it off and pat my face dry.
I then follow with my beauty creams. You only use this once a week, because it is a weekly treatment and you don't want to use it more than once a week. The RESIST Daily Smoothing Treatment is less intense, that is why you only use it daily.
The daily smoothing treatment is a serum type lotion that you put onto your trouble spots like deep lines, and it is suppose to help make them less visible. Though I did not see a tremendous amount of anything really happening, my face did feel cleaner, smoother and more healthy after each use.
What does this system do?
# Resurfaces your skin for significantly improved tone and texture
# See fewer wrinkles, signs of sun damage, and discolorations
# Stimulates healthy collagen production so you have smoother, firmer skin
# Exfoliates while delivering proven antiaging ingredients
# Brings back a youthful, radiant appearance within days
# Over time, your skin will look younger and maintain a healthy glow
# 100% fragrance-free and contains no dyes or coloring agents
Buy It!
You can purchase the RESIST Skin Resurfacing & Smoothing System by visiting Paula's Choice. And don't forget to check out Paula's sale page too!