*Reverse Mortgage Information Every Home Owner Needs to Know. This is a partnered guest post.
Reverse Mortgage Information Every Home Owner Needs to Know
A reverse mortgage is the same thing as a home equity conversion mortgage. However, HECMs are usually provided by HUD and the FHA, which are government-sanctioned programs. Other mortgages of that type are often offered by private lending companies. Although each company has its own procedures, the government does regulate the mortgage rules quite a bit. But there is a lot of information about them that can be confusing.
Why This Type of Mortgage is Considered "Reverse"
A reverse home loan is one where you can borrow money without paying it back right away. Instead of the monthly payments, you would have with a regular mortgage, you can pay a reverse loan off in whatever amounts you want and at whatever times you want. You can even choose to not pay it off at all, but then your lender will take the owed amount out of the sale proceeds of the home when you pass away or move to another residence, such as an assisted living facility.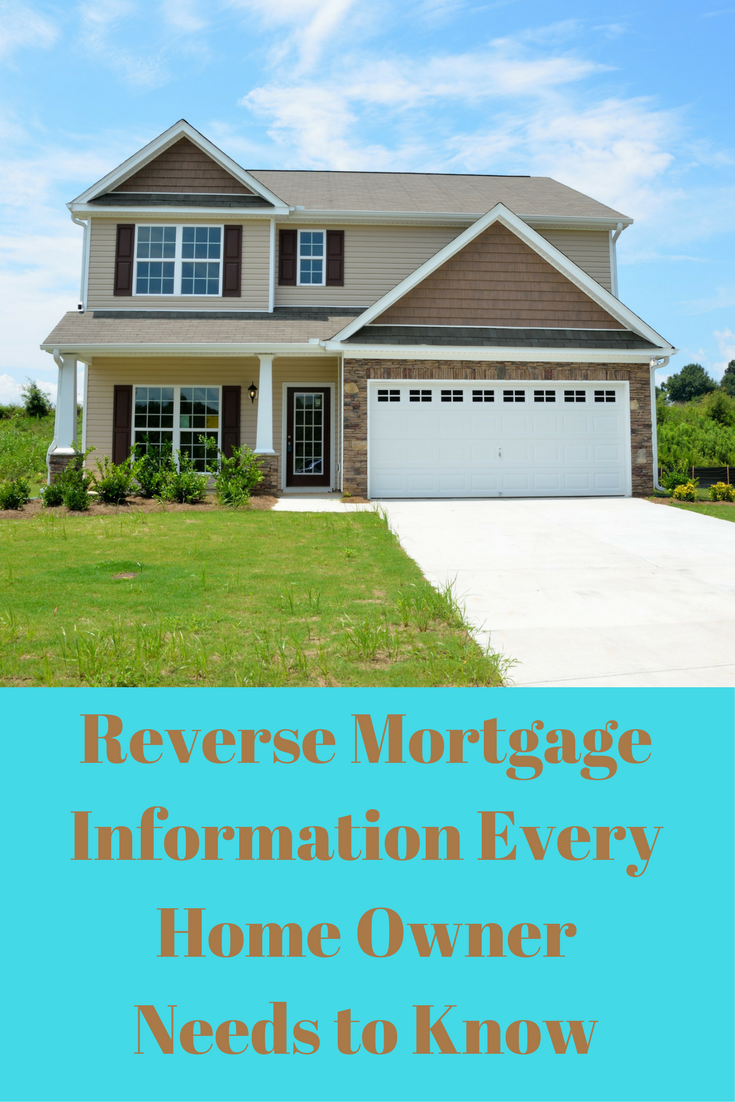 How the Reverse Loan Terms Work
There are very few rules associated with these home loans. One that is very important is that any other existing mortgage you have must be paid off right away using some of the money you borrow under the new loan. Another important requirement is that the home must be of a type allowable. That means that it has to be a residence for between one and four families. It can't be a mobile home or a large apartment complex. You must live in the home, or in one of the four units of a multiple-family home.
Personal Qualification Requirements for These Home Loans
The main personal requirement for reverse mortgages is that anyone listed as a borrower must be at least 62 years old. That includes both you and your spouse if they sign the application too.
The other major requirement, other than passing a credit check, is that you have to actually live in the home yourself. As soon as everyone listed on the paperwork moves out of the home, the full amount borrowed must be paid back. If only you sign then the mortgage will be in your name, which means that if you pass away first or have to move into an assisted living environment, your spouse may be required to move out of the house so that the lender can sell it to recover the balance of the loan.
Borrowing the Money Under the Terms of the Loan
Whether you have a HECM through the FHA or a private reverse loan, you can borrow the money a number of ways. how does a reverse mortgage work in terms of receiving your payments? The answer is that the lender determines how much you can borrow, but you can dictate how you borrow it. You can request lump sums, monthly installment payments, or a line of credit that you can access as needed. That makes it one of the most financially flexible types of loans available.
Options for Paying a Reverse Mortgage Back
Finally, you should know that you can choose to pay some or all of the loan back at any time, but reverse mortgages can come up due suddenly if certain circumstances occur. Some of them include you filing for bankruptcy, moving out of your home, or not paying your property taxes on time. Your death can also cause the loan to become due. If the loan is due and you can't pay it off, the lender will sell your home. Extra money made from the sale will go to you or your family, but only after the lender subtracts the loan balance.
Do You Have Any Reverse Mortgage Tips Or Information You Want To Share?