If your other half's birthday is coming up soon or you are thinking about what to buy him/her for Christmas, you may be feeling a bit overwhelmed. After all, gifts become more and more difficult to buy with every year that goes by. However, there is no need to fret, as we have some Sentimental Gift Ideas For Your Other Half, listed below, for you!
Sentimental Gift Ideas For Your Other Half
With that in mind, let's take a look at some of the best Sentimental Gift Ideas For Your Other Half:
A gold dipped rose
How many times have you heard people say "it's the thought that counts" when referring to presents? A stunning gift that is both creative and lasts a lifetime is often hard to find, however with a gold dipped rose you may discover just what you have been looking for.
It is often difficult to pick a gift to give someone. It is easy to fall into buying the same old conventional things such as jewelry, ornaments, chocolate, or flowers. Unfortunately, this can easily become tedious and monotonous. What is impressive is finding something unique, something creative, and something out of the obvious. Could a gold dipped rose be just that?
A gold dipped rose is a perfect gift to give someone you love and care about because of the symbolization associated with it. The rose itself a symbol of love, desire, and passion, it is the ideal way of saying "I love you" without even having to open your mouth.
On the other hand, the gold symbols money and wealth, which subsequently makes it an expensive present. This may of course do some damage to your wallet but it also shows that the person receiving the gift means a lot to you. The combination of the gold and the rose is the ideal way of showing a person that you hold them close to your heart.
Not only does this marvelous present perfectly convey your emotions but it also shows that they are never going to fade. A gold dipped rose has achieved the unattainable goal of confining and preserving the beauty of a rose forever. The fact that it lasts a lifetime speaks volumes and symbols your eternal love and care for the person receiving the gift.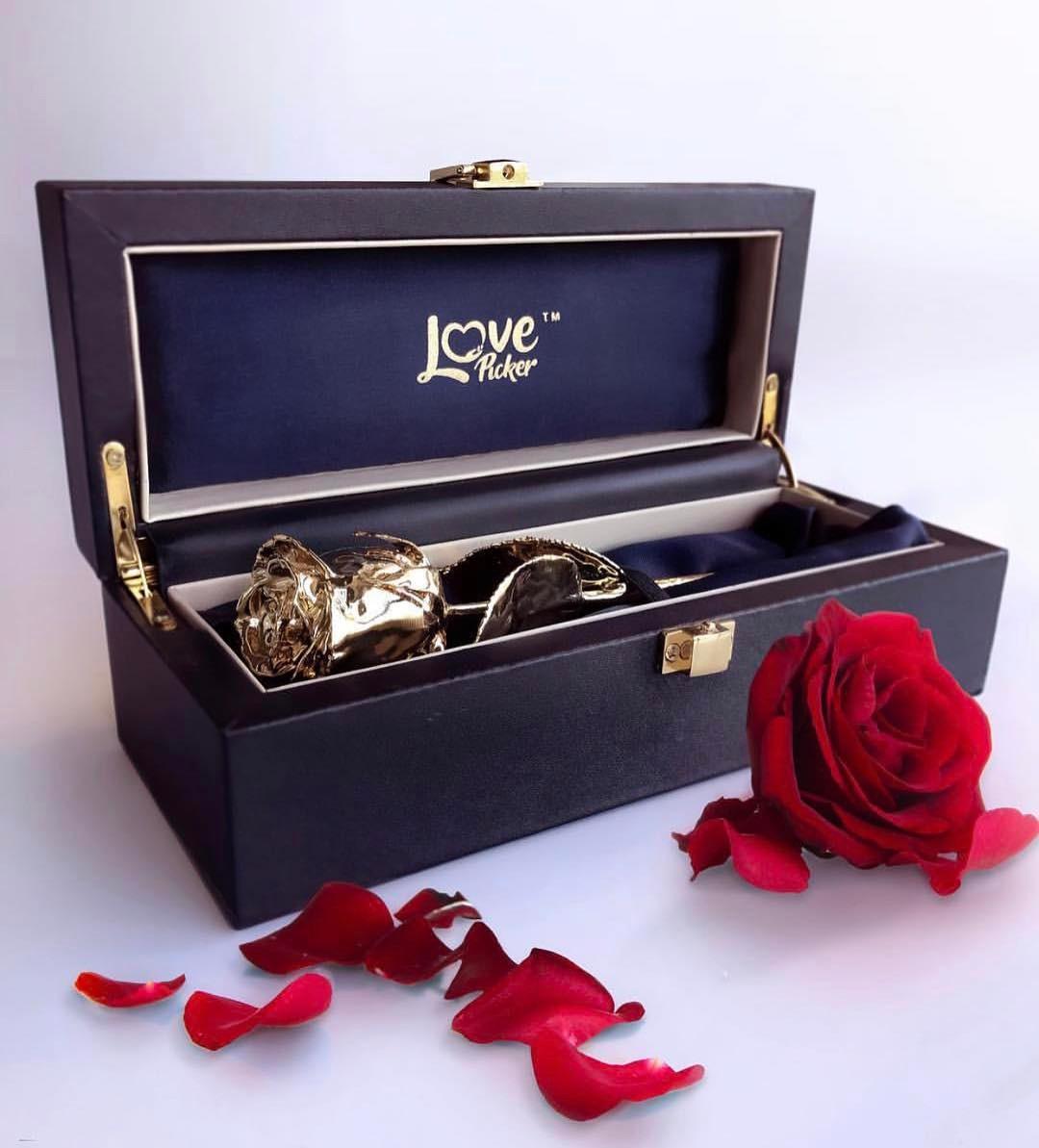 Even the process of creating this beauty symbolizes great care and adoration. It all starts off with a fresh living breathing rosebud which has been handpicked. The stem is then cut off and the roses are chemically treated through a special process.
This lasts 30-days and is a delicate procedure of protecting the essence of the flowers' natural beauty. The rose may then be lacquered and hand-painted to enhance the grace of the petals and leaves.
The process itself shows how precious this gift really is, the care and dedication taken in making a gold dipped rose is not something that can be overlooked.
Finally, a gold-dipped rose is an ideal present because it is suitable for anyone and it can be placed anywhere. Your gorgeous gift will never look out of place; it can liven up your living room, dazzle in the dining room, brighten up your bedroom, and even shine in the kitchen. No matter what room your gold flower is in it is certain to catch everyone's eye.
So next time you are in a store and find that you are buying the same old chocolates or the same old pair of earrings, why not try something different and get them a gorgeous glowing gold dipped rose?
Something To Nibble On!
Yes, receiving gifts to eat are also really awesome to receive! I love the gifts over at https://manlymanco.com because they carry everything beef jerky! I absolutely LOVE the beef jerky flower bouquet! Now that is a unique yet yummy gift for your significant other! Heck, I would love to receive that as I love beef jerky! YUM!
Something for the home
As we get older, we appreciate thoughtful home gifts more and more. Plus, the great thing about going down this route is that you're going to be purchasing something that you're able to benefit from as well. There are plenty of different options to choose from here, ranging from home decor to candles and wall art. The options are well and truly endless.
There are a lot of great gifts on the market that are designed to make your home life happier, healthier, and more relaxing too. Air purifiers fall into this category. We would advise looking at the Molekule blog for more information on this. You will get a better understanding of what is out there at the moment.
Personalized gifts
Another way to show your other half how much they mean to you is with a personalized gift. If you take a look online, you will see that there are many different options when it comes to personalized gifts today. This includes everything from personalized cushions to photo frames, cheeseboards, clocks, and much more!
Personalized gifts are always well-received because they are unique to the recipient of the gift and they show that a lot of thought has been put in. After all, you have gone that extra mile to get something made especially for the person you are buying for, and this says a lot.
There are lots of independent sellers selling personalized items on the likes of Etsy, so this can be a great resource when you are looking for this sort of thing. Plus, it is good to support small businesses, especially during times like this, right?
"I love you" teddy bear
When you are buying a present for someone you love it is often difficult to know what to get. You will most likely end up spending many hours trying to rack your brain for something original and something you know will impress your partner. An 'I love you' teddy bear can do just that.
On Valentine's Day, or any other day you want to express your love for your partner, finding the perfect gift can be a stressful experience. Individuals worry about what their partner will think and of course they want to make sure they make a good impression.
This is particularly important if it is your first Valentine's Day together as a couple. Many individuals opt to buy their partner a red rose or a bunch of them. Whilst these are an extremely romantic option, I truly believe an 'I love you' teddy bear is a much better gift for several reasons.
First and foremost because red roses are such a popular choice they have become extremely unoriginal and have in fact lost the 'wow' impact that they once had.
This is because as so many individuals receive red roses on Valentine's Day they no longer stand out and by gifting your partner these you can, in fact, give the impression that you have put no thought or effort into their present. You won't have this problem by buying an 'I love you' teddy bear because there are so many different options out there so you can be guaranteed to buy something different from everyone else.
Another great thing about an 'I love you' teddy bear is that they last a lifetime. This can symbol the longevity of your relationship and how your love will last a lifetime.
It is also great because your partner can place it in their room and they will see it every day, reminding them of their special relationship and reminding them of the special day when you gifted them this fabulous present.
With a red rose the novelty wears off almost instantly as the roses will die within a very short time scale. Thus your partner will have nothing to look back on and nothing to remind her of that loving moment and that special Valentine's Day, thus you may end up making the day forgetful.
All in all, if you want to show your partner or the person that you like how you truly feel then the best way to do so is to present them with an 'I love you' teddy bear. You can rest assured that they will love the gift and will be very impressed with the effort and care that you put into it.
When it comes to roses or a teddy bear there really is no competition, as giving your loved one a gift that will last a lifetime is much more valuable than something that will be gone after a week or so.
Pamper kit
The final Sentimental Gift Ideas For Your Other Half is a pamper kit. Pamper kits work well because you are essentially telling your other half that you appreciate everything that they do and that you recognize they deserve a break. You are giving them the gift of relaxation, and let's face it; this is something that we could all do with a little bit more of, right?
You can either buy a readymade pamper kit or you could put one together yourself. The choice is yours. There are a lot of retailers offering pamper boxes. However, it can be thoughtful to simply buy a box and put your own gifts into it to create a little hamper for your loved one.
So there you have it: some different gift suggestions to consider when you are looking for something thoughtful to buy the one you love. We hope this helps you on your shopping trip!
PIN IT