*This post includes my affiliate links.
Have you seen SING yet? SING is the musical comedy of the year, for sure! We JUST watched this movie and it was SO good, SO exciting, SO relatable, SO entertaining, and exciting! We will definitely be watching this a lot around this house!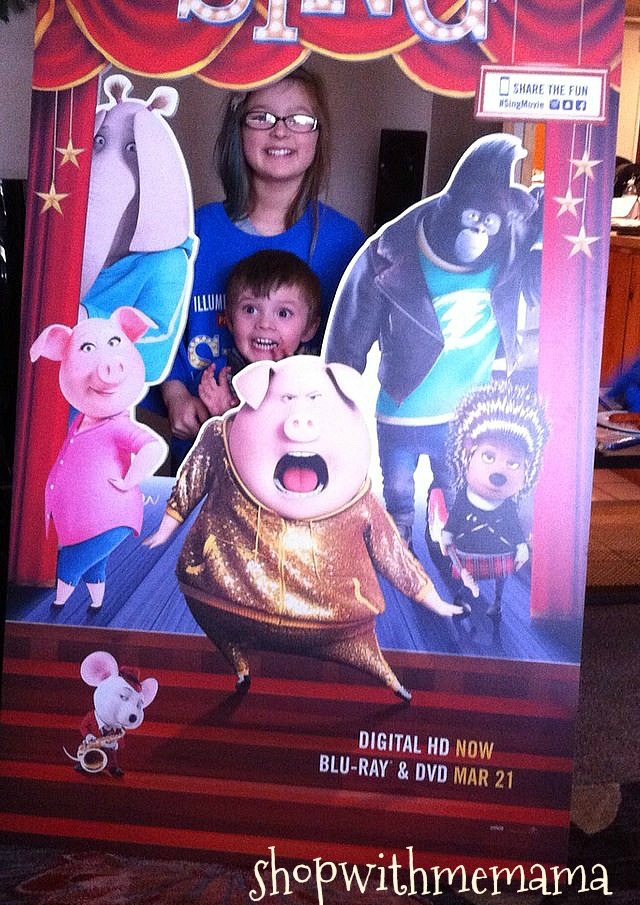 We received the movie, backdrop to take fun pictures and sing songs, popcorn, and more to make our event memorable! My kids were SO excited when the goodies arrived, especially that huge backdrop!!! LOVE.
SING arrives in Digital HD on March 3, 2017, and in Special Edition on 4K Ultra HD™, Blu-ray™ 3D, Blu-ray™, DVD, and On Demand on March 21, 2017.
The music-filled comedy will include over 60 minutes of bonus content and will incorporate three all-new entertaining mini-movies featuring the cast from SING as well as an exclusive Tori Kelly music video and a variety of musical extras.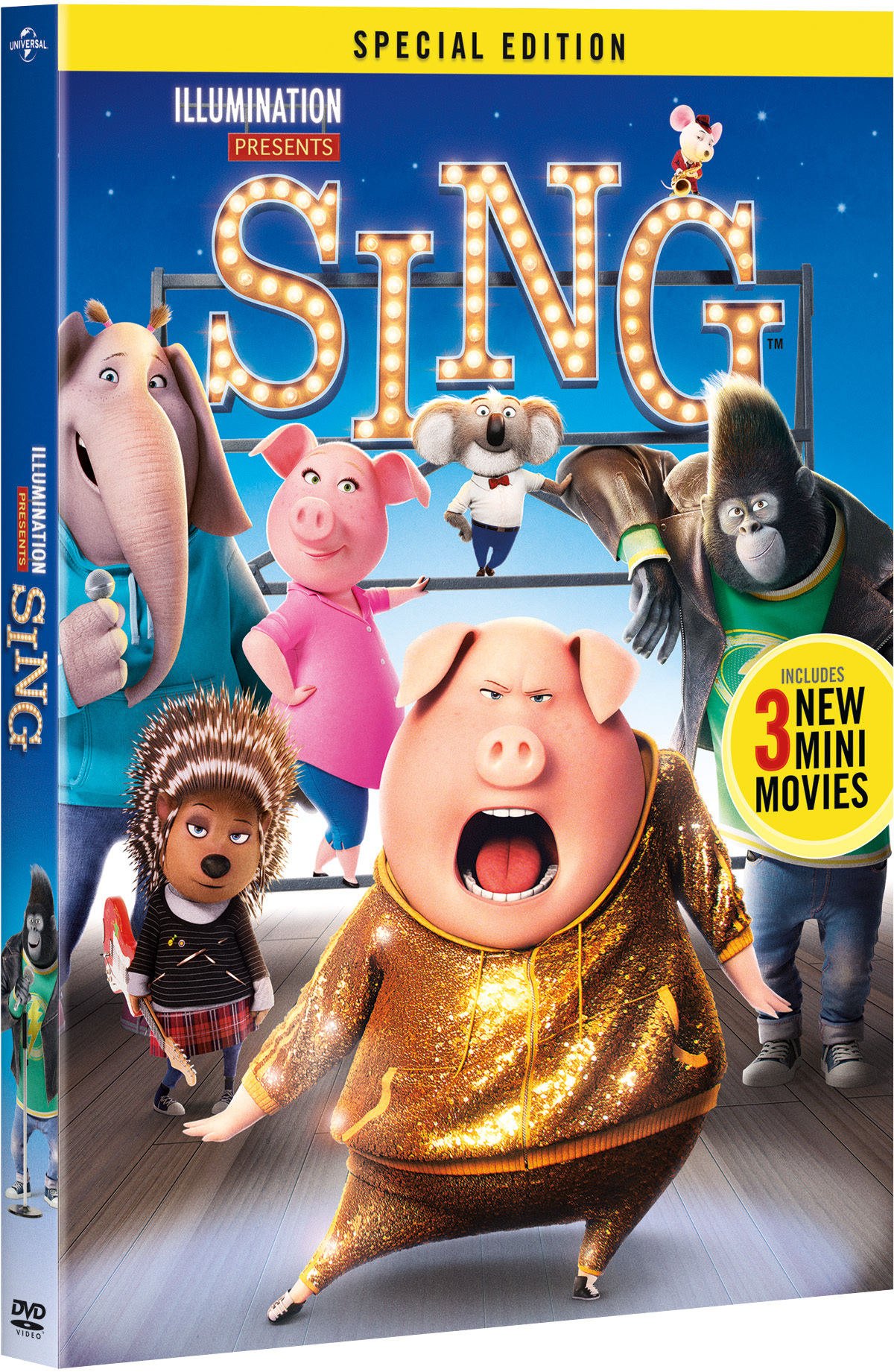 About SING
From Illumination Entertainment, the studio that brought you The Secret Life of Pets comes an
animated comedy about finding the music that lives inside all of us. Sing stars Academy Award ® winner Matthew McConaughey as Buster Moon, an eternally optimistic koala who puts on the world's greatest singing competition to save his crumbling theater; Academy Award ® winner Reese Witherspoon as Rosita, an overworked and underappreciated mother of 25 piglets desperate to unleash her inner diva; Scarlett Johansson as Ash, a punk rock porcupine with a beautiful voice behind her prickly exterior; and Taron Egerton as Johnny, a young gangster gorilla looking to break free of his family's felonies. Sing is the musical comedy event of the year!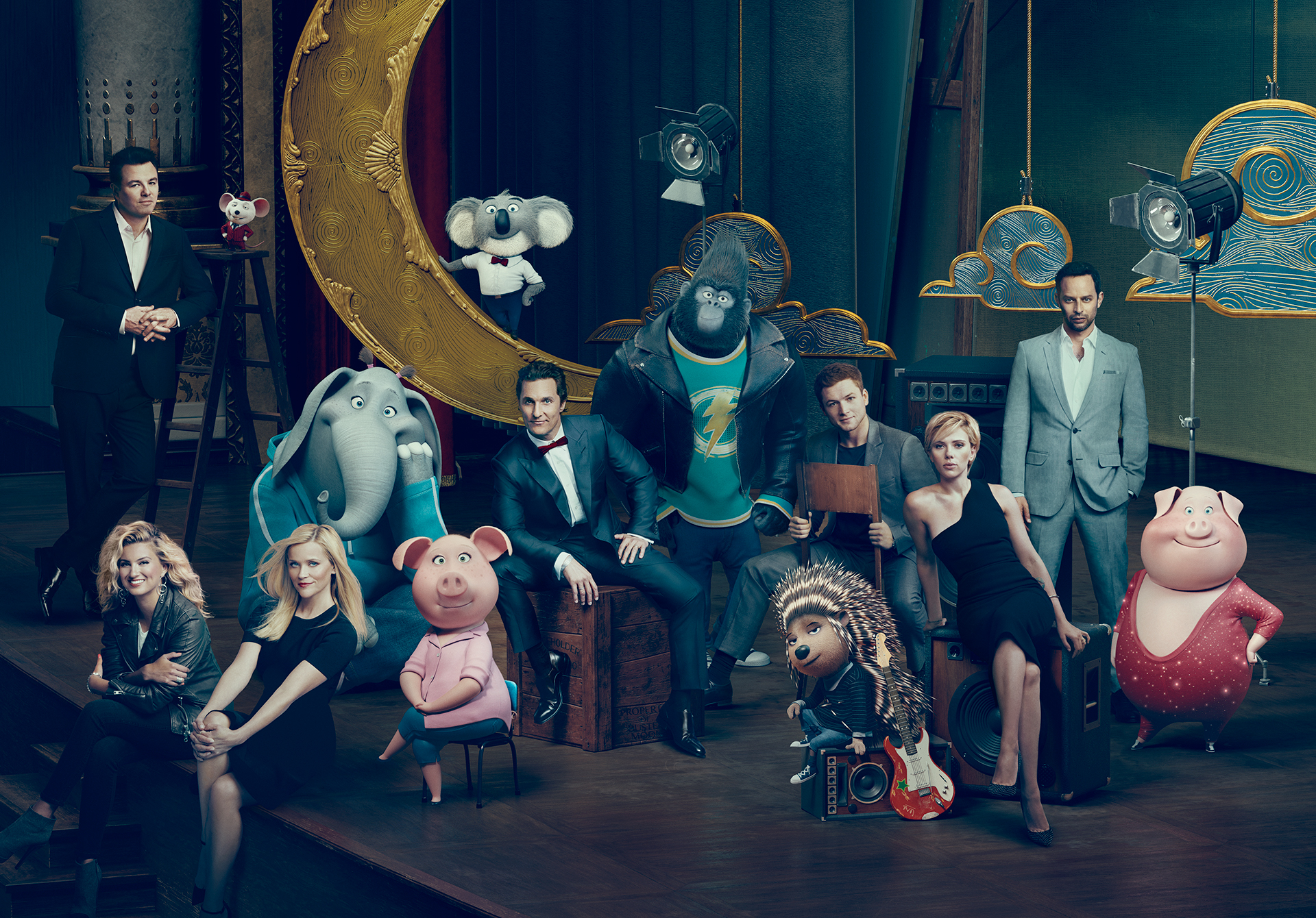 BONUS FEATURES ON 4K ULTRA HDTM, BLU-RAY™, DVD, AND DIGITAL HD
• Mini-Movies
o Gunter Babysits – Gunter offers to watch all of Rosita's 25 piglets for the night, trying to prove he's the best babysitter ever.
o Love At First Sight – During a piano lesson with Johnny, Miss Crawly becomes nostalgic about the dancing and romancing of her youth. Johnny convinces her that it's not too late to find someone and helps her set up a profile on a dating website.
o Eddie's Life Coach – Eddie's mom signs her slacker son up for a digital training seminar to get his life back on track.
• "Don't You Worry 'Bout A Thing" Music Video – A cool and unique music video starring Tori Kelly.
• Making a Music Video with Tori Kelly – A behind-the-scenes look at the making of Tori's music video with exclusive insights provided by Tori herself.
• "Faith" Music Video
• "Faith" Lyric Video
• "Set It All Free" Lyric Video
• The Making of SING – We take you through the animation studios of Illumination with interviews from Chris Meledandri, producer Janet Healy, the various animation teams, and the voice talent of SING.
• Finding the Rhythm: Editing SING – Illumination editor Greg Perler takes us inside the edit bay and reveals the secrets behind cutting an animated film. We'll plunge into his world in this fun and eye-opening peek inside the room where the magic gets put together.
• Character Profiles – Profiles on the incredible cast, all lending their voices to bring these animated characters to life.
o Matthew McConaughey as Buster Moon
o Reese Witherspoon as Rosita
o Tori Kelly as Meena
o Taron Egerton as Johnny
o Nick Kroll as Gunter
o Garth Jennings as Miss Crawly
• SING & Dance! – "Faith" – Celebrity choreographer Aakomon Jones takes us through a dance routine inspired by SING and the song, "Faith."
• The SING Network – The SING Network brings you the latest news and highlights the business endeavors of your favorite SING stars.
o Gunter's Dance Studio
o The Moon Theater
o Rosita's Babysitting Gizmo
o Miss Crawly's Matchmaking Service
o In The News – SING'S True Entertaining Stories highlights each of the Moon Theater's newest stars.
 Buster Moon
 Gunter
 Rosita
 Johnny
 Meena
 Ash
 Mike
• The Best Of Gunter – A rapid-fire, fun mash-up of all the best Gunter one-liners.
• The Making Of The Mini-Movies – We'll explore the themes of each of the mini-movies through the eyes of the artists who made them. The film will be available on 4K Ultra HD™ in a combo pack which includes 4K Ultra HD Blu-ray, Blu-ray™, and Digital HD with UltraViolet. The 4K Ultra HD™ will include all bonus features on the Blu-ray™ disc.
• 4K Ultra HD™ is the ultimate movie-watching experience. 4K Ultra HDTM features the combination of 4K resolution for four times sharper picture than HD, the color brilliance of High Dynamic Range (HDR) with immersive audio delivering a multidimensional sound experience.
• Blu-ray™ unleashes the power of your HDTV and is the best way to watch movies at home, featuring 6X the picture resolution of DVD, exclusive extras, and theater-quality surround sound.
• DIGITAL HD with UltraViolet™ lets fans watch movies anywhere on their favorite devices. Users can instantly stream or download.
Grab Your Copy Today!
To buy your copy today, please visit Amazon.com!