Beauty Essentials for Moms On-The-Go
Mom's are busy people, they really are. Like right now, my kids are on spring break and they both have over two friends each. So yes, it is one full house! Then, while the kids play, I have deadlines to meet, posts to write, and emails to send! It is a busy world! At the end of the day, I absolutely do not want to do anything, let alone make or think of what to make for dinner. There is literally no end in sight for this mama!
*This post includes my affiliate links.
So, my bedtime routine (if I dare to call it that..) HAS to be simple. It HAS to be effective. I recently started using the skincare, SkinAgain. It is a revolutionary line of skincare that really pampers your skin, which I really needed.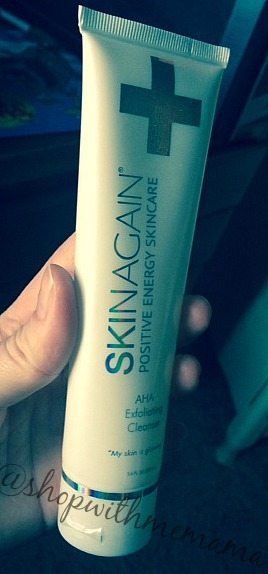 Beauty Essentials for Moms On-The-Go
With diaper changes, mealtime, and playdates for kids, busy moms rarely have time to pamper themselves and when I received a set of this skincare, all of a sudden pampering myself was easy to do and I could do it every night with ease! This skincare takes care of my fine lines, imperfections, and yes, even cellulite on my bottom! These products make me feel like I am in a spa, they are really good and when they are gone, I will have to buy some more because I really really like the facial cream! I like them all!
The products I were sent are:
The Exfoliating Cleanser is nice. It has little tiny particles in it so that when you use it, you get two things done: exfoliation of your skin AND a clean face all in one! See, I am saving time already 🙂 This facial cleanser leaves my skin really soft and feeling good. Plus, it is for your WHOLE body too, so I can do my face and body and I am done! All with one cleanser! Talk about a huge time saver for ME. This contains a special blend of natural alpha-hydroxy acids and micro-spherical Jojoba Oil beads that gently remove all traces of dead skin cells while leaving your skin super soft. Retails for $49.00.
The Youth Cream is awesome. A tiny bit goes a longgggg way and it leaves my skin so soft and I swear that the wrinkles around my eyes get really smooth when I first put this on. I have to be careful with this cream though because I did break out on my forehead from it. So, I sparingly use it on my wrinkles and areas on my face and neck that I feel I need it most. This cream has Rumex Occidentalis Extract (have no clue what that is!), Tree Fern Extract, and Peptides that are known to diminish the appearance of wrinkles, dark spots, and loss of elasticity. Retails for $64.00.
Vanish is very thick and you have to really rub it into your skin. I like that it is thick because rubbing your skin or 'massaging' into your skin helps with blood circulation and cellulite. I will do this about three times a week, because this takes a bit longer than I have time for, sometimes. This cream is formulated with a blend of shea butter, avocado seed extract, and bentonite to create a non-invasive alternative for fading the appearance of that horrid cellulite, stretch marks, and even scars. Retails for $52.00.
Buy
You can purchase skincare products from
SkinAgain.