In this post, we will take an extensive look into the Pros And Cons: Everything You Need To Know About SNS Nails, which brand is my favorite, and more! Dip powder nails are all the rage these days and for good reason! They're durable, long-lasting, and look absolutely amazing. Doing dip powder manicures are so natural-looking and fun!
*This post includes my affiliate links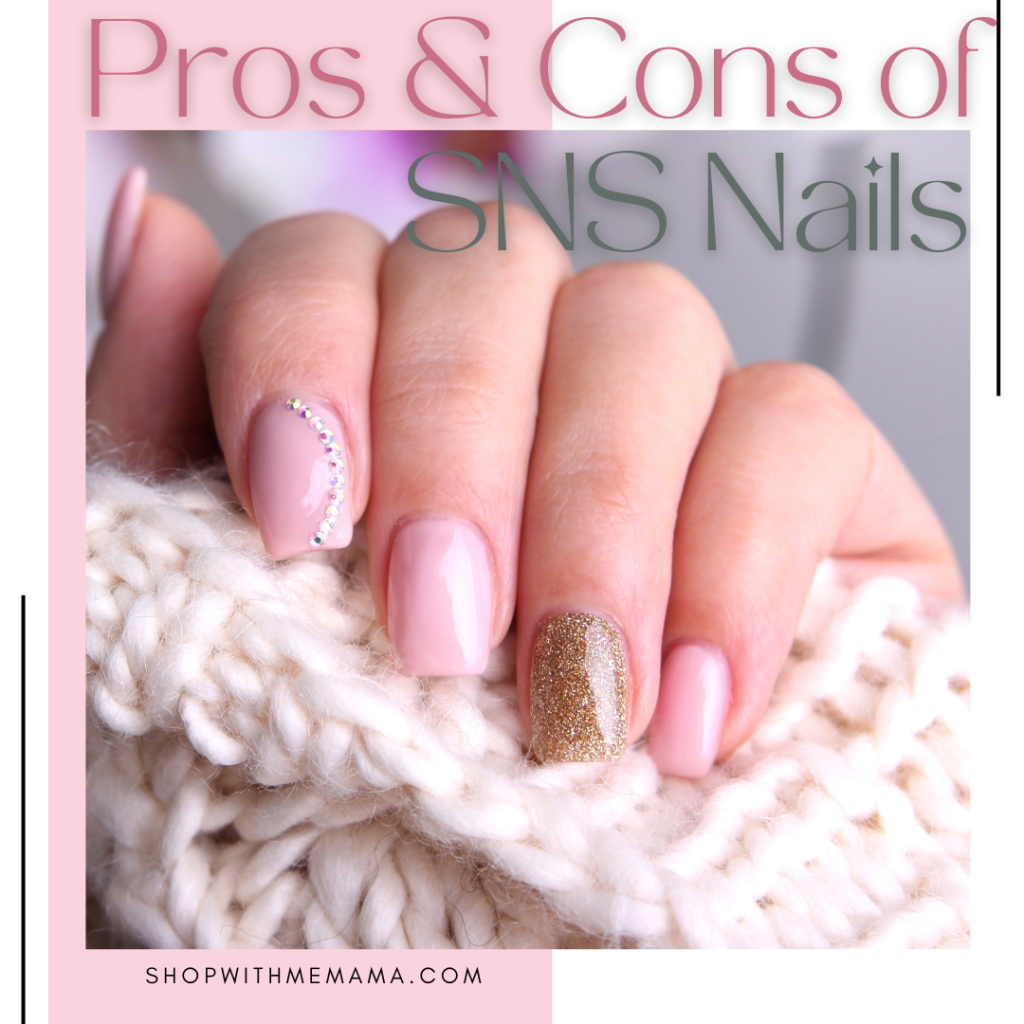 Pros And Cons: Everything You Need To Know About SNS Nails
Let's first discuss what are some of SNS Nails pros and cons! But FIRST! What IS SNS???
SNS (Signature Nail Systems) is a popular type of nail enhancement that involves dipping your nails into a powder containing colored pigments and a bonding agent, and then sealing it with a top coat. While SNS nails have gained popularity in recent years, like any beauty treatment, there are pros and cons to consider before getting them.
Let's discuss those pros and cons, below!
Pros of SNS nails:
*Long-lasting Manicure: SNS nails are known to last longer than traditional nail polishes, usually up to 3-4 weeks without chipping.
*No UV lamp required: Unlike gel or acrylic nails, SNS nails don't require harmful UV light to cure or dry, making them safer for your skin and eyes.
*Natural-looking finish: SNS nails have a matte finish that looks more natural than other types of nail enhancements. You get a more natural nail when using these dips.
*Odorless: The powder used in SNS nails is odorless, making it more comfortable for people who are sensitive to strong smells. SNS nails are a better option than other smelly chemical nail kits. They don't smell at all!
*Gorgeous Colors: You can recognize SNS nails by the extra richness and depth of the colored powder, and the way they radiate in that head-turning way leaving you with a gorgeous SNS manicure people will definitely notice! So much better than regular polish!
*Comfort Of Your Own Home: You can buy everything you need and easily give yourself a dip powder manicure with the SNS dip powders! They have SO many different dip powder colors to choose from! No need to go to the nail salon.
Cons of SNS nails and potential downside:
*Expensive: SNS nails can be more expensive than traditional nail polish, and the price may vary depending on the salon and location.
*Difficult to remove: The removal process of SNS nails can be a tedious and time-consuming process that requires soaking your nails in acetone.
*Potential for nail damage: Over time, the repeated application and removal of SNS nails can weaken and damage your natural nails. Though my daughter doesn't have issues with this, I know of some who have a bit of nail damage. So, if you are worried about your nail health then maybe do a test nail or two and see how it works for you!
Note: However, unlike traditional acrylics and nail polishes, the SNS Dipping Powder doesn't contain any of the following harsh chemicals:
MMA (Methyl Methacrylate)
Toluene
Formaldehyde
So though it may weaken your nails at some point because of you removing the SNS nail dip powder, it may still be a healthier option than an acrylic manicure or other harmful type of polish on the market.
The important thing to remember is that the pros and cons of SNS nails may vary depending on the individual's preferences and needs. Before getting SNS nails, it's always a good idea to talk to your nail technician about any concerns you may have and to ensure that they use proper techniques to minimize any potential damage to your natural nails. Or just do your research like you are doing right now. That is how you landed on my page, right?
In a nutshell, SNS nail dips are so much better than gel nails or gel manicures because they just last so much longer and the nail dip powders are so beautiful and bold! Whether you have acrylic extensions, longer nails that are natural or short nails, the SNS nail dip powders will make your nails look super nice and glamorous! SNS nail powder dips are such a great option.
The Best SNS Nail Kit!
If you are looking into the world of SNS artificial nails dip powders, then SNS has got you covered! With their new line of Dip Powder Kits! Each kit comes with everything you need to create beautiful, long-lasting nails at home. No need for a trip to the salon – these kits have everything you need to get started. Choose from a variety of colors and finishes, or go for the classic French Manicure look. With SNS dip powders, your nails will look amazing and last for weeks on end!
My daughter was thrilled to receive her kit and to get started! I think the very next day, she used the SNS kit! Her nails turned out so beautiful! The main difference we saw was how colorful and bold her nail color was after using the nail dip powder!
We received the dip nail powder kit in color and my daughter LOVES it! She does her own nails all the time and was looking for something different. She did not want to have to do long acrylic nails all the time to have her nails look good.
For summertime, she wanted something gorgeous, yet simple to do! That is where the SNS kit comes in! It is SO easy to use and your nails will be beautiful for a while, promise! And it really doesn't take much time to apply at all. It is actually a really enjoyable experience and I let her do my nails with this all the time too!
What Comes in an SNS kit?
Along with the dip powders themselves, you'll find the special SNS base that lays the foundation for the colors, and the sealer and topcoat that give your nail that stunning, long-lasting finish. The SNS dip nail kit provides you with the unique SNS Signature Serum cuticle oil that nourishes your nails with essential vitamins to help with healthy nail growth.
You also get a cuticle pusher for your nail bed, a nail file to get your desired shape, a buffer, and a high-quality nail dust brush. Every SNS Dip Powder Nail Kit comes with complete step-by-step instructions on how to apply the products for the best results. You can also access online videos that give you easy-to-follow guidance for DIY dip powder applications (see below for the link).
The colored nail dip kit features the fabulous colors Flamenco Dress, Jet Set Red, and everything else you need to start creating beautiful Dip Powder nails. Also available separately, you can choose your favorite colors from the incredible color palette of their Top 100 Colors in .5 oz singles sized perfectly for at-home use. you really get a professional look from this nail dip powder!
The kit includes:
Jet Set Red Dip Powder – .5 oz
Flamenco Dress Dip Powder – .5 oz
Foundation Powder – .5 oz
French Dip Mold
Dip Base Coat – .34 fl oz
Dip Top Coat – .34 fl oz
Dip Activator – .34 fl oz
Brush Cleaner – .34 fl oz
SNS Signature Serum – .34 fl oz
and more!
**My daughter is wearing the pink nail dip in the picture below. The sparkle is just nail polish she used that she already had.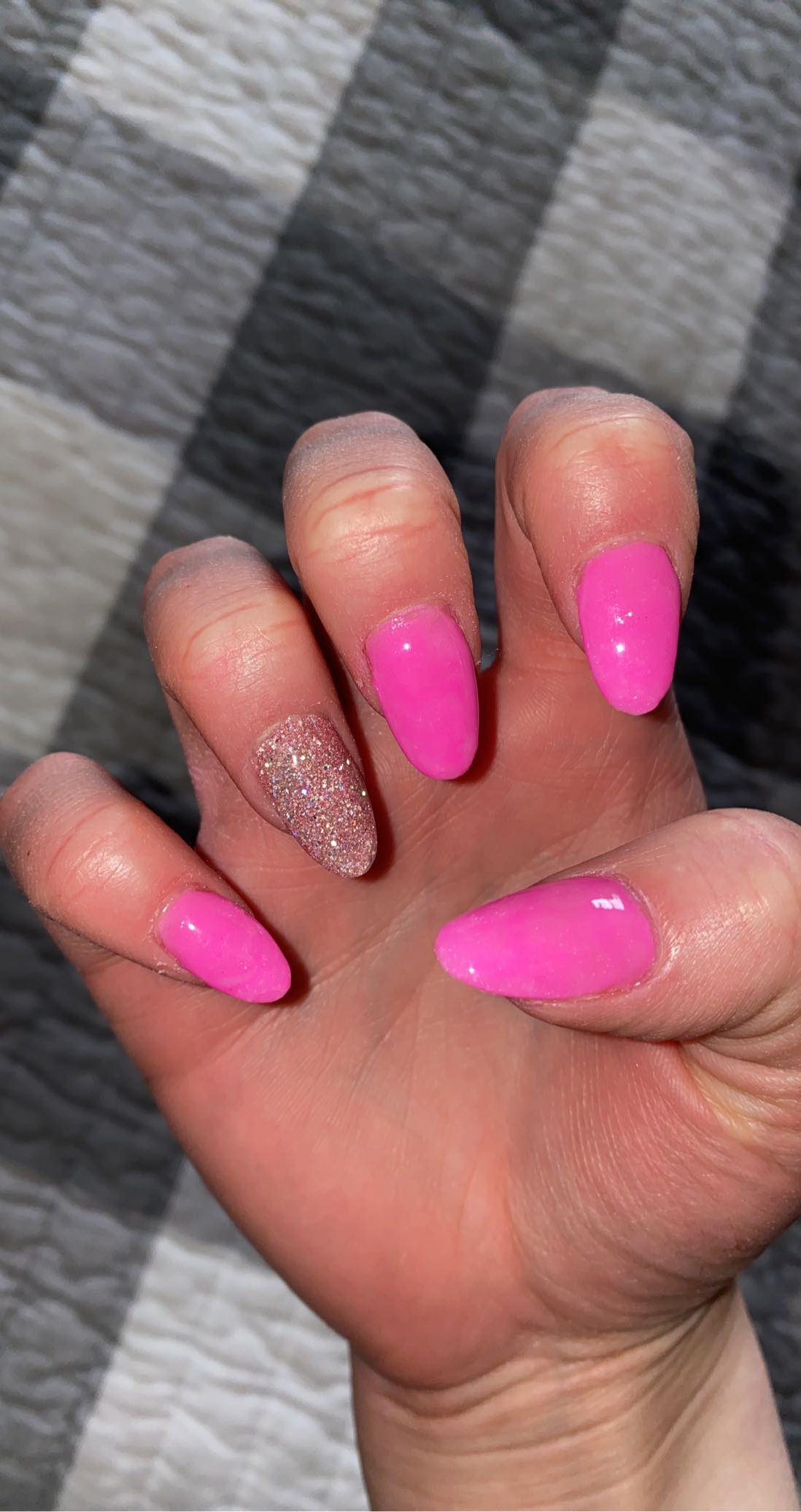 How To Use The Nail Dip Powder Kit
In a few simple steps, you will have gorgeous nails that will last you a long time! See below for the best way on how to use the nail dip powder kit!
*Apply Dip Base Coat and then dip, sprinkle, or spoon SNS Dip Powder over the nail.
*Dust off lightly with a dust brush and excess powder or powder resin
*Repeat the process for the best results.
*Then apply Dip Activator liquid reactant and Dip Clear Top Coat.
You can then do any fun detailed nail art or different designs of your nails that you want! And, that is it! See? EASY! The SNS powder dip nails are a simple process for sure. So much better than regular nail polish that will chip off the next day! No one has time for that! Out of all the types of manicures, the nail dip powders are my daughter's and my favorite.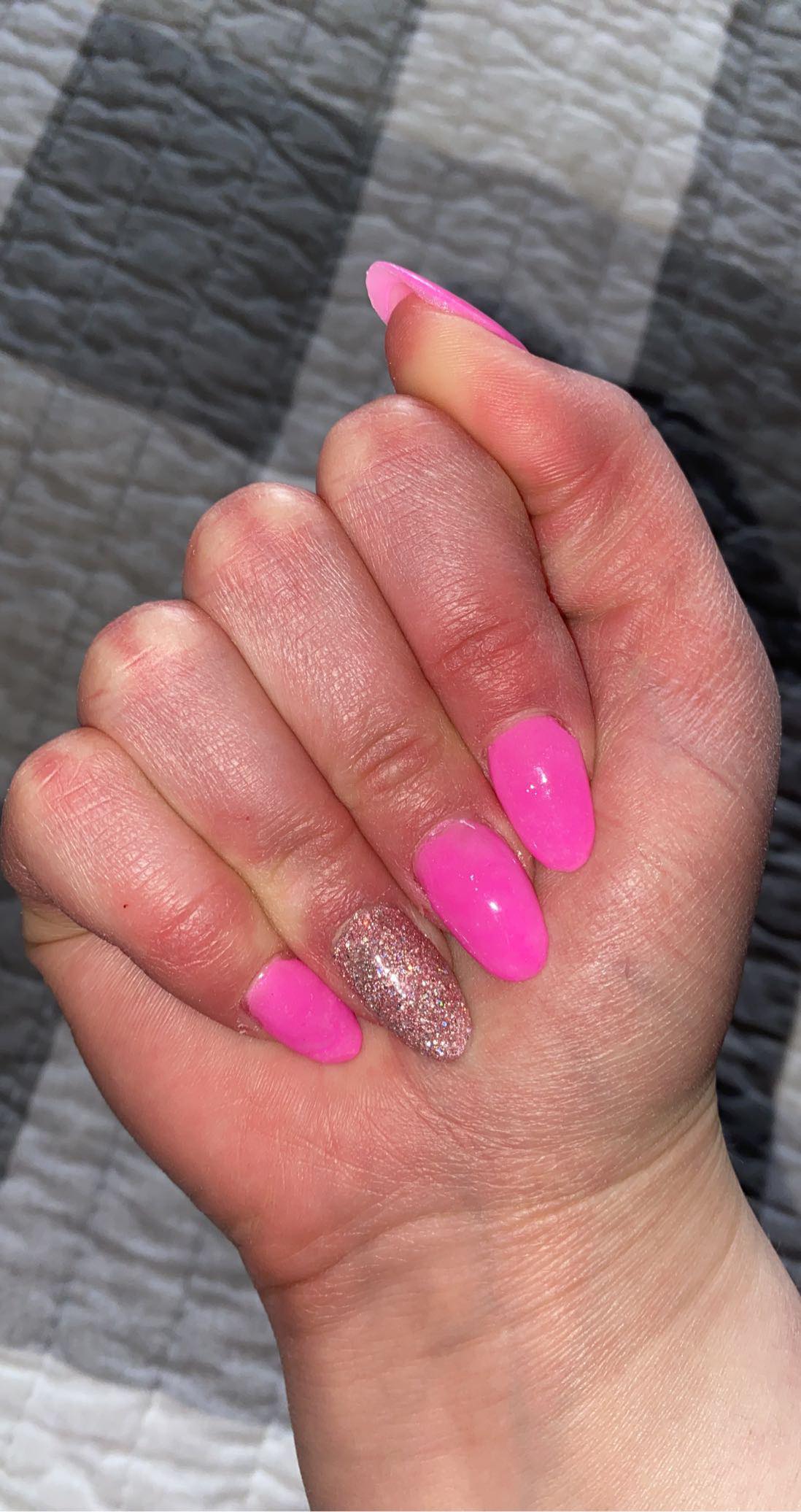 If you still need help, see their complete instructions and helpful hints by clicking the links below:
*Dip Powder Nail Kit Application Guide
*How to Apply Dip Powder At-Home Video Instructions
In conclusion, SNS nails have both advantages and disadvantages. On the one hand, they provide a durable and long-lasting option for those seeking a glossy and natural-looking or matte manicure. They also offer health benefits, as the dipping process can strengthen nails and prevent breakage. On the other hand, the removal process can damage the nails if done improperly.
Ultimately, whether SNS nails are right for you depends on your individual preferences and priorities, but it is important to weigh the pros and cons before making a decision. I hope this blog post has helped you make that decision! Let me know if you have any questions in the comments below and I will try to answer them as soon as I can! Thank you!
Buy
You can check out and purchase an SNS Kit Dip Powder Nail Kit or check out their SNS products on Amazon.com!