Who can honestly say that they enjoy doing laundry? I mean, REALLY enjoy it? I don't think there is many who would say that, but me, I can say that and mean it!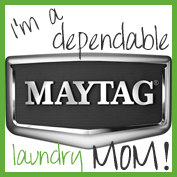 Three months ago I received my Maytag Bravos XL High-Efficiency Top Load Washer and Maytag Bravos XL High Efficiency Dryer and still, to this day, love doing my family's laundry. It is not a chore anymore, but an experience, a fun one!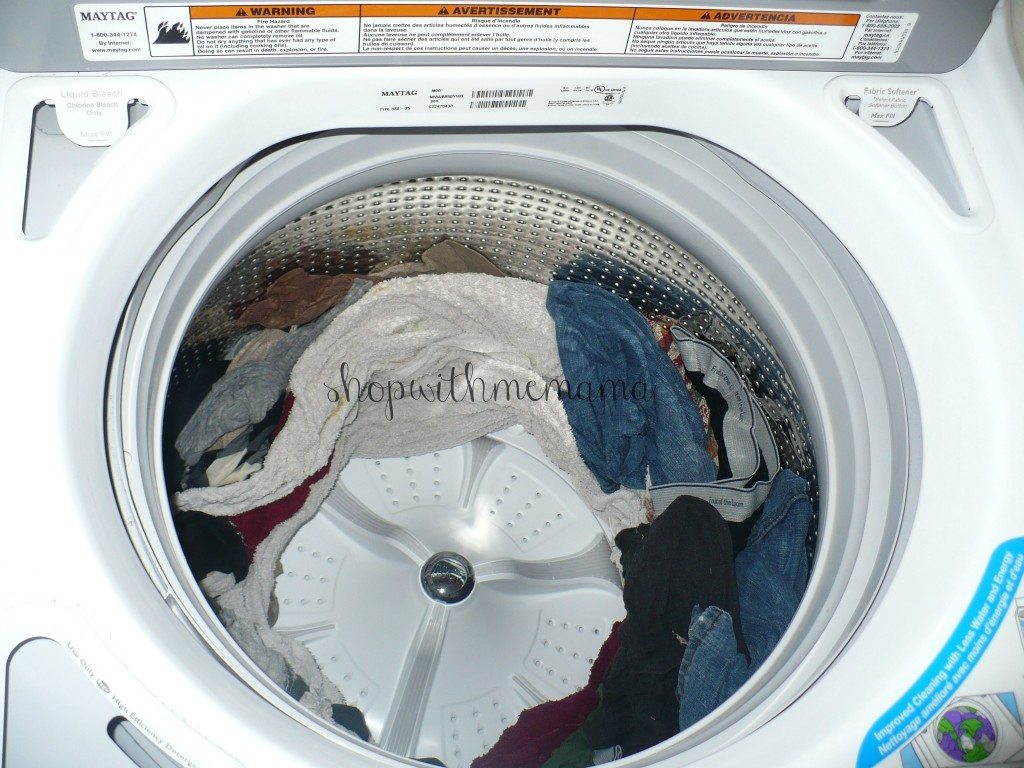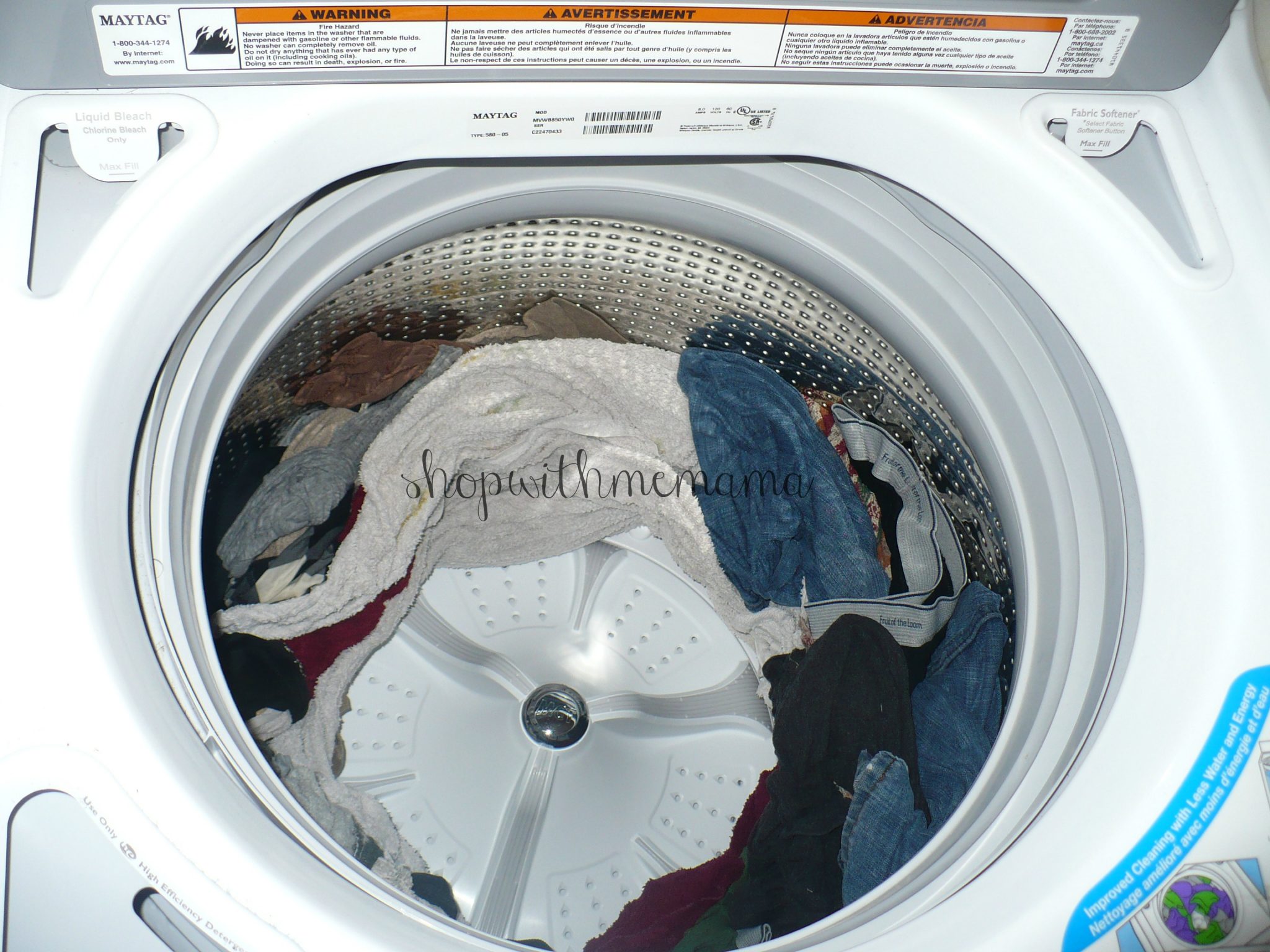 I depend on these two glorious machines to do all the dirty work, so I don't have to anymore. And work they do! They work super hard to ensure, at the end of their cycles, that my family's clothes are clean and stain-free. What other machines can do that for you? They are certainly dependable! I NEED dependability!!!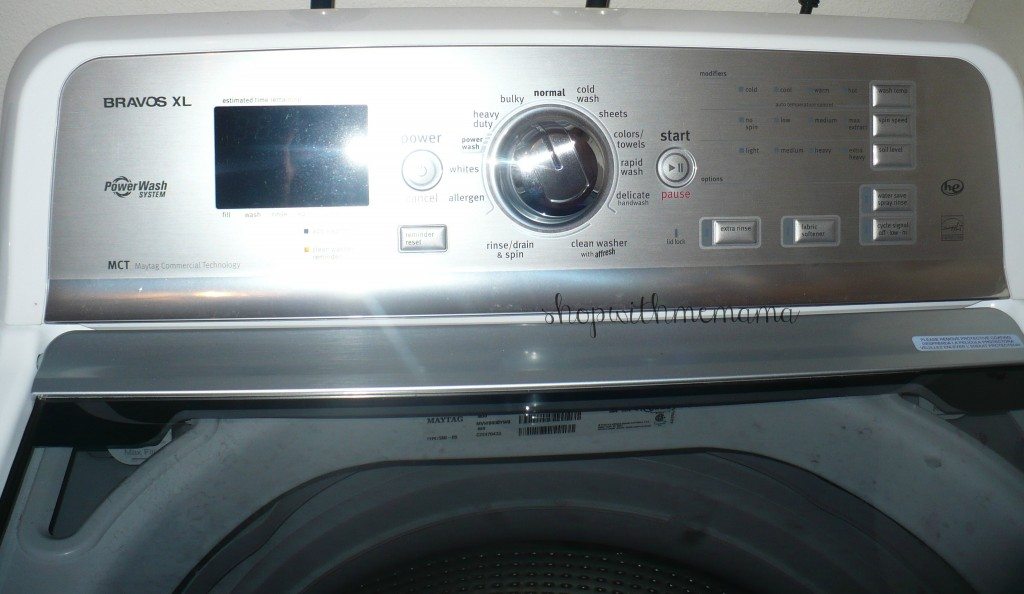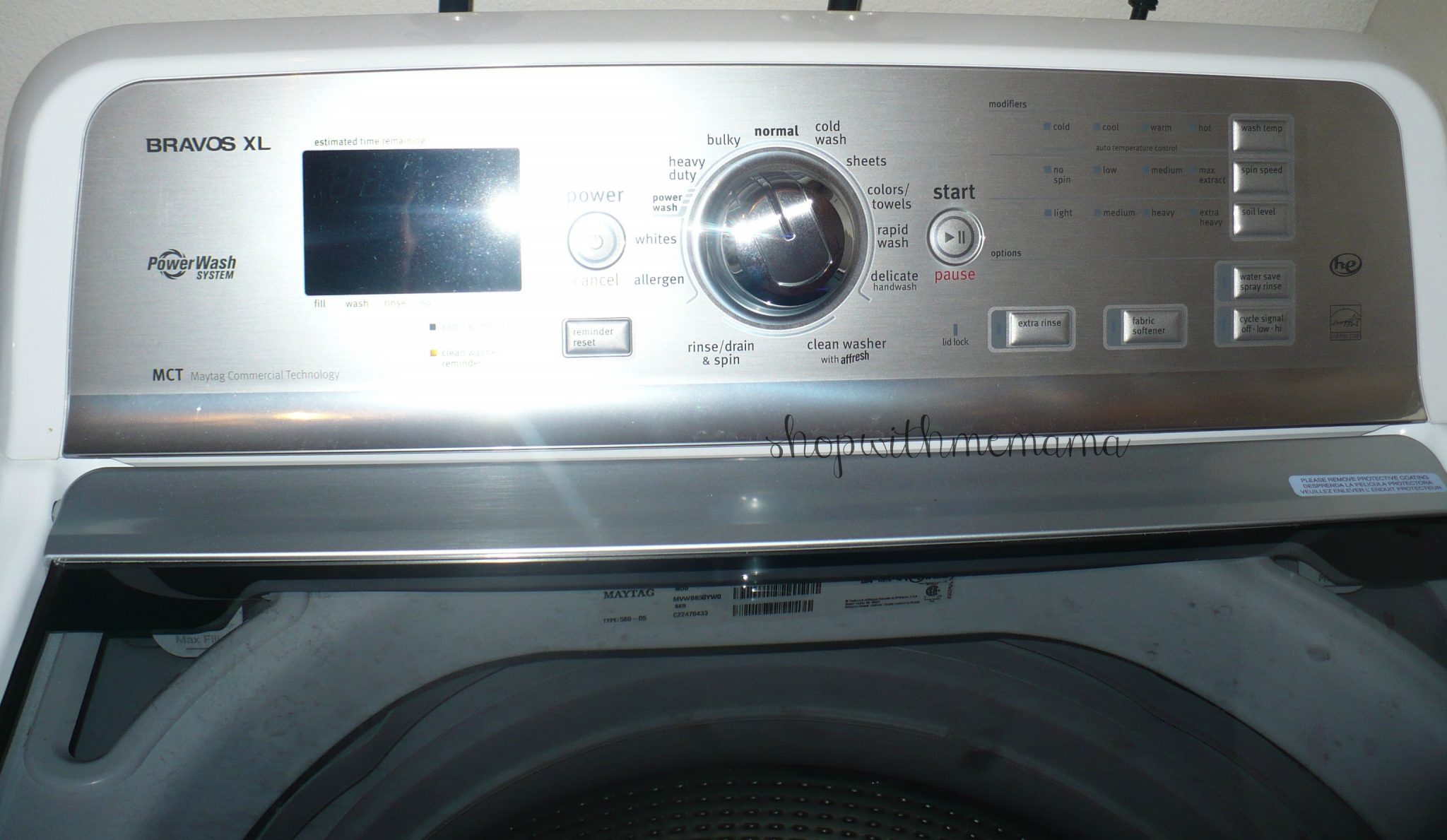 The washer is way different from regular washing machines. Why? Because this washing machine uses PowerSpray Technology. What is PowerSpray Technology? It is simply something that ensures your laundry detergent that you put into the machine, is distributed appropriately. You pour your liquid detergent into the detergent compartment, close the lid and the lid will automatically lock. Then the water will start and dispense over your dirty clothes as it does this, it will also dispense little amounts of the laundry detergent until it is all mixed in together, evenly! Genius (that and it is kinda fun for the kids to watch through that see-through lid!!!) 🙂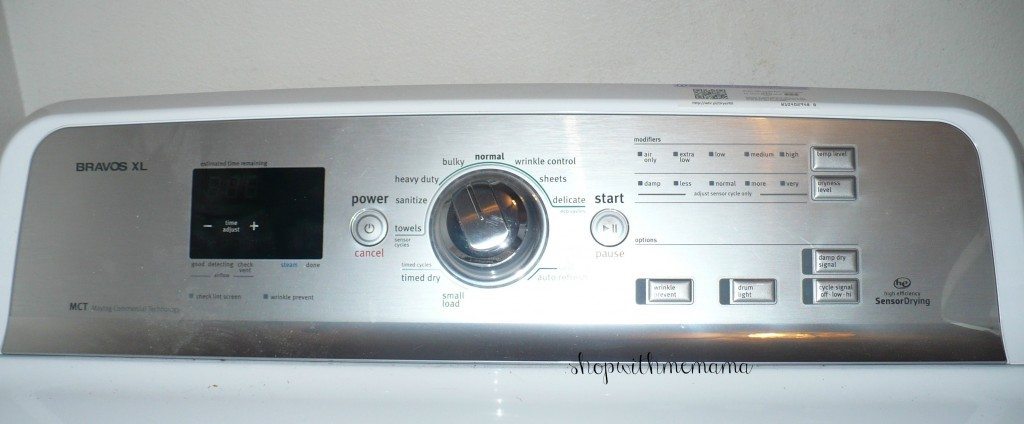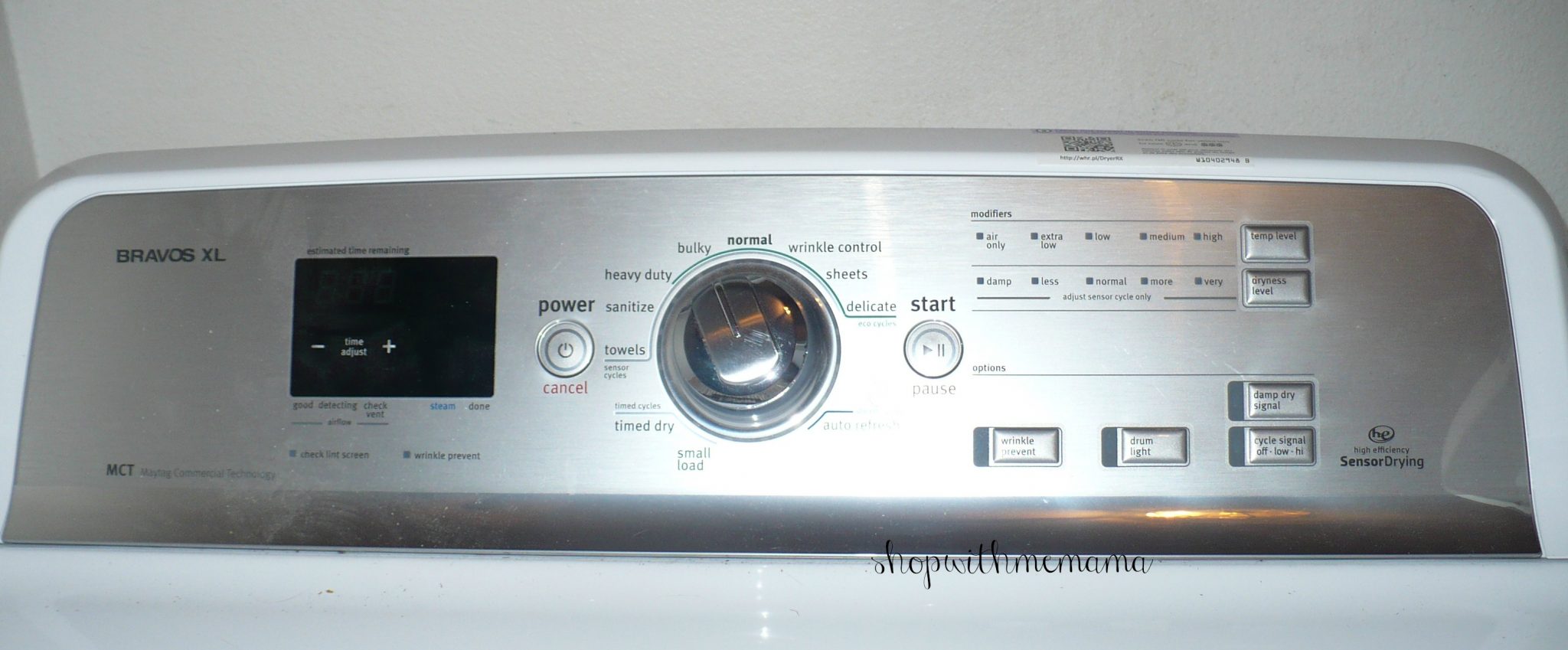 This helps with stains, considerably. Every piece of clothing, no matter how much you pack in there, will get some of that much-needed detergent on them to clean them perfectly! See, these machines work HARD!
Now onto that beautiful, gorgeous, hard-working dryer that I adore so dang much! The dryer has the Advanced Moisture Sensing System and it does not allow any clothes to go undried. All of my clothes are always dried perfectly, no more clothes that are half-dried because I packed the dryer too full. Oh how I have had to deal with that PLENTY of times in the past, sigh! No more! This also means, NO MORE SHRINKING!!! Yay!! Mama is happy 😉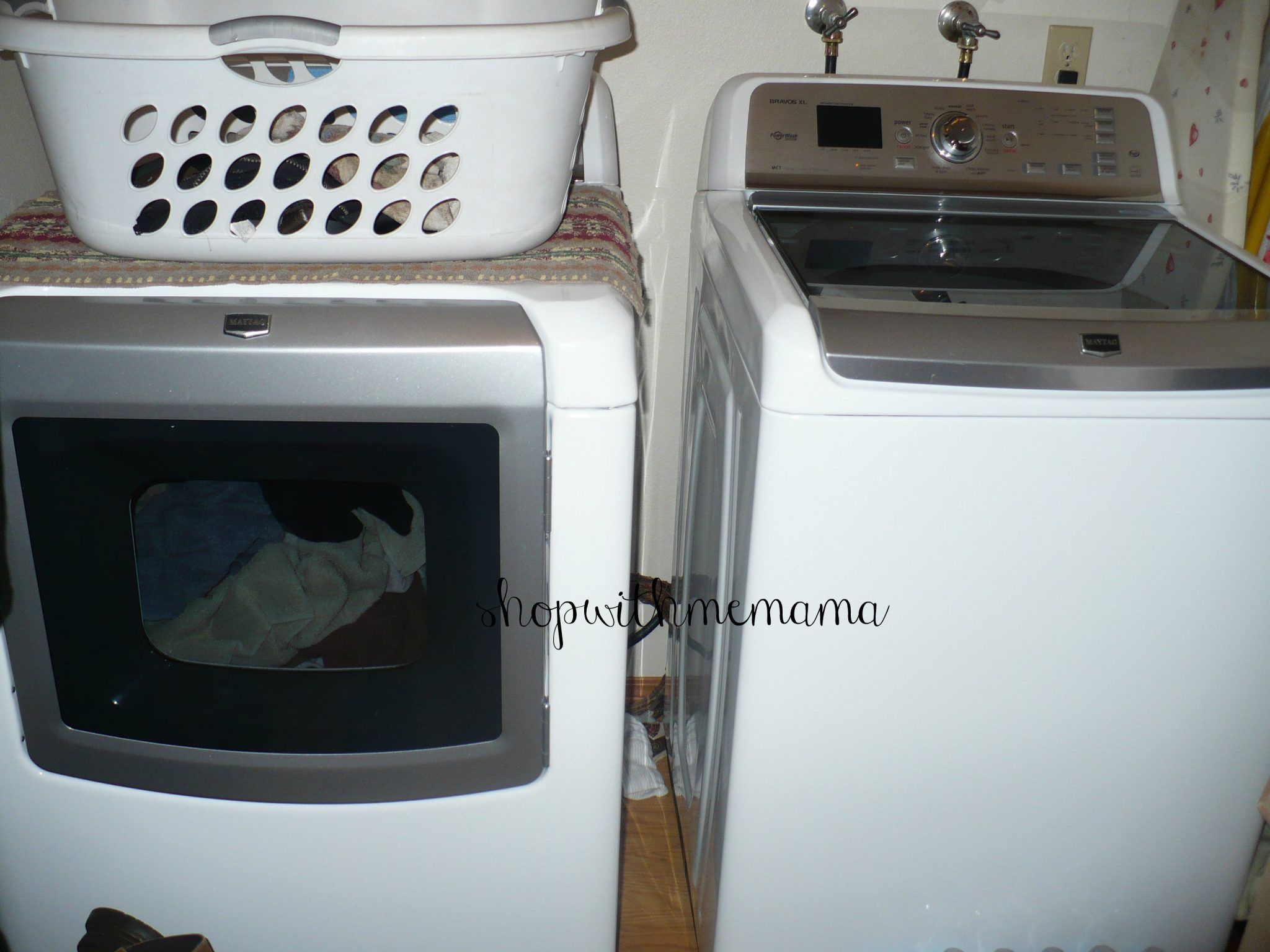 There is also the Auto Refresh Cycle that actually helps to 'relax' your clothes with steam and take away those wrinkles that some dryers seem to give them. Ironing? Nah, I think I will just use the Auto Refresh Cycle on my Maytag Bravos XL High-Efficiency Dryer 😉
Now, with my other washer, I NEVER did any cleaning on it. Heck, I never knew I HAD to clean a washing machine.. But you do! It needs to be cleaned on a regular basis and so you don't forget, your Maytag Washer will just let you know! Ya, really 🙂 It has an automatic cleaner alert on it and it will let you know when it is time for your Maytag Washer to get cleaned too! Super easy. I mean, who has time to add ANOTHER thing to their to do/remember list? I know I don't, that is why this feature is awesome! Great for busy people! For the dryer, I clean the lint screen EVERY time I use the dryer. About once every other month, I will vacuum it out real well.
I have a couple of stain solutions/tips for you:
If you don't think the stain will come out, it probably won't. Soak it in warm water with some stain fighting detergent, before you wash
Adding extra detergent to your washing machine, does not  help with fighting stains, pre treat your stains beforehand to avoid set stains in the future.

What Is YOUR Stain Stat???
Maytag would love to know! Choose your stain personality and enter for a chance to win Maytag Bravos XL Pair!!!! Woot! Just visit their Facebook page to find out more and enter!!!!
To check out more about these fabulous Maytag Machines, please 'like' them on Facebook and follow them on Twitter!
Disclosure:
I wrote this post participating in an Maytag Moms Dependable Laundry Ambassador program by Mom Central Consulting on behalf of Maytag. I was provided with the Maytag washer and dryer set to facilitate my post.