*product was received, but opinions are my own. This post contains my personal affiliate link.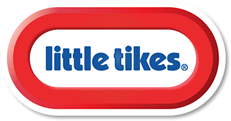 The Best Play Kitchen For Toddlers!
My little boy has been walking since 10 months. I think he started walking early because he was trying to keep up with  his older brother and sister. He is always following them around, trying his hardest to do what they do! It is so stinkin' cute!
And, when I am cooking in the kitchen, he likes to go in there with me and dig in all the cupboards that he can reach, and cook with me! He loves banging pots and pans together and fitting containers into other containers. He also loves rearranging my spice rack! He is a busy boy!!!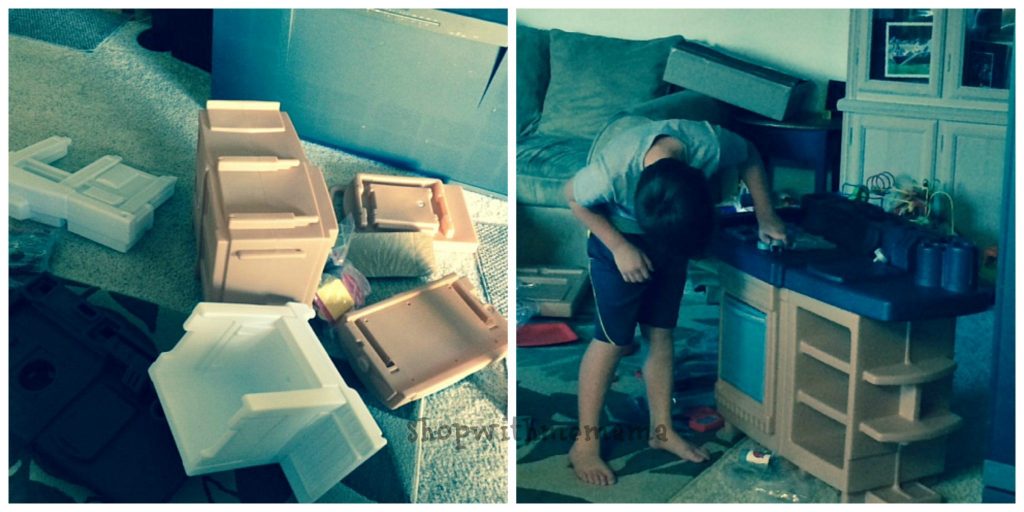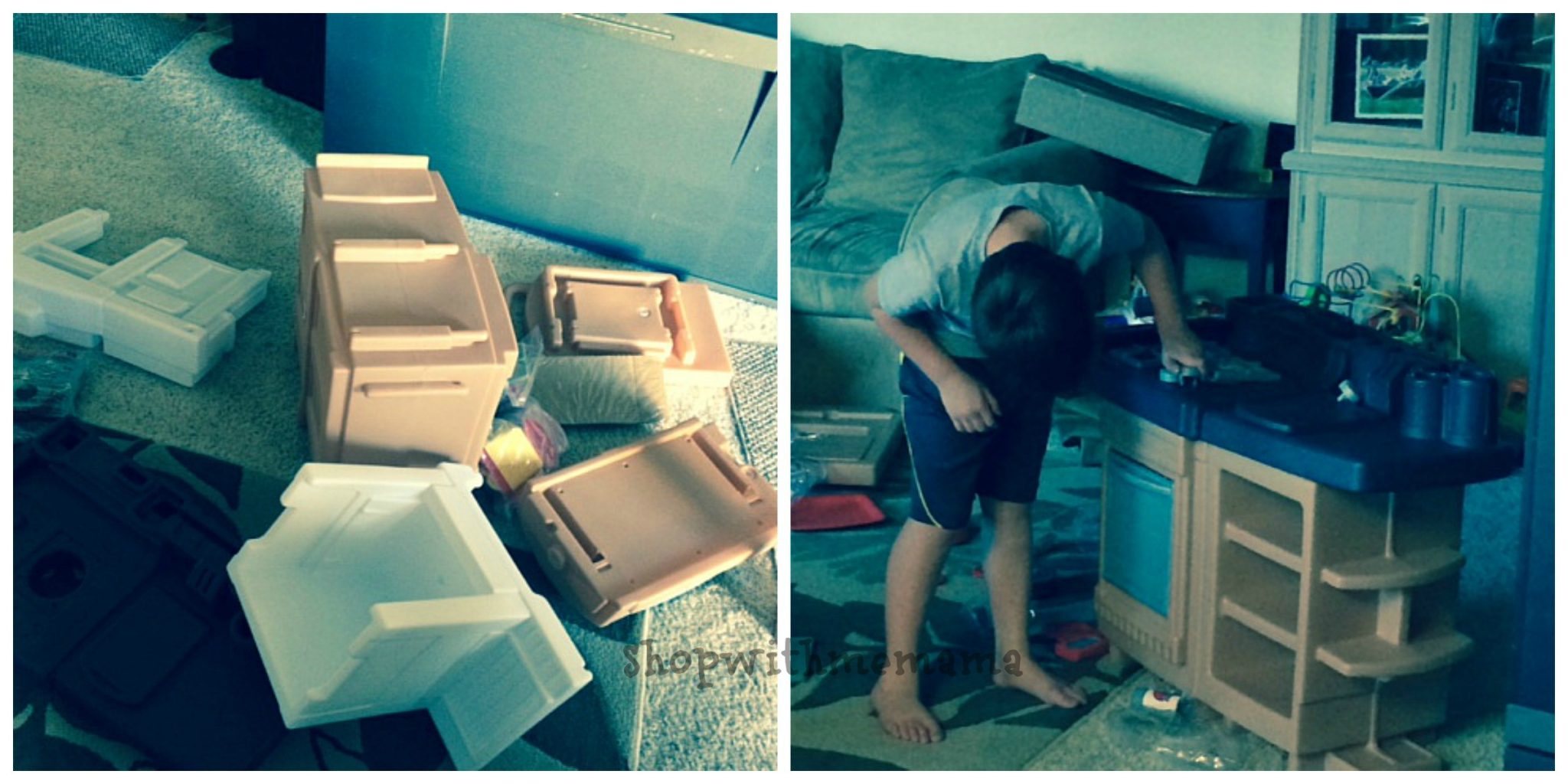 I think I have had about three play kitchens, in the past, for my kids, when they were younger. With every move, they either fell apart or got broken upon delivery. My kids were so sad! So when Little Tikes offered to let me review the Cook Around Kitchen & Cart, I knew my little guy would really like it. I was right! That first day it was put together (it does require assembly, but it is pretty easy!), I could not pull him away from it! He was cooking up a storm! Whoosh!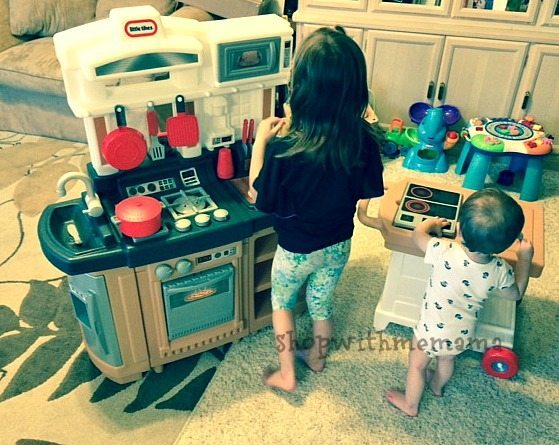 This play kitchen comes in one big box and it is not concealed, so if you are buying this for a gift, you would need to be there to hide it once it comes! Inside the box are pieces that are simple to put together. My 8-year-old put most of it together and me and my daughter put the stickers on it. My hubby did the hardware stuff. In no time, it was all together and ready for play!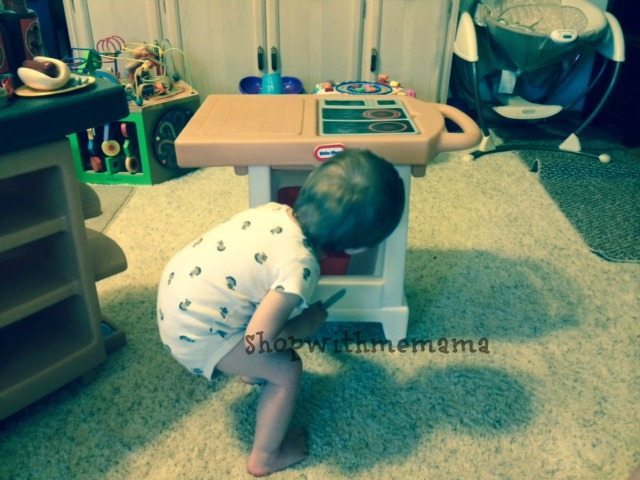 I love that this play kitchen is all plastic. Makes it way more durable than any wooden play kitchen. It can also be easily wiped clean, which is always nice when there is a messy toddler around. It has a little cart that has wheels on it and can easily be wheeled anywhere in your home, for more pretend play! I will bring this in the kitchen when I am cooking and my little love will then cook his 'meals' beside me! So sweet!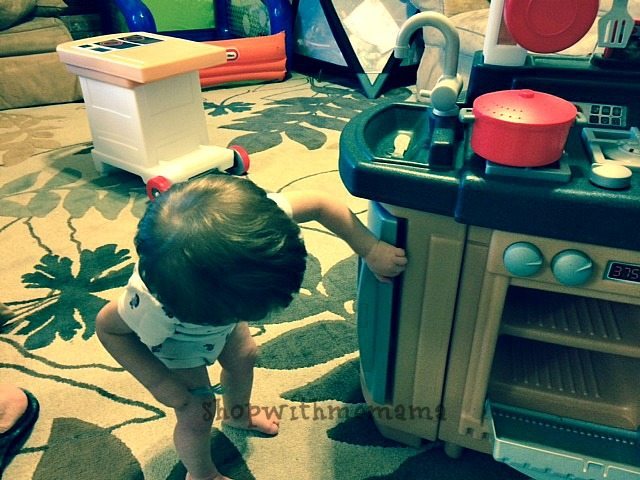 This play kitchen comes with pots, pans, cell phone, cups, dishes and MORE! 30+ accessories included! I think that is fantastic! Don't have to buy anything extra for this, unless I want to. The kitchen door, microwave door and oven door all open so you can put 'food' in to cook it! One of the burners on the cooktop, makes fun cooking sounds, my little guy loves that part the most I think!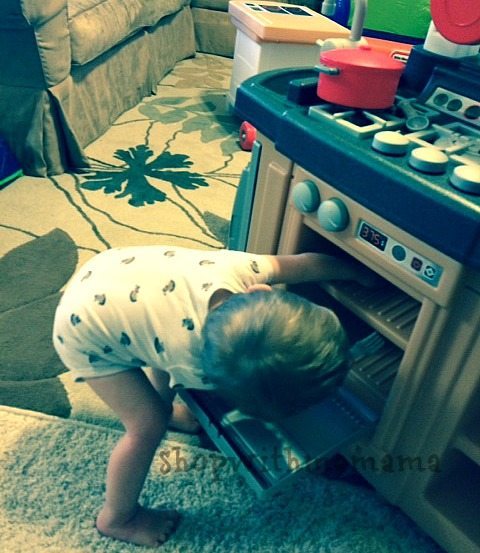 The fridge door has a water dispenser like on our real fridge, so my baby boy loves pretending to fill his little cups with water. With the food cart, cupboards and shelves, there is a lot of storage space to store all the food and dinner/cookware. There is also little hooks above the stove part, to hang up cups and pots and pans. There is also a smart phone docking station, where your little ones can put the 'cell phone' that comes with this fun play kitchen! There is just so much to this kitchen, I am very happy with it and obviously my little guy is too!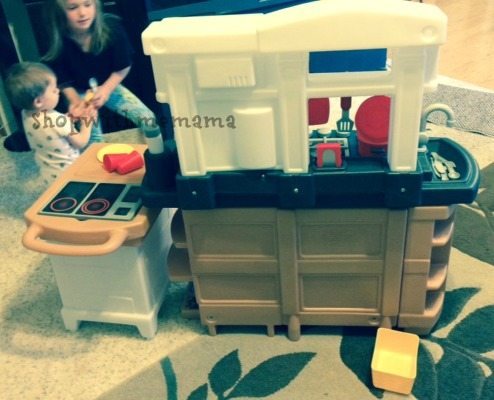 This play kitchen does require 2 AA alkaline batteries (not included), so just make sure you have those on hand! Other than that, be prepared for your child to throw a huge fit, when it is time for them to stop playing with their new Little Tikes Cook Around Kitchen & Cart, lol.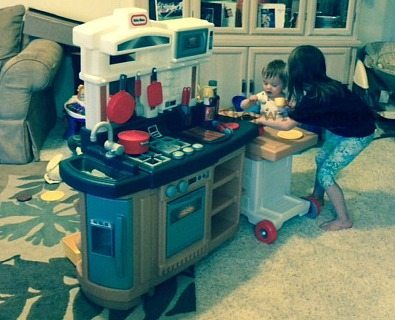 Buy
You can purchase the Little Tikes Cook Around Kitchen & Cart online at http://www.littletikes.com.
It would make a perfect birthday or Christmas Gift!!! It retails for $169.99.