Since we moved to Idaho, for some reason my skin has been better than ever. Sure I still get an occasional pimple, but my skin is less oily and just feels better.
I have to say I also don't have a lot of wrinkles which surprises me because I was a suntanning QUEEN back in the day. I would lay out on my trampoline in the backyard with my three older sisters.
We would slather our bodies with baby oil and then use a water bottle to spritz ourselves with water to keep cool. We would literally have a timer on the trampoline next to us and flip over after about 2 hours to do our other side. Seriously, we would do this almost EVERY day of summer and would tan/fry our skin.
*G2 Instant Firming Serum was received. Opinions are mine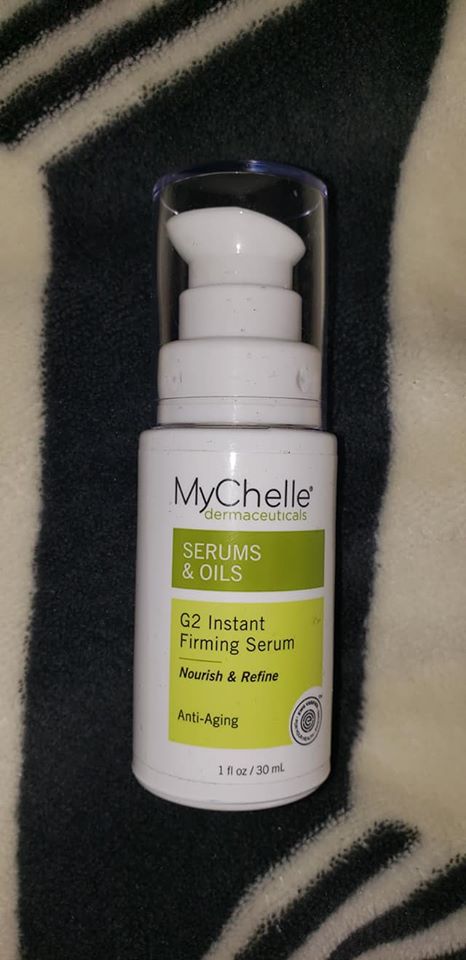 But, back then the sun was different. We could do that and not get terribly sunburned. Nowadays if you did that, whoa, your skin would be FRIED completely. The sun has changed!!
Thank heaven's face did not take a toll. My legs have sunspots and probably cancerous spots that I need to be tested as well as a few spots on my chest, but thank God, nothing on my face (knock on wood). I am thankful for good genes and good beauty/skincare products. And, thank heavens for MyChelle's new G2 Instant Firming Serum. LIFE SAVER!
What Is G2 Instant Firming Serum?
Great question! I received the G2 Instant Firming Serum from MyChelle and it has really made a difference in my skin texture and tone! I love it. The G2 Instant Firming Serum is great for young skin or aging skin. You can never start too early on your skin care routine. I started when I was in my early teen's thanks to my mom!
The skin-smoothing serum works immediately to visibly improve firmness. Blended with Argireline peptide, Instalift from Goji Berries and fermented Pomegranate Extract to refine texture and diminish the signs of aging. I seriously love this serum!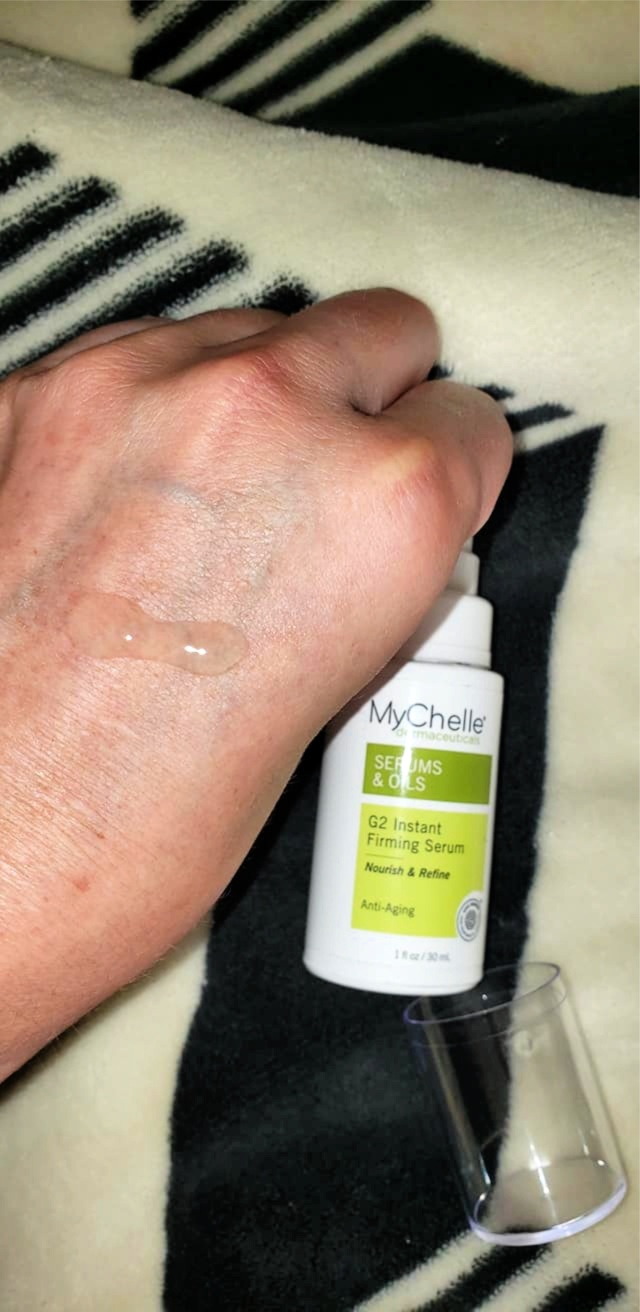 I use this in the morning and at night before bed. You only need a little amount. I use this before any other moisturizer. It blends in really nice leaving my skin soft. It is really watery, so keep that in mind when you are squirting it out so you don't waste any of this goodness! And, it doesn't really have a scent. If it does, it might be kind of 'peppery' smelling? I don't know, but it is hardly scented so, no biggy.
How To Use The Serum
The serum is really watery so be sure to shake it well before using. Then, apply two pumps after cleansing your face. Serums may be layered for multiple benefits, then follow with your favorite moisturizer! Easy, right? And SO worth it!
What Are The Ingredients In The G2 Instant Firming Serum?
Aqua (Water), Hamamelis Virginiana (Witch Hazel) Water, Glycerin, Lycium Barbarum (Goji Berry) Fruit Extract, Alcohol, Acetyl Hexapeptide-8, Lactobacillus/Punica Granatum Fruit Ferment Extract, Vetiveria zizanoides Root Oil, Citrus Aurantium Duclis (Neroli) Flower Oil, Lonicera Caprifolium (Honeysuckle) Flower Extract, Lonicera Japonica (Honeysuckle) Flower Extract, Xanthan Gum, Potassium Sorbate, Citric Acid
Where To Buy
You can purchase these great beauty products online at MyChelle.com. It retails for $56 for 30 ml.
Win!
One person is going to win a bottle of the G2 Instant Firming Serum! Yay!
Rules
The contest is open to US residents ages 18+. This giveaway will end on March 31, 2020, at 11:59 pm MT. The winner will have only 24 hours to claim their win or a new winner will be selected. I am NOT responsible for lost or stolen mail (DUH!).