If you are like me, you have a thousand and one water bottles stashed in your kitchen cupboards. I have SO many water bottles that I need to get rid of the ones that I actually love like the new one I just received; Vidl, a Stainless Steel Water Bottle With A Social Mission! Not only is this stainless steel water bottle amazing and keeps my beverages hot hot hot or cold cold cold, BUT they have a message behind its water bottle and I NEED to tell you about it!
Vidl Stainless Steel Water Bottle With A Social Mission
Vidl's aim is to take an everyday object and elevate it with a social mission as a way to remind the people in your life that they're vital. Thoughtfully designed, with an emphasis on personalization, the Vidl water bottle raises up an everyday product by adding an underlying faith-based message of your choice to a top-of-the-line product for daily use.
What Makes Vidl Special?
Well, besides its underlying message Vidl has several key design elements that make it stand out from other water bottles on the market today:
*Firstly, it has an easy-to-clean lid, bottle. And, it has a twist-off sealed storage compartment at the bottom of this water bottle that is perfect for storing anything you want – like your daily vitamins, or snacks – without worrying about spills or messes.
*Secondly, there are four different bottle colors and 14 interchangeable storage base colors equaling 56 possible color combinations so you can create something truly unique!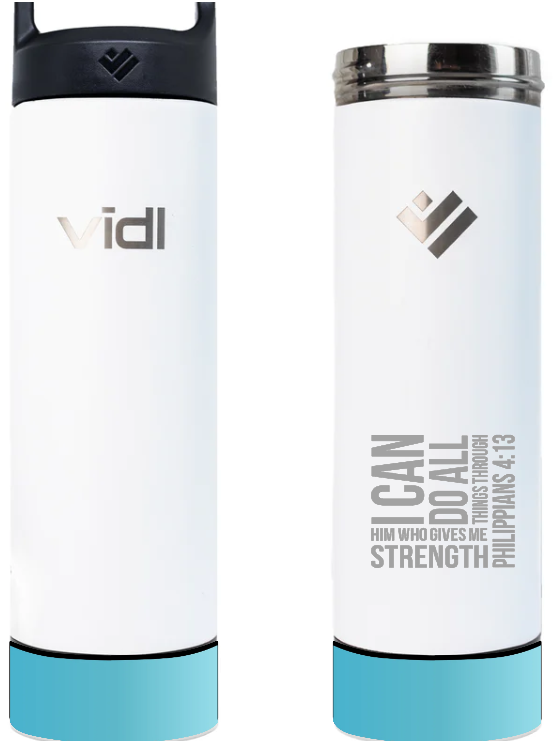 *Thirdly, you can get a unique personalization of your choice or get engraved inspirational messages for your loved one (or yourself!). They have 12 inspirational verses you can choose from that act as a constant reminder that 'you're vital' to God. Gift a bottle to someone that could use a word of encouragement.
*And lastly, the wide-mouth twist-off lid allows easy access while the double-wall vacuum-insulated stainless steel bottle keeps your favorite drinks hot or cold for hours and I mean HOURI received a Vidl stainless steel water bottle and was SO impressed with it. First of all, it came with my blog logo on it, and then on the back of the water bottle, it has my name! Guess what? That means my kids will NEVER take this water bottle from me! Yay! I am so used to my kids grabbing my newest water bottle and bringing it to school with them. Not anymore though with this one because it has my logo and name on it. Brilliant!
I did not know the company was going to add my logo to this water bottle or name so this was so exciting for me to receive. The company really outdid itself in the presentation of this fun package! I really appreciate it when companies and brands do that!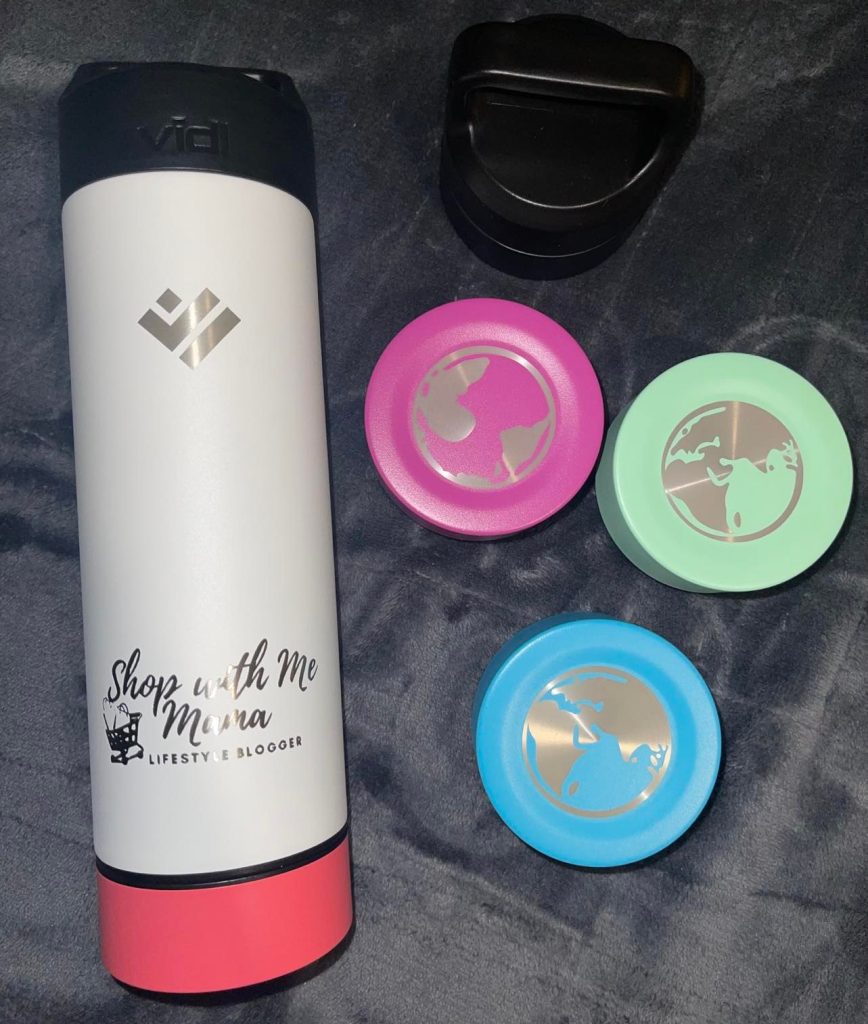 Choose Your Lid Type: They offer three different lid types for their double-wall stainless steel bottles. If you like sipping on your beverage through a straw, then they have the perfect lid for you. Their straw lid has a silicone seal that ensures that liquid won't escape from the bottle. For those who want something more substantial, there's the chug lid which has two openings – one for drinking and another for pouring. And if you prefer to keep it classy, there's always the standard lid that comes with each bottle!
Choose Your Bottle Color: These bottles come in four different colors – white, grey, black, or stainless steel – so you can find the perfect one to match your style.
Choose Your Base Color: The base of the Vidl stainless steel water bottles is interchangeable so you can customize them even further with 14 different colors available.! Whether you want something bright and bold or subtle and sophisticated, there is something for everyone.
At its core, Vidl has made it its mission to elevate everyday objects with meaningful messages as a way of reminding us all how important we are in each other's lives. If you're looking for a great gift for friends or family or even yourself, then I totally recommend the Vidl Stainless Steel Water Bottle With A Social Mission. After all, we could all use a bit of inspiration in our lives, right?
Buy
The Vidl Stainless Steel Water Bottle With A Social Mission can be purchased at https://vidllife.com/. It retails for $39 and there are plenty of things you can add on to it for an additional fee. With the partnership with Thirsty Child, for every 50 bottles sold VIDL raises enough money to supply a family in Honduras with a clean drinking water system!