If you are searching for the perfect light-up spooky Halloween decorations for your home, you have come to the right place!! Voodoo Neon Signs has some spooky and awesome Halloween signs!
Halloween is just around the corner, and it's time to start thinking about ways you are going to decorate your home with these handcrafted neon Halloween signs!
But First, Who Is Voodoo Neon???
Voodoo Neon was founded in 2022 by Chris Diprose and a group of talented friends who had a passion for art and technology. Voodoo Neon started small but it didn't take long for their signs and reputation to spread across the USA quickly!
They have the best prices around because of their international roots and team of over 10+ full-time working members. Voodoo Neons goal has and will always stay the same no matter how big they get! They will always supply the highest quality LED neon signs at affordable prices for everyone.
What sets this company apart from the others is its leading technology and innovative solutions. They use UL-certified power supplies, the highest quality dimmmers, and controllers, and LED strip lights. Because of this, they are second to none!
Every sign they make is said to have a little bit of voodoo magic infused into them making them a truly unique and eye-catching sign! They also make sure their customers are completely satisfied with their sign. These signs are handcrafted and built to last!
Voodoo Neon Halloween Signs
​These signs come in a variety of designs, including bats, ghosts, and pumpkins. You can even have them customized for ANY person OR occasion! They're made with high-quality materials and are sure to light up any room in your home.
I received one of the Voodoo Neon signs to check out and oh my goodness we LOVE it so much! It is made SO well and the craftmanship definitely stands out. This was custom-made for me and I was sent pictures after it was completed just to make sure I was happy with it.
The sign I received was the pumpkin Voodoo Neon Halloween Sign! He is so cute and I love walking past him in my home every day! It makes me so happy to see him every day 🙂
I appreciate the time and hard work that goes into each and every sign at Voodoo Neon Signs. The whole experience from picking my neon sign to the finished product and then receiving it was just so fun and memorable! This sign would make a great gift for all you Halloween lovers out there!
Here Is A Non-Flashing Video Of This Cute Neon Halloween Sign from Voodoo Neon:
Here Are Some Of The Voodoo Neon Halloween Signs
(You can also have them customized!!)
*Pumpkin: I love him! He is so cute and lights up my whole living room! I can make him be bright, or dim him down a bit. I can also have his lights flash like a strobe light! So fun for dancing! He comes in 13 different colors or multi-colored.
*Ghost: It comes in 13 colors to choose from or you can choose multi-colored. It also comes in 5 different sizes.
*Crescent Moon: This is of a crescent moon and is basic but any guy would love this for their wall, year round! Who doesn't love a moon?? It also comes in 13 different colors or multicolored.
*Scream: Yes, this looks like the scream mask and has the word SCREAM on the side of it. My youngest wanted this sign SO bad, but I won and got the pumpkin one instead 🙂 This also comes in 13 different colors and multi-colored too.
*Bat: This is so cool and guys just love it! It is an outline of a bat with the word 'Halloween' inside it. Too cool! It also comes in 13 different colors or you can get it multi-colored too.
*Spider: You cannot have Halloween without a scary black spider or two! Right? Right! This light-up neon Halloween spider sign with a web is sure to put a scare into anyone looking at it or walking past it!
*Coffin: Yikes! A scary coffin box with a cross on its lid! Now that is downright frightening! What a spooky gift for your guy this Halloween season!
*Trick Or Treat: This sign is too cute and fun! You can put it outside on your front porch for those trick-or-treaters or you can use it to decorate your entryway of your home. Any guy would love to see this on their home wall!
*Witch On Broomstick: This wicked gal is one scary mama! Riding away quickly on her broomstick all while smirking in your direction! So scary!
*Horror Night: This is a scary ghost dude with a little ghost buddy, two crosses, peeking over the words 'Horror Night'. This would look best in a den or study!
*Witches Cauldron: This is a potion bubbling up out of a spooky cauldron! This would look great on a kitchen wall or pantry wall!
*Mummy: You have to have a mummy or it just wouldn't be Halloween! This is a scary mummy with eyes that stare through you and a wrapped mummy face! This would be cute in a hallway!
WARNING: The video below has flashing lights! You have been warned!
Of course, Voodoo Neon Halloween Signs doesn't stop at the ones I mentioned above! They have quite a few neon Halloween signs to choose from! So be sure to check them all out!
But, they also have so many others and signs that are for other holidays or special moments that you can have customized to say what you want! Choose the size and colors too! So neat!
They all come with a remote and dimmer (for free), but you can also add on a wall mounting kit and/or hanging wire kit for only $15 extra.
It comes with a 2-year warranty and has express free shipping. These are all handmade and crafted so each one is unique and perfect.
Buy
You can browse, purchase, or have a neon sign customized, by visiting their website here!
Win!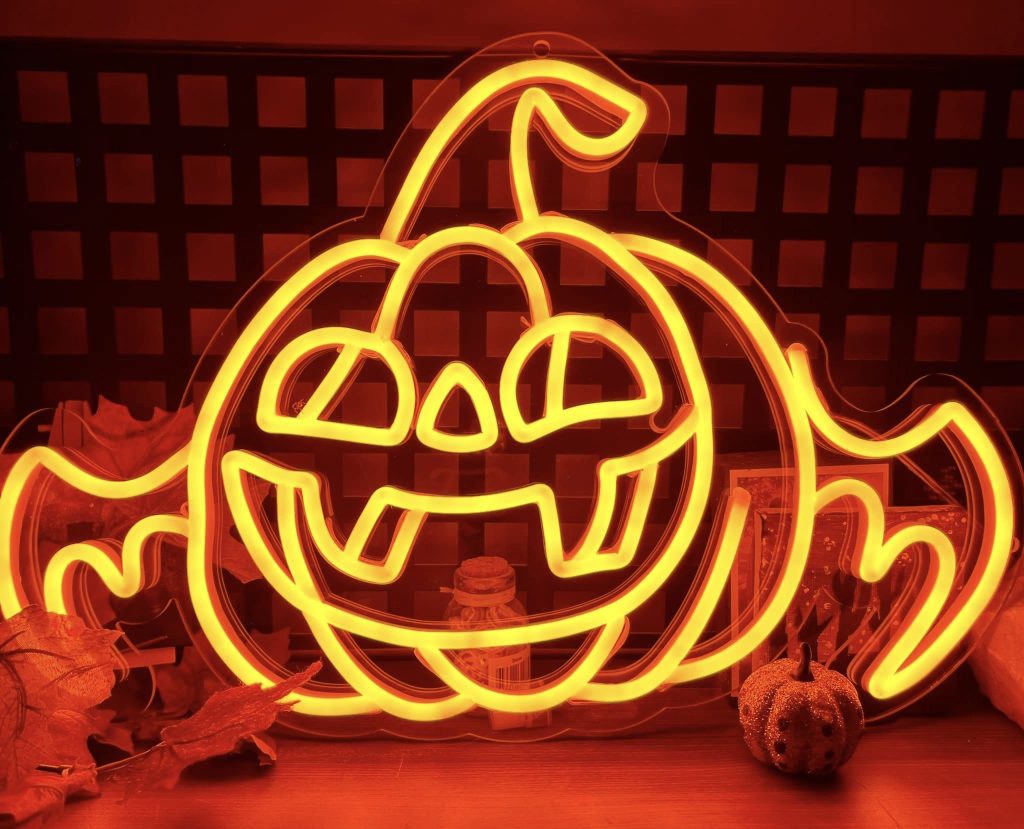 One lucky person is going to win their very own adorable (yet spooky!) Voodoo Neon Pumpkin sign like the one I received above! Yay! ARV $266!!!
Rules (cuz we gotta have 'em!)
The contest is open to the US, 18+. The giveaway will end on October 6, 2023, at 11:59 PM. I am not responsible for lost or stolen mail. By entering this giveaway you give me permission to share your email with the brand.