I am a jeans girl. I love me a pair of great jeans that just fit me like a comfortable glove. My downfall is, I always have to buy the designer jeans! It drives my hubby crazy! But, I earn my own money, so he can't really talk 😉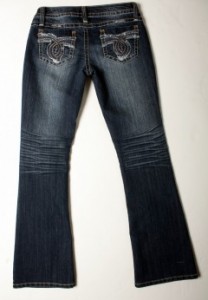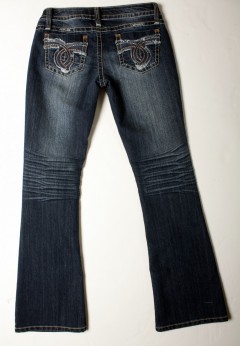 I was recently sent a pair of denim jeans. The name brand is Wallflower. I have never heard of them before this. I checked out their site and they have some really cute denim jeans. I chose the Wallflower Vintage 5 Pocket Denim Heavy Stitch Bootcut Jeans to review. Now, they are really inexpensive jeans, so I was a bit leery on whether or not they would be of my standards 🙂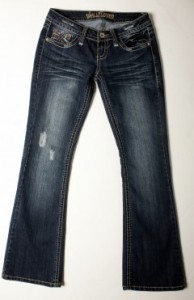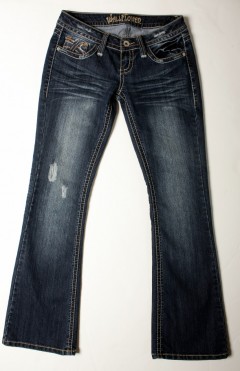 I received them in the mail and was pleasantly surprised at how cute they were in real life. They are super thin denim material and they kind of have a stretch to them. I usually like my jeans really thick with no stretch, so I was still a bit hesitant..
Me In The Wallflower Denim Jeans…Yes, I have JUNK in the TRUNK..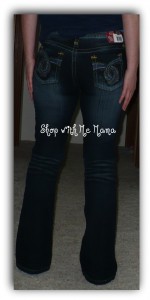 I tried them on, ya, they certainly fit me like a glove and since they were a bit stretchy, they kind of essentuated my bigger parts 🙁 They were comfortable though and for the price, really cute. I personally will not wear them only because of the stretchiness and making me look larger in some spots then I want to be (I know, go diet!!!). I ended up giving them to my niece who is totally cute in them. She does not have the hips like I do, so oh they are cute on her!
So, whether you are a hipster or want to stand out in the "Jean pool" The Wallflower Junior's Jeans will make you totally cute looking! Notice, it does say juniors, which I am elderly, so maybe this was why it looked sooo cute on my niece and NOT me?? Perhaps!
These jeans do sit very low on the hips and have a tight/stretchy feel through the hip and knees with of course a little bootcut flare at the feet.
Pocket Detail:
Like Wallflower On Facebook where they are regularly giving out promo codes and have contests giving out jeans!!!
Buy Them!
You can purchase the Wallflower Jeans online. They retail for about $30! Don't forget to grab your $10 off coupon to use on the Wallflower site: 10OFFBRIT
Disclosure:
I was sent jeans to review. These are my own honest opinions, thanks!