CONTEST OVER!  CONGRATS TO
Kathy Luman #2510!!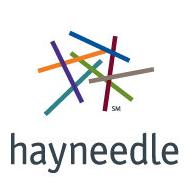 What can you get a guy for Christmas? Well, I have a fun and not so expensive suggestion for you;) The X Cooper Wireless Game Rocker Chair from Hayneedle is quite amazing and fun!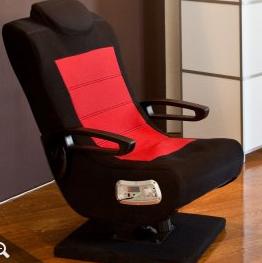 If your guy likes to play video games, then this will be his newest best friend during these long, cold Winter months! This chair is soft, comfortable and allows you to have the full gaming experience right in your living room (or wherever you game!).
I did not get a picture of it in the box, but it was mostly totally assembled, all we had to really do was add the armrests (which we took off because the kids were sitting on them, ugh).
This chair is designed to allow you to tilt and swivel as you play your video games. And, because it is wireless, you can put it in a position that suits your gaming needs. This is a durable vinyl chair that has armrests for your wary game playing arms, that will fold up with ease. Then you have the speakers, that are INSIDE of the chair, to give you the full experience of what ever you are playing!
The X Cooper Wireless Game Rocker Chair is compatible with Xbox (all versions), Playstation (all versions), Nintendo Wii,, DS, Gameboy and more!! And if that were not enough, you can also hook it up to your MP3 player or DVD for music and movies! Love it!
We received this chair and my hubby just adores it (so does my son!!) It is very comfortable to sit in and of course you want it super comfy because usually you are in it for a while if you play games 😉 The armrests are nice to have around and when you don't want them in the way, then fold them up! Also, the speakers are great. Makes you feel like you are "in" the game, makes it so much better. The chair also tilts and swivels easily so that you can get your whole gaming effect on! Hubby says A++++! Video game chairs are definitely pretty cool!!
Hayneedle has great products ranging from home decor, Kids Stuff and Kitchen things to Outdoor goodies, game room and bar furniture! I can always find the things I am looking for, at a decent price, at Hayneedle.
Great Chair Features:
Swivel and tilt motion and arrives fully assembled
FF speakers inside chair and subwoofer
Control panel with volume, bass, input/output jacks
Durable vinyl upholstery in sleek black and red
Fire-retardant foam pad
Hey Moms!!
Have a fussy little one? Take them and sit in this game chair and turn on some soothing tunes and rock your little one to sleep!!
Buy
You can purchase the X Cooper Wireless Game Rocker Chair by visiting Hayneedle online at http://www.hayneedle.com/
Win!
One lucky person is going to win their own X Cooper Wireless Game Rocker Chair!!!
How?
Easy! Just use Rafflecopter below! There are NO mandatory entries for this giveaway. You can do one or all of the options below on Rafflecopter, thanks!
Disclosure:
I was sent product to review, these are my own honest opinions, thanks!