This post is all about the Best Places To Visit In Yellowstone National Park with Kids! About 2 weeks or so ago, my son and his class went on a field trip to Yellowstone National Park. Since we have never been there before, my hubby and the other two kids decided to drive our son down there and meet his classmates. That way, we could all experience this road trip together! Another place we really want to check out this summer is the Yosemite National Park. I have heard such wonderful things about that place and we really want to go! But first, Yellowstone National Park!!!
Yellowstone National Park Is Absolutely Breathtakingly Beautiful!
Yellowstone National Park is absolutely breathtakingly beautiful! It really is! I was blown away by its beauty and all the animals that were free to roam around. What a wonderful place to visit with your family! Below are the best places to visit inside Yellowstone National Park if you have kids!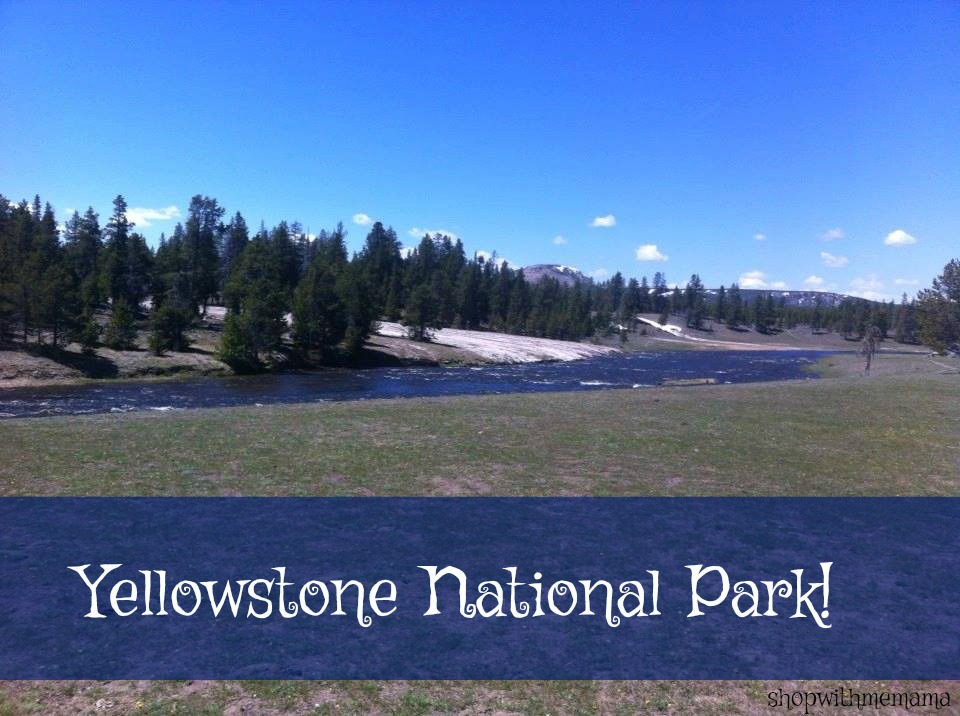 We left our home around 6:30 am. We are in Idaho, so it took us around 3 hours or so to get to Yellowstone. The view driving up there was so pretty! I had to take lots of pictures from our trip up there.
Best Places To Visit In Yellowstone National Park with Kids!
The first thing we did when we arrived at the park gates, was just to drive as slow as we were allowed so we could start looking for wild animals. That is always fun to do and kept the kids busy in the back seat. We all really wanted to see some bears or wolves, but ended up seeing plenty of Buffalo instead!
(Don't mind our broken van window in the picture…)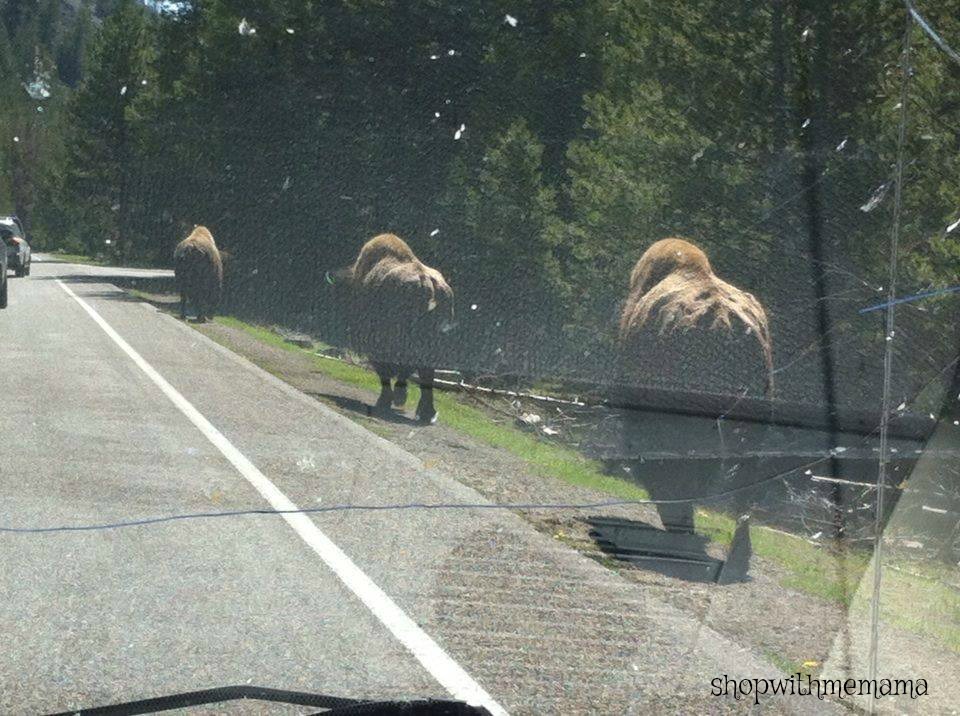 The Buffalo is certainly not shy! They will roam anywhere they please and that includes the middle of the road! So funny to see that. The kids loved it! There was a point where one HUGE buffalo came a bit too close for comfort, to our vehicle.
His eye was staring straight at me! I told hubby to go a little bit faster so we could get away from him. A week or so earlier, there was a buffalo stampede in Yellowstone, so I didn't want that to happen to us, yikes!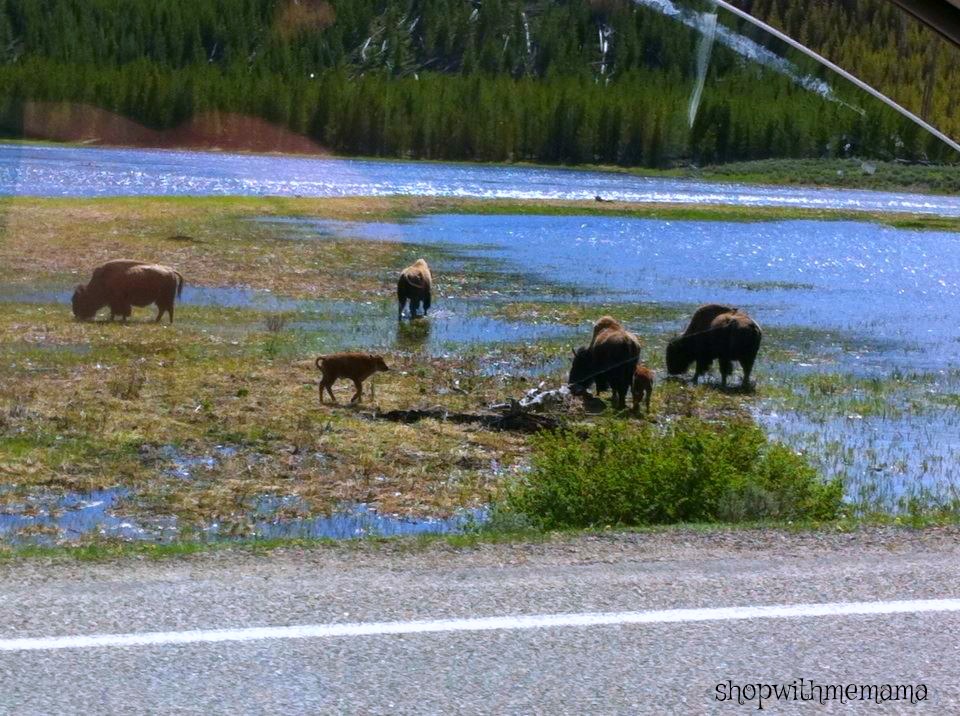 Don't Be Stupid. Stay In Your Vehicle!
At one point, we came across a ton of buffalo and a little one too. There was a side road you could pull off onto and so we did that just so we could view them safely from afar. However, an older woman decided to get out of her vehicle, walk right over to the buffalo and their little one and film them… I couldn't believe she did that.
People think they are safe, but when you do stuff like that? Safety goes out the window. I am surprised that the woman was not flung into the air by a buffalo for her stupidity. Some people amaze me and not in good ways.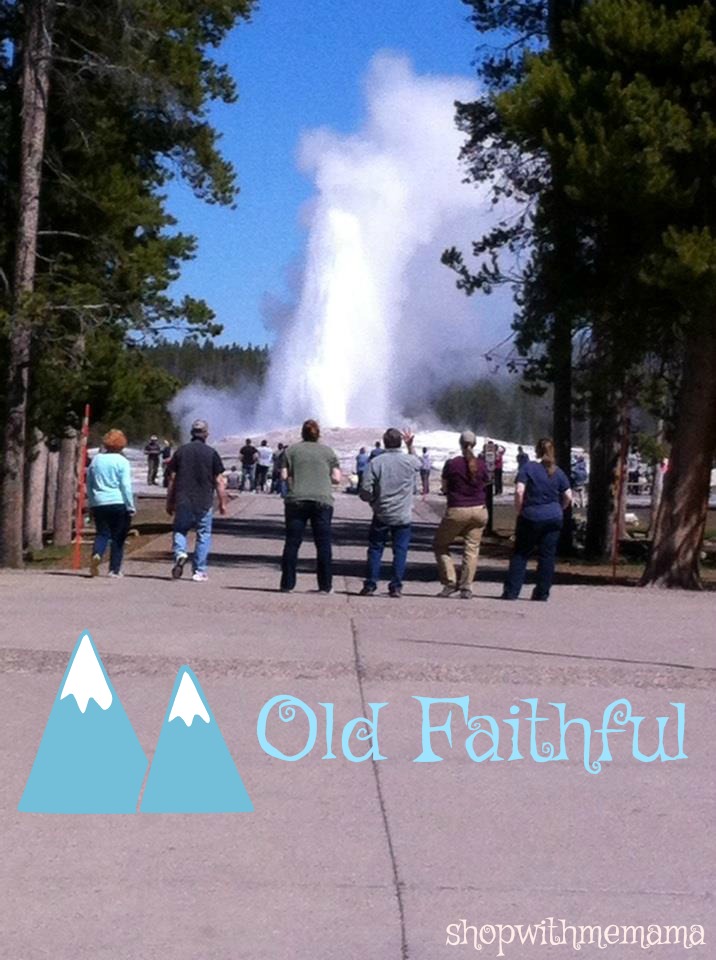 Old Faithful
We finally made it to our first stop at the park. It was Old Faithful. We got there just in time to see it erupt! Old Faithful's intervals range from 35 minutes to 2 hours, so I was happy we got there just as it was blowing! It was amazing to see it and it really shot up high! Very cool!
The kids really liked that! We soon met up with our son's classmates and teachers. We hung out with them for a bit then we went our separate ways again. We hiked up the trail to check out some of the geysers and take some pictures. Very pretty and I wish we had more time to walk around there and look at things. A Day trip is not long enough!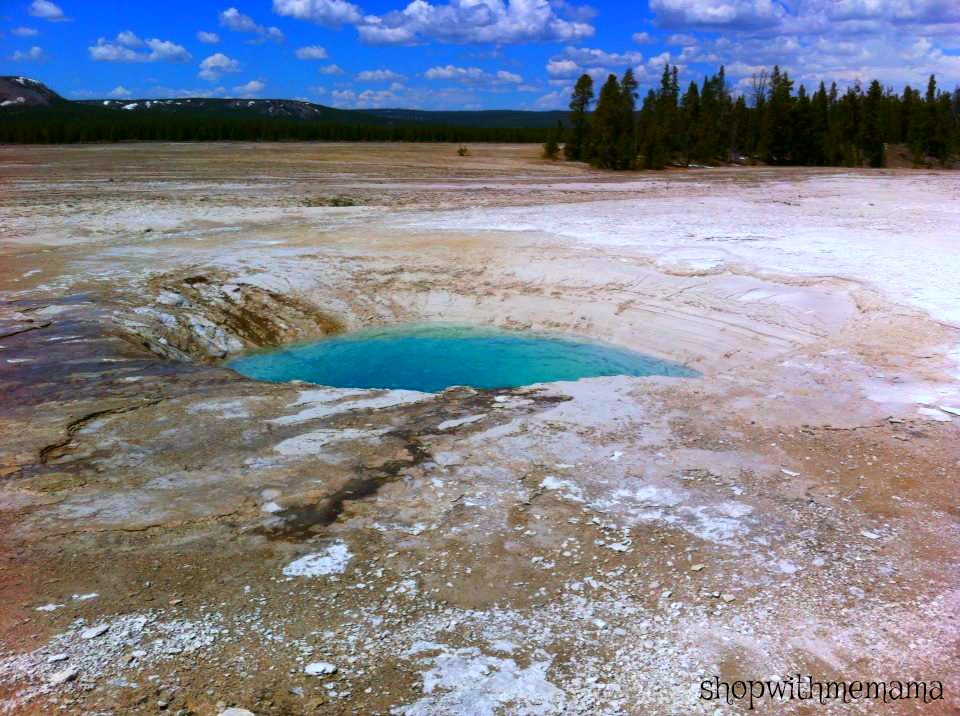 After we checked out Old Faithful and the pretty geysers, we wanted to visit the Old Faithful Inn Gift Store. What a mistake that was. All my kids were asking if they could have everything they saw and gift shops are EXPENSIVE!! It was a fun store to check out, but my goodness, we could have gone broke!
Thank heavens the kids each settled on a keepsake that did not break the bank. We went to the back of the gift shop and the kids each grabbed an ice cream cone. We sat and rested for a bit and then we were on the road again to check out more geysers, scenery, and wildlife!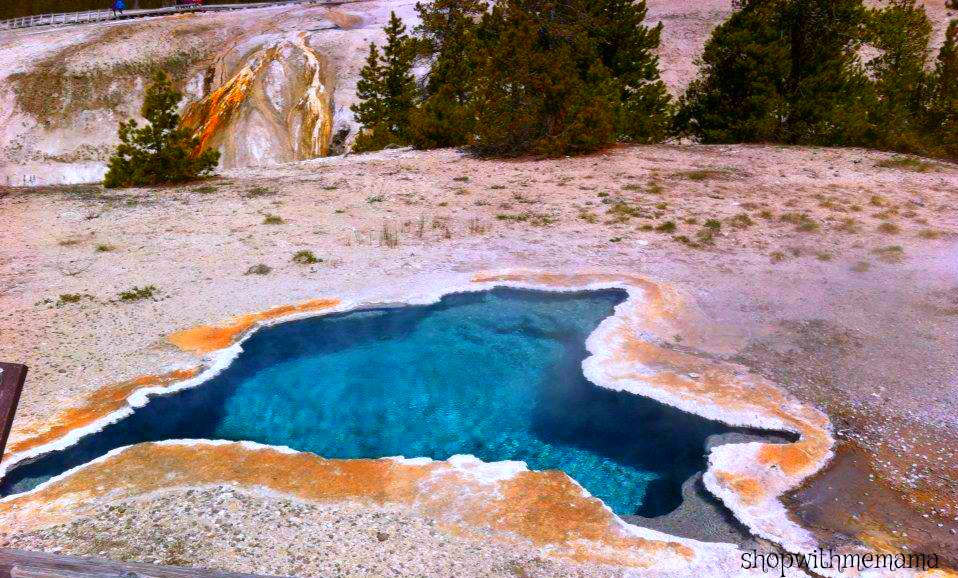 We had about 2 hours to spare before we had to meet up with our son's classmates again. So, we decided to just drive around and check out the animals and see if we could see anything more than the buffalo roaming around. There is a lot of buffalo!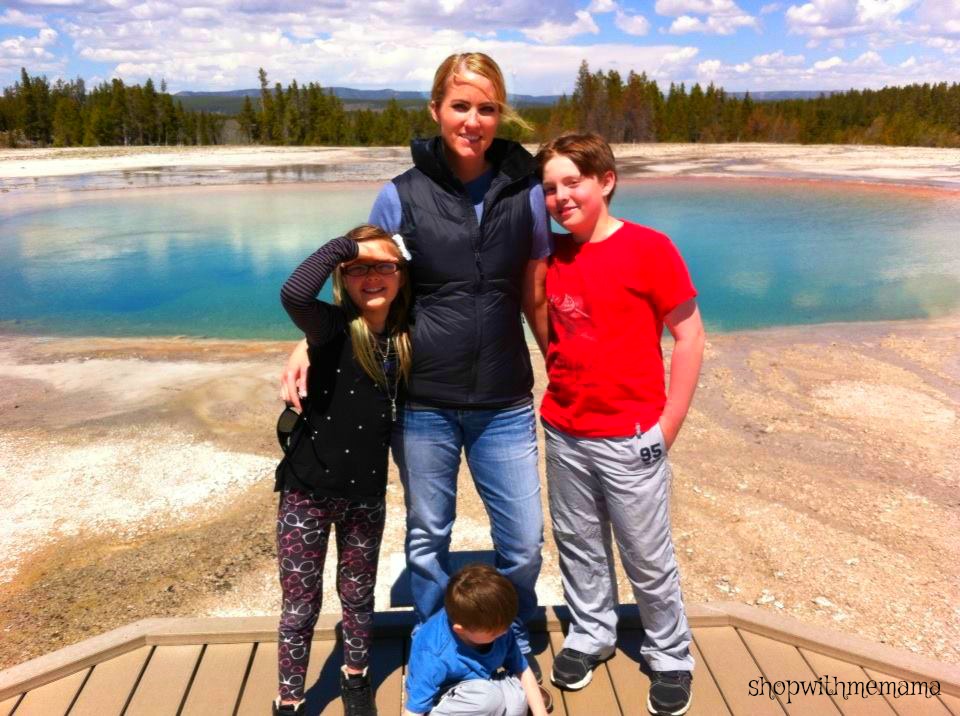 At around 4, we met up with my son's classmates and they were going to be hiding food in the bear's area. Each child in his class was given a bucket filled with bear food, to hide under rocks. When the bears were let out to find their food, the kids were able to watch the bears dig up and find the food they hid. It was a lot of fun for the kids to see and it was a great learning experience too.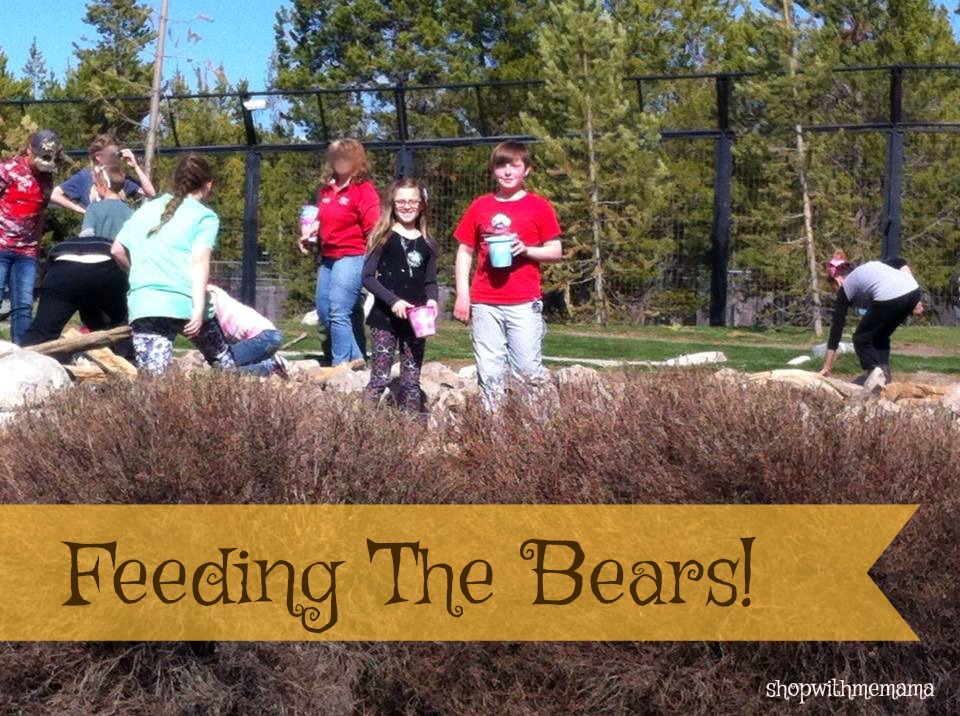 After feeding the bears, we all walked around and looked at the animals like the wolves, eagles, ground squirrels (I think that is what they called them), and a cute owl. The place is called Grizzly & Wolf Discovery Center and it is just outside of Yellowstone National Park right behind the theater in town.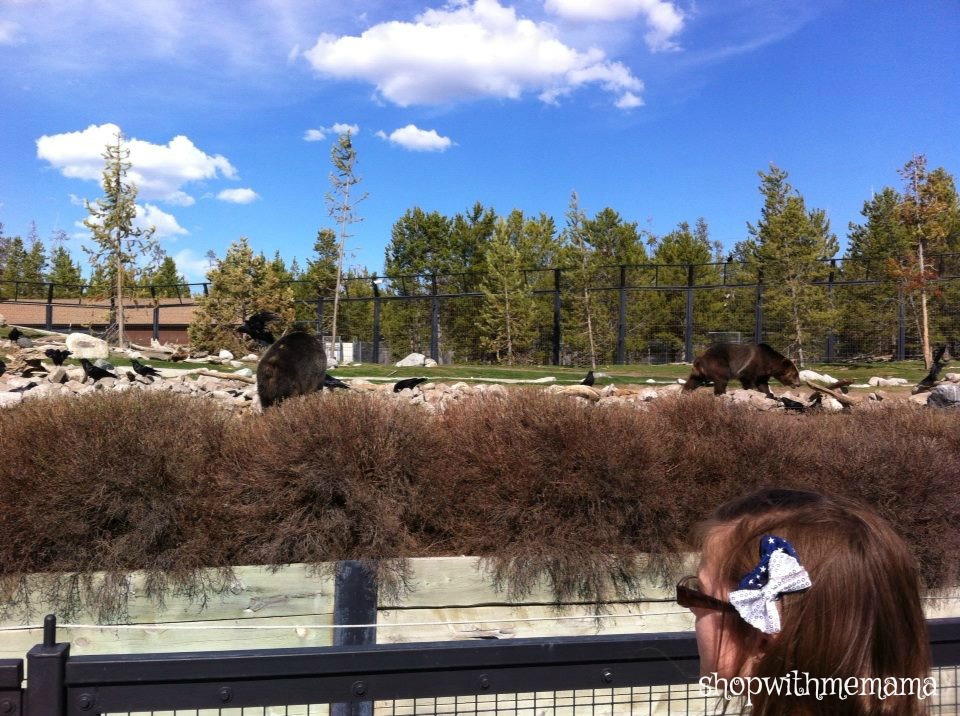 You can also visit the Grizzly & Wolf Discovery Center where you will find a museum! This is the home of the world-class exhibit BEARS: Imagination and Reality and is really amazing to view. The displays are fun to look at and you can learn about the animals. It is an interactive museum that is great for the kids.
It features 6 thematic areas and over 25 taxidermic mounts of the grizzly and black bears in their natural settings showing examples of food they eat and their behaviors. This is a really fun place to take the kids.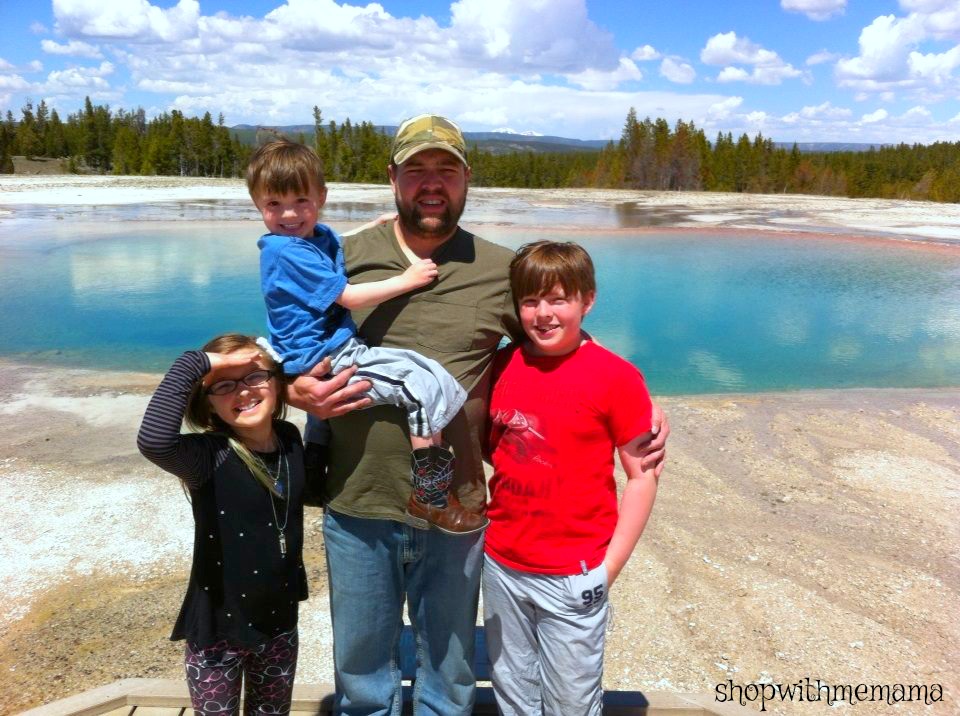 We ended up getting home around 10:30-ish and went straight to bed. We are planning on taking a few days and staying at a hotel, next time we visit Yellowstone take the time to look at things and have more fun!
Now that you know all the fun things to do in Yellowstone National Park with kids, Where would you go first? Leave me a comment below!
Have You Ever Been To Yellowstone National Park?