I really love Yves Rocher, it is becoming one of my most favorite beauty brands to work with. I recently was sent the Yves Rocher Fresh Men Skin Collection to have my hubby check out and review. Guess what? He loves it!
I knew he would though. Though he does not like tons of strong scents, he certainly does enjoy subtle scents and so do I, on him! Mmmm!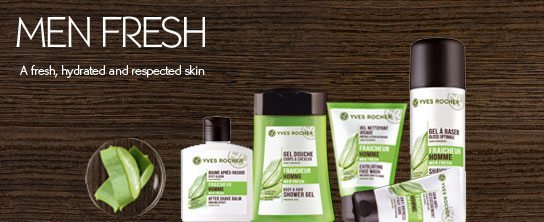 The collection is wonderful. It has 6 wonderful, manly products for the man in your life. They smell great and work really well. The collection includes the Anti-Dryness Face Care 24 Hr Moisturizing, Exfoliating Face Wash, Shaving Gel Smooth Gliding, After Shave Balm Cooling Effect, Hair And Body Shower Gel and A Men Only ideal kit for the perfect shave.
My husband likes  how these products smell. They are light but smell good. He said his favorite product from this line is the Anti-Dryness Face Care 24 Hr Moisturizing lotion because his skin tends to get dry and he does not like using my girly products for that!
Right now, these products are almost HALF OFF!! So if you are interested in them, I would go now and shop online to score the great deals going on! We also received the nice smelling AMBRE NOIR fragrance. My hubby does not really use much fragrance, so I gave this to my two nephews who absolutely LOVE LOVE LOVE it. This fragrance is a masculine scent that brings together the depth of dark woods and the sensuality of oriental essences for an irresistible effect.
What kinds of scents does your man love to wear?