This post is all about 18 Unique 18th Birthday Party Ideas and Themes! Let's get started! You're 18, the year of reckoning! The carefree days of childhood are over and from now on you'll have a hand in shaping your own future. Turning eighteen is a right of passage that everyone goes through.
Now, you are legally allowed to vote and even join the military if you want. By society, you are considered an adult, even if you may not feel like it.
Therefore, it only fits to bring in adulthood in a unique and fun way. But how can you make your 18th birthday a milestone event to remember? With these 18 theme party ideas, we will show you some fun and creative ways!
18 Unique 18th Birthday Party Ideas and Themes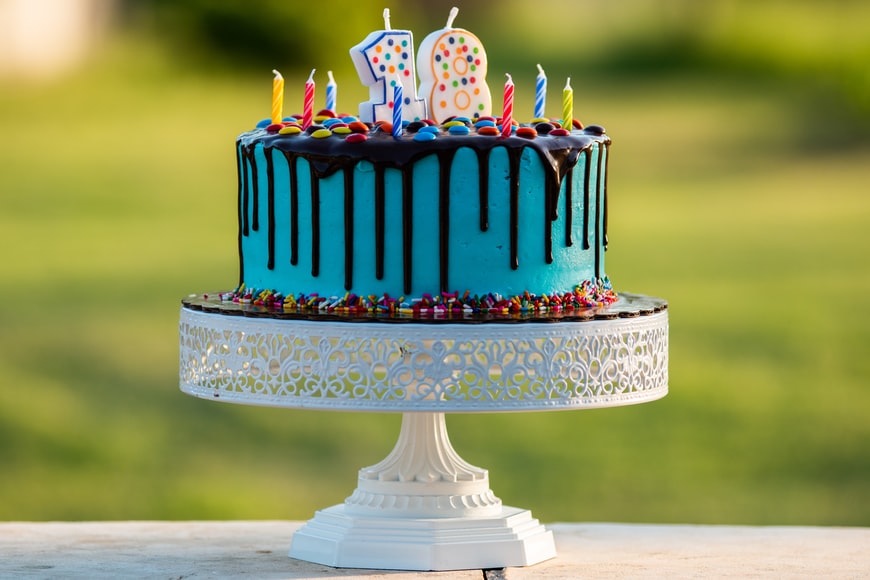 18th Birthday Mocktail Party
Create a mocktail menu with recipes for non-alcoholic cocktails! You may not be old enough to drink yet, but that does not mean you cannot learn how to make incredible non-alcoholic mixes. Examples of some drinks could be a Shirley Temple or blueberry tea.
Camping
One way to spend your 18th birthday is surrounded by friends and family in the wilderness. You can cuddle up, tell ghost stories, and eat s'mores. What's not to love!?
Have a Spa Day
What's a better way to chill than to have a relaxing spa day for your 18th birthday? You can fill the day with massages, pedicures, and the sauna.
Beach or Lake Birthday Party
If you live near water, this is a perfect idea for an 18th birthday party. You can even rent a boat to be out on the water for a bit and light a bonfire with friends near the end of the night.
Have a Nice Dinner
You can either go out or stay in and cook. If you plan to go out, then you get to pick your favorite restaurant. But if you stay in, you can make your favorite food and dress up the dining room table. It's a win-win!
Surprise Birthday Party: 18 Unique 18th Birthday Party Ideas and Themes
Everyone loves a good surprise! Planning a surprise birthday party for a loved one's 18th birthday party is bound to put a smile on their face and bring everyone joy.
Game Night-Themed Party
Who doesn't love getting a whole bunch of friends together to play board games? The best part about this is that the birthday boy or girl can pick their favorite board games, and everyone can play into the wee hours of the night.
90's Themed Party
Take it back to the day when there were low-rise jeans and the classic Jennifer Aniston haircut. Just be sure to have a hit playlist with bands like N'Sync and Britney Spears playing for everyone to dance to! You can even make a custom t-shirt from Printful for everyone to wear.
Road Trip
Nothing says I have reached adulthood than feeling the freedom of the wind in my hair and hitting the road with a bunch of my closest friends.
Scavenger Hunt Birthday Party
If you have a tight-knit group of friends, this can be a fun 18th birthday party idea. You can even make it themed like finding the pirate's treasure. Either way, whoever finds the prize at the end wins!
Fireworks
It is a right of passage at eighteen that to buy fireworks. Celebrate your freedom with something awe-inspiring and loud! Just be sure you set off legal fireworks and do not disturb your neighbors.
Sports Themed Birthday Party
Got a favorite sports team? Celebrate your birthday surrounded by sports-themed cupcakes, and cakes, and maybe even play a game or two. You can organize other games and even races apart from sticking to one sports team.
For example, custom inflatable sports arches can be the starting point of your race or any other game. Obstacle courses, huge inflatable labyrinths, and other bouncy house games will be perfect for both physical activity and fun.
Concert
Celebrate your 18th birthday by dancing your butt off and singing the loudest you can to your favorite performer.
Movie Marathon
There is nothing better than having a close group of friends watch movies all night and eat popcorn and snacks. It's a great way to bring in the big one eight.
Costume Party
Pretend to be someone else on your big night! A costume party is incredibly cool, especially if your birthday is in October.
Breakfast For Dinner
Make pancakes, eggs, and waffles, and chill out with your best friends. You can make specialty waffles and pancakes, like blueberry or bacon.
Swimming Pool Party
If you have a pool and your birthday is in a hot season, this is a great idea to relax and cool down for your 18th birthday!
Ski or Snowboarding Trip
If your birthday is in the winter months, this can be a great idea! Ride the slopes and enjoy hot cocoa with friends and family.
No matter how you decide to celebrate your birthday, be sure to make it extra special. After all, it is your big day! We hope these ideas inspire you to throw an unforgettable 18th birthday bash!