I know when I was trying to conceive, I had a lot of problems. It took me about 3 years to get the littlest one I have now. It was SO hard and draining, sad, crazy, depressing and I was a mess!! Every month when my pregnancy tests came back negative I was just broken all over again 🙁
I had people 'try' to help me out by giving me advice… oh there should be a book on what NOT to say to someone who is desperately trying to conceive.. sigh. I know they meant well, but Oh my goodness, no, just NO!
I tried everything to get pregnant with my third miracle. Everything from Trying to Conceive psychic readings (which ended up SPOT ON btw…), to Clomid and IUI's… It was horribly draining!!! So I totally 'get it' I do! I was seriously beginning to think I was infertile 🙁
But, after lots of prayers and trying different ways, we finally conceived our third baby! It was the month we took off…. seriously, it was… GO FIGURE!
Anyways, with trying to conceive, comes hardships, excitement and more. I was always so happy when I heard of new products or products that would help me with my trying to conceive journey. One of the products was Pre-Seed which is sperm friendly lube 🙂
So, with my hardships on trying to conceive, I really wanted to give back to those of you that are having a hard time trying to conceive or are just wanted to get pregnant and have not really tried yet.
So, I am offering a great giveaway to you!!! Me and Fair Haven Health thought it would be great to offer one lucky person who is ttc a 3 Month Supply of FertilAid for women AND a 3 Month Supply of FertilAid for their man!!!! That is a $150 Value! Woot!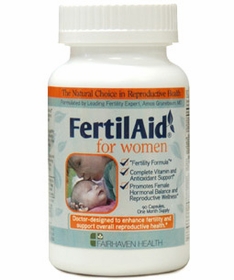 A Bit About FertilAid For Women:
FertilAid for Women is the doctor-approved and ObGyn-recommended supplement designed to increase fertility and improve reproductive health.
With an all natural, non-prescription, patented formula* that brings together scientifically-validated herbal ingredients and essential vitamins, FertilAid promotes female hormonal balance and reproductive wellness, supporting fertility and optimizing your chances to conceive.
Created by ObGyn and leading fertility expert, Amos Grunebaum, MD, FertilAid for Women combines fertility-enhancing nutrients with a "Just Right" formula of folic acid, essential vitamins and minerals, and key antioxidants. This comprehensive formula makes it the only fertility supplement offering total preconception vitamin support – optimized for trying-to-conceive women.
FertilAid for Women was formulated on the basis of established scientific literature to help optimize fertility safely and naturally as part of a healthy diet and lifestyle. With a proprietary herbal formula that includes chasteberry (vitex), red clover blossom, siberian ginseng, and gingko biloba, FertilAid helps restore hormonal balance while supporting overall reproductive wellness.
FertilAid has no negative side effects and has no impact on multiple births.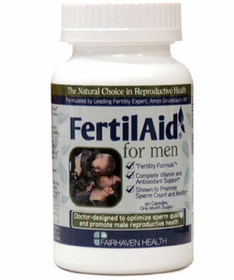 A Bit About FertilAid For Men:
Formulated by Amos Grunebaum, MD, the ingredients in FertilAid for Men have been scientifically demonstrated to enhance male fertility and improve overall reproductive wellness as part of a healthy diet and lifestyle. Ideal for men with a low sperm count or for those looking to optimize their sexual health.
Fertile, healthy sperm are defined not just by the number of sperm (or count), but also by sperm concentration, by sperm motility and speed, and by healthy morphology (sperm shape and size). Sperm motility is determined by the percentage of sperm that are moving and their capacity to "swim" in a forward direction. Healthy sperm motility allows sperm to sustain vitality and propel themselves through the uterus to the fallopian tube – and ultimately penetrate the surface of the ovum and fertilize the egg.