This post is all about the new baby essentials checklist you are going to need if you are newly pregnant! It is always good to be prepared! Are you pregnant or did you just have your precious bundle of joy recently? Chances are, you already have most of your baby gear and toys. However, there is ALWAYS something (or many things!) that a new mom and dad forget to buy! And when they are a bit older, a Jungle gym for kids would be an awesome idea! I have some great new baby toys and gear below. Hopefully, my printable new baby essentials checklist with new baby toys and gear will help you finish off your list! Take a peek!!
*This post includes my affiliate links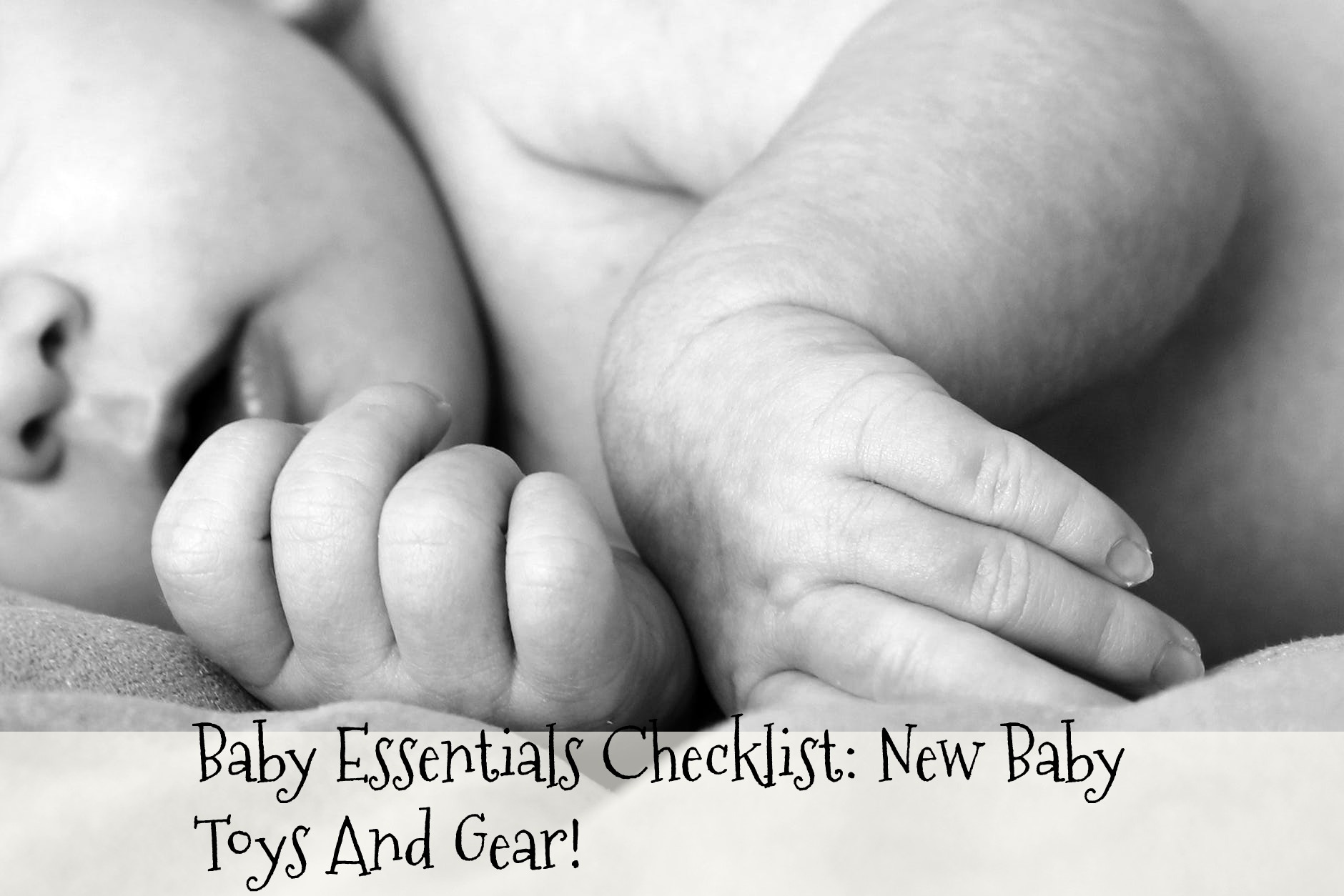 New Baby Essentials Checklist: New Baby Toys And Gear!
A new baby (and mommy!) need SO many things, it is true! Below, are some great finds and a printable baby essentials checklist on new baby toys and gear!
*Diaper Bag! Having a diaper bag is obviously a MUST-have item! And reading diaper bag reviews can be a daunting task! So I am here to tell you about one diaper bag that I recently reviewed and loved! It is the Keababies Diaper Bag/Backpack and it is the perfect one for a new or seasoned mama! This stylish diaper bag comes in 3 different colors and is great for mom or dad to carry around. KeaBabies Diaper Bag is thoughtfully designed with multiple pockets and compartments to help you organize all your baby's necessities for a day out.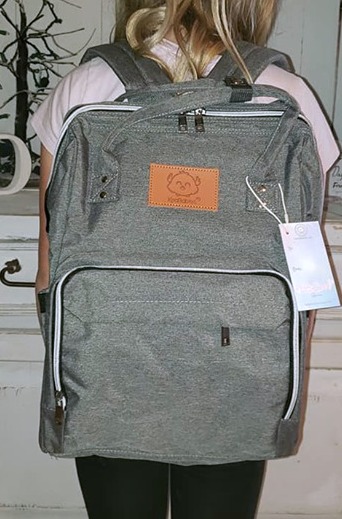 Features of the diaper bag that are worth mentioning:
Quality Oxford Fabric: Water-resistant and scratch proof
Multi-pockets: Organize your items perfectly
Multi-zipper compartments: Store mobile phones, keys, cards, passports, and small items.
Smooth Zip Closing: Open and close your bag easily
Back Zip Opening: Easy access to items inside the bag
Diaper Mat: Waterproof surface for easy cleaning
Clip-on Strap Holder: Hang on the stroller handle without additional hooks
High Weight Endurance: Able to withstand heavy items without breaking
Unisex Design: Suitable for men and women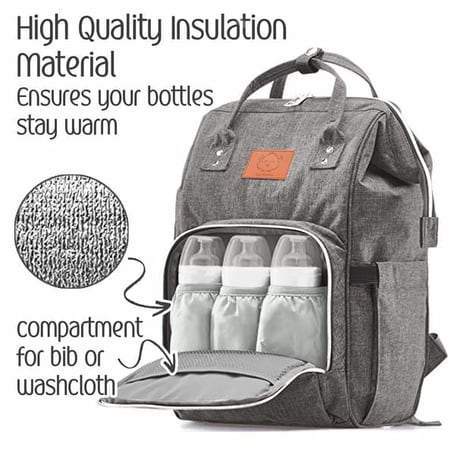 I absolutely LOVE this diaper bag/backpack. It is perfect for new or seasoned parents. Dad or mom can carry it and feel confident in knowing all of their baby's stuff nestled inside is safe and secure. Plus, everything is easy to navigate and can easily be found inside the diaper bag. I use this now and love it. Very durable and it is priced very reasonably at only $38.96 (on sale for $69.96). Buy your Keababies Diaper Bag/Backpack Here!
*Dynatot Take Along Baby Feeding Set! When your little one is old enough to sit and eat, it can be VERY messy! And when you are out and about, you want to try to keep your little one as clean as possible! With Dynatot Take Along Baby Feeding Set, that is definitely possible! This comes in three different colors and has everything you need inside the bag!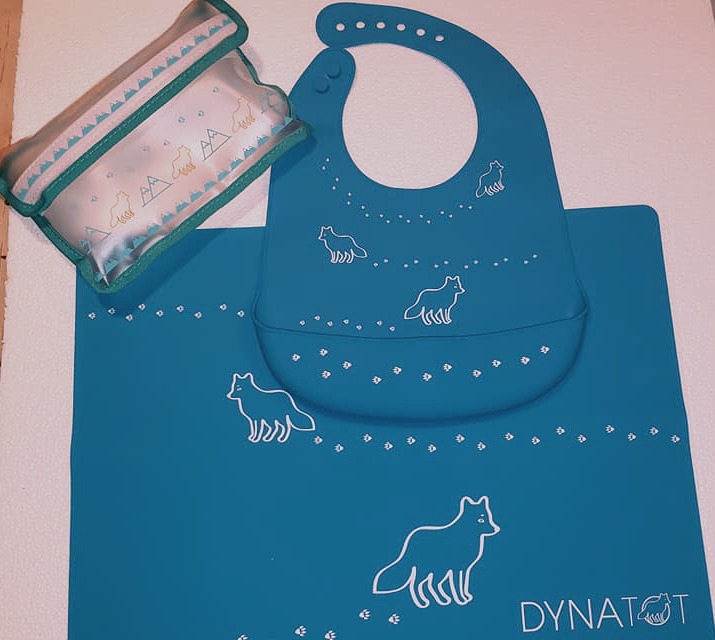 This baby feeding set is an eco-friendly, cute, and mess-free way to take your little ones out for a meal! The Bib and placemat easily fold into the bag it comes with. This set is compact and easily fits in your diaper bag or purse, which is super nice it is water-proof, eco-friendly, non-toxic, and made from food-grade silicone! And it is dishwasher safe! Yay! This is great for babies ages 6 months to toddlers!
Bib Features:
Easy button closure with variable sizing.
Ultra-soft against baby's skin, won't catch hair as easily as other silicone bibs.
Dishwasher safe, top rack.
Placemat Features:
Extra large size for a mess-free eating zone (approx. 17″ by 13″).
Ultra-soft and easy to wipe-clean surface.
The non-slip bottom ensures the placemat won't move while the baby or toddler is enjoying a meal.
Extra thick for durability.
Dishwasher safe, top rack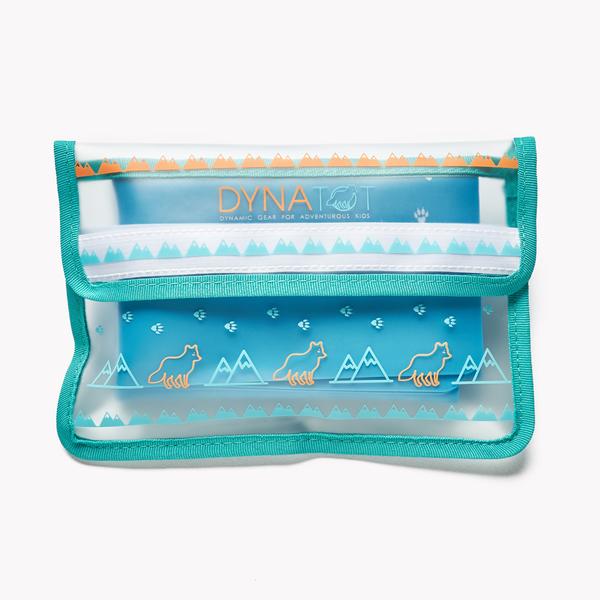 Bag Features:
Food-safe
Durable
Extra-strong velcro will last as the baby grows
Hand-wash only
The Dynatot Take Along Baby Feeding Set retails for $26.00 and you can purchase it online at https://www.dynatot.com.
*Busy Baby Mat! Keep your baby's toys within reach and germ-free! The Busy Baby Mat is the first-ever placemat to keep toys in place! Time to end the "Toddler Toss!" Made of 100% FDA-approved food-grade silicone, the Busy Baby Mat suctions to smooth surfaces & has a proprietary tether system that will keep baby's things within reach.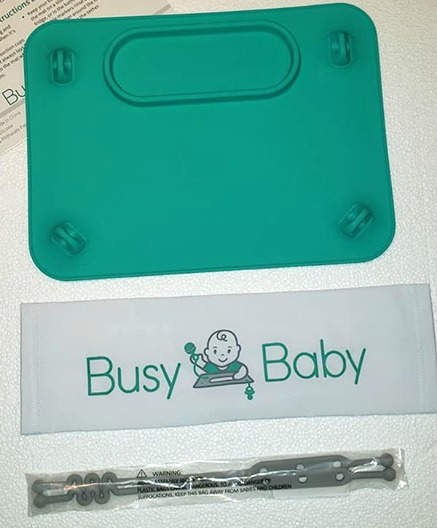 Great to use on shopping carts! Wrap the Busy Baby Mat around the handle of the cart and suction it to itself! Attach toys or a pacifier or just let your kiddo play with the tethers. Got a teether… let them chew on the tether or mat while protecting them from the disgusting shopping cart germs! It rolls up and fits in most purses and diaper bags so it's easy to take with you wherever you go! Two Grey Tethers are Included and it is Dishwasher safe. This comes in two different colors. The Busy Baby Mat retails for $24.99.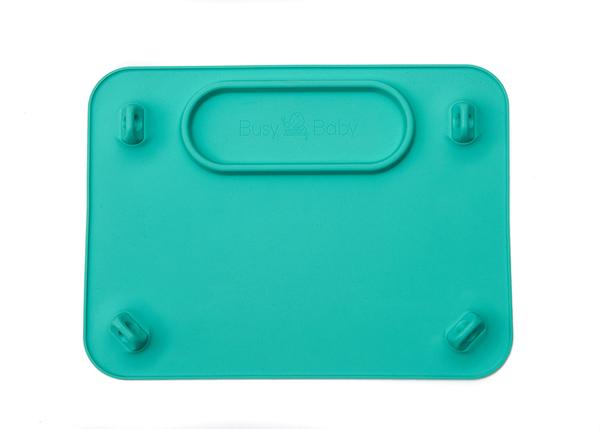 *Baby Delight Snuggle Nest Adventure and Cushy Nest Cloud! The Snuggle Nest Adventure is an indoor/outdoor portable infant sleeper that is designed to offer a greater sense of security for newborns wherever they sleep. It can be used for co-sleeping in bed with parents or when traveling, whether indoors or out.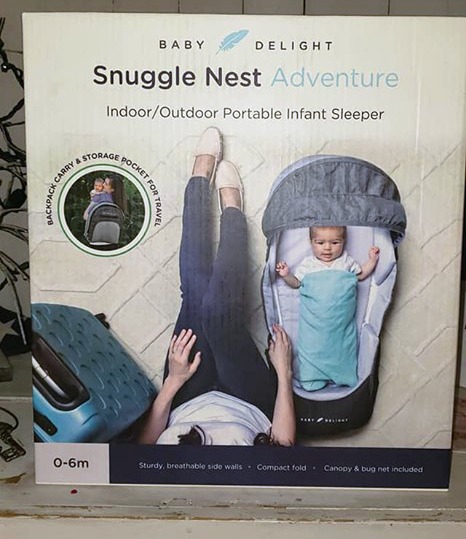 With added storage features, it is easy to pack up with your baby's needs for a few days, or for a short trip to Grandma's. As the name suggests, this Snuggle Nest was designed with Adventure in mind! The backpack strap makes it easy to throw it over your shoulder for hands-free carry. A removable canopy and mesh bug netting are included to help protect your little one from the outdoor elements. Every day with a newborn is an Adventure, let this one make your life a bit easier!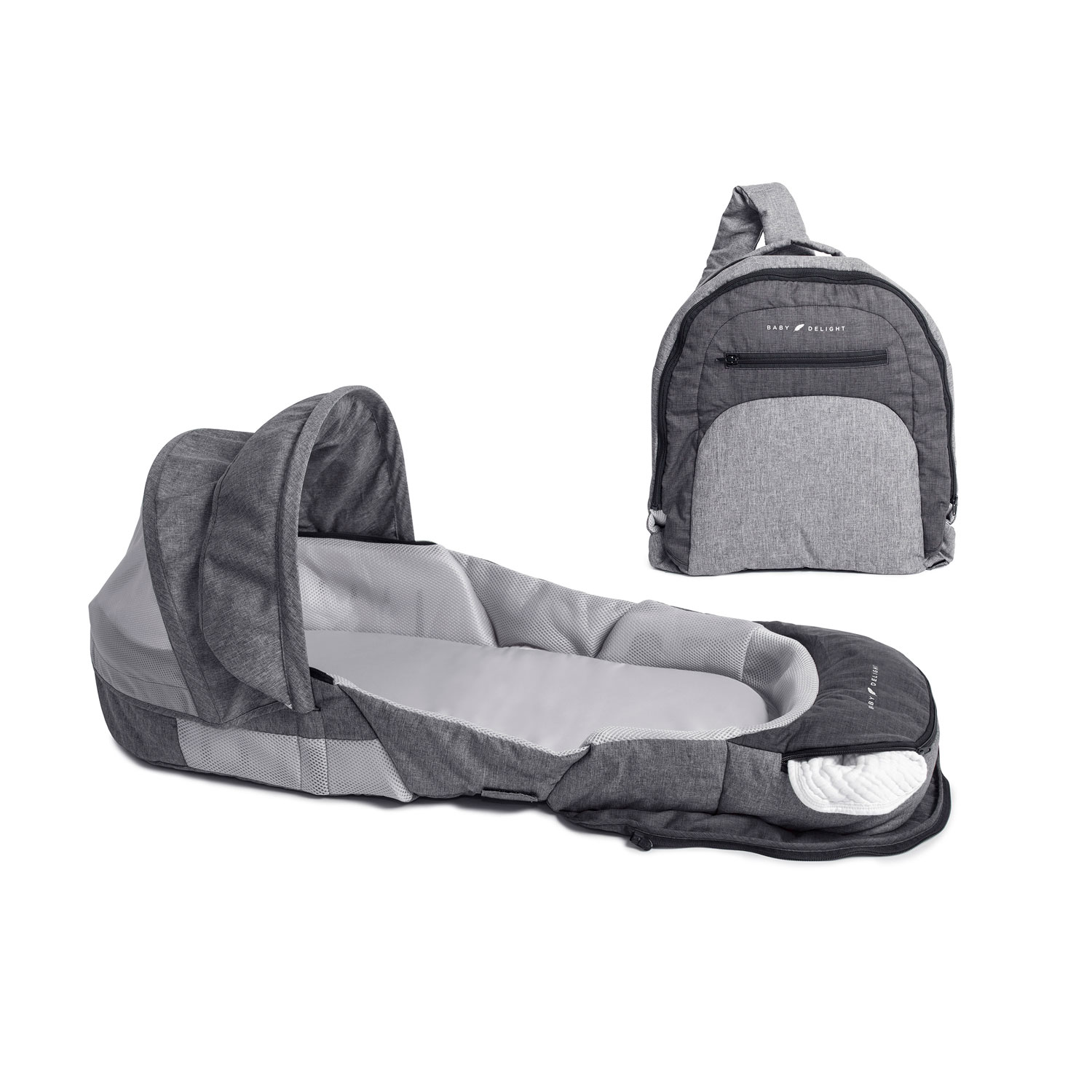 Product Highlights
Breathable mesh sidewalls
Sturdy, rigid shell
Fabric suitable for outdoor use
Use outside with removable canopy and bug net
Storage compartments
Washable covers & wipeable mattress pad
Compact fold for convenient travel
Stylish Charcoal Tweed fashion
The Cushy Nest Cloud is the perfect solution for bathing comfort and function. The oversized frame provides safe support for bathing use in most sinks and tubs. The plush, Ultra-Soft cushioned pad provides the ultimate comfort for your child. The Cushy Nest Cloud folds up compactly for storage or travel. The cushioned seat pad is easily removed to hang dry. It is also machine washable. This comes in 3 different colors.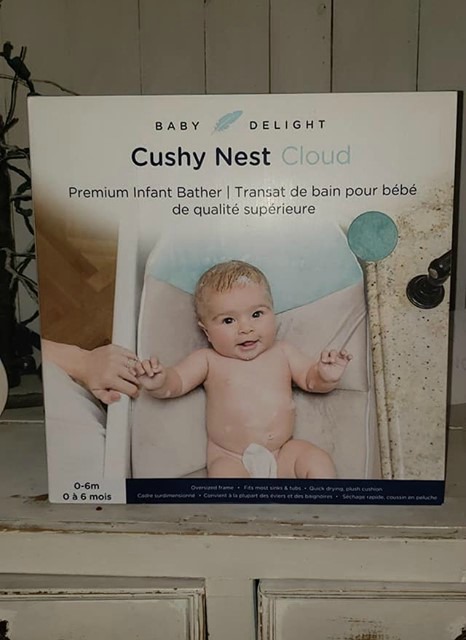 Product Highlights
Over-sized, ultra-soft cushion
Cushion easily removes for quick drying or machine washing
Fits most sinks and tubs for easy use
Fold-out legs
Loop for hanging up to dry
The baby should not be left in the bathtub unattended for any reason (DUH!)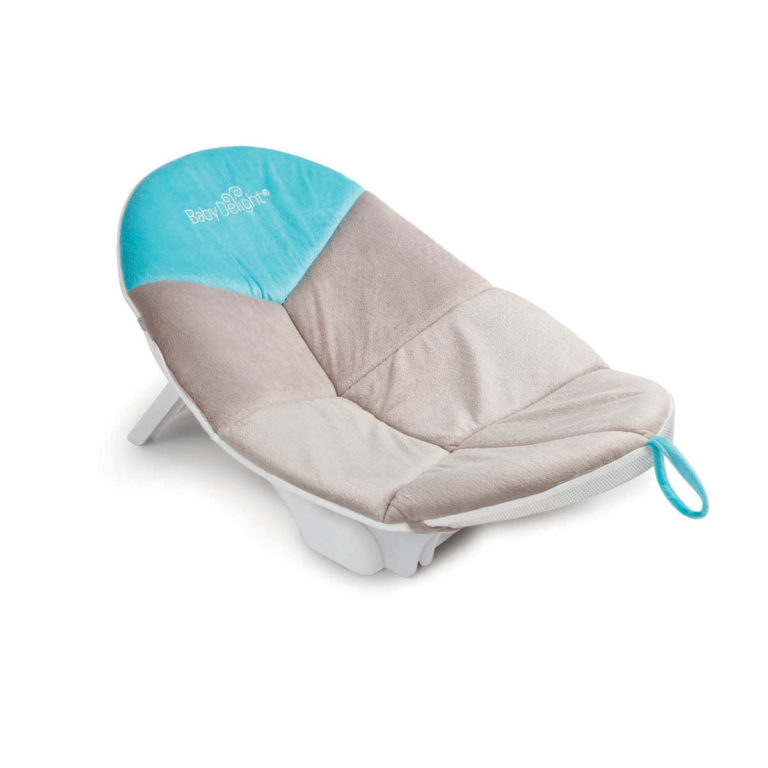 The Snuggle Nest Adventure retails for $79.99 and the Cushy Nest Cloud retails for $29.99. You can purchase them both on Amazon.com.
*Entertaining Musical Books! What little one doesn't like a good, entertaining book??? My kids LOVED them! Especially when you are out and about and your little one needs something to keep them busy! Cali's Books will help your little ones stay entertained! These are sound books with embedded music! These are REALLY cool because with each page you turn, there is a new popular nursery rhyme song! Just press a button and a new song with each page turn comes on! So cute and really unique! There are 2 cute books to choose from.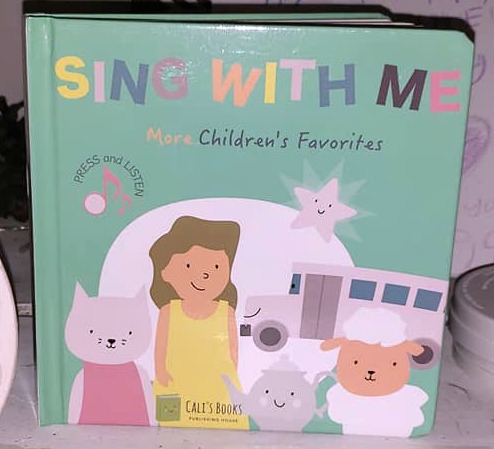 Their story pack includes their two best-selling sound books: SING WITH ME – Children's Favorites and SING WITH ME – More Children's Favorites. These are interactive books dedicated to empowering children through the introduction of words and music. Using sound button technology, children press to listen to classics.
SING WITH ME – Children's Favorites include:
Twinkle, Twinkle Little Star
If You're Happy and You Know It
Itsy Bitsy Spider
Old MacDonald
Patty-Cake
A-Tisket, A-Tasket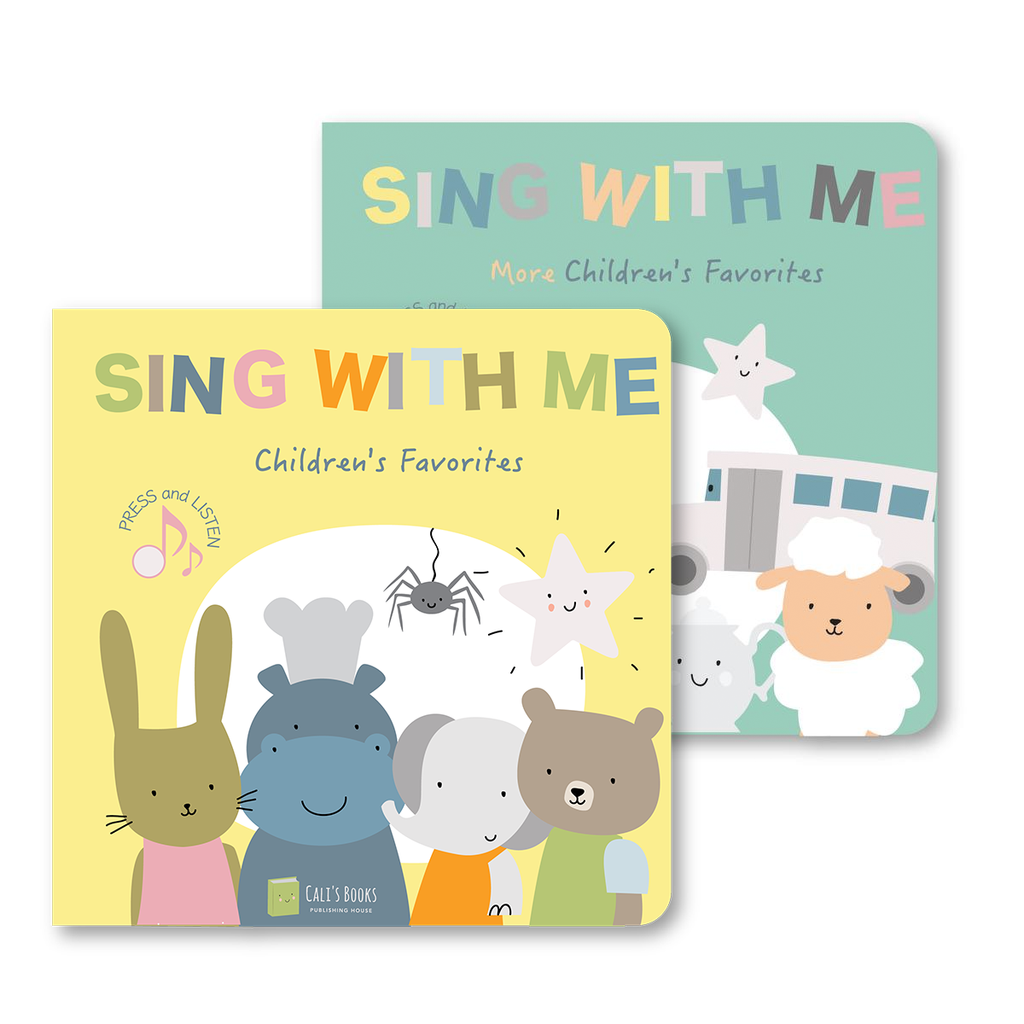 SING WITH ME – More Children's Favorites includes:
Star Light, Star Bright
The Wheels on the Bus
Row, Row, Row Your Boat
Mary Had a Little Lamb
Ring Around the Rosie
I'm a Little Teapot
These books are suitable for all ages. They can capture the mind and attention of a child as young as a few months old. The story pack retails for $25 and each individual book retails for $12.95. You can purchase them online here!
*ZizzyBee Bags! Talk about some great bags!! I absolutely love these bags! Not only are they super cute but they are reusable and so convenient! These are Reusable and washable bags that are toy organization bags, snack bags, makeup bags, instant hang shower bags, bags for toiletries, purse bags, baby wipe bags, diaper bags, etc! These bags can be used for SO many things!!!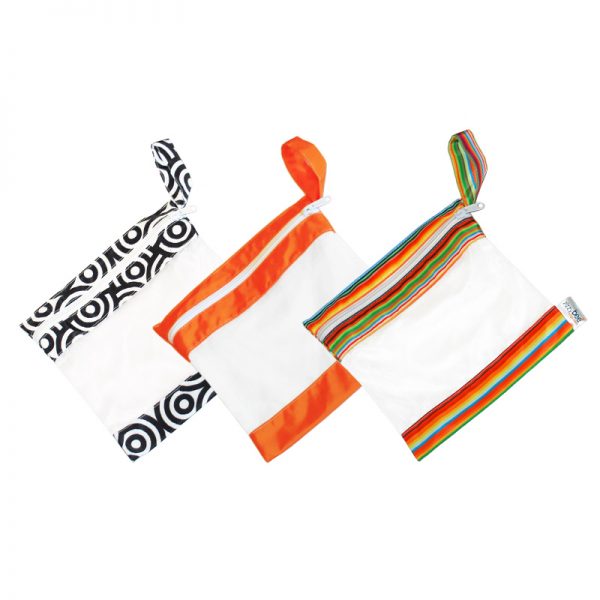 ZizzyBee Bags® is a perfect fit for all your home storage and travel needs. They come in small, medium, and large. There is also a laundry-sized bag! These are perfect for the diaper bag to carry snacks, dirty diapers you can't throw away immediately, baby wipes, and more! I am going to use these for long road trips and for my kids when they go back to school! So many ways to use these cute bags!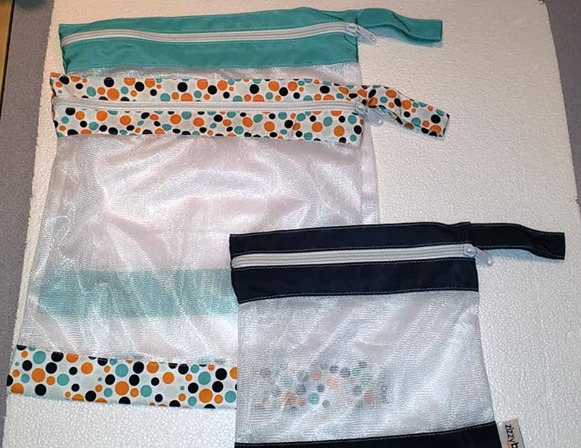 Plus, they are good for the environment because you aren't using sandwich bags or plastic bags. Did you know our oceans will have more plastic than fish by the year 2050? And to put that in perspective, there are 3.5 TRILLION fish currently living in the world's oceans! This is hard to believe BUT it will be our reality UNLESS we all take action. It's simple really…Swap single-use large plastic bags for ZizzyBee Bags!
*Lella Water Play Mat! How much fun is THIS!?!? This is an Inflatable Tummy Time Water Play Mat that is great for Sensory Development and a great Play Center! Perfect for Babies, Infants, and Toddlers, plus it is BPA Free!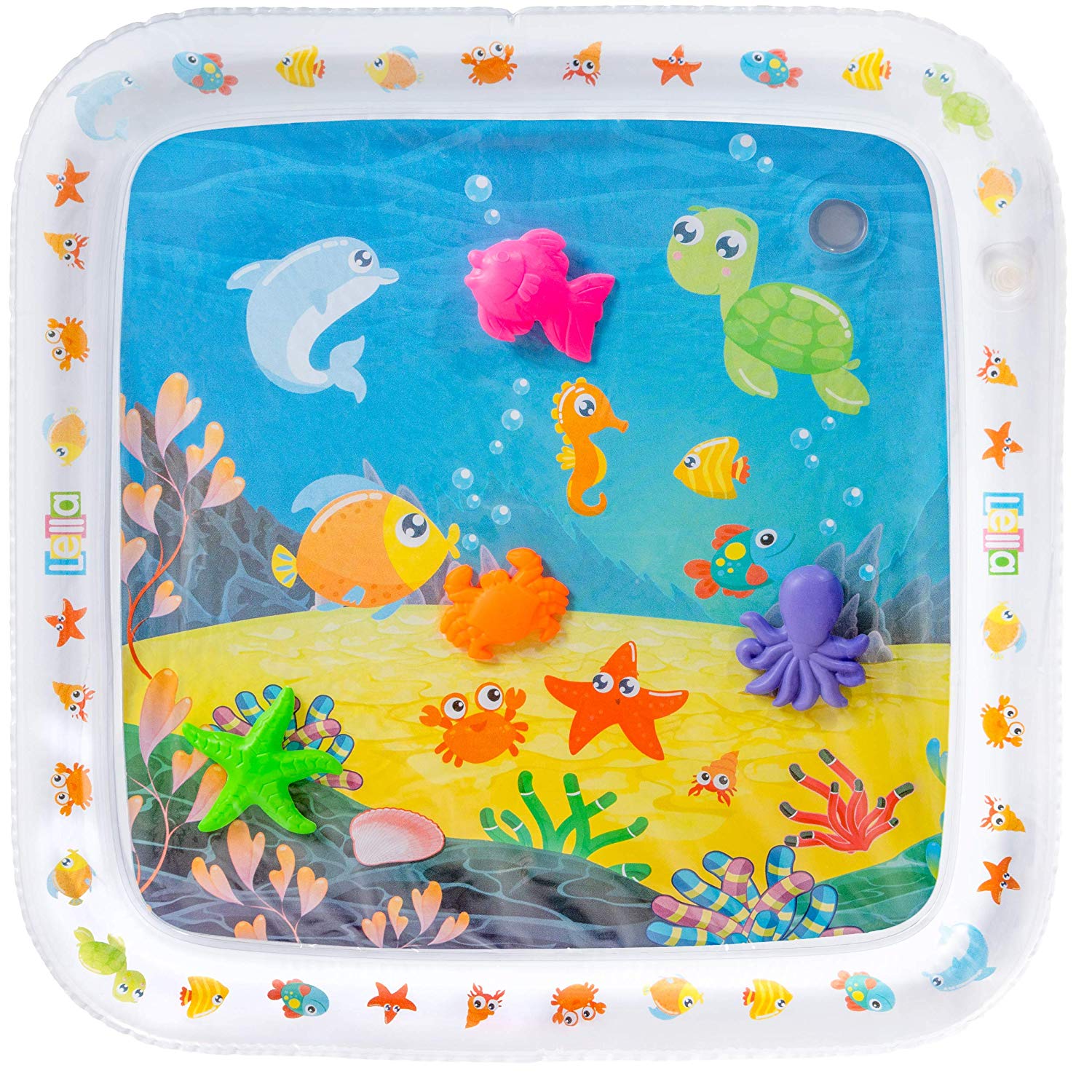 Fun Features:
*Can be placed on any floor for your baby or toddler to play, explore, and further their development! Perfect for both indoor and outdoor use, our water mat inflates and deflates with ease, making it easy for on-the-go fun!
*The inflatable aquatic-themed mat not only provides your child with endless entertainment but will also help with physical and mental growth. The vibrant, engaging background paired with the floating toys provides great sensory stimulation and helps with motor skill development!
*Designed with BPA-free materials, our tummy time play mat is built to withstand hours upon hours of play without ever becoming ripped or damaged. We strive to create products that parents can use with their children without stressing over potential mishaps!
*The mat is a spacious 21 x 21 inches, with a large deep-sea illustration and four sea creature toys that float freely in the water!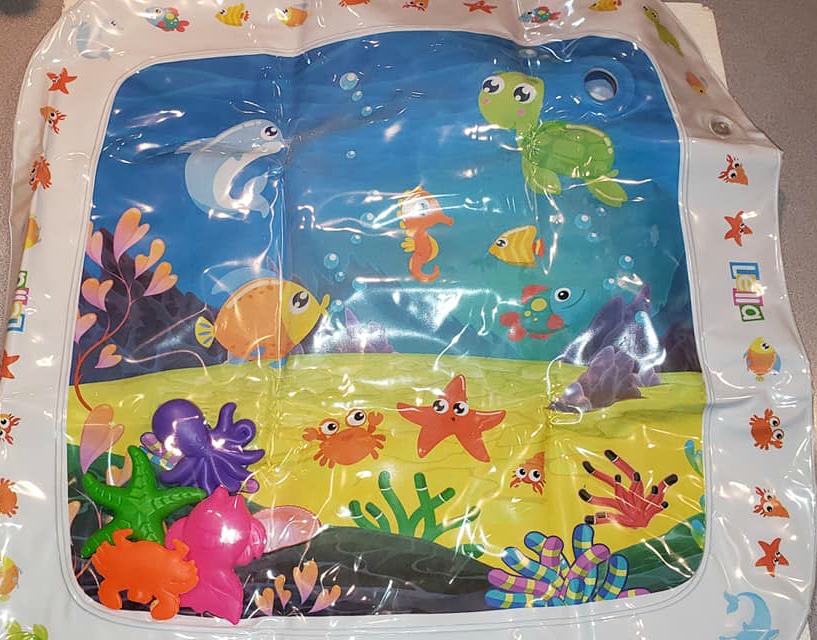 You can purchase the Lella Water Play Mat on Amazon.com. It retails for only $13.99!
*Songs with My Name CDs! These never go out of style and are so entertaining for the kids! No CD? No problem! You can digitally download these too! Yay! This is personalized children's music that is designed to help kids learn, gain self-confidence, help improve social skills, and inspire their imaginations all while singing and dancing along with their favorite characters! You can explore their website to hear your child's name in their very own song! So much fun! From Disney princesses, Sesame Street characters, and Disney Characters to Veggie Tales and MORE! Get your child their very own songs with my name CD online at https://www.songswithmyname.com/.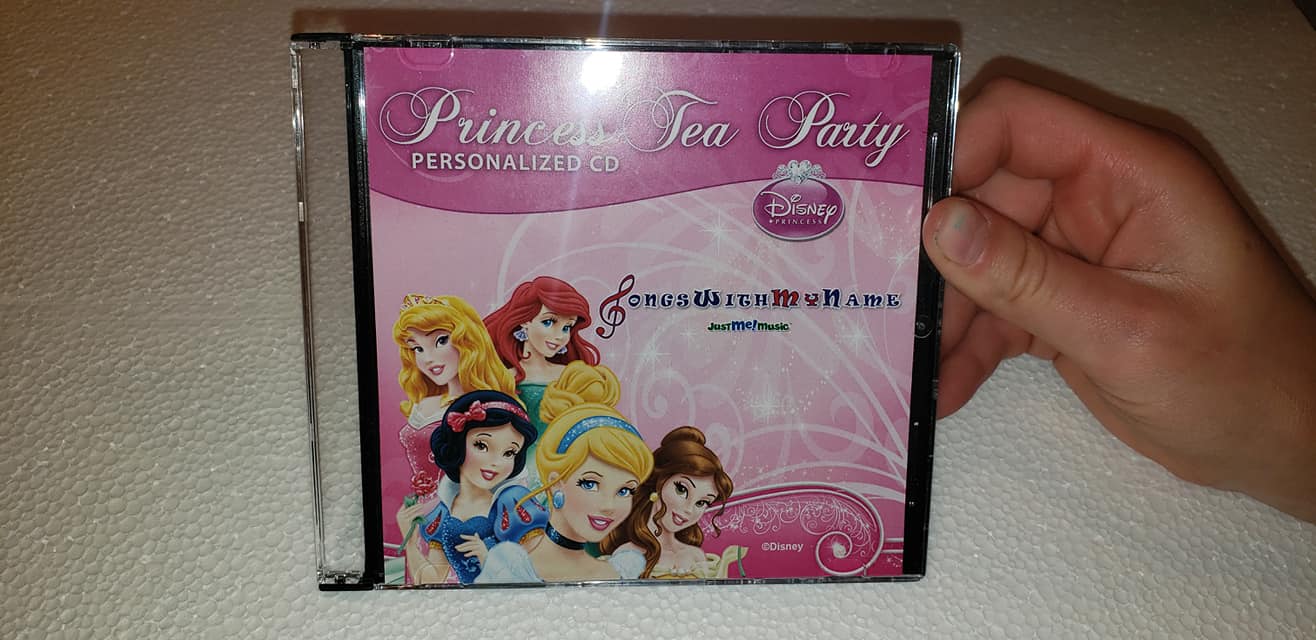 There are SO many great Baby Essentials I have listed for you, above! Any baby or toddler would be spoiled with any of the products above! And, mom or dad would be lucky to have that nice diaper bag/backpack! All these things are great to have!
Baby Essentials Checklist!
As promised, here is a FREE printable Baby Essentials Checklist: New Baby Toys And Gear for you to print out and have with you next time you are shopping for a baby!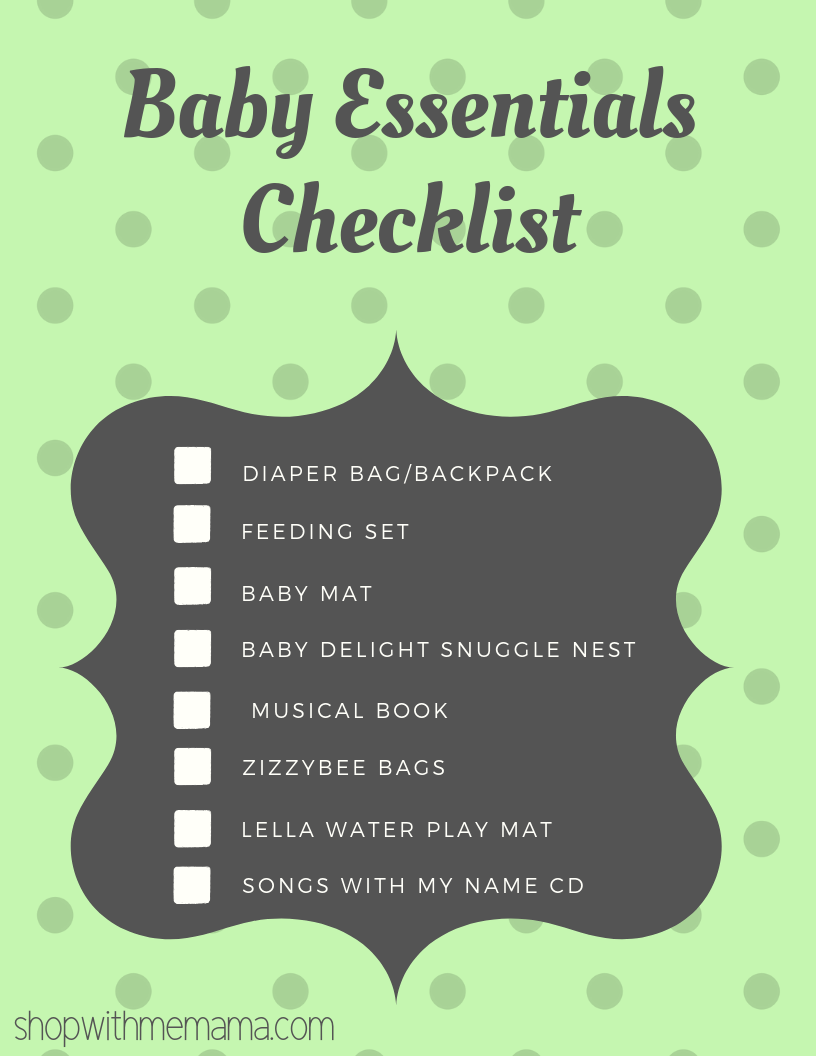 Due Date Calculator Printable:
When is my baby due? Find out, below!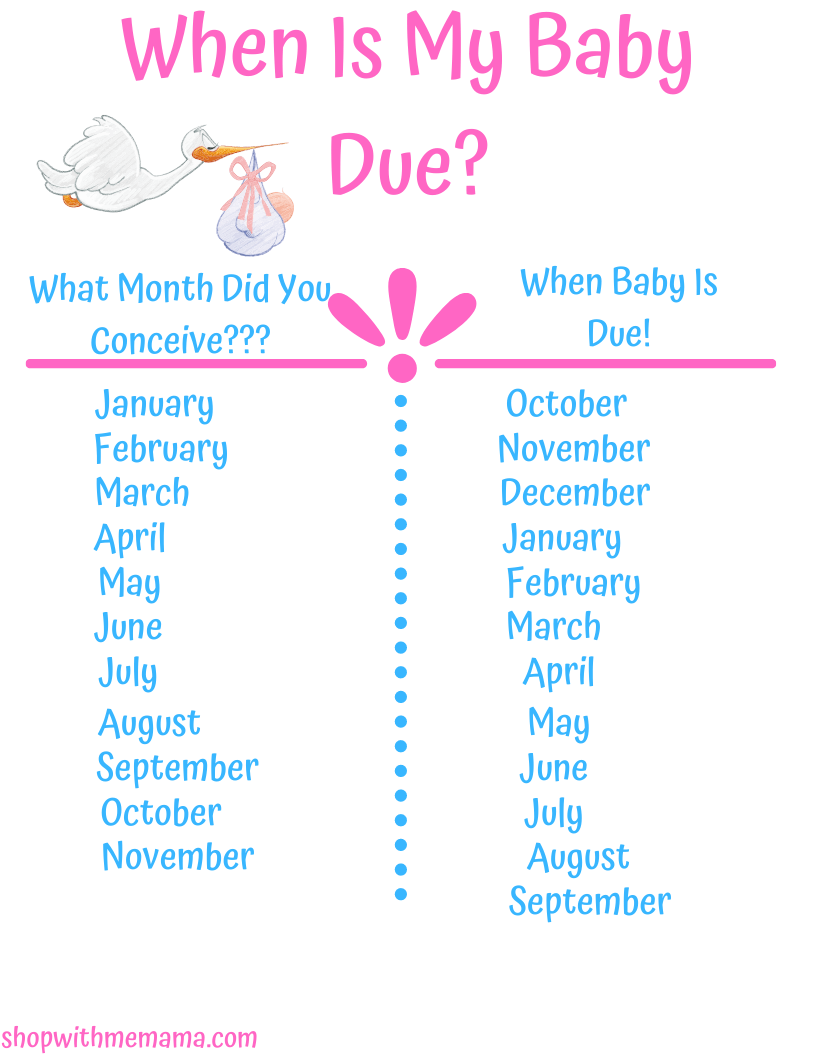 *Baby Essentials Checklist. Products were received. This post includes my affiliate links.