*This Bath Fizzer Recipe is so much fun to make! This post includes my affiliate links.
I have been posting more craft recipes lately and I LOVE them! I am having so much fun with them and am always excited to share them with you! When you have little kids, doing DIY projects and crafts is a MUST! This fun bath fizzer recipe is certainly one you will WANT to make with (or without!) your kids, this spring!
Bath bombs are the perfect ingredient for a nice relaxing bath! And, when you give it some added fizz, (see my bath fizzer recipe below!), and a hint of lovely fragrance (essential oils are a MUST!), you will really have a spa-like experience. The 'fizzy' in these bath bombs make my bath so relaxing!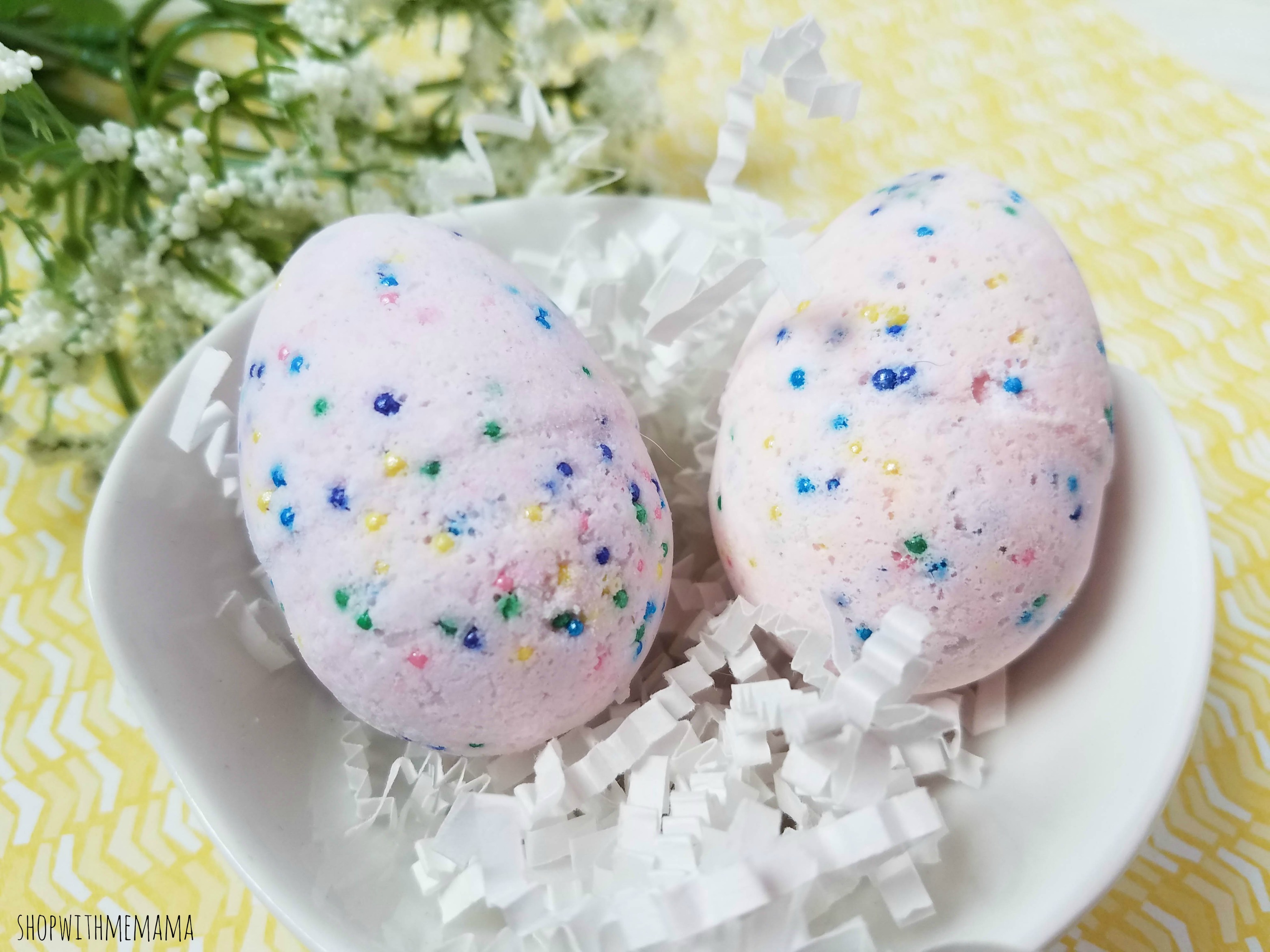 I really like to make my own bath bombs because they are less costly than the ones you can buy in the store, and I know what is in them. With Easter coming up, I made these Speckled Easter Egg Bath Fizzers, and they are just so adorable with that egg shape and the colorful sprinkles!
These Speckled Easter Egg Bath Fizzers would make a perfect addition to Easter baskets too, for a non-candy basket filler option. I know my kids enjoy a variety of things in their Easter baskets, and these bath fizzer bath bombs will definitely be exciting to receive!
Bath Fizzer Recipe For Easter!
This bath fizzer recipe is so easy to follow and soon you will be enjoying these bath fizzers in a nice, hot bath! You can certainly thank me later 😉 Homemade bath fizzies are SO much fun!
Here are the ingredients you will need for the bath fizzer recipe: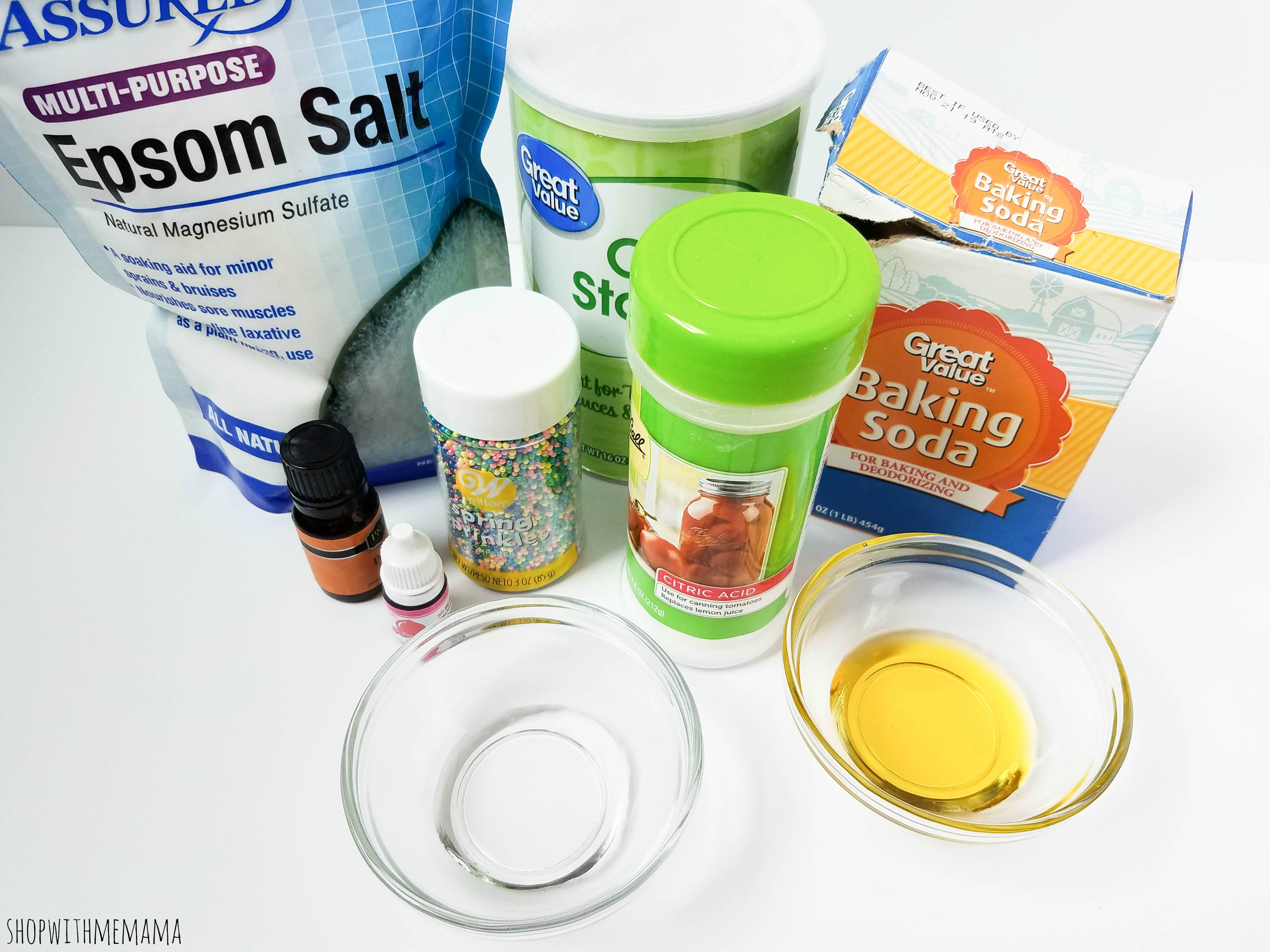 Ingredients:
2 oz Epsom salt
4 oz baking soda
2 oz corn starch
2 oz citric acid
1 tbsp olive oil
½ tbsp water
1 drop Peach Soap Colorant (optional)
Peach Fragrance oil ( or your favorite essential oil, optional)
1 ½ tablespoon round spring sprinkles
Here are the supplies you will need to make homemade bath bombs: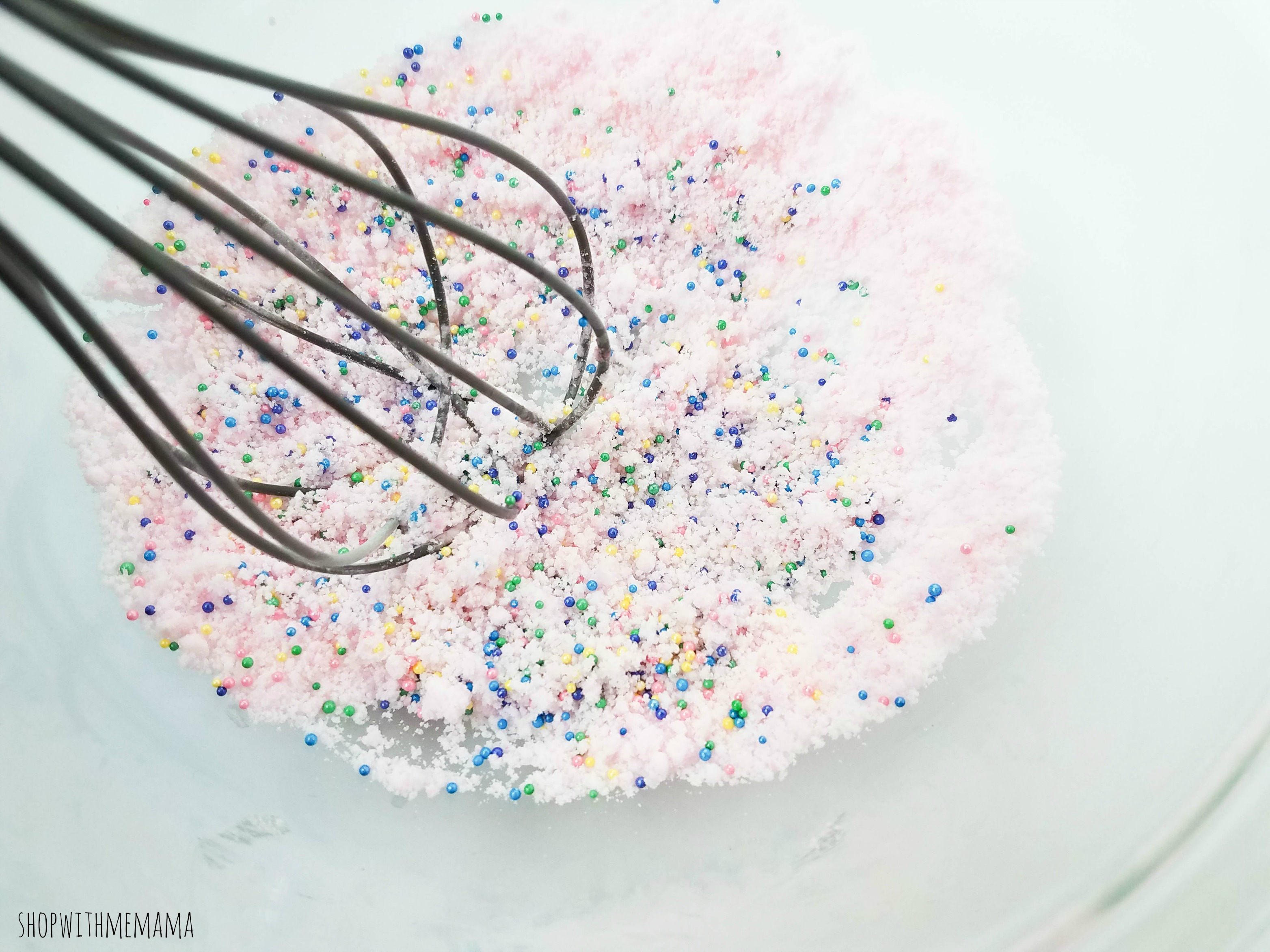 Supplies:
● Large bowl
● Whisk
● 7+ small plastic Easter eggs
● Small jar with lid
● Measuring cups
● Measuring spoons
Directions on how to make the DIY bath bomb recipe: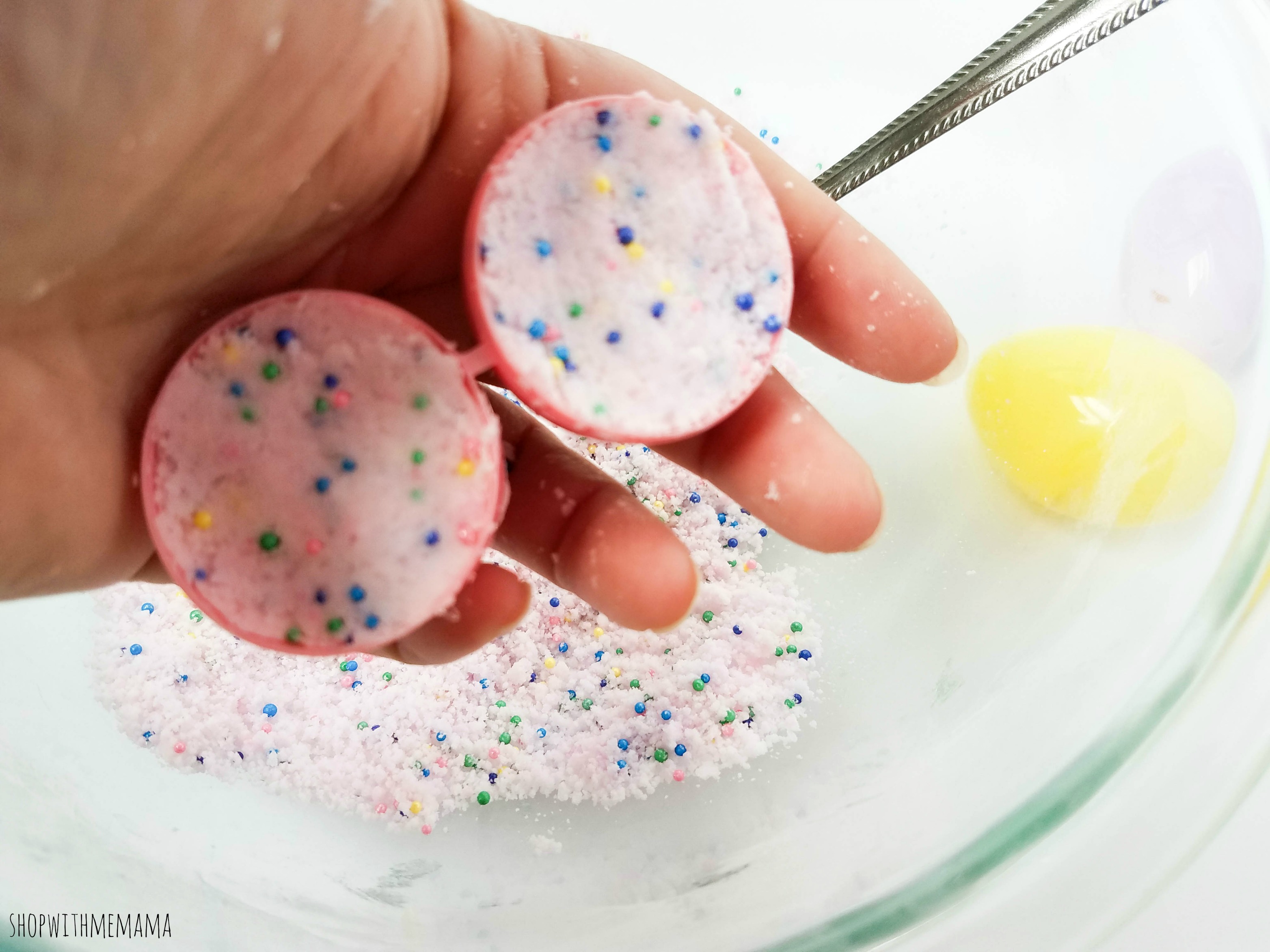 Directions For The Bath Fizzer Recipe:
1. Mix the dry ingredients first (Epsom salt, baking soda, cornstarch, and citric acid), using the whisk. Mix well to ensure there are no clumps.
2. Pour the wet ingredients (olive oil, water, soap colorant, and fragrance oil) into a jar, secure the lid and shake well.
3. Very slowly add the liquid mixture to the dry mixture, about a few drops at a time, while whisking the entire time. If you're not pouring slowly enough, the mixture will start to fizz and you don't want that to happen, because then you will need to start over again with all new ingredients.
4. Once all of the liquid has been poured into the dry mixture, mix very well until the color is consistent.
5. Mix the sprinkles in.
6. Immediately fill the molds with the mixture, firmly stuffing each side full.
7. Secure both parts of the plastic egg together and let set. I always give it about a day, just to be on the safe side.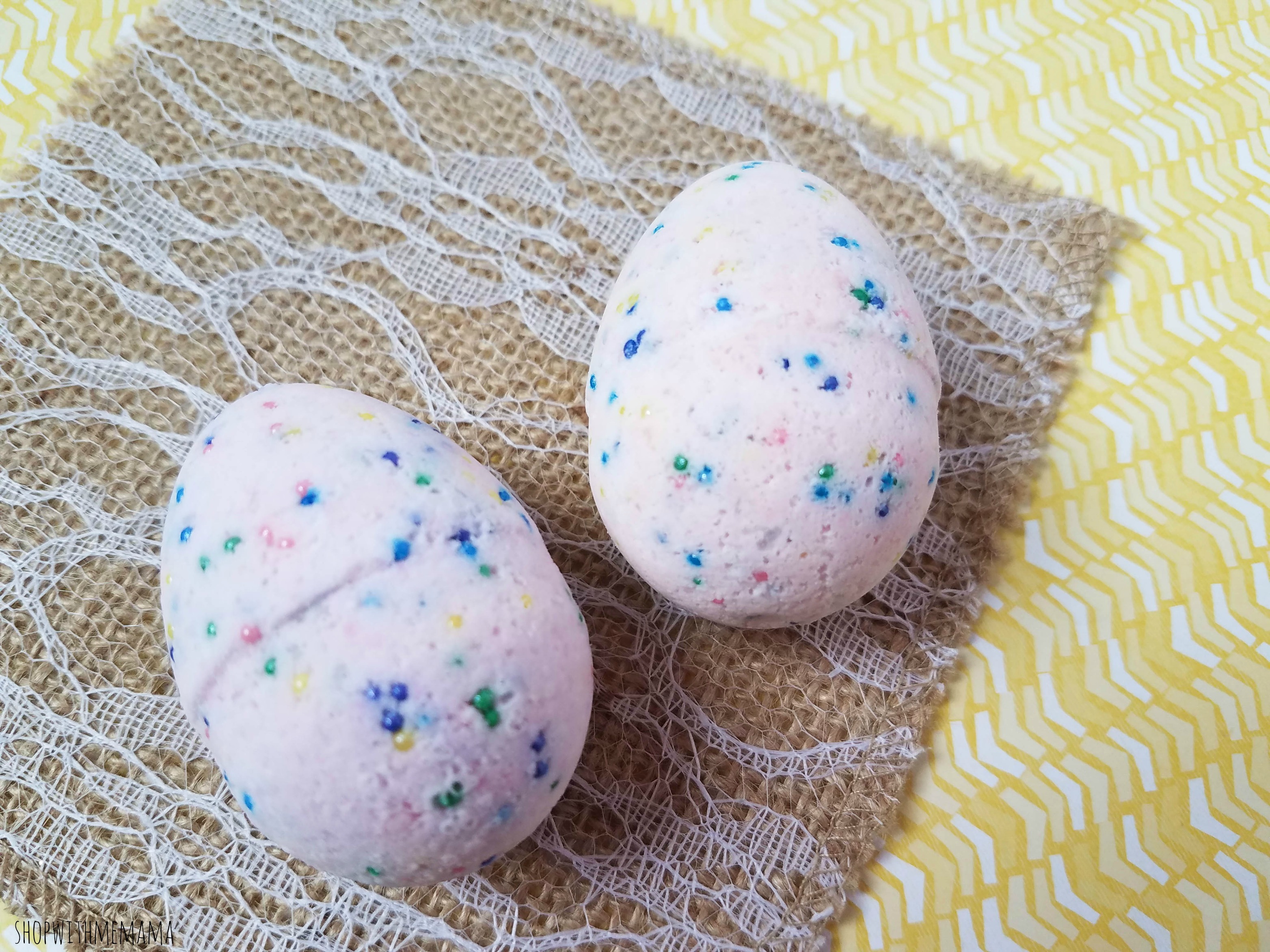 When your bath fizzer recipe is all done and you have your homemade bath bombs completed, you can store them in an airtight container and set them by your bathtub! You can also gift these to friends and family! They are so nice to have on hand!
A DIY homemade bath bomb makes the best gifts ever! I always enjoy receiving handmade things from not only my sweet kids but from other people too! Don't you???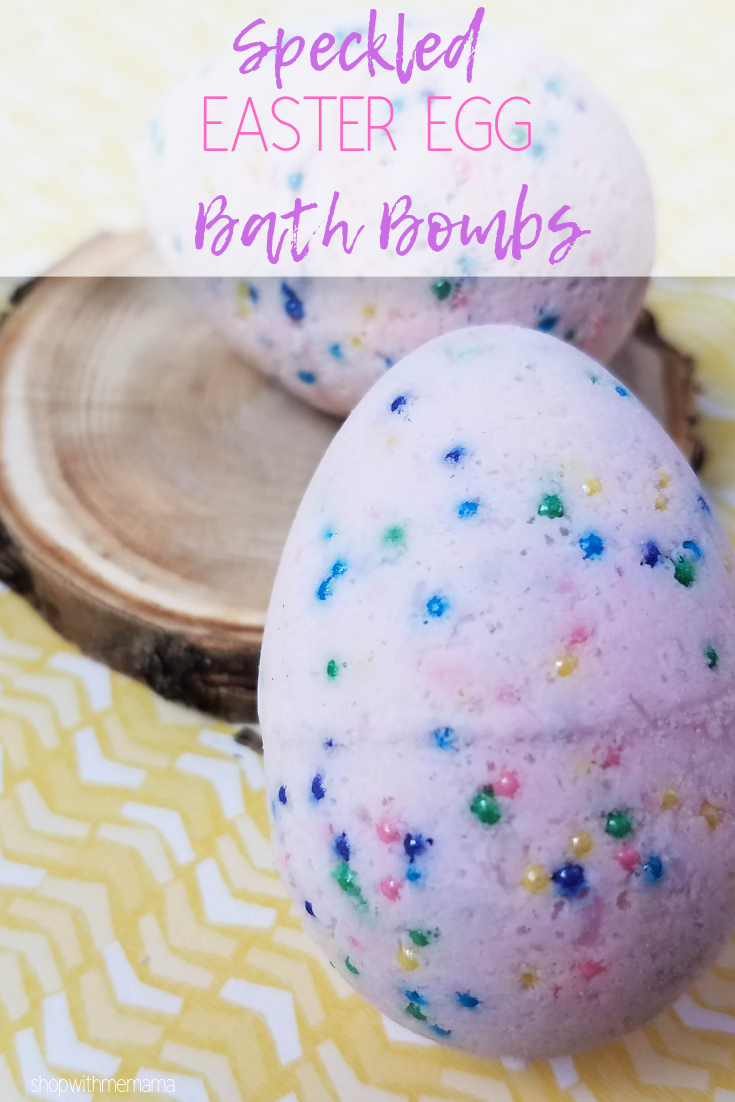 What do you think of this bath fizzer recipe?