Have you ever tried to make blueberry handmade soap? My kids and I have and it is really a fun project to do together because there are so many ways to make handmade soap! From essential oils, cold process, bath bombs, and ingredients from your kitchen, there are a lot of ways to create a healthy, soap bar.
Making your own soap can be a fun and rewarding experience, and with this easy blueberry recipe, you can create a batch of handmade soap that is both gentle on the skin and smells delicious. All you need are a few simple ingredients and some basic soapmaking supplies. So gather your ingredients and get ready to make some soap!
Handmade natural soap is not only good for your skin but so satisfying to use after you make it! My kids get so excited to take a bath after we make our handmade soaps together! They love using what they created! And, since my kids have sensitive skin, I like that we KNOW what is in our soap!
*This post includes my affiliate links.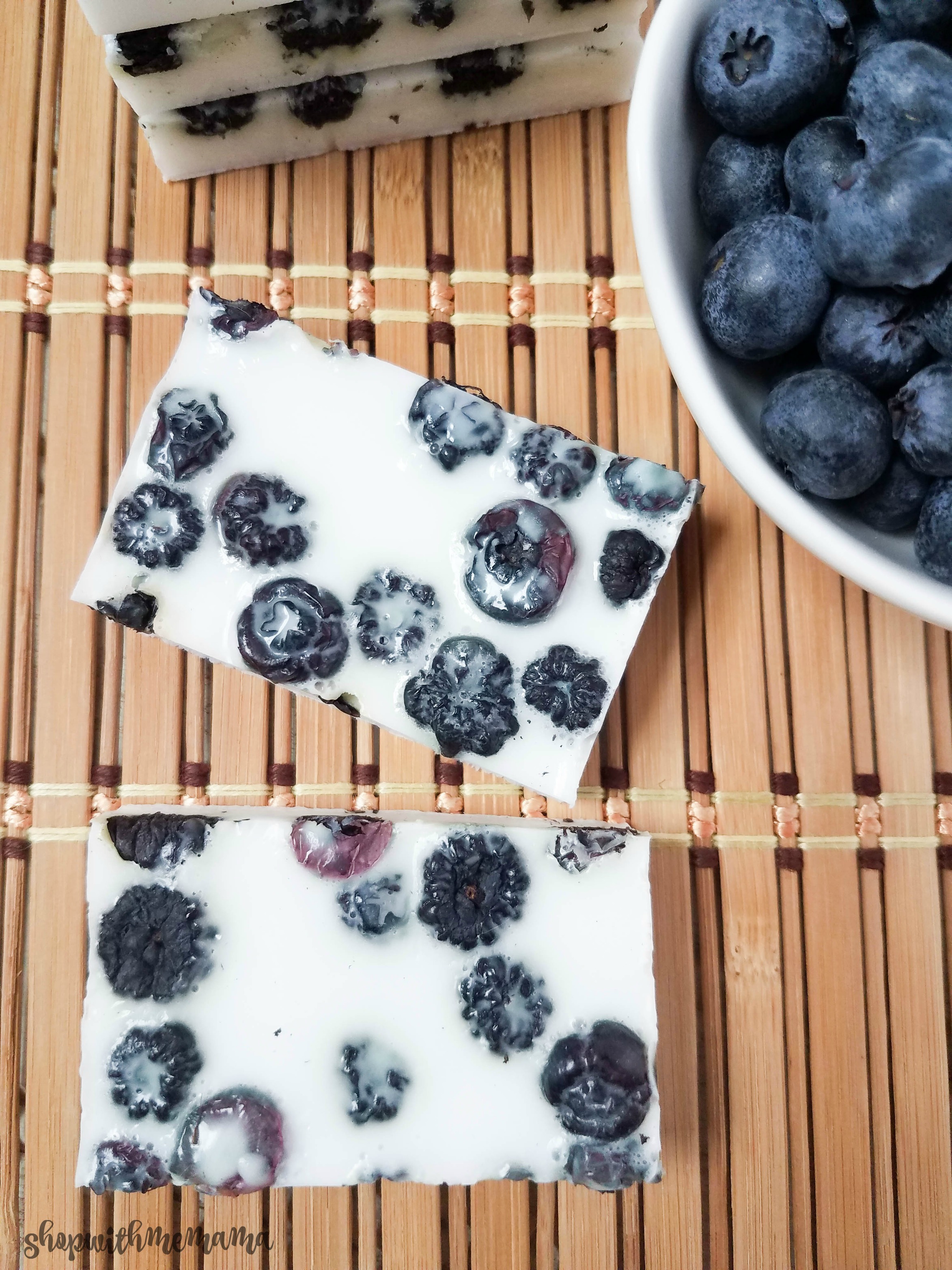 We have also tried making an organic shampoo bar before with palm oil and those turned out really good. They are great for kids' hair (and adults' too!). My hair is so thick, so I have to use other products on my hair, but the shampoo bar is great to have in your kid's shower for them to use. My hubby likes using it too.
Nothing is more important than good skincare! And when you make homemade bar soap yourself, you know what you are putting on your skin. With natural ingredients like blueberries (what we used this time!) to brown sugar, shea butter, olive oil, coconut, distilled water, or natural colorants, there are so many ways to make homemade soap!
There are a lot of fun soap recipes out there, but today, I will give you the recipe for a yummy blueberry handmade soap! It not only smells amazing, but it leaves your skin refreshed and so soft! Nothing like natural handmade soap! Soap making has never been so fun!
Items You Will Need To Make Your Blueberry Handmade Soap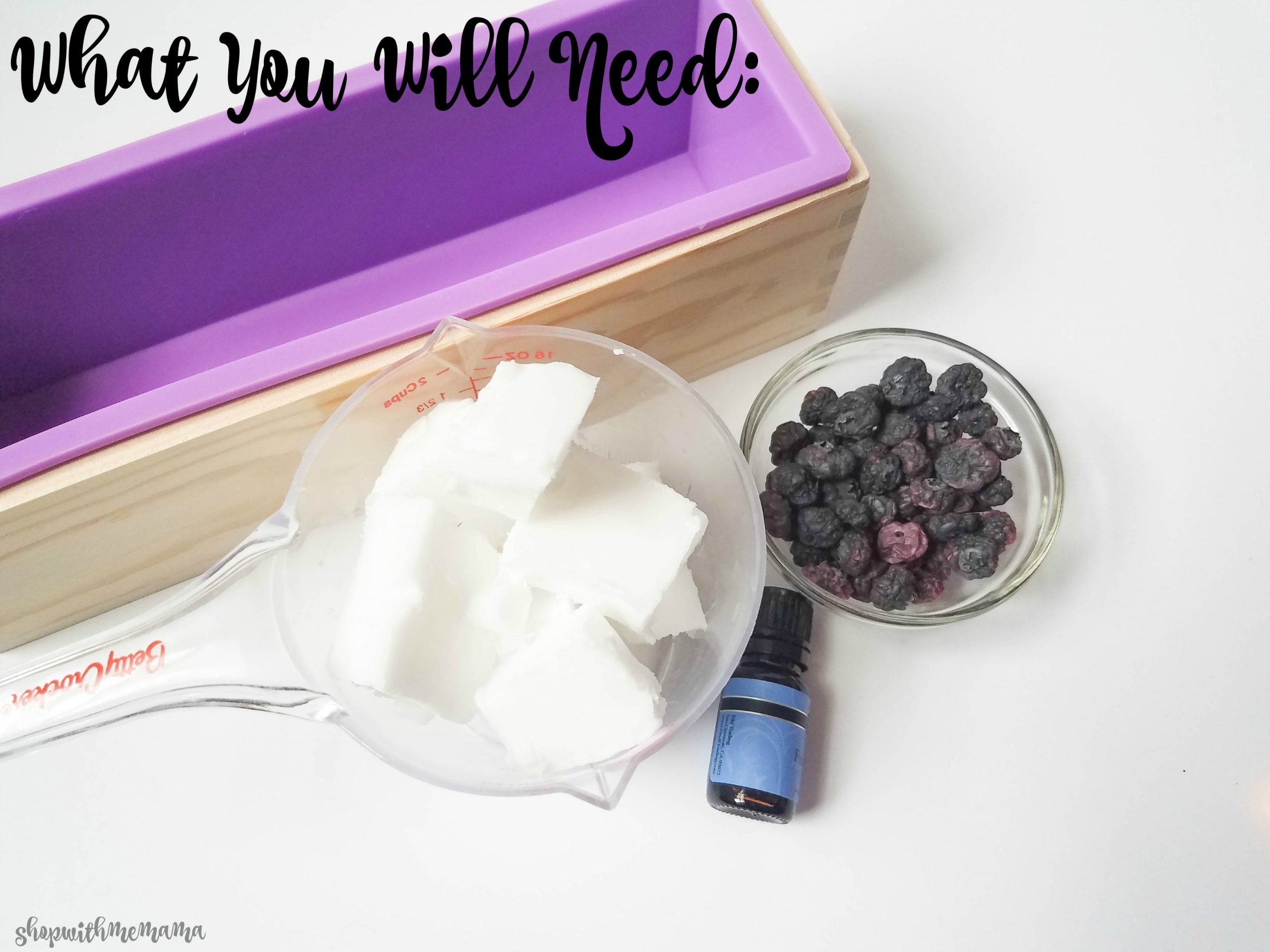 Ingredients/Supplies:
● ¾ pound melt & pour goat milk soap base
● ½ cup dried blueberries (or your preferred berry)
● 10 drops of blueberry fragrance oil
● Silicone soap mold
● Rubbing alcohol in a spray bottle
● Large Pyrex measuring cup
● Wooden stir stick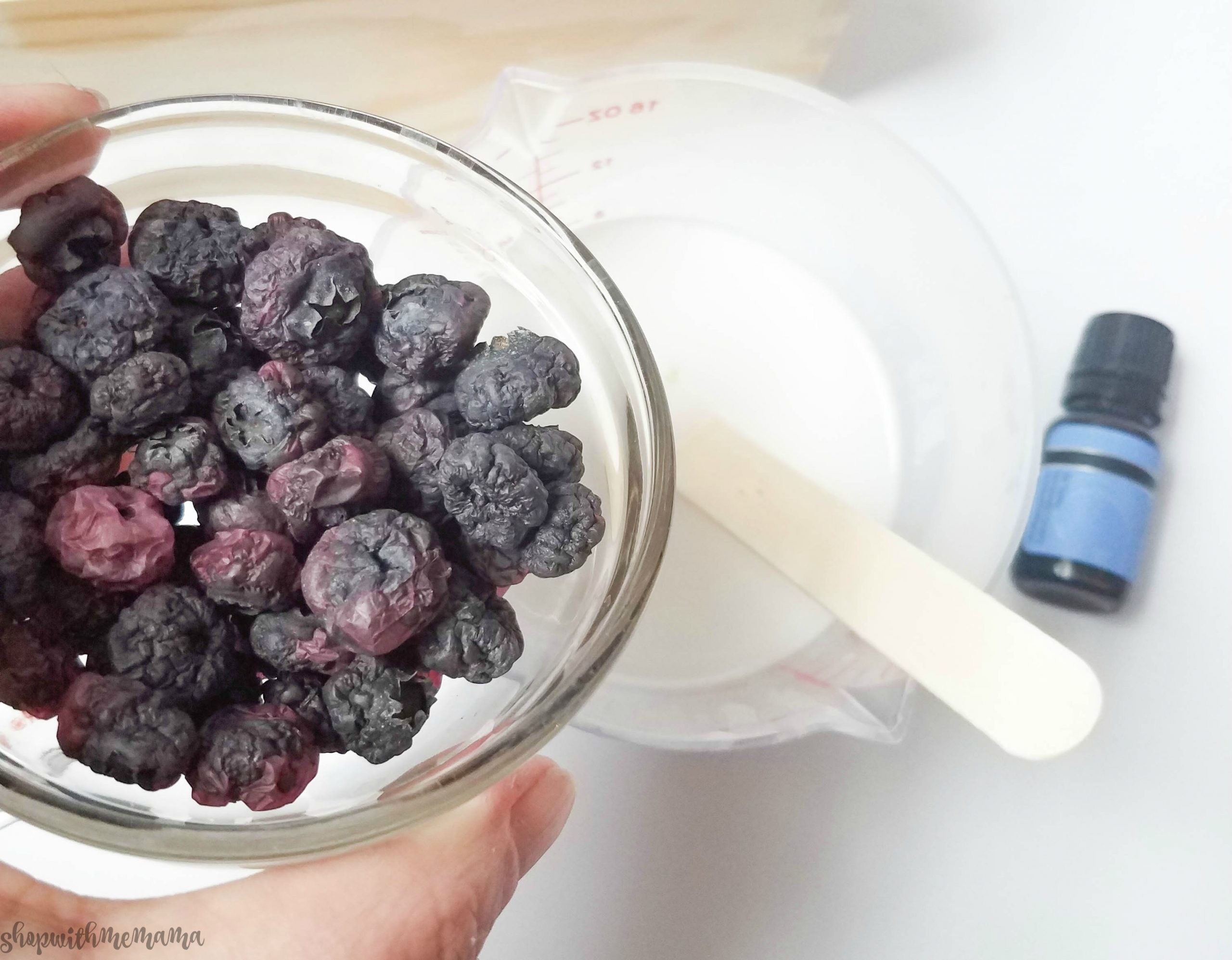 Directions To Make The Blueberry Handmade Soap:
1. Cut the soap into 1-inch cubes. Melt the soap in the microwave for 30 seconds. Stir. If it is not completely melted, put it back on for 10-second increments, until fully melted; stirring each time.
2. Add the dried blueberries
3. Add the blueberry fragrance
4. Mix well
5. Poor into the silicone mold.
6. Stir a bit to evenly distribute the dried blueberries.
7. Spray lightly with rubbing alcohol to reduce bubbles.
8. Let set for about 2-3 hours ( process soap )
9. Remove from mold. Using the straight scraper, cut the soap into 1.5-inch bars.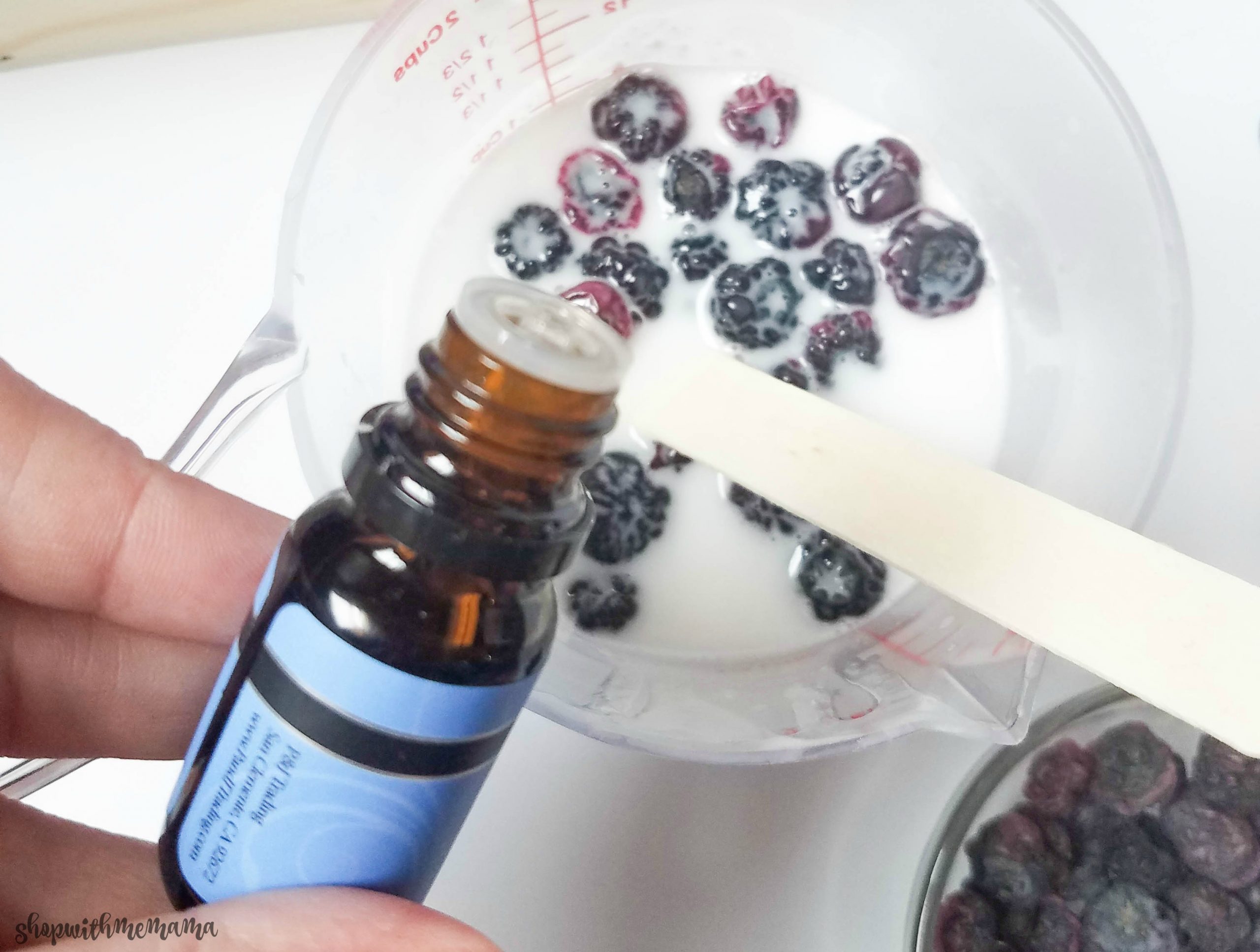 These blueberry handmade soap bars are perfect for anyone and would also make a really special gift for a loved one. Making your own soap at home saves you lots of money too. Grocery store soaps are not only harsh for your skin but the price points can be so high.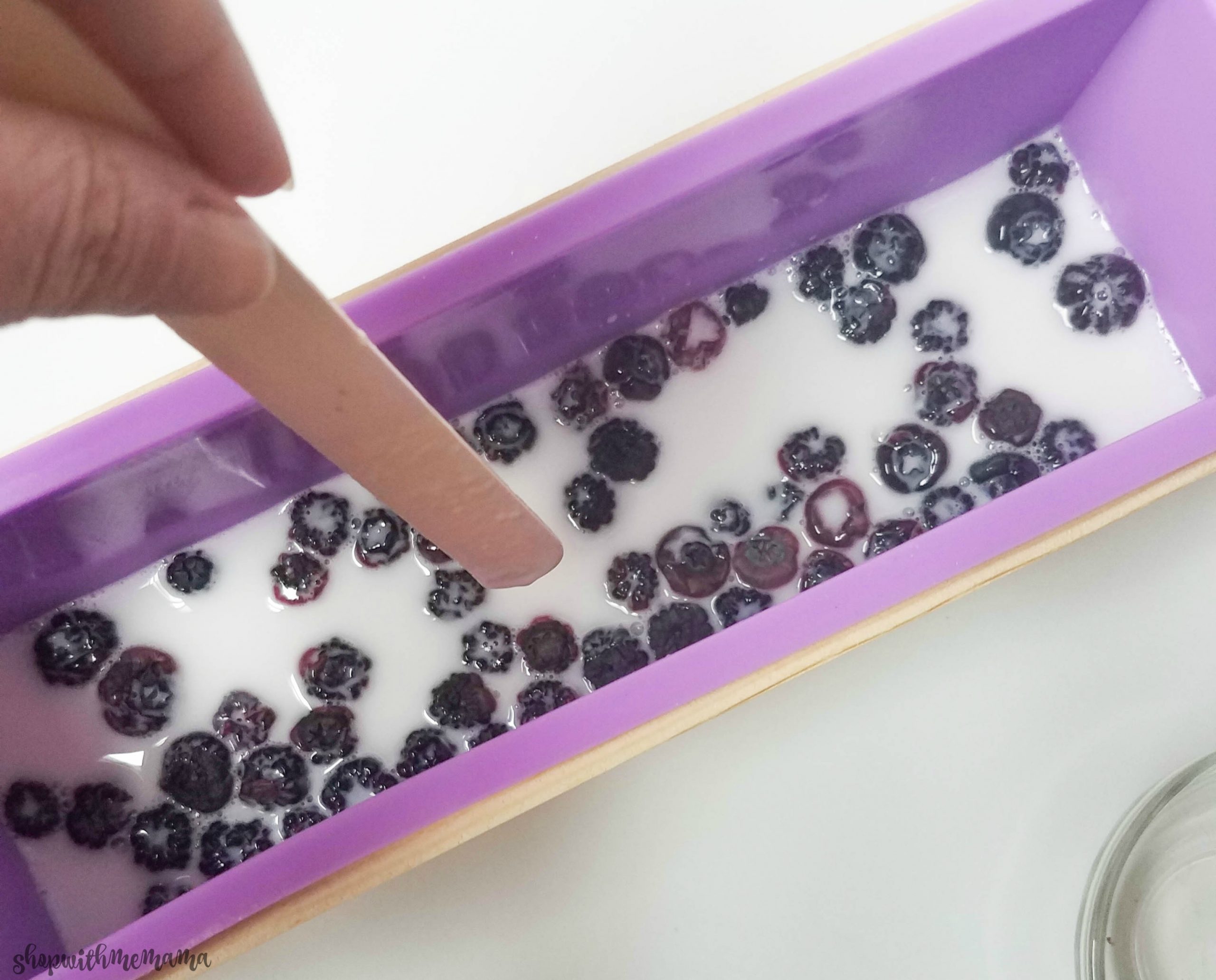 Helpful Tips For Making Blueberry Handmade Soap
Anyone can make handmade soap, right? True, but here are some very helpful tips for creating the most perfect handmade soap yet!
*Grease your molds before you start. This will make it much easier to get your handmade soaps out of their molds more quickly and easily!
*Wait a few days to clean your soap-making equipment. It is said that if you wait a few days to clean your soap-making equipment and soak them in hot water, you won't have to scrub them.
*Make sure you have plenty of rags and/or paper towels for quick cleanups
*Have all the measuring spoons on hand to easily grab and use
*Buy in bulk so you don't run out mid-way through making your handmade soap!
How To Store Your Blueberry Handmade Soap
It is important to store your handmade soaps in a soap dish or in the soap dish area in your tub or shower. That way, when you are done using the soap, the soap can air dry a bit. If you don't put it in a soap dish or tray, it might get really mushy on the bottom and it won't last as long. If you have extra handmade soaps that you have not used yet, I recommend putting them in an airtight container until you use them.
We hope you enjoyed this tutorial on how to make blueberry handmade soap. Be sure to share your photos of your finished product with us on social media!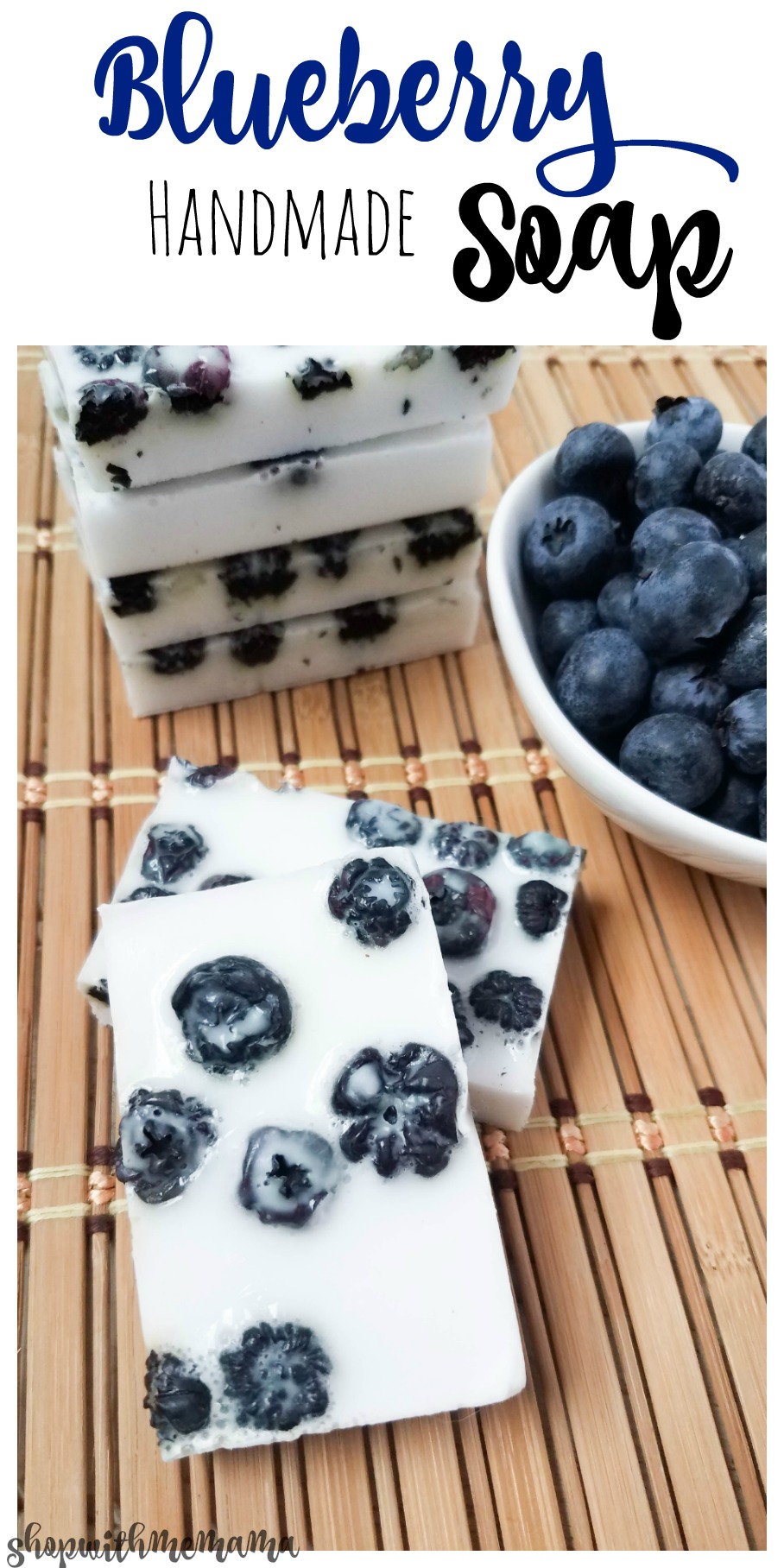 Have you ever made blueberry handmade soap before? What recipe is your favorite? What fragrance is your favorite?