I know we are all cooped up in our homes right now and getting pretty bored! Right? One thing I really enjoy is watching TV in my bedroom. Sometimes my back starts hurting though because my pillows are not very comfy when I prop myself up with them. But, I did find a VERY comfy bed lounger! It is seriously the best pillow for watching TV in bed! Now I am all set to watch my favorite Netflix shows (see below!) and be comfy doing it! Yay!
*This post includes my affiliate links.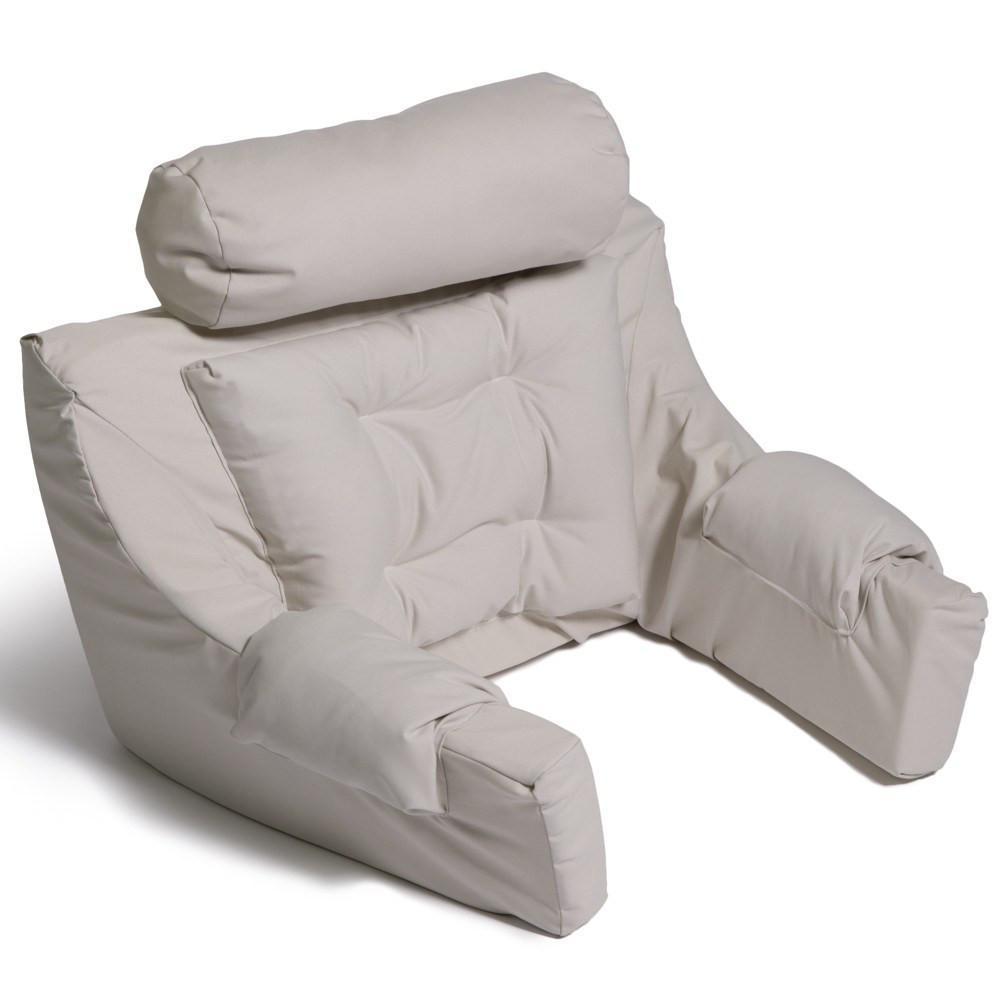 Nothing is worse than being uncomfortable. Since I have some neck issues, it is hard for me to get comfy at times. With my new bed lounger from domestify, now I can be comfy in my bed and have no more neck pains.
Best Pillow For Watching TV In Bed
This is the best pillow for watching TV in bed. I had another bed lounger way back before kids and loved it. But, through the years, it got stained and less supportive of my back. So, I had to finally get rid of it. I haven't had one since then until a few weeks ago when I was sent a new bed lounger to try out. I am SO happy I have this one.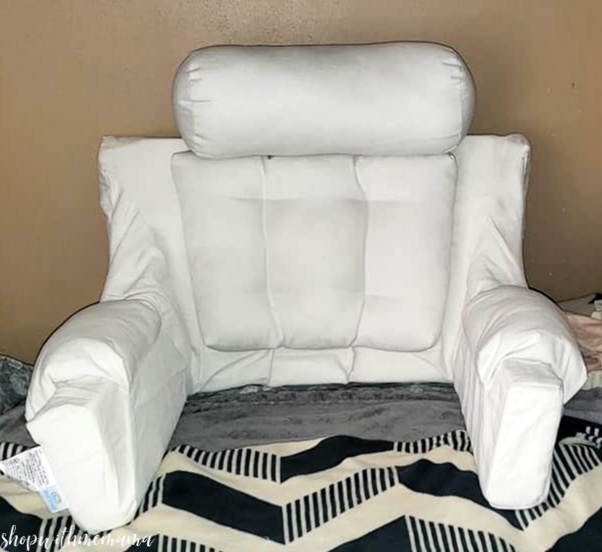 This reading pillow has awesome support and is really comfortable. It is a pressure-reducing lounger that lets you sit comfortably in bed for hours. It features a height-adjustable neck supporter (detachable neck roll). It has an ergonomically designed polyurethane foam frame, a softly padded back pillow, and cushioned armrests! Talk about a comfy lounger! I love it.
The bed lounger is ideal for reading, watching TV, or gaming, in bed (or anywhere, really!). The included back pillow and armrests just add another layer of comfort for you. This bed lounger comes in five different colors. I got mine in a natural color. But, it also comes in Navy, Grey, Coral Rose, and Sunflower Yellow.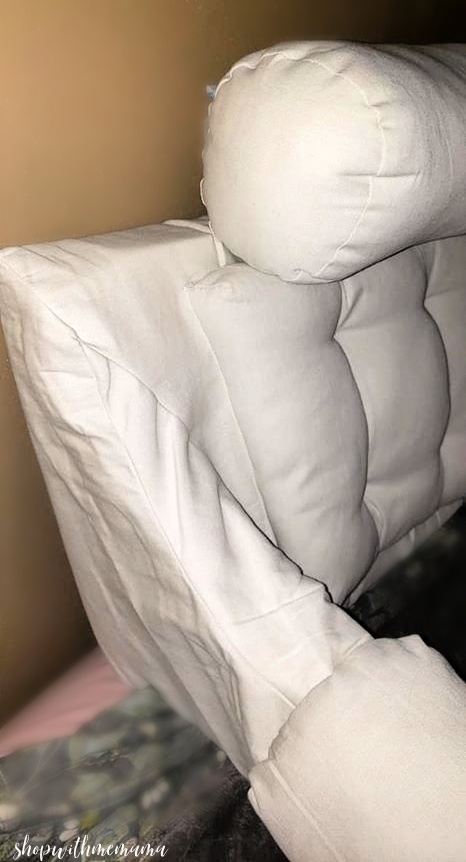 I love that the cover is machine washable. The cover is cotton and polyester. With my lounger being the natural color (a cream color), I know it will get dirty and possibly get a few unwanted stains on it (hey, I have kids!). So knowing that I can take off the cover and machine wash it makes me feel more at ease. The lounger is also a really nice size! It is quite big! I love that. It is 27″x21″x21″, so, a nice size for sure.
Having the best pillow for watching TV, has been a lifesaver for me. It is so much better than the bed pillows I was using to support my back and neck area. This lounger is supportive and sturdy. It is not flimsy or unsupportive at all. I love how firm it is (in all the right places for the support!) and how cushy and soft it is in all the places I need it to be. It is a great support pillow.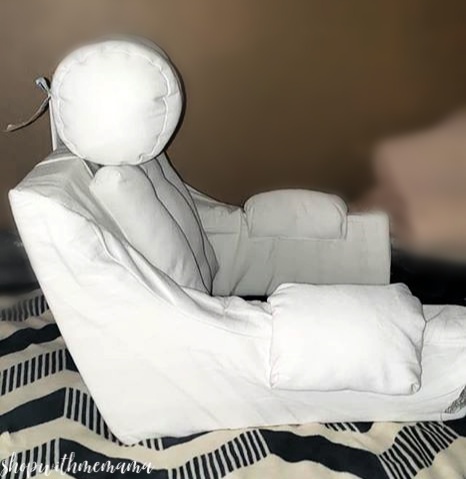 My hubby has acid reflux pretty bad, so at night, I will let him use this after he has dinner. It has helped with his acid reflux a lot. Of course, as soon as he feels a bit better, I grab my bed wedge and take it back! I don't want him to get too comfy with my new lounger! He tries to call it the 'husband pillow' but I quickly correct him! Haha!
Lots of Pillows And Cushions!
Domestify carries lots of bed loungers and pillows! I love the one I have, but below are a few other loungers and pillows to check out if you are in the market to buy one! Bath pillows, car seat booster pillows, and MORE.
*Deluxe Quick Dry Spa Bath Pillow. I have never had a bath pillow before but have always wanted one. We have a jetted bathtub and having a nice and comfy spa bath pillow would be so nice. The Deluxe Spa Bath Pillow has spa-level comfort and design.
The cushioned bolster cradles your neck and shoulders, while the strong suction cups keep the pillow secured to your tub. The special open-air-fiber construction circulates air and moisture while preventing mildew build-up.
*Car Seat Riser Booster Cushion. This is awesome for shorter people and for people who are traveling long distances. It is also wonderful for people with hip pain or back pain.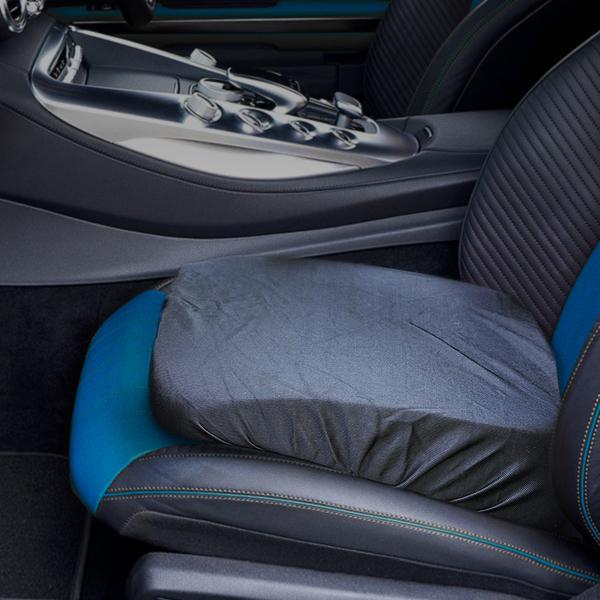 *Between The Knee Pillow. My hubby and I HAVE to sleep with a knee pillow. I know we are not the only ones! This is a contoured polyurethane foam cushion that fits perfectly to keep hips aligned and alleviates pressure on knees. It helps relieve pain and pressure on your lower back, hips, and knees and is ideal for side sleepers.
*Orthopedic Head and Neck Pillow. This pillow is great for people with neck pain (like me!). The Orthopedic Head and Neck Pillow is specially contoured for orthopedic support while providing allergy-free relief. It is lightweight and breathable, and the unique design has a raised outer edge that fills the gap between your head and neck to support the spine. The siliconized polyester fiberfill aids in preventing allergen buildup.
*Bed Wedge Pillow. The Bed Wedge Cushion is awesome for people who snore, have acid reflux, can't breathe due to allergies, and those individuals with respiratory problems. It is also good for individuals suffering from leg, ankle, or foot discomfort.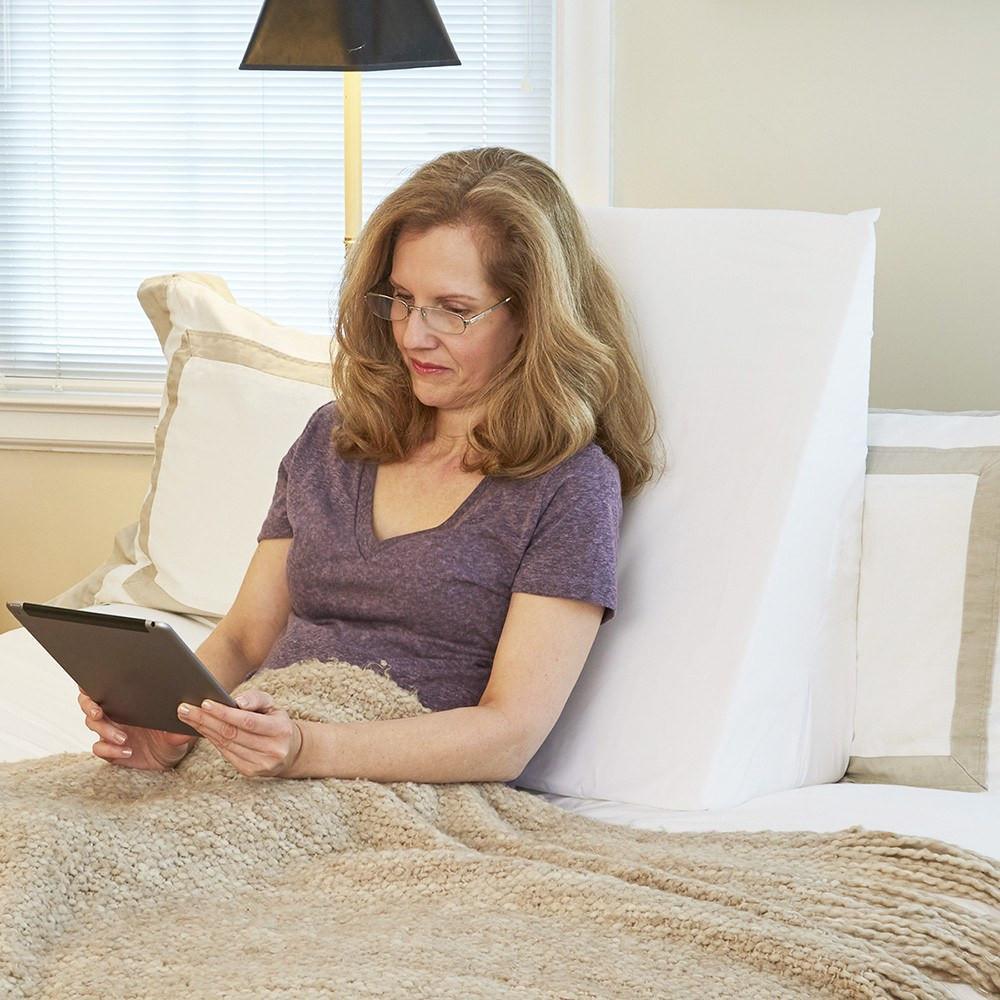 *Elevating Leg Rest. This leg rest pillow helps to improve circulation and reduce lower back pain by elevating your legs with "zero gravity" spinal alignment. It can help maintain your natural curvature of the lower spine and coccyx. It helps to keep ankles and feet above your heart level as you recline. The pillow provides eight inches of lift that can help back sleepers as well, and it includes a machine washable, removable cover.
Domestify has a lot of other products, besides pillows. They sell products like kitchen items, home, outdoor, health, and wellness products and they have a sales page where they have an array of awesome products on sale right now! That is a page I frequent often! Lots of awesome deals.
What Are The Best Shows To Watch?
I also wanted to share with you all, the best shows to watch on TV right now. With the quarantine going on right now, I am sure we could all use some TV show recommendations! Below, are some shows that I LOVE right now:
*OZARK. I absolutely LOVE this show on Netflix. My hubby and I just finished season 3 and it was SO good!! It is suspenseful, gripping and just full of great actors like Jason Bateman. OZARK is about how a financial adviser drags his family from Chicago to the Missouri Ozarks, where he must launder $500 million dollars in five years to appease a drug boss.
*Grey's Anatomy. I know you all have seen this show, right? It is an awesome, engaging show. My hubby and I are now watching season 16 and it is SO good. You can find this show on Hulu, ABC, Netflix, and other channels.
*Virgin River. SOOOO good! Searching for a fresh start, a nurse practitioner moves from LA to a remote northern California town and is surprised by what — and who — she finds. Stars Alexandra Breckenridge, Martin Henderson, Tim Matheson! You can find this show on Netflix.
*The Walking Dead. Duh! I absolutely LOVE this show. Zombies and sweaty, cute guys running around? Yes, please! You can find this show on Netflix, Sling TV, Philo (that is where we watch it), and Youtube.
*I Survived…Beyond And Back. I LOVE this show. It is about people who have died and come back from the dead. It is so interesting to hear their stories! I am watching it on Amazon Prime videos.
Those shows should get you started! Let me know if you watch those!
Buy The Best Pillow For Watching TV In Bed
You can purchase the best pillow for watching TV in bed, online on Amazon.com! So many to choose from!