Hey, fellow boot lovers! Today I want to talk to you about Boots That Keep Your Feet Dry And Comfortable! A brand that has caught my eye is HISEA. They've truly mastered the art of creating practical, durable, and incredibly comfortable boots.
From womens boots to kids boots and mens boots, they've got your family's feet covered (quite literally!). You can use this discount code on their website: Shopmama to get a 15% Off!!
HISEA is the go-to brand for all your outdoor needs, offering an array of boots for various activities. Whether you're a farmer, gardener, homesteader, or just looking for everyday boots, HISEA has the boots!
*This post includes my affiliate links
Boots That Keep Your Feet Dry And Comfortable
Tired of wet and dirty feet while working on the farm? Try HISEA's farming boots designed to keep your feet warm and dry. If you're a hunting enthusiast who's had enough of uncomfortable footwear, HISEA's hunting boots provide superior arch support to eliminate any discomfort.
And for those long working days, HISEA's work boots, fitted with durable steel or composite toes, are the perfect solution to keep your feet safe and pain-free. HISEA boots are built to last.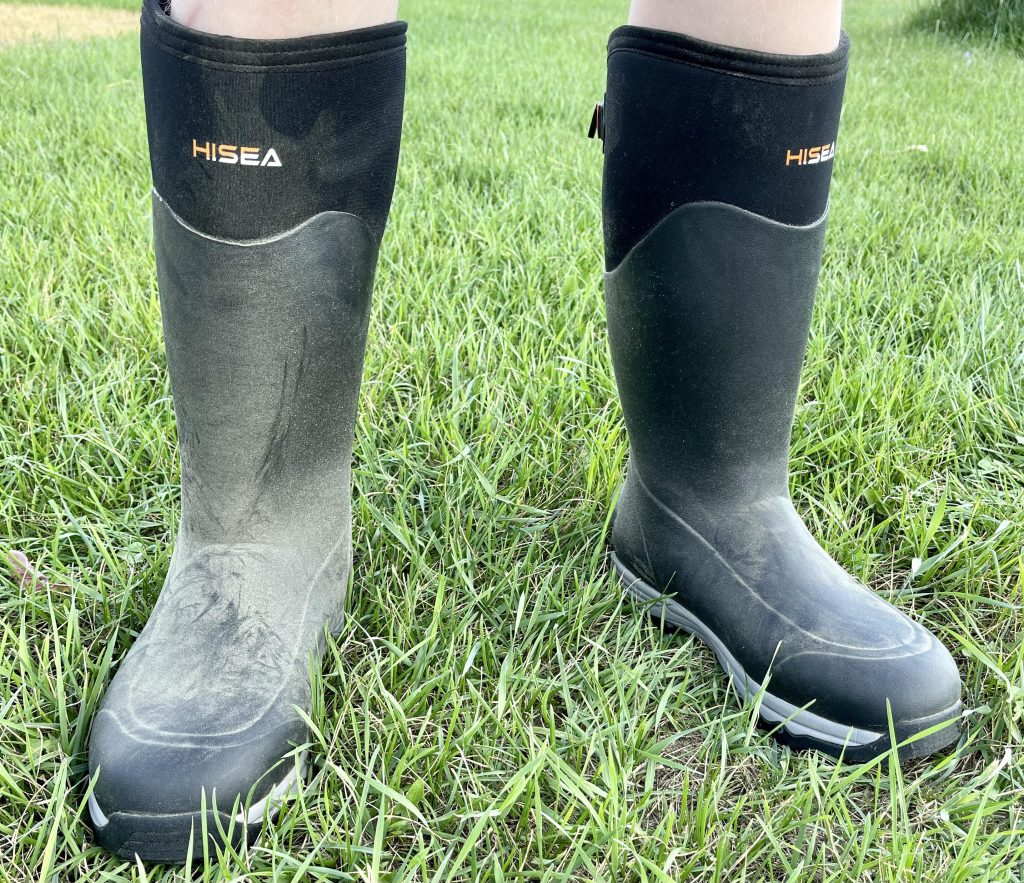 We were recently sent a pair of the HISEA Men's Moc Toe Safety Boots, Men's Rubber Working Boots with EVA Midsoles, And a pair of Kid's Neoprene Rubber Rain Boots to review, and let me tell you, they're a game-changer.
They're all sturdy, comfortable, and can take on any weather. Whether you are working in the garden or tackling a muddy trail, these boots have become our go-to footwear. Below, are my reviews of the three pairs of boots we received to check out.
Our Thoughts On The HISEA Men's Moc Toe Safety Boots
The HISEA Men's Moc Toe Safety Boots are so comfortable. My oldest son loves them and says they feel really great on his feet. They keep his feet dry and comfortable. They come in 6 different colors (my son got them in a dark brown color).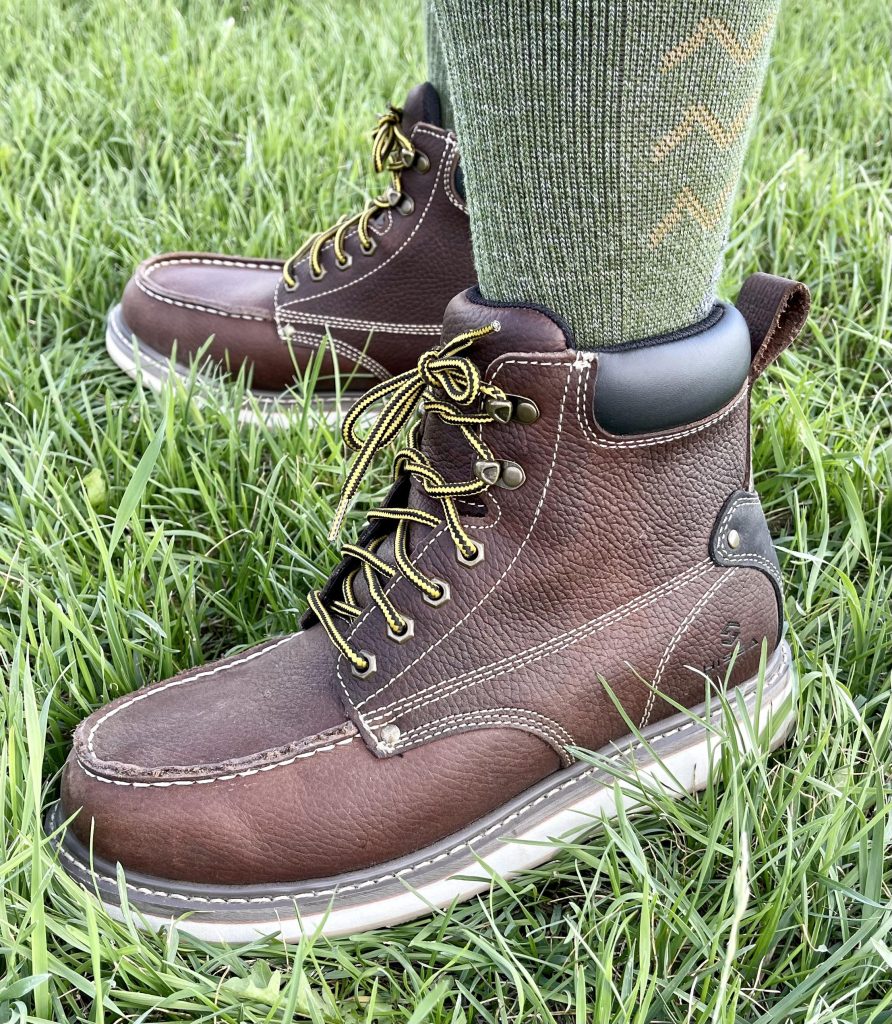 They're made of 100% leather and have a tough rubber bottom. What's cool about these boots is they're 7-1/4 inches high and built to be strong and last a long time. The boots can handle rough surfaces, don't let you slip, and can stand the heat. They're even safe around electricity.
One neat thing about these boots is how they're made. They've got this thing called a Goodyear welt. It's a strip of leather that goes around the bottom of the shoe.
It's sewn to the top part of the shoe and the inside part. And if you ever need to fix the sole, you can take off the welt without hurting the rest of the shoe!
And let me tell you about comfort. These boots have great arch support which protects your feet and keeps them from getting flat. The inside part that you can take out is made of this stuff called Polyurethane (or PU for short).
It's sort of bendy, helps fight tiredness, and absorbs shocks really well. So, all in all, these boots are great to wear and they keep your feet feeling nice and comfortable during a long, hard, day at work!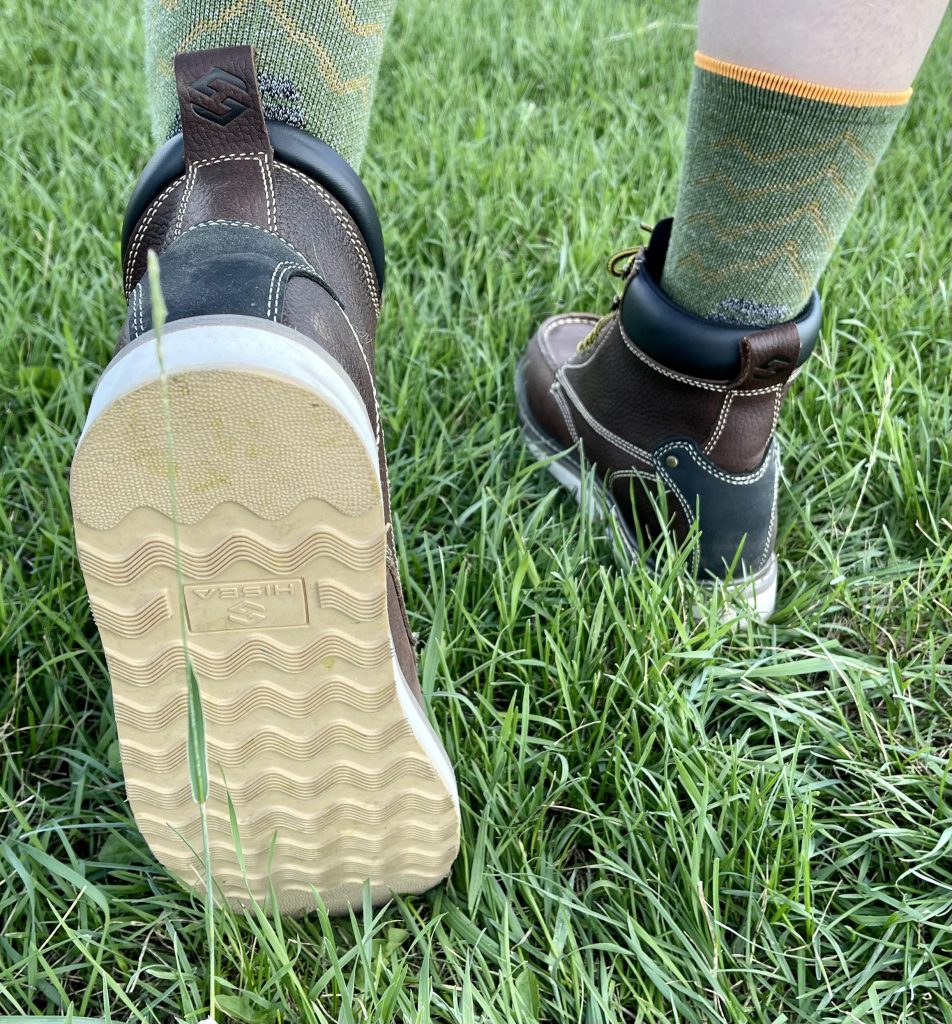 These HISEA Moc Toe boots my oldest son received to review, are made with workers in mind. They meet the standards set by ASTM D5963 and ASTM F2412/13, which means they're really safe to wear.
I can tell you firsthand that they stop my oldest son from slipping, they stand up to heat, and they even protect him from electric shocks. He is really glad he chose these boots!
Our Review Of The Men's Rubber Working Boots with EVA Midsoles
My husband received the HISEA Men's Rubber Working Boots with EVA Midsoles to review.! He says they're super light and have something called an EVA midsole that is really soft and bouncy, and gives his arches awesome support.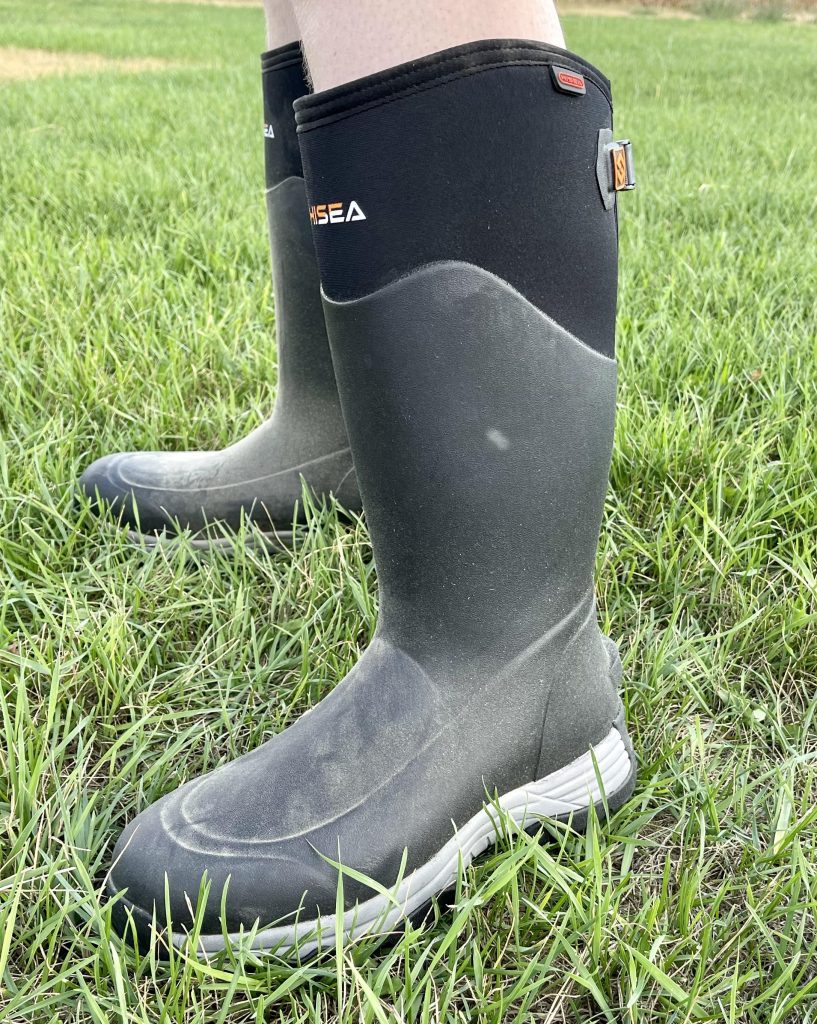 My hubby suffers from arch pain, so this was one of the reasons why we wanted to try out these boots because of the EVA midsoles.
The bottom part of the boot grips well on any surface, so there is no slipping around, and they are great on uneven ground. These boots are also really easy to clean!
Whether my hubby is at work or enjoying the great outdoors, these boots are a game-changer for him because they are so comfortable.
They are also both breathable and waterproof, so his feet stay dry, even in cold water and muddy conditions. They even keep his feet warm in really cold weather and cool in the heat.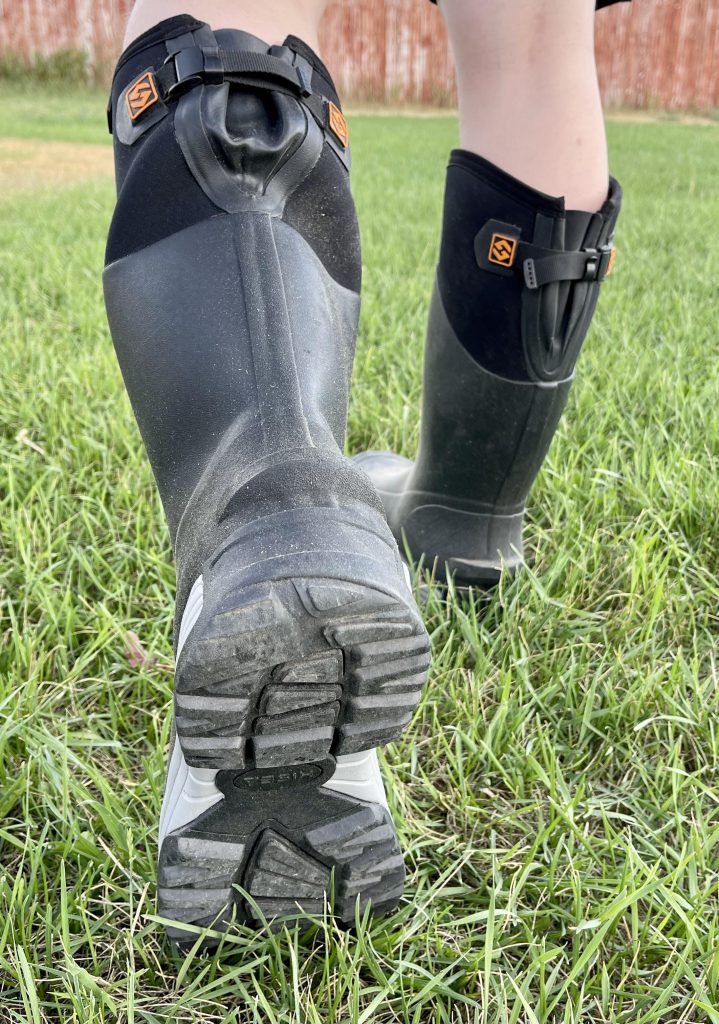 My husband also really likes the breathable mesh lining because it really helps wick away sweat and moisture, keeping his feet much drier than his old boots.
The boots also have this stretchy, waterproof foam that seals out water and fits his foot just right. The back of the boot has 'back gussets' and 'cinch buckles' that give him a snug fit. And, the top part fits snugly around his calf because of the adjustable buckle, that keeps the warmth in and the cold out.
My hubby can't say it enough, these HISEA boots are really the best. They keep his feet dry, warm, and they're ready to take on any tough situation. Highly recommend!
Review Of The HISEA Kid's Neoprene Rubber Rain Boots
If your kids need new boots, HISEA is a great choice. The kids' range is just as impressive as the women's and men's boots section. With the same durability and comfort as the adults' range, these boots are perfect for little explorers and budding gardeners.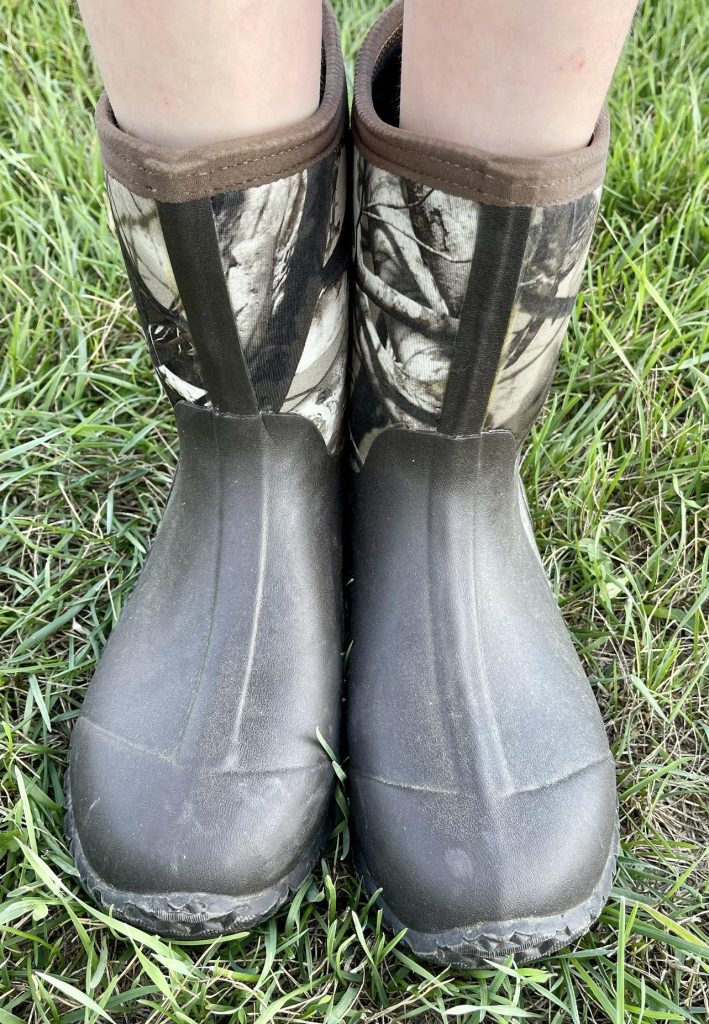 My youngest boy received the HISEA Kid's Neoprene Rubber Rain Boots and just loves them! They've been perfect for all our outdoor adventures so far this year. They're made of this 5mm flex-foam material and have a stretchy nylon layer.
This combo makes the boots super bendy and good at absorbing all the shocks and tumbles. Plus, they keep feet protected from the elements like water, mud, etc.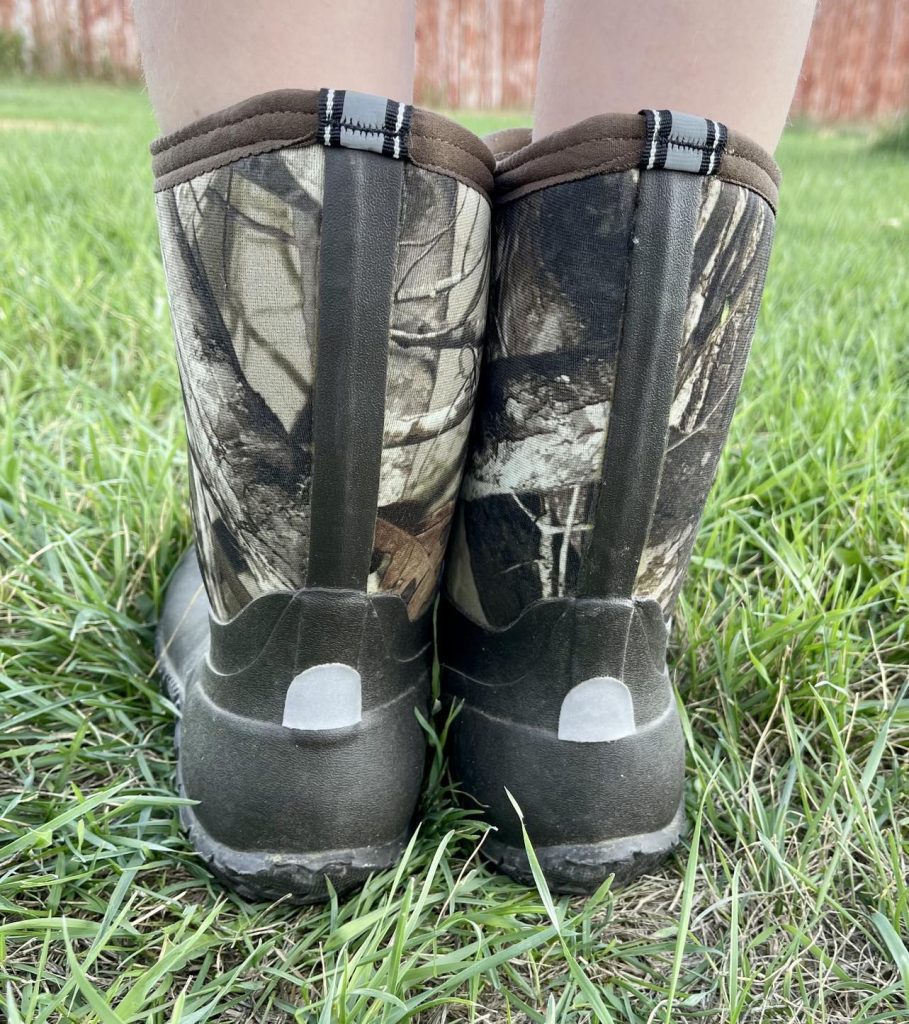 The breathable mesh lining is great for warm days when your feet sweat like crazy. It lets air flow all around inside the boot, keeping my kids' feet drier than in their old boots. My boy says these boots are comfortable and he says he can run and play well in these boots.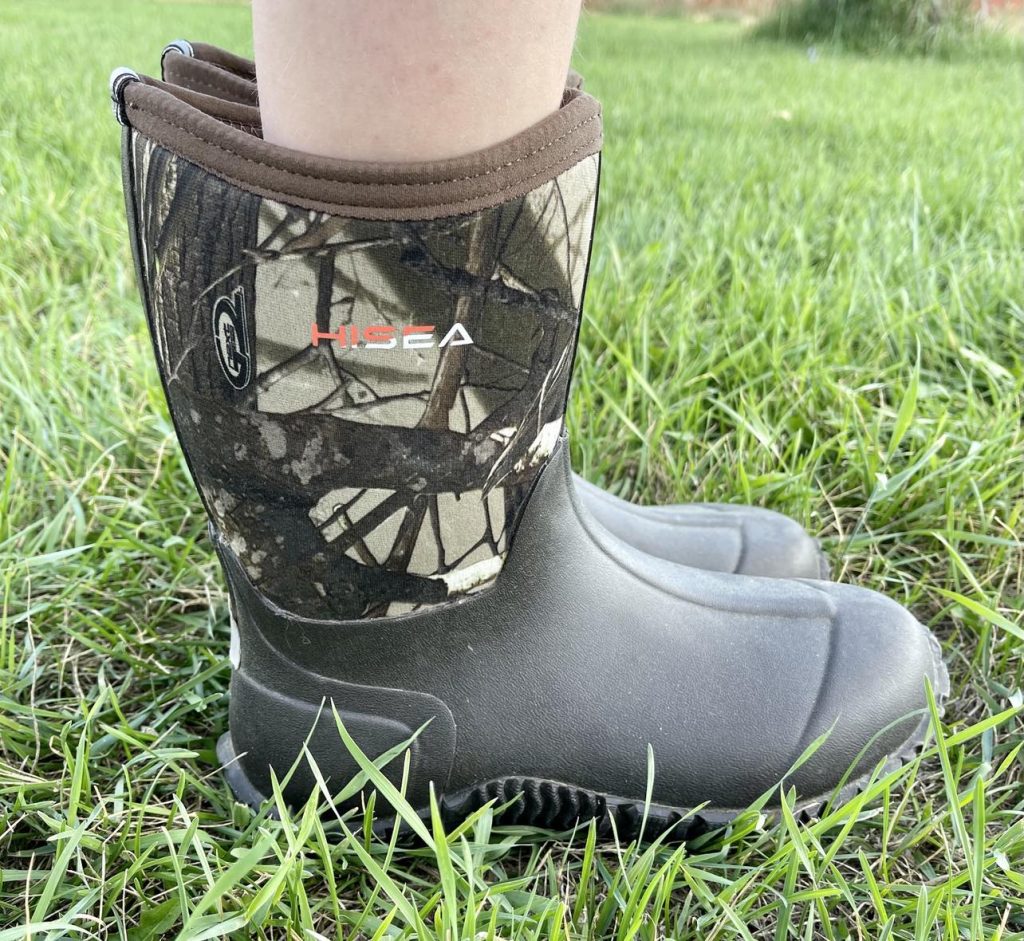 The bottom part of the boot is made of non-slip rubber, so it grips really well on all kinds of ground and terrain. It's great because it gives my child steady footing no matter the season.
The boots also come with a 100-year lifetime warranty (they all do!), which is pretty amazing. All in all, these boots have been a hit with my little boy and we would totally recommend them!
My husband and two sons are loving their new HISEA boots. They are big fans of these men's work boots, safety boots, and rain boots. They're reliable, tough, and designed to last! These boots are perfect for their busy days working (or playing!) outside in the mud and elements.
So, if you're in the market for some new boots That Keep Your Feet Dry And Comfortable, I can't recommend HISEA enough. Whether you need them for work, rain, or outdoor adventures, these boots are the perfect blend of practicality and comfort.
Buy (And Coupon Code!)
You can purchase the HISEA Boots on Amazon.com (they have a storefront!) or on their website. You can use the coupon code: Shopmama to get a 15% Off discount →(for only products on their main website).
Win!
One person is going to win a pair of HISEA Kid's Boots, any pair from their website!
Rules
The contest is open to the US, 18+. The giveaway will end on August 20, 2023, at 11:59 PM. I am not responsible for lost or stolen mail.