In this blog post, we will talk about how to remove makeup every night. I use STRIP Makeup Better Than Naked Set to take off my makeup each night. It is really important to clean your face at night! Taking off your makeup before bed is an essential part of any nighttime skincare routine, and a lot of people don't realize just how important it is. Not only does it help you maintain good hygiene and keep your skin looking fresh, but it can also have long-term benefits for the health and appearance of your skin.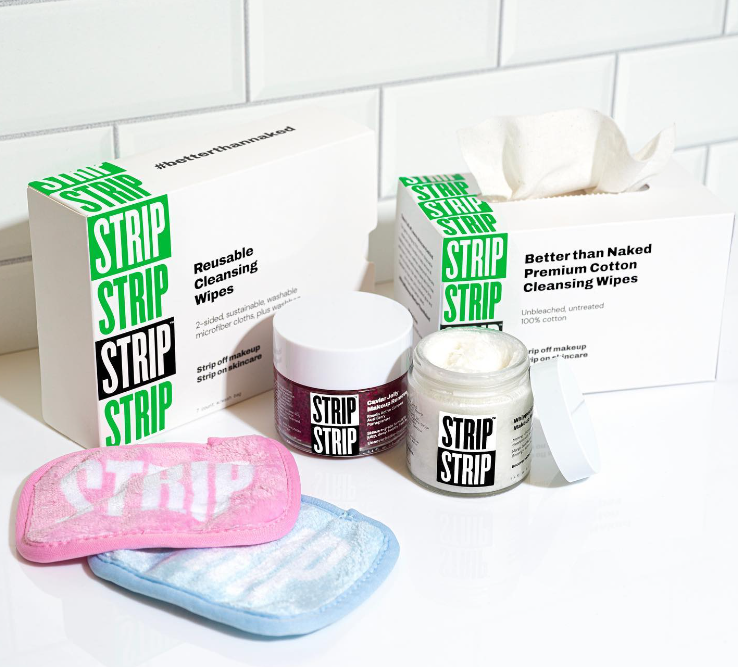 How To Remove Makeup (And Why It Is So Important)
Let's dive into why washing off your makeup every night is so important!
The Most Obvious Reason – Hygiene
The most apparent reason to wash your face and get off all of your makeup is that it helps keep your skin clean and free of dirt, oils, and bacteria. Any residue left behind on the skin can block pores, leading to breakouts or inflammation. Removing your makeup every night prevents this buildup of bacteria and keeps pores clear and healthy.
Plus, not washing your face nightly could leave you looking less than fresh come morning! The combination of sweat, sebum (natural oil), and ingredients from cosmetics like sunscreen can react negatively with each other when left on overnight – leading to redness or dry patches that need extra care in the morning.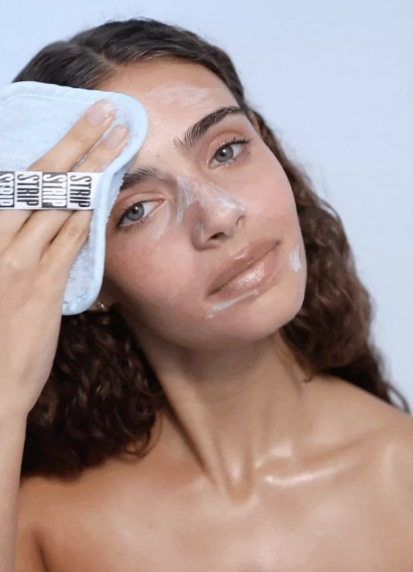 Long-Term Skin Benefits
In addition to keeping skin clean in the short term, taking off makeup at night also has long-term benefits for the appearance of your skin. Over time, leaving foundation on overnight can clog pores which leads to blemishes or discoloration along with dullness in overall complexion due to increased cell turnover rates caused by clogged pores.
Additionally, leaving eye shadow or mascara overnight increases the risk of infection from bacteria that accumulate during sleep hours leading to an unpleasant complexion in the morning. This vicious cycle only exacerbates blemishes over time; washing away excess oil while cleaning deep down in pores will help you avoid problems like enlarged pores or acne breakouts down the road.
In general, properly removing makeup will help slow down the aging process by preventing wrinkles caused by dehydration when moisturizers are not properly applied over a clean surface.
Finally, not washing away residue means you won't be giving yourself a good canvas for applying new makeup in the morning either! You want a smooth surface with no smears or blotches so that when you put on foundation or even just have moisturizer or primer on there aren't any issues with uneven coverage that could cause patches to look muddy or cakey after blending.
For all these reasons it is crucial to make sure you are washing your face every single night before bed as part of your skincare regimen – no matter how late at night it gets! A little extra effort now will save you a lot of trouble later.
STRIP Makeup | Better Than Naked Set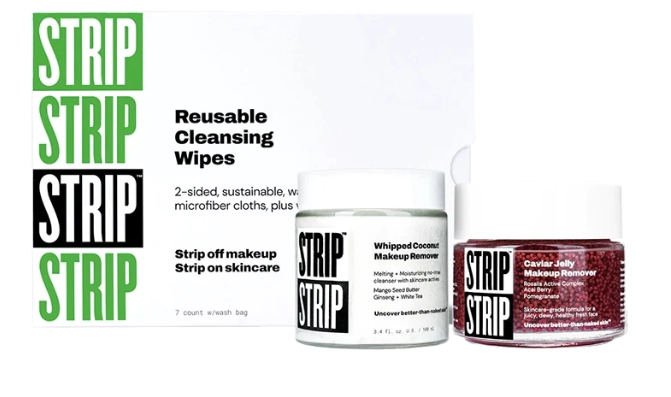 What Should I Use To Take Off My Makeup?
Great question! As I stated above, I have been using STRIP Makeup Better Than Naked Set which has everything I need to get a clean, soft-looking, and feeling face, every night! I love this set so much!
STRIP Makeup is a new beauty brand and its mission is to redefine and harness beauty's most important (and most neglected) step – cleansing. Their products are helping you achieve "better than naked" skin.
My daughter and I have sensitive skin so finding products that don't sting or hurt our skin is often difficult to find. But, the STRIP Makeup Better Than Naked Set of skincare cleansing products doesn't hurt our skin or make it feel tight or burning feeling.
Here Is What Comes In The STRIP Makeup Better Than Naked Set:
Caviar Jelly Cleanser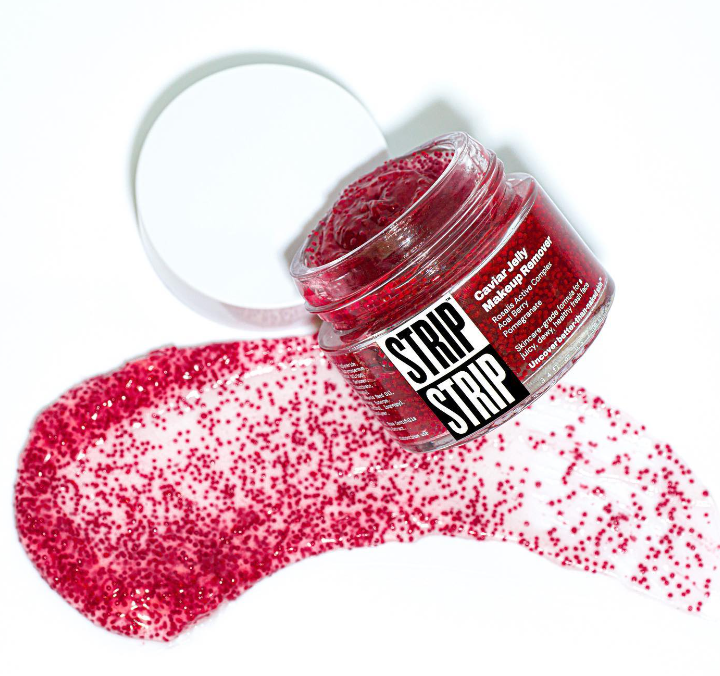 This set comes complete with a gentle, yet powerful makeup remover, Caviar Jelly Cleanser. This is a makeup remover that effortlessly erases all traces of makeup as it nourishes your skin. This cleanser leaves your skin clean and buttery soft.
The antioxidant- and the prebiotic-rich formula feels featherlight and rinses or wipes clean. The revolutionary hero ingredient is "Caviar Bubbles" which encapsulate powerful actives, like hydrating Rosaliss Active Complex plus acai berry and pomegranate extracts, to visibly brighten, tighten, and even out skin tone as they rejuvenate, refresh, and aluminize your skin. Use in the evening to luxuriously remove dirt, oil, and makeup or in the morning as a glow-getting base for color.
Whipped Coconut Makeup Remover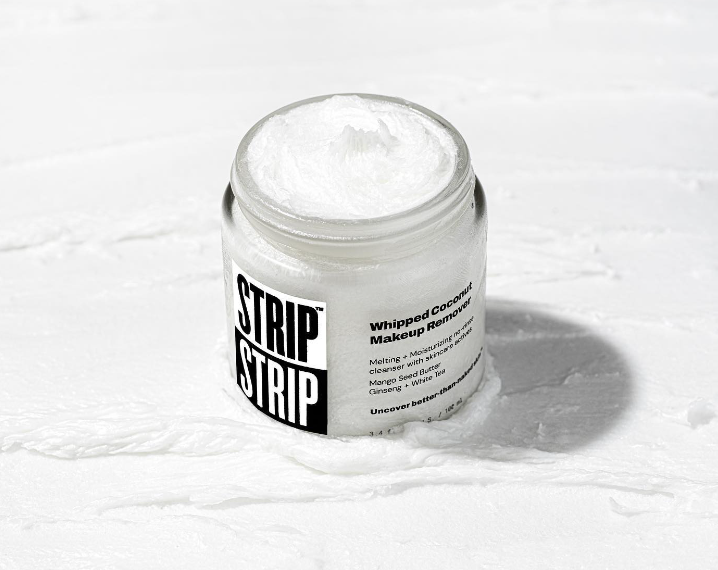 I love the Whipped Coconut Makeup Remover! This innovative formula is packed with so many skincare-grade ingredients, we feel bad just calling it a "makeup remover." Its game-changing, oil-based, whipped wonder melts away makeup as it moisturizes, plumps soften, and evens your complexion. Its ethereal coconut scent creates an instant self-love moment and its fluffy, cloud-like texture feels smooth as butter.
Your skin's microbiome will be jumping for joy as this skincare-forward cleanser restores vitamins and micronutrients, increases circulation, rehydrates your skin, and boosts collagen production. Your routine will never be the same after this game-changing, oil-based, whipped wonder. If that's not self-love then we don't know what is!
I will use it whenever I want that post-Strip glow and that dewy, luscious, silky look of dreams! My face loves this stuff!
Reusable Cleansing Wipes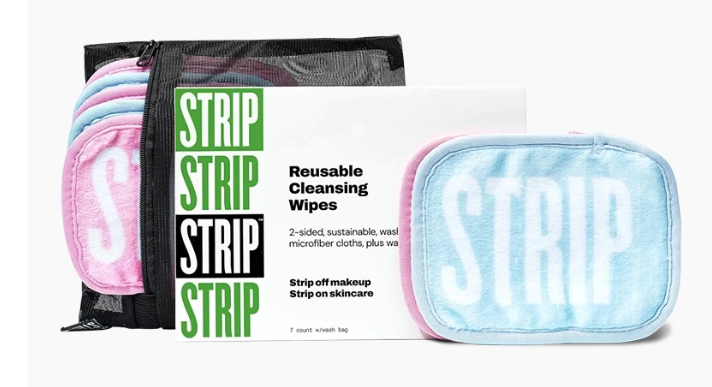 Sure, you could use an ordinary face towel to attempt to sweep away all the dirt, oil, and makeup your face accumulates in a day… or you could use these game-changing, double-sided reusable wipes made up of millions of tiny, hair-like fibers to attract and pull makeup from pores literally like a magnet!
One ultra-soft side erases dirt, oil, and makeup, the other side exfoliates for 2-in-1 cleansing magic. Pair with your favorite Strip cleanser for that dewy, juicy, hydrated glow and skin that looks better naked!
All of these products I received to review work so well on my skin and always leave my face with so soft and clean feeling. I almost feel as though I don't need a moisturizer after using these products only because they are already so moisturizing! In the dead of winter, having more moisture on your skin is definitely the way to go!
Do you know how to properly remove your makeup? Let me know in the comments below and tell me what products you use each night!
Buy
You can purchase these amazing face-cleansing products online at https://www.stripmakeup.com/. The STRIP Makeup Better Than Naked Set retails for $96 (on sale right now from $112!).