If you are ready to embrace the cozy vibes of fall in your home, then you need to check out Happy Wax's Fall Wax Melts Collection! Their wax melts are all eco-friendly wax melts made from soy and they make all of their wax melts with all-natural organic soy wax and essential-oil-infused fragrances.
Plus, all of their wax melts are proudly paraben, paraffin, and phthalate-free! That is what I love most about Happy Wax!
*This post includes my affiliate links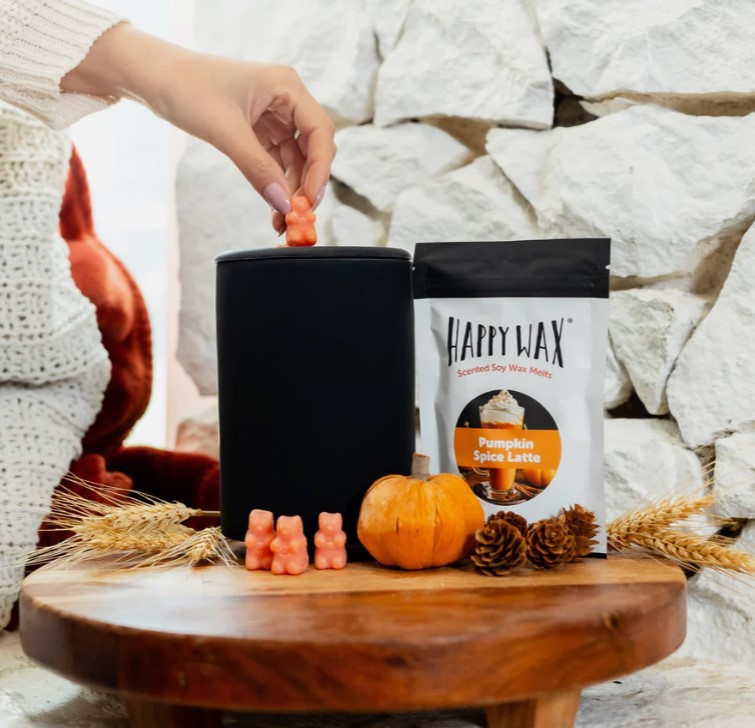 Happy Wax has quite an assortment of new fall wax melts scents to choose from! I received the Happy Wax Autumn Breeze, Pumpkin Spice Latte, and their Apple Jam Dounut and they all smell SO amazing!
Along with the fall wax melts, I also received two Happy Wax Warmers; Himalayan Salt Wax Warmer, and their Mod Happy Wax Warmer in the color Opalescent. Oh my goodness they are beautiful!
The Himalayan Salt Wax Warmer is SO heavy and it lights up so so pretty! I am really big on salt lamps and this wax warmer salt lamp did not disappoint! It is quality-made and looks SO nice in my living room!
The Mod Happy Wax Warmer in the color Opalescent is so beautiful too! I have this one in my kitchen on my counter. Though it would look great in any room! It is white with opalescent colors and it really is pretty!
Happy Wax Mod Wax Warmer Details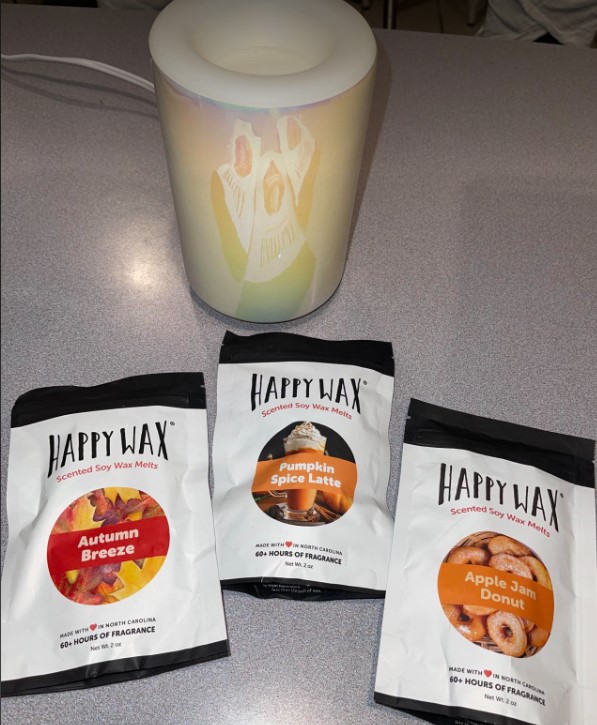 *3-6-9 Hour Auto Shut-Off Timer
*"No-Scrape" Wax Melt Removal Dish
*Built-In Ceramic Heater
*Compatible With All Wax Melts
*Warm, Soft, Ambient Glow
* Comes in these different colors: Black, Blue Pearl, Bone, Clay, and Copper Dip are opaque and do not emit a glow
Himalayan Salt Wax Warmers Details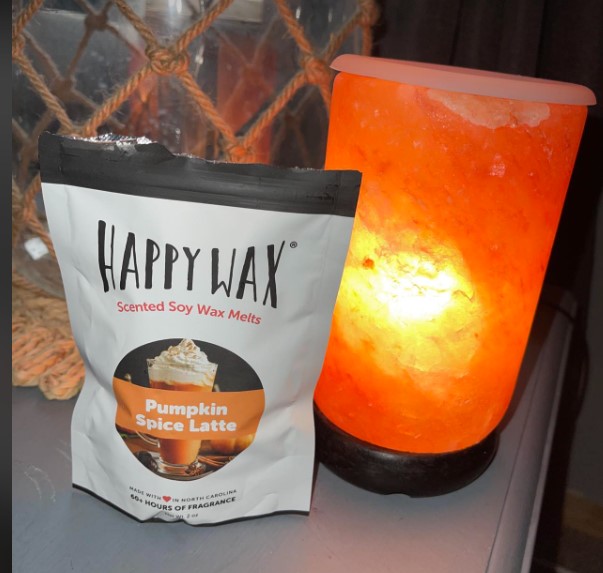 *Handcrafted, Himalayan Salt Lamp Wax Warmer: Cut near the foothills of the Himalayas, Pink Himalayan Salt gets its rosy hue from trace minerals found in the salt. White Himalayan Salt also includes over 84 different trace minerals, as well as negative ions.
*3-6-9 Hour Auto Shut-Off Timer: With settings for 3, 6, and 9 hours, our automatic shut-off timer feature allows you to easily manage the duration of your fragrance delivery.
*"No-Scrape" Wax Melt Removal Dish: Flexible silicone allows you to remove used wax from your melter quickly and easily—wax pops right out of the dish, no clean-up required!
*Warm, Soft Glow for Ambient Lighting: The steady glow from the included 40W candelabra bulb provides soft, ambient lighting.
*NEW! Temperature Settings: Control the intensity of your fragrance with our new low, medium, and high-temperature settings.
NEW! "On" Setting: You asked, and they listened! You can now leave your wax warmer on for as long or as little as you please with the new "On" button.
*Compatible With All Wax Melts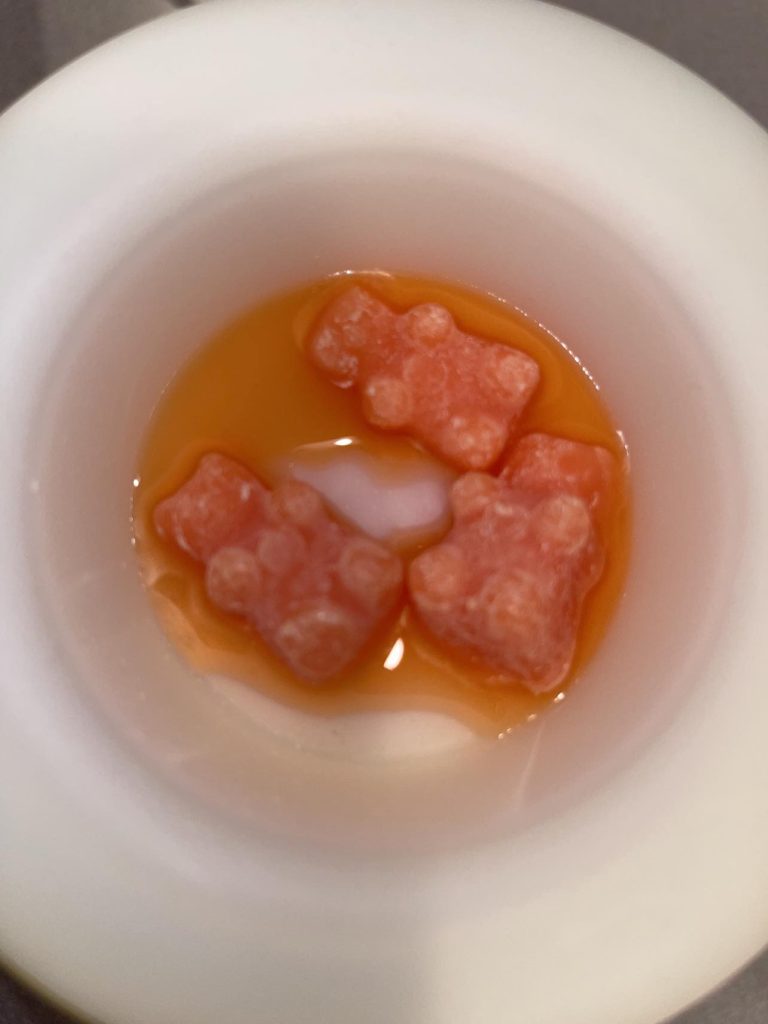 Note: Please note there may be irregularities in the cut and color of each warmer. Wax melts are not included.
The Happy Wax Difference:
Since 2014, they have been redefining home scent. Their all-natural soy wax melts are produced by hand in Hillsborough, North Carolina.
*Made proudly in the USA
*Healthier, happier formula
*Seriously scented!
The Happy Wax Warmers melts wax fairly quickly and soon your home will smell SO good!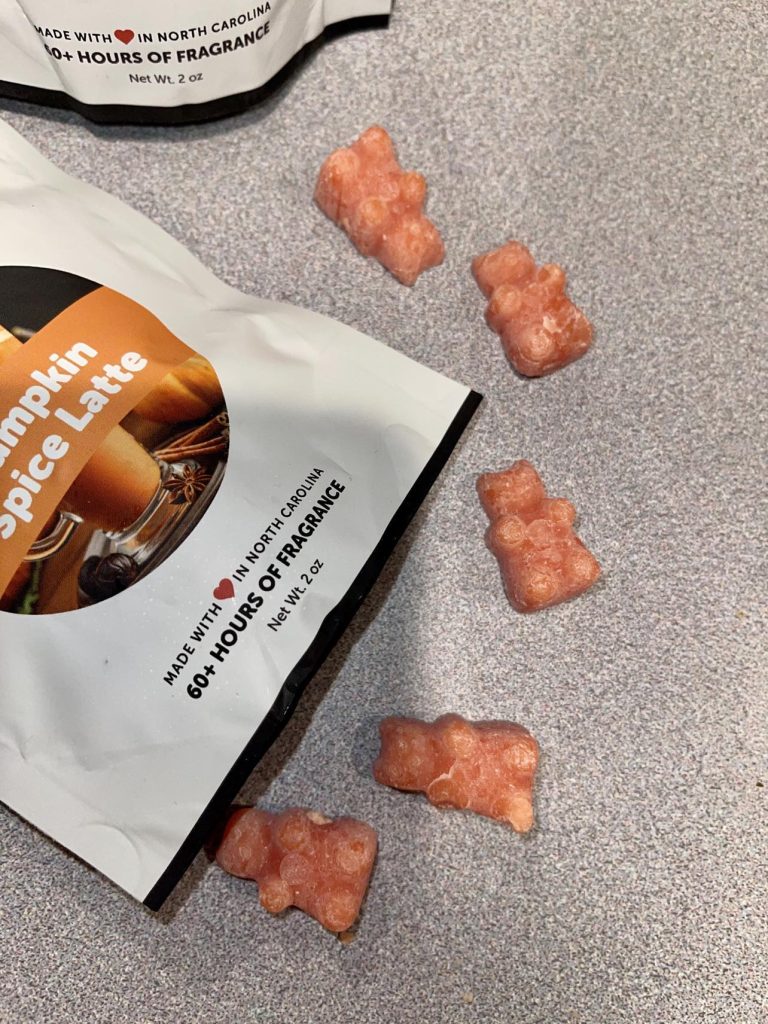 The Pumpkin Spice Latte scent is perfect for those who love the warm and spicy aroma of pumpkin spice, while the Autumn Breeze scent offers a fresh and crisp scent that will remind you of a cool autumn day. The Apple Harvest scent is perfect for those who love the sweet and fruity aroma of fresh apples.
The other fall scents that Happy Wax also offers are; Cinnamon Chai, Spiced Latte, and Fall Woods. Each scent is made with love in Hillsborough, North Carolina, and comes in eco-friendly packaging.
What sets Happy Wax apart is its commitment to using natural ingredients that are free of harmful chemicals. Their wax melts are made with natural soy wax, which is a renewable resource that burns cleaner and longer than traditional paraffin wax.
Plus, their scented wax melts are infused with essential oils and free of phthalates, which are chemicals commonly found in synthetic fragrances that can be harmful to your health.
Happy Wax Fall Wax Melts Scents
I think I used 3 little soy wax bears (they are SO cute!!) and just that amount made my whole living room smell absolutely amazing! Usually, when you buy things that are natural or non-toxic the scent just isn't there. But, with Happy Wax, their wax melts smell SO good and make your whole room and home smell so dang good too!
Below, are all of the Happy Wax Fall Wax Melts that they carry. I NEED to get myself ALL of them! If they smell anything like the three autumn wax melts I was sent, then yes, I need to have all the fall scents!
Fall Wax Melts Scents
Spiced Amber
Caramel Apple Toddy
Rum Raisin Liqueur
Harvest Brandy
Fall Woods
Salted Caramel
Autumn Breeze
Pumpkin Spice Latte
Mulled Cider
Apple Jam Donut
Apple Berry Shortbread
Apple Picking
Pumpkin Maple Crunch
Pumpkin Souffle
Toasted Pumpkin Marshmallow
White Cinnamon Pumpkin
Pumpkin Cupcake (Would be a great scent for Halloween!)
Coconut Creme + Pumpkin
Apple & Pear
Pumpkin Pecan
Cranapple Marmalade
Cinnamon Chai
Hazelnut Coffee
And of course, you can bundle them and mix and match! So much better than air fresheners or toxic-scented products from other brands to make your home smell good. Do it the better way and buy from Happy Wax!
Happy Wax warmers and their non toxic wax melts would make a wonderful gift for a loved one this upcoming holiday season! I know it is early to talk about the gift-giving season, but it will be here before we know it so might as well throw out some amazing suggestions for you!
Video Of Happy Wax Warmer And Fall Wax Melts
Frequently Asked Questions About the Happy Wax Warmers (FAQs)
How many bears should I be melting in my warmer?
Happy Wax recommends starting with 1-2 of our scented soy wax melts in our Mini Mod and Outlet Wax Warmers. For larger warmers, like their Signature and Mod Warmers, they recommend starting with 2-3 of their scented wax melts and increasing based on your preference. Their wax melts warmers are compatible with all scented wax melts, cubes, and tarts!
What are the differences between the Mod Warmer and the Signature Warmer?
Both their Signature Wax Warmers & Mod Warmers are large tabletop wax warmers. They both feature a 3-6-9 hour auto shut-off timer, include a silicone dish, and can fit up to 6-8 Happy Wax bears.
What makes their Mod Warmer different is its sleek design. The timer buttons are placed on the power cord as opposed to the base, so you can keep them hidden out of sight.
Can Happy Wax Warmers be used with essential oils?
Their wax warmers are specifically designed for use with wax melts, so they do not recommend the use of any other products with them.
Oils may require different temperatures or diffusion techniques for which their warmers are not suitable. They recommend only using wax melts in their wax warmers.
What type of bulbs do Happy Wax warmers use?
The Happy Wax Outlet & Outlet Timer Warmer – E12 Incandescent Bulb 120V/15W
The Happy Wax Himalayan Salt Warmer – 40W Incandescent, Candelabra Bulb
The Happy Wax Signature Warmer (purchased before April 2019) – Halogen Bulb 120V/25W GU10+C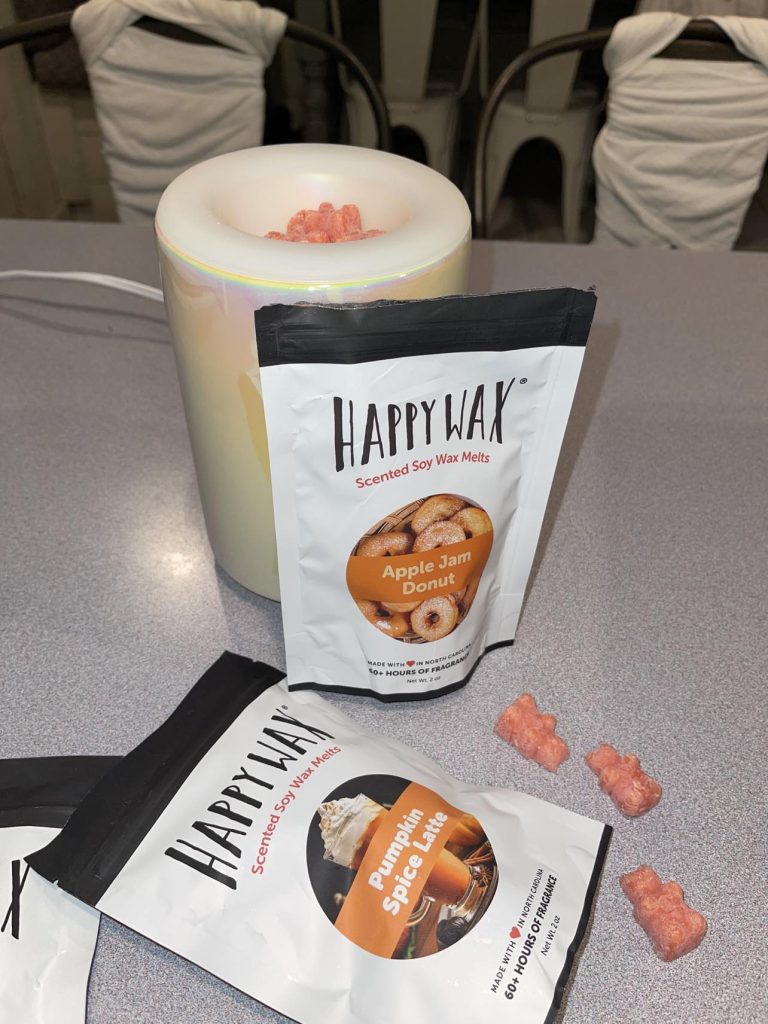 Frequently Asked Questions About The Happy Wax Melts (FAQs)
What are scented wax melts and how do they work?
Wax melts are an easy, flame-free alternative to candles, oil diffusers, plug-ins, and other home fragrance solutions. Wax melts are placed in a wax warmer, and warmed with a hot plate or light bulb located inside. Once the wax begins to melt, your room will be filled with fragrance.

Are your wax melts safe to use around cats and dogs?
Essential oils are only harmful to cats and dogs if the essential oils are ingested by the animal or if the essential oils are rubbed directly on the skin.
The risk is greatest when essential oils are in their purest (liquid) form. Because they infuse their wax melts with essential oils, the risk is substantially lower for even the latter to occur.
So as long as you are using their wax melts for their intended purposes, there are no issues with using their wax melts around cats and dogs.
They do not recommend using their wax melts, or any home fragrance products around birds.
What are the ingredients in Happy Wax melts?
Happy Wax melts are made with all-natural soy wax, phthalate-free and essential oil-infused fragrance oils, and a small amount of dye.
How long does the scent last?
Our rule of thumb is to melt 2 bears for 8 hours of scent time, giving you more value and scent time than other brands. That's an estimated 60 hours of scent time with our 2 oz Pouch, 100 hours with our 3.6 oz Classic Tin, and 240 hours with our Half Pounder Pouch.
Join the Scent Insider Rewards Program
Join their free loyalty program where the more you shop, the more benefits you'll receive.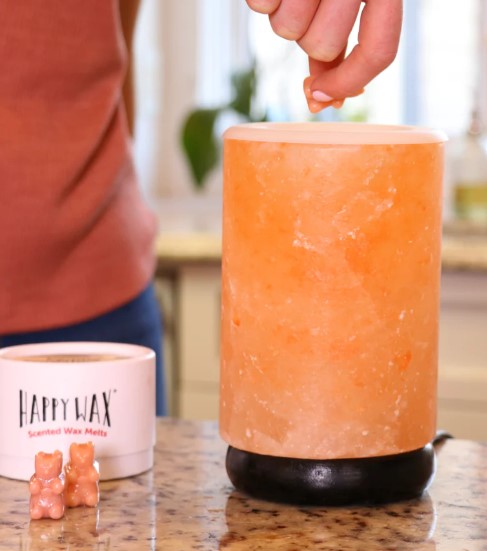 Buy!
If you're looking for a safe and non-toxic way to fill your home with the cozy scents of fall, look no further than Happy Wax's Fall Wax Melts Collection. These fall wax melt scents will get your home ready for the fall season!
You can visit Happy Wax online and check out their yummy scented fall wax melts and gorgeous Happy Wax Warmers by visiting them online here!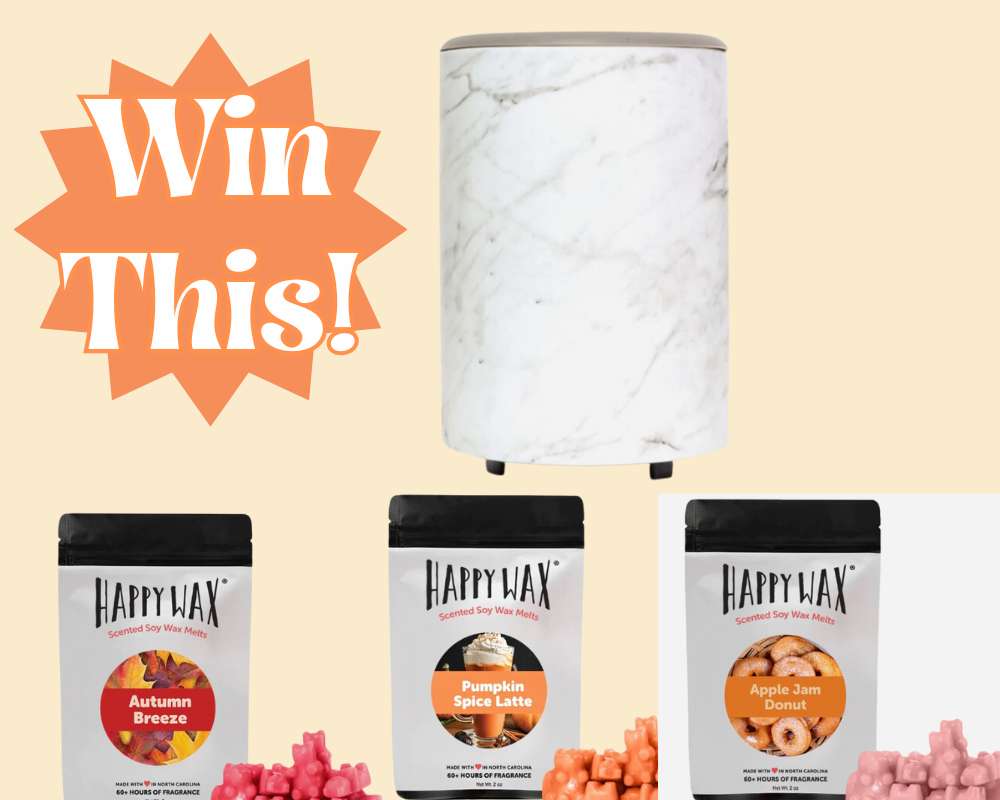 Win!
One lucky person is going to win a Mod Warmer in any color in their Mod Warmer line and three fall wax melts scents in: Autumn Breeze, Pumpkin Spice Latte, and their Apple Jam Dounut! Yay!!
Rules
The contest is open to the US, 18+. The giveaway will end on October 14, 2023, at 11:59 PM. I am not responsible for lost or stolen mail.