Nothing says 'Happy Valentine's Day' like Hogs & Kisses
Cookies! These are made with peanut butter, HERSHEY Kisses, and BACON! I actually came across this amazing recipe while I was shopping at JoAnne's Fabrics the other day. I was browsing through the cookbooks and thought this recipe was so fun, I just had to make it (in my own way, of course!).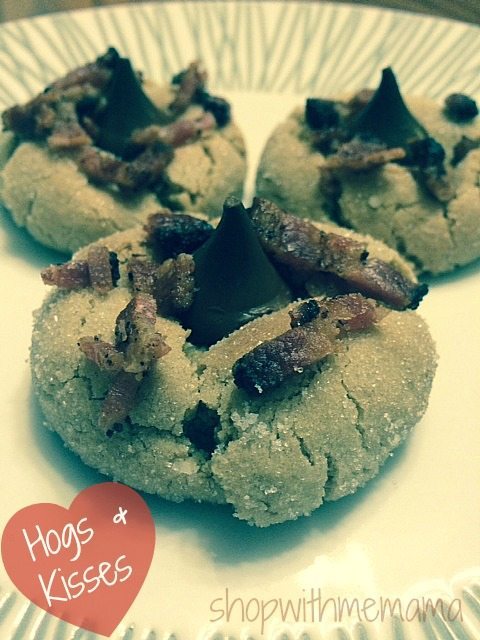 These Hogs & Kisses Cookies are a peanut butter cookie with bacon sprinkled on the top and a HERSHEY Kiss! They are SO good!!!
Hogs & Kisses Cookies Recipe
Ingredients:
*Bag of Chocolate HERSHEY Kisses
*4 slices of bacon
*1/2 cup real butter, softened
*1/3 cup packed brown sugar
*1/3 cup granulated sugar
*1/2 teaspoon of salt
*1 1/2 cup of all-purpose flour
*3/4 cup of peanut butter
*1 egg
*1 tsp baking soda
*3 tbsp milk
*1 teaspoon of Vanilla extract
Instructions for Hogs & Kisses Cookies:
*Preheat oven to 375 degrees
*Cook bacon slices until crisp, dab off oil, and set aside
*In a large mixing bowl, slowly add and blend wet ingredients: egg, peanut butter, butter, vanilla extract, and milk until blended
*Slowly add sugar, flour, baking soda, salt, and brown sugar and mix well
*take the mixture and make into 2-inch balls, then roll them in granulated sugar
*Place little cookie balls onto an ungreased baking sheet and place in the oven for around 10 minutes
*While cookies are baking, grab the bacon and chop it up into small pieces
*As soon as you pull the cookies from the oven, sprinkle the bacon pieces on the top of the cookies and place a HERSHEY Kiss on the top of each cookie.
*Let the cookies cool for about 10 minutes, then enjoy with a cold cup of milk!
Have You Ever Baked Hogs & Kisses Cookies?